Alessi is upping its involvement in the fight against AIDS. Continuing a partnership with with (RED) that began in 2015, the brand is also supporting the EAT (RED) SAVE LIVES: The Ultimate Food Fight Against AIDS campaign, running through the end of this month, with a number of events designed to draw both money and awareness to the cause. (Participating chef Elizabeth Falkner said, "To '86' something in the restaurant world means, 'We're done. We don't have any more of that.' And that's what we want to do with AIDS. We need to 86 AIDS.")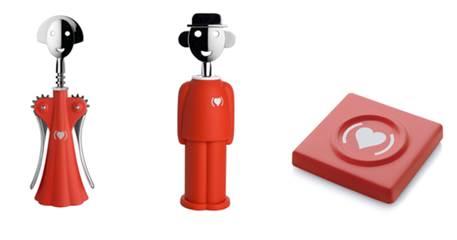 Among the products in the brand's special collection are bottle openers and corkscrews, a Christmas tree ornament, a chili scruncher, a tea infuser, an ice cream bowl, and a condom box.
Sales of the Alessi (PRODUCT) RED Special Edition Collection have, to date, resulted in more than 340,000 days of lifesaving treatments provided to people with HIV.
(RED), or Product RED, is a nonprofit organization that teams up with the brands to raise money to fight HIV/AIDS in Africa through the Global Fund. Some of the other brands and companies the nonprofit collaborates with include Vespa, Sotheby's, Google, Vice, Wanderlust, Baxter of California, and others.
This season, the Italian brand is contributing to the EAT (RED) Save Lives campaign by donating its Mediterraneo fruit baskets to immersive food experiences. Shares Alessi USA president Matteo Alessi, "We have received a very positive response from the June activities, starting with the (RED) Summer at the Bonnaroo music festival, where we donated (PRODUCT) RED Mediterraneo bowls for the tables. Just this past weekend, we were very excited to be a part of the (RED) suppers in collaboration with PlaceInvaders for 'pop-up' dinner series in a West Village home, where we also provided Mediterraneo bowls. We look forward to future collaborations and planning for the upcoming World AIDS Day activities this fall/winter."
The brand is also donating 10 percent of all online sales made over June 18 to 24 to the Global Fund and (RED)'s fight against AIDS.