From flagship debuts to brick-and-mortar introductions, this month's showroom coverage is full of firsts—including one notable French atelier making a splash stateside. In our November roundup, BOH has gathered all the expansions and openings to have on your radar.
Spotlight: Emblem's American arrival
Amid this month's showroom openings, one brand is making its U.S. debut with a New York outpost that pays homage to its French roots. The Paris-based Emblem atelier has opened a space at 171 Spring Street in SoHo, showcasing French craftsmanship through four prominently featured brands—Maison Taillardat, the high-end traditional furniture manufacturer responsible for creating the sets on Sofia Coppola's Marie Antionette movie; marquetry specialist and master cabinetmaker Maison Craman-Lagarde; Manufacture Des Emaux de Longwy, the oldest ceramic factory in France and a recent collaborator of YSL; and Vernaz & Filles, a specialist in custom gold-leaf work and historic restoration.
Curated by Emblem founder Martin Pietri, the new showroom has been crafted with a nod to the indoor-outdoor quality of a classic French garden. In a vision executed by designer Anne Pericchi Draeger, the space includes furnishings chosen to complement the atelier's brands while continuing the flora-and-fauna theme—its Zuber wallpaper features flowers, birds and Virginia creepers; while the Codimat carpet includes a banana-leaf motif. As for the location, Emblem has made its U.S. home within the atelier of fellow Frenchman Alain Ellouz, with whom Pietri has been friends since the firm's launch.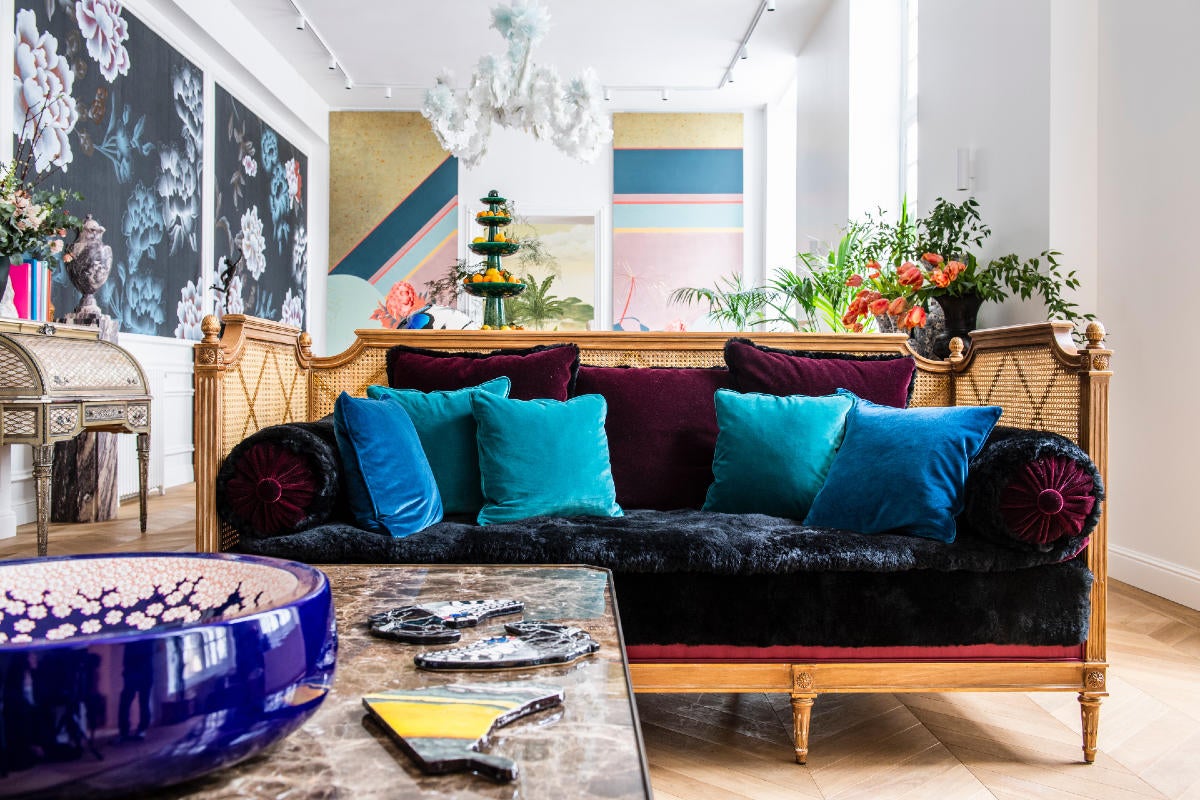 "At the beginning and the end, it's a story of friendship," says Pietri. "The quality of his products is the same level as ours—our products are very different, but we share the same customer base, so it's really a win-win deal for us."
Pietri himself has long held a place at the center of the French design scene, hailing from one of the nation's most famous cabinetmaking families—he's been honored with the French government's National Order of Merit for his role in preserving the country's craft. With the introduction of the New York showroom, it's his goal to continue that tradition among the city's world-class design community. "It's a legacy for me, and I try to continue this history for Emblem across the sea," says Pietri. "Coming to New York is a very, very important step in the history of my business."
Arizona
International luxury furniture brand Roche Bobois has announced the opening of its newly renovated showroom in Scottsdale. Located in the city's downtown district at 4545 N. Scottsdale Road, the 6,900-square-foot space has been redesigned by Jacqueline Hopfer, head of the company's interior architecture department, who incorporated stone tiling, high ceilings, large planters and warm lighting throughout the refurbished building.
California
In Los Angeles, Kalon Studios has opened its first-ever physical showroom. The new 2,000-square-foot location will serve as the company's showroom, office and community gathering space for events, panels and workshops. Built with an organic sensibility, the space was designed to highlight materials (such as wood, linen, stone and metals) that will patina and age well through time and use—a staple of Kalon's design philosophy.
Florida
Hive Collective has debuted a new to-the-trade showroom presence at 2218 South Dixie Highway in West Palm Beach. The 7,000-square-foot showroom features Hickory Chair furniture alongside textiles, fabric, trim and wallpaper designs from 28 different vendors.
Arte has remodeled its boutique within the Jeffrey Michaels showroom in the South Florida Design Park in Hollywood, to accommodate the brand's expanded luxury wallcovering offerings. The redesigned space also features designer-oriented custom displays, workspaces and service experiences, along with an interactive presentation and sample system to provide designers with a lab for project development.
Global design brand ENNE has opened a new showroom in the Miami Design District, offering the brand's products and full-scope design services. The 4,000-square-foot space is located at 921 NE 2nd Avenue, and will serve commercial and residential designers along with consumers interested in high-end contemporary design.
Illinois
Phillip Jeffries has opened a new Chicago showroom on the sixth floor of The Mart, complete with sampling technology and a dedicated concierge team. The 1,900-square-foot space also features various wallcovering installations, more than 400 display boards, and private work areas for designer use.
Atelier Gary Lee has announced it is closing its location at the Merchandise Mart in Chicago in order to focus on the brand's custom furniture design business, Chai Ming Studios. The space debuted more than 10 years ago, and will close its doors permanently at the end of the year.
Maryland
Brickworks North America has debuted a new design studio in Baltimore, where it aims to meet the project needs of architects, designers and homeowners throughout the mid-Atlantic. Located in the city's historic Fells Point neighborhood, the 3,300-square-foot space will offer one-on-one expert consultations, industry events and displays of premium products, from uniquely colored brick to high-end Venetian glass.
Michigan
Caminiti Associates Inc. (CAI) Designs has expanded into the Michigan Design Center in Troy, Michigan, occupying the 22,000-square-foot Suite 82, which was formerly the R.J. Thomas showroom space owned by Bob and Alane Thomas. Along with implementing renovations and remerchandising in the new location, CAI Designs will represent brands such as Century, Vanguard, Lee Industries, Bernhardt, Wesley Hall, Thayer Coggin, Currey, Palecek and more.
Also in the Michigan Design Center, Hestée Bleu Detroit has opened a new showroom in Suite 29. Led by owner and designer Tam Goodwyn, the space offers a curated selection of goods, including objets d'art, Parisian classic and contemporary styles.
New York
Natural stone expert Ciot has chosen Brooklyn as the site of the its new 35,000-square-foot showroom. Located at 5302 2nd Avenue, the space is housed in a former machine manufacturing building established in the mid-1800s that has since been transformed by New York–based interior design studio Bando x Seidel Meersseman. Inside the retro-industrial minimalist building, visitors can find the Ciot Studio—a workshop where clients can commission custom pieces—and the Ciot Slab Galleria, where a curated selection of the company's natural stone slabs are displayed as works of art.
Modern children's brand Lalo has opened the doors of its first-ever flagship store, located at 0 Bond Street in the NoHo shopping district. The immersive retail setting features Lalo's products in displays reminiscent of a modern family home, with living room, dining room and nursing nook tableaus, which will also incorporate partner brands such as Coterie, Banza, Little Spoon and Canopy. Geared toward parents making their first foray into shopping for children's spaces, the flagship will also include the Play Cafe, a stroller parking lot, and a variety of classes offered by Union Square Play.
De le Cuona has moved into the New York Design Center at 200 Lexington Avenue, where a boutique studio space will offer full services and complete collections for appointments and walk-ins. The new location's contemporary setting displays the brand's textile offerings alongside curated accessories and a workspace, complete with a color wall and other features that will be regularly updated.
California lifestyle brand Jenni Kayne has opened a new flagship, Jenni Kayne Home, at 125 Greene Street in SoHo. Customers can shop the brand's offerings within real room environments, situated in a space decked out with high ceilings, original hardwood floors and brickwork, along with features like vintage lighting, British Standard cabinetry, Waterworks fixtures and hues from Portola Paints.
Canada
Canadian furniture and home goods retailer EQ3 has opened a new flagship in the company's hometown of Winnipeg. Located in the CF Polo Park shopping center, the new space is now the brand's largest retail store (44,000 square feet) and features an in-house restaurant by award-winning Deer + Almond chef Mandel Hitzer, as well as EQ3's new concept collection Palli Home + Company. Also within the space are three design centers dedicated to providing customers and designers with one-on-one consultations and access to the brand's fabrics, finishes, rug swatches and 3D visualization software.
Homepage image: Inside Emblem Atelier's debut U.S. showroom in New York City | Courtesy of Emblem