Years ago, CB2 was exploring a collaboration with The Novogratz design duo, and the early sketches caused some soul-searching in the company's upper ranks. The work was fun and edgy, yes, but was it too fun and edgy?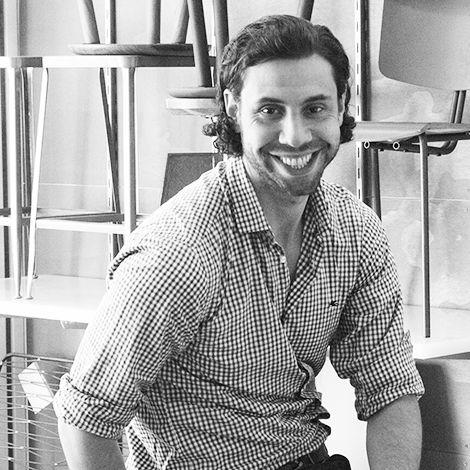 "At that time, we thought: Those just aren't CB2," president Ryan Turf tells host Dennis Scully on the latest episode of the Business of Home podcast. "We ended up doing it because it was uncomfortable, but we knew we should do it. That was a huge learning point for us, and I'm glad we did it. The uncomfort was good."
In fact, The Novogratz collection was only the beginning of CB2's new brand story. Originally launched in 2000 as a lower-priced, younger-leaning spinoff of Crate & Barrel, over the last five years, CB2—under Turf's leadership—has taken on an increasingly design-forward aesthetic. It's part of a broader goal to frame the company as a unique entity in the home landscape and become, as he puts, it "a brand that is not the younger sister of Crate & Barrel, but a very unique brand."
In this episode of the podcast, Turf discusses CB2's journey in recent years, shares how COVID has changed future plans (less than you'd think!), and highlights an initiative to court the design trade.
Listen to the episode and check out some takeaways below. If you like what you hear, subscribe to the podcast (free of charge!) here. This episode was sponsored by The Shade Store and Universal Furniture.
UNIQUE COLLABS
A major element of Turf's effort to push CB2 in a more design-forward direction is a series of capsule collections that have seen the brand team up with unexpected partners, from Lenny Kravitz and Goop to Fred Segal. "Our collaborations have always been authentic first, but unique, interesting, not predictable, and fun," says Turf. "We don't want to fall into a routine even if something works very well. We try not to do the same thing again."
DESIGNERS WELCOME
In a new collab with designer Kara Mann, CB2 taps into the designer's edgy-but-elevated aesthetic while reaching out to an audience Turf hopes to cultivate: the trade. "The trade is a group that is growing for us," he says. "Designers want service, options and discounts. Things like larger or custom-size rugs with the Kara Mann sofas are part of it. Let's build from that in our regular assortment. Let's not limit that to products we do with Kara—how can we expand on that?"
WHAT WOULD RALPH DO?
Though, like most retailers, COVID has caused CB2 to push harder on e-commerce and virtual design, Turf still sees physical retail as a key aspect of building a brand that customers connect with emotionally—a lesson drawn from one of his greatest inspirations, Ralph Lauren. "He's got a vision that he's not going to stray from," says Turf. "In order to build a brand [that can] continue to grow, I think you need a balance of brick-and-mortar and digital. That doesn't mean brick-and-mortar doesn't need to evolve—it does. But I still believe in that balance between the two."
Homepage photo courtesy of CB2