The lightbulb first went on a little more than a year ago, says Lightology digital marketing director Mark Thiel, recalling the company's initial plans to launch an augmented reality tool that would allow users to see how its products look in their homes. "And then COVID hit," he adds. "We had to shut down our Chicago showroom to be safe." Suddenly, all sales for the renowned lighting retailer moved online, creating an increased demand for the kind of AR features the company hoped to deploy. For Thiel, that meant an opportunity to seize the moment and set a precedent for AR in the design industry. "It was go time," he says.
A small tech-savvy team started by creating 3D digital models of the lighting company's top products, and by October 2020, the Lightology sales team had begun beta-testing the software themselves in their own kitchens and bedrooms. The platform went live in mid-February this year, and has grown into a library of more than 250 products while garnering glowing reviews.
Using the platform is addictively easy: Select your desired fixture from the company's curated assortment of bestsellers and exclusive brands like Flos, Tom Dixon, PureEdge, Gubi and Larose Guyon. Next, scan the space with the Lightology AR tool on your phone or tablet. Then—with a swipe here for placement, a pinch there for scale—position the 3D image in your scanned room. To share the virtual glow-up with clients, family or friends, simply snap a screenshot and send it along.
For many interior designers, the tool will be intuitive—a natural extension of their smartphone's functions. And for those who need a little tech enlightenment, Lightology links to a straightforward how-to guide with troubleshooting tips on its website's landing page.
Does this industrial floor lamp fit in with the decor? Is that French pendant in proportion to the space? Does a picky client need to see that bold midcentury-style chandelier in context? Lightology's AR tool addresses these challenges by allowing users to overlay and manipulate an object in a 360-degree scan of the specific space (as opposed to viewing it silhouetted against a white background or in a generic virtual setting).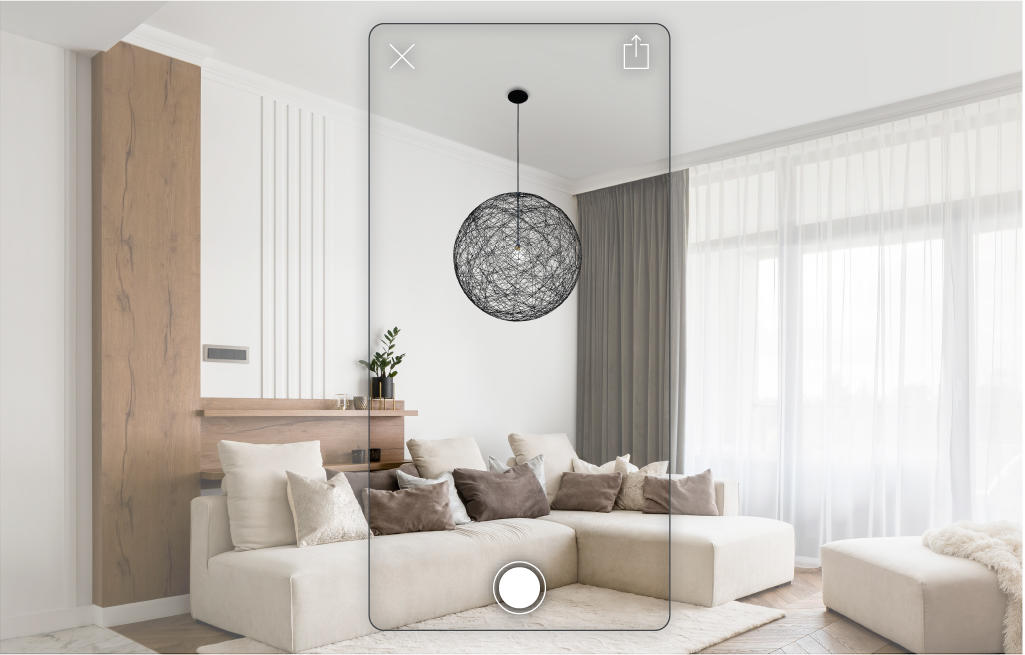 "It provides that gut check," says Thiel. "Lighting is an incredibly personal component of home design, and this offers designers and their clients that extra level of confidence in their choice before they make a financial commitment." One of the platform's primary objectives is to convey the highest possible degree of photorealism with the 3D product model so that the resulting images represent the real-life physical objects in all their glossy, matte or metallic glory. What you see is what you get, even when you zoom in 300 percent.
"We pride ourselves on the level of detail—it's our differentiating factor," says digital content coordinator Arielle Shingles of the textures, colors and dimensionality of Lightology's product photos, all of which also appear illuminated in a way that accurately represents the type of bulb utilized, whether it's frosted, filament or LED. AR technology is not sophisticated enough—yet—to refract light, but "it has advanced so much in such a short amount of time," says Shingles. She credits two factors for the improvement: The first, lidar (which stands for light detection and ranging), a sensing technology employed by the 12 Pro series of iPhones and iPads that measures distances in order to map out three-dimensional spaces with precision. The second, 5G, boosts broadband speed and connectivity. While neither is widely available right now, it's just a matter of time until both are standard-issue: "The better our smart devices and broadband networks get, the better the AR will become at gauging space and uploading images," adds Shingles.
The new technology joins Lightology's expanding suite of design services, including video consultations in which certified experts answer questions about everything from wattage requirements to outlet locations via virtual walk-throughs—and, for trade customers, 3D renderings of entire renovation projects, from light fixtures and under-cabinet lighting to backsplash tile, wall paint, appliances and furniture in situ.
The company is confident that its investment in AR is already paying off: Its consumer engagement, conversion rate and average order value have all increased substantially in the three months since the tool's debut. Users viewing a 3D model spent 3.7 times longer on the Lightology website, and have spent up to 50 percent more per order. Some of the lighting products already featured in the tool are performing up to 100 percent better than before, and the company plans to have the majority of its bestsellers available to "view in your room" by year's end.
"People are using the tool, spending more time looking at products, making thoughtful purchases," says Shingles. "It's an excellent asset for designers and their clients, and it's the future of e-commerce."
This story is a paid promotion and was created in partnership with Lightology.
Homepage photo: PureEdge's Pix Sticks Cirrus D1 chandelier inserted in a living room via Lightology's AR tool
| Courtesy of Lightology