Last week, ASID Research, a branch of the American Society of Interior Designers, announced the first-quarter billings index for 2017. The "ASID Interior Design Billings Index" (IDBI) measures the business conditions of 300 interior design firms from across the country and offers insight on the state of the interior design industry.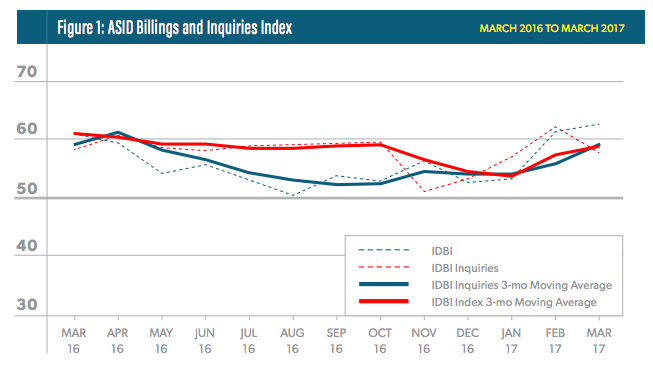 The overall IDBI findings show positive momentum in the first quarter of 2017, with March scoring at 62.8 in comparison to December's value of 52.9. (Scores above 50 indicate industry expansion; scores below 50 report contraction.) Sturdy revenue gains and an increase in new project inquiries (a score of 58, up from December's 53.3) aided the industry growth. 
Market specializations are also exhibiting change. Designers in the residential sector witnessed a continuous increase in billings since December (a score of 63 for single-family and 56 for multifamily homes), while the commercial sector has remained the same and the institutional sector has declined (to a score of 40) in the first quarter. 
Year-to-year comparisons report a 3.3 percent increase in consumer spending on furniture, durable goods and design industry performance in 2017. Yet the state of the economy remains a top concern for industry professionals. When asked about the factor impacting their work the most, a majority of designers ranked the national economy first, with generational trends and the global economy to follow.
"Without any big public policy changes, we expect the economy to perform equivalently to 2016," said ASID economist Jack Kleinhenz. "There's no breakout speed in 2017, but there's enough fuel to push us to the end of the year." 
Check out the full REPORT.