As the weather gets colder, designers and industry players are providing a slew of new stores and showrooms to duck into and explore. In our October roundup, BOH has gathered all the expansions and openings to have on your radar.
California
Home furnishings and decor provider Arhaus has opened a new 3,333-square-foot retail location in Burlingame, California, modeled after its debut Arhaus Studio site 100 miles south in Carmel. Both feature a more intimate showroom concept with concierge-style design services and advanced customization options; the new space will provide design assistance from concept to installation, as well as a design center with 3D room-planning software and touch-screen monitors.
Digitally native brand Morrow Soft Goods has launched its first physical showroom to host clients, designers and consumers for seasonally updated displays of its collections and new releases. Located in the Lincoln Heights neighborhood of Los Angeles, the 3,000-square-foot space will also house the brand's design studio and offices.
Building off of the success of her original Hermosa Beach retail location, interior designer Kate Lester has opened a second home store in Manhattan Beach. The space features an assortment of furniture, art, accessories, vintage finds and one-of-a-kind pieces.
Gloster has opened a new flagship studio concept space on Beverly Boulevard in Los Angeles to showcase its high-end outdoor furnishings. The 56,000-square-foot building was designed in a contemporary interpretation of art deco, with interiors remodeled by Danish design studio 365° North—whose owner and founder, Henrik Pedersen, is responsible for several of Gloster's most notable designs.
Illinois
Spacestor, the U.K.-based workplace solutions designer and manufacturer, has opened a new showroom at the Merchandise Mart in Chicago. Located on the 11th floor, the space features the brand's products at work, including its new architectural room system Verandas, as well as Residence Connect, a new private meeting pod for virtual experiences.
Also at the Mart, Belgian furniture design company Extremis has unveiled a showroom in suite 355. The new space places an emphasis on incorporating nature into the day-to-day workplace environment.
Indiana
At the Indiana Design Center, Stephanie Wiott Designs has opened a new showroom on the first floor, showcasing a selection of retail furniture, design accessories and gifts for purchase. The space will also house a working studio for the company's full-service design firm, which works with local builders and clients on new builds and remodeling projects.
Also on the first floor of the IDC, local business Great GrowIN's has opened a working design space and a retail storefront selling living walls, plants and containers. The company specializes in designing and installing green walls made from living plants and mosses in both homes and businesses, while also providing landscape design services and custom planters.
New York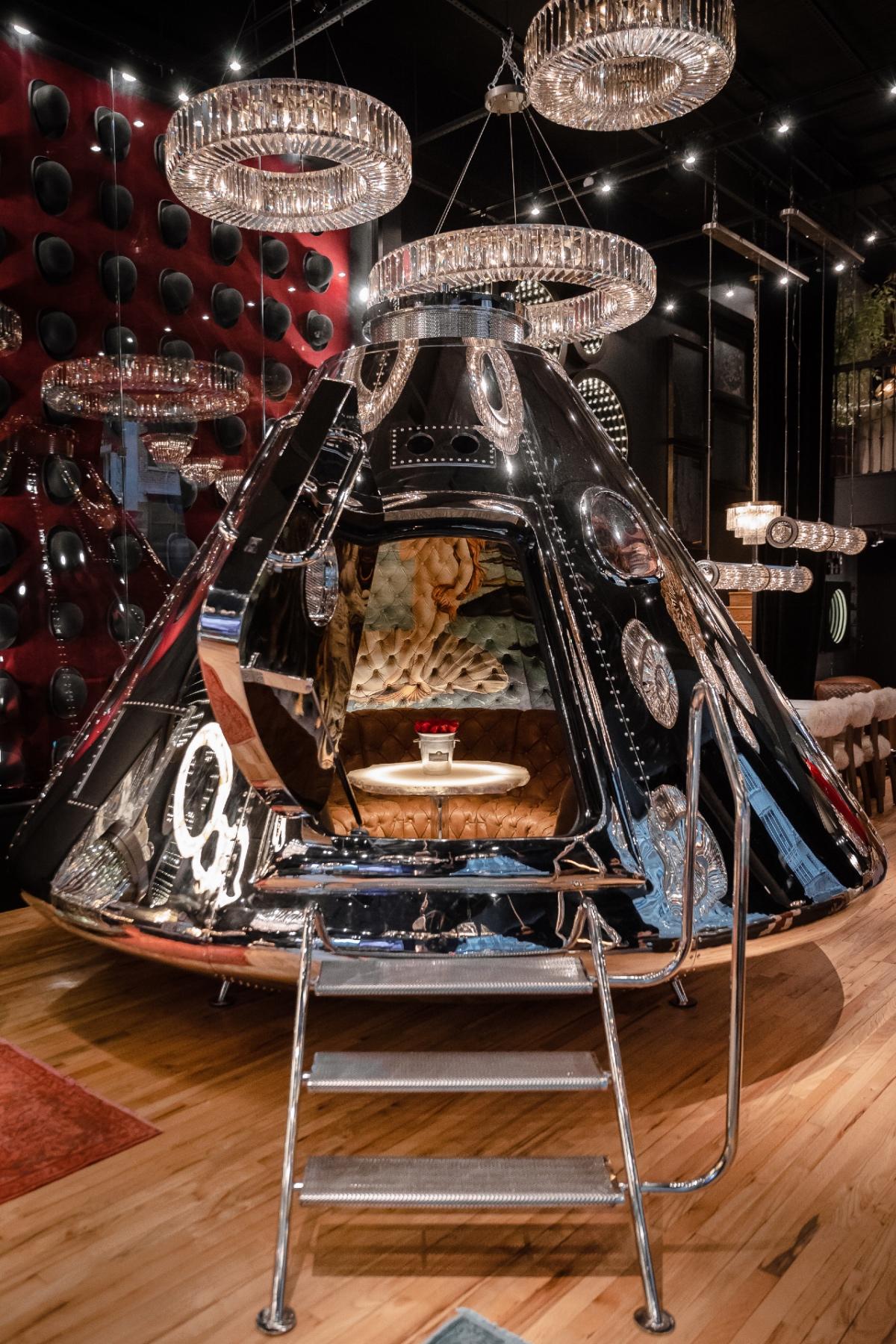 Courtesy of Timothy Oulton
British furniture brand Timothy Oulton has opened a new U.S. flagship at 901 Broadway in Manhattan's Flatiron district, displaying the company's full range of furnishings, lighting and accessories, along with other handcrafted creations exclusive to the New York store. The 7,200-square-foot gallery is housed in a historic landmark building, recognized for its Gilded Age architecture. Inside, a highlight includes a replica of NASA's Apollo 11 module, complete with a tufted velvet interior upholstered with the image of Botticelli's The Birth of Venus—visitors can take a seat inside and enjoy a glass of champagne, or opt for a seat at the moonstone bar nearby.
Calico Wallpaper has moved into a showroom space alongside design brand Stellar Works at 304 Canal Street in lower Manhattan. At the new location, the brand debuted its latest line, Atmosphere, as well as a guest collection with designer Sam Baron called Noir. Visitors can also view Calico's signature Aurora gradient wallpaper through a moveable, interactive display.
North Carolina
Bellini Modern Living has expanded its showroom in High Point to 12,000 square feet—double the size of its previous iteration. The extension was designed to accommodate additional items in the brand's product suite, with highlights including a series of outdoor-inspired vignettes featuring the new outdoor collection Italian Garden, as well as entertainment units, leather upholstery items, and wall art. In a nod to the company's European design aesthetic, it plans to house a 1965 Fiat in the lobby.
Washington, D.C.
Industry veteran Janine Guerin is partnering with Fabricut to launch Rue IV—a multiline showroom to be housed in the J. Lambeth location at the Washington Design Center. Guerin had been tapped to take over the space by the outgoing Lambeth family, who operated one of the original showrooms at the WDC for more than 40 years. Rue IV—named for Guerin's love of Parisian streets and 3-year-old daughter, Ivy—will be anchored by Fabricut, along with featuring other luxury brands, such as Zimmer + Rohde, Hartmann & Forbes, Élitis, Arte, Innovations, Marc Phillips, Porta Romana and The Vale London.
International
British publisher and author Steve Lazarides, Banksy's former agent, has announced the opening of a brick-and-mortar extension of his one-year-old online curiosities shop Laz Emporium. Located on Lexington Street in the heart of London's Soho neighborhood, the space will house a selection of art merchandise, homeware, furniture, collectibles and books curated by Lazarides, featuring artists and creators such as Jonathan Yeo, Jamie Hewlett, Jake Chapman and Charming Baker. The store will also open alongside a new exhibition space, which will host monthly art shows beginning with a presentation by Scottish design and art studio War Boutique.
Homepage image: Timothy Oulton's new U.S. flagship at 901 Broadway in Manhattan's Flatiron district | Courtesy of Timothy Oulton