At the outset, opening a brick-and-mortar multiline showroom right now might seem like something of a gamble. Setting aside the global pandemic and the fraught economy, the next generation of multilines largely seems to favor a less traditional approach, like a roving, mobile showroom or boutique pop-up experiences. But for Janine Guerin and Chad Mitchell, the duo behind the formerly road-based multiline venture Designer Library, the idea of establishing a creative refuge where designers could comfortably source product was directly inspired by the current climate.
"We're used to going into designers' studios or even their homes—meeting their kids and petting their dogs," says Mitchell. "But when the pandemic hit, that stopped. People, understandably, were no longer comfortable with that, so we started discussing the idea of creating a showroom, where our clients could come to us if they wanted."
The pair started Designer Library in 2019, representing brands like The Vale London, Zimmer + Rohde and Élitis in the mid-Atlantic region. Both Mitchell and Guerin had previously worked as outside sales representatives for trade brands. Last year, in talking to a client, Washington, D.C.–based designer Zoë Feldman, about their idea to start a showroom, Guerin learned that Feldman had recently purchased a commercial building in Georgetown and had a storefront space in need of a tenant.
"It's such a charming building, and the neighborhood is really becoming a hub for art and design," says Guerin. "It was a great fit for what we were looking to build." The resulting showroom, which opened earlier this month, aims to be just what the name suggests, a designer's library. "I wanted it to feel like a little jewelry box where a designer could have this full material library where they could source everything they might need for a project," she says. "We wanted it to feel cozy and intimate."
Guerin, who originally studied to become an interior designer, designed the space herself, utilizing textiles and furnishings from brands that Designer Library represents. The space also includes a conference room, where Mitchell and Guerin imagine designers bringing their clients to discuss options after shopping the showroom together. "Designers work in different ways," says Mitchell. "There aren't a lot of industry standards for how people work, charge, or access their materials. Some love inviting a rep to their design studio, while there are others who like going to a showroom. Now, we're able to service all these different buying habits. Our role isn't to train a designer how to work with us—it's to understand what our customers' needs are and become a holistic resource."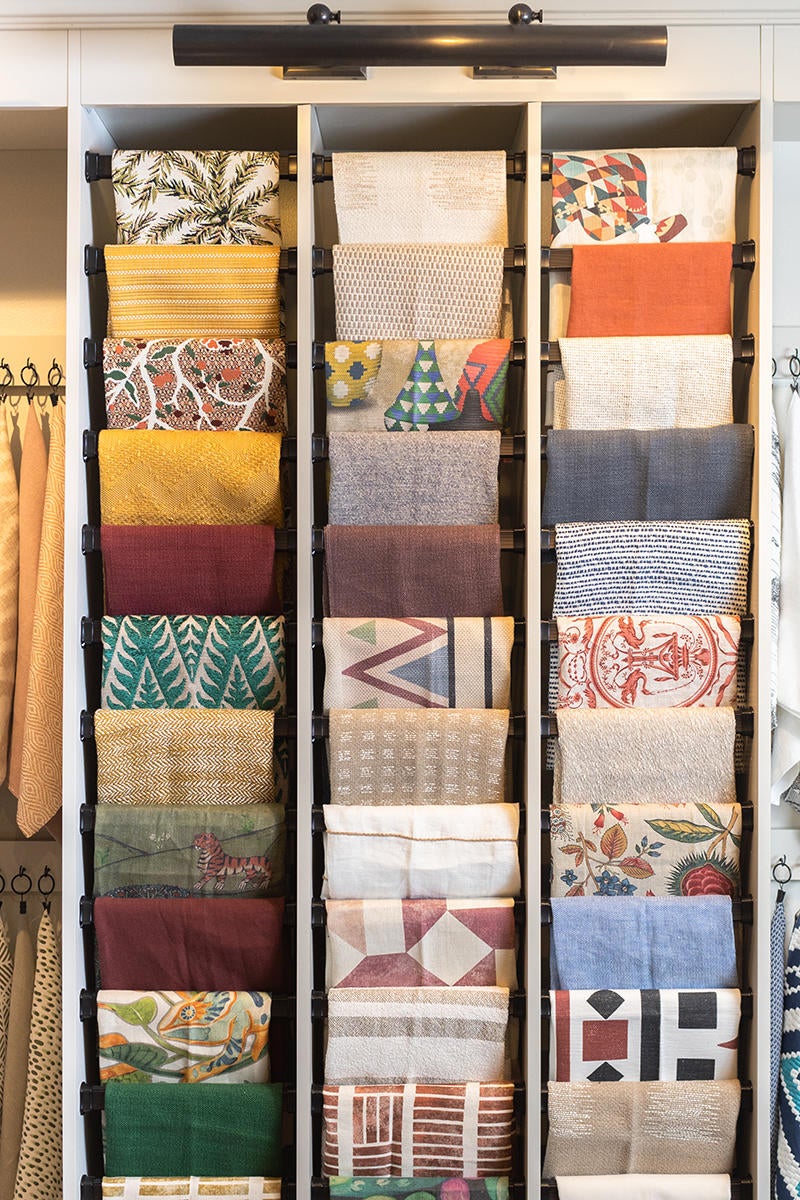 Once vaccination rates are higher and people are more comfortable gathering again, Guerin plans to host experiential events in the space, like a sake and shibori night. "We want to really make it a design destination in Georgetown," she says.
It's important for the pair that Designer Library retain the nimble, personal quality of a road-based operation even as they move into the brick-and-mortar realm. "Something that's always been true for a road rep, but that COVID has really highlighted, is that the main driving force in this business is relationships," says Guerin. "We bring that ethos to the forefront of everything we do. Adding the showroom gives us the opportunity to build on those relationships we've already created and to develop new relationships, as well. We want to stay a road-focused company that has a great showroom."
Homepage photo: Designer Library's new showroom in Washington, D.C. | Angela Newton Roy