In the old days, brands often shared a name with their founder. From Fords and Ferraris to Kodak cameras and Johnson's baby powder, the name on the product often mirrored one on an employee's paycheck. But recently, a twist has surfaced in the nomenclature game: Two names are better than one.
The earliest department stores—John Wanamaker & Co., R.H. Macy & Co.—traced their names to their founders, a practice that continued generation after generation with big-box stores including Walmart and Kohl's. The few original dual-name companies that reflected two founders (Sears, Roebuck and Company; Abraham & Straus) often later dropped the second name over time.

In the mid-20th century, brands such as Williams-Sonoma and Crate & Barrel—named after people, places and products, but not multiple founders—were the exception, not the rule. And into the early aughts, double names were just as likely to be chosen to honor company founders (Mitchell Gold + Bob Williams, Serena & Lily) as for their catchy appeal (Room & Board).
But a wave of recent home furnishings brand rollouts employ a similar two-word marketing scheme. Consider this selection of recent introductions:
Tuft & Needle: This direct-to-consumer mattress brand debuted in 2012 and merged with Serta Simmons Bedding in September 2018.
Boll & Branch: An online direct-to-consumer company, this bed and bath brand launched in 2014 and recently moved into the mattress category.
Stone & Beam: Amazon's affordable private-label furniture line debuted in late 2017 with farmhouse-chic styles. (Sister brand Rivet leans midcentury modern.)
Mane + Mason: Ashley HomeStore launched the brand's first 450-piece collection ("a modern approach to classic farmhouse design") in September 2018.
Bee & Willow: This newcomer, which launched in January as the first of six brands slated for 2019–2020 from Bed Bath & Beyond, brings more rustic farmhouse charm.
Ink + Ivy: This broad-based home furnishings line from JLA Home, a leading supplier of private-label and licensed programs (including Nina Campbell, Thomas O'Brien Home, Shabby Chic, the Jane Seymour Hotel Collection, and Eddie Bauer Home), is sold widely online, including at Macy's and Wayfair.
Of course, not everyone is enamored with this marketing move. A January 2018 article in Fast Company lambasted Amazon for its private-label branding, saying that the company appears to employ "names that look and sound like they were generated by a dated trend algorithm."
Wayfair's Joss & Main, launched in 2002, is one of the early adopters of this current trend—but is it here to stay or a passing fad? Given the longevity of some of these twin-branded names, one has to think they are not going away. They may have the benefit of giving a shopper considering the brand two hooks to hang on, two names to identify with and two chances at finding something familiar in the name.

Some double-header names have arrived in the marketplace more as a result of whimsy than a sales scheme. Eyewear direct-seller Warby Parker, for instance, gets its name from two characters created by Jack Kerouac. In a different industry, Smith & Wollensky restaurant founder Alan Stillman tells the story of picking the names late at night from a New York City phone book while under the influence.

Whatever the selection process, double names seem to be the brand choice du jour. Which of course brings up the inevitable: Are three names next? Perhaps you need to ponder that as you wear your Hart Schaffner Marx suit.
____________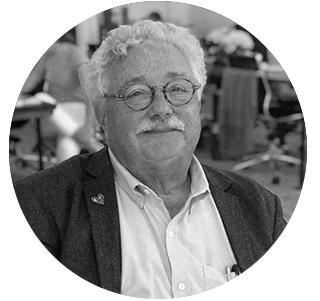 Warren Shoulberg is the former editor in chief for several leading B2B publications. He has been a guest lecturer at the Columbia University Graduate School of Business; received honors from the International Furnishings and Design Association and the Fashion Institute of Technology; and been cited by The Wall Street Journal, The New York Times, The Washington Post, CNN and other media as a leading industry expert. He was also a guest on the BOH podcast, and his Retail Watch columns offer deep industry insights on major markets and product categories.
Homepage photo: Amazon's Stone & Beam collection, courtesy of Amazon