A Baltimore home by Ziger/Snead Architects is being celebrated for its use of tile. The Slate House, a contemporary, 7,000-square-foot retreat, which uses tiles from Imola Ceramica Concrete Project, is the Residential award winner for this year's Ceramics of Italy competition.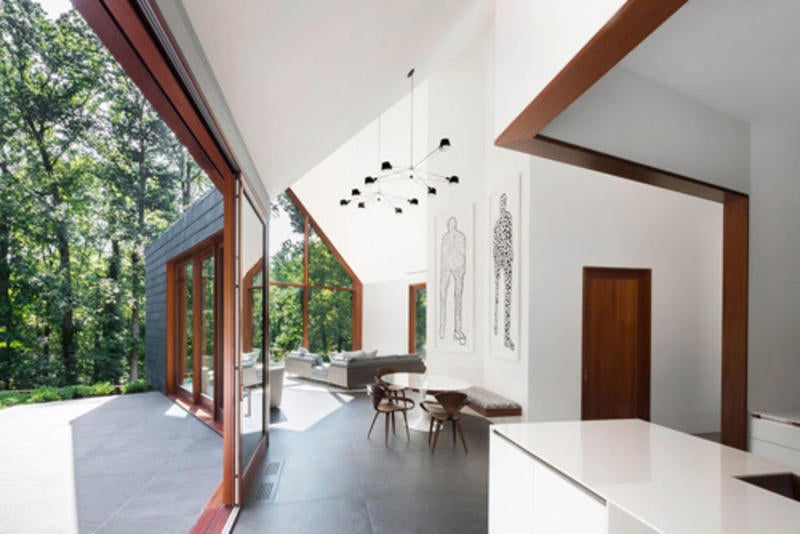 The contest, which unfolds each year, also recognized winners in a number of other categories, including Commercial, Institutional, and a new Student category. Winners join notable past honorees Yabu Pushelberg, Bernard Tschumi and Pritzker Prize–winning architect Renzo Piano.
The Slate House, noted the organization, "was chosen due to the seamlessly transitional ability to use same product inside and outside and support the architectural vision to blur the interior and exterior spaces. Italian tile was selected due to its quality and the large-format size options which were needed for the design of this private home." The Residential category honorable mention, a project called Norwich, by DI Group, is also a contemporary home, this one located in West Hollywood. That project used three tile collections from Refin.
The Commercial category winner for this year is Sapphire, a Studio Libeskind project that comprises a half-acre plot with 73 apartments that are outfitted with self-cleaning and air-purifying Fractile tiles by Casalgrande Padana. The category's honorable mention is Venetian Isle Clubhouse, a multi-family community clubhouse in Windermere, Florida, designed by Kay Green Design, which used Floor Gres, Ergon, and Marca Corona tiles.
The Institutional category winner is the Bergeron Centre for Engineering Excellence at York University, by ZAS Architects + Interiors; as the organization notes, the Ontario project has targeted LEED Gold certification, along with Toronto Green Standard Tier 2, and uses a number of tiles throughout, including ABK Downtown.
The competition's Student winners, Raquel Raney and Brennan Broome, two interior architecture students from Florida International University, whose Dover Street Market project in Miami demonstrated use of ceramic and porcelain tile, and placed a high priority on eco-friendly, long-lasting and cost-effective materials.
Ceramics of Italy recognizes the use of Italian tile in North American architecture and design projects, Now in its 25th year, it is the industry's longest-running tile competition.