The 50 States Project is a yearlong series of candid conversations with interior designers, state by state, about how they've built their businesses. Today, we're chatting with Seattle-based designer Brian Paquette about how he overcame setbacks through a slow-and-steady approach, how he realized that his store was no longer bringing him joy, and why he's learning to embrace his firm's ebbs and flows.

When did you know you wanted to be a designer?
I've always had an interest in space, going back to Legos. I studied painting and art history in college; most of my work was conceptual—a lot of installation stuff. I wanted to be a famous artist and that just didn't work out. After graduation, I was living back home in Newport, Rhode Island, and working at an art gallery. John Peixinho, an interior designer in Newport, would get all his framing done at our gallery, so I had known him over the years and done odd jobs for him—hanging art and mirrors in people's homes, and doing some refinishing stuff. That summer, he was like, "You know, you've got a great sense of scale and color. Why don't you come work for me?" I was put in this project manager role, and I had no clue what to do—like not even remotely a clue.
What were the early days there like?
Working in Newport is very different from working in Seattle. It's taking very old homes and peeling back layers to restore things. The firm was working on this large job, one woman had just quit, and it was trial by the biggest fire that had ever been set. I failed over and over and over again. I'm a people-pleaser—I looked up to John and really wanted to please him, but I had no idea what I was doing, so it was just fail after fail. I did that job for about six months until I just couldn't take the stress.
But you knew you wanted to be a designer?
John's house was on the cover of House Beautiful around the time, and I really hit all the magazines while I was there—that's when I got obsessed with The World of Interiors and House Beautiful. I knew I loved going to clients' houses; I loved the textiles and the formality of it all. I wanted John's lifestyle, but I didn't necessarily want to stay in Newport.
What was the next step for you, then?
A few of my friends from college had moved to Portland, Oregon, because you could live for cheap as a starving artist and there was a big art community. I was like, "Well, let's go try that artist thing again," and I moved out there on a whim. I tried to start a studio practice, but that just did not work; I didn't really have anything to say. I guess I needed college assignments to really move me. But I got a job offer at Pottery Barn, and another at a fabric and furniture showroom in Portland. I took that job as the sample librarian, and I just dug in.
Working there, I became even more obsessed with design. It was designers of all types coming into the showroom, and I wanted to help every one of them. That was the point where it was like, "This is what I'm doing. I don't know how, I have no family connections here, and I have no money, but I'm going to do this."
What did it take to go from the showroom to starting your own business?
I was in the showroom from 2007 to 2009, and then the bottom fell out and I was let go. I thought I was going to have to move back to Rhode Island to live in my parents' basement, but then I randomly got a job in Seattle managing a showroom for B&B Italia—another job that I was completely unqualified for.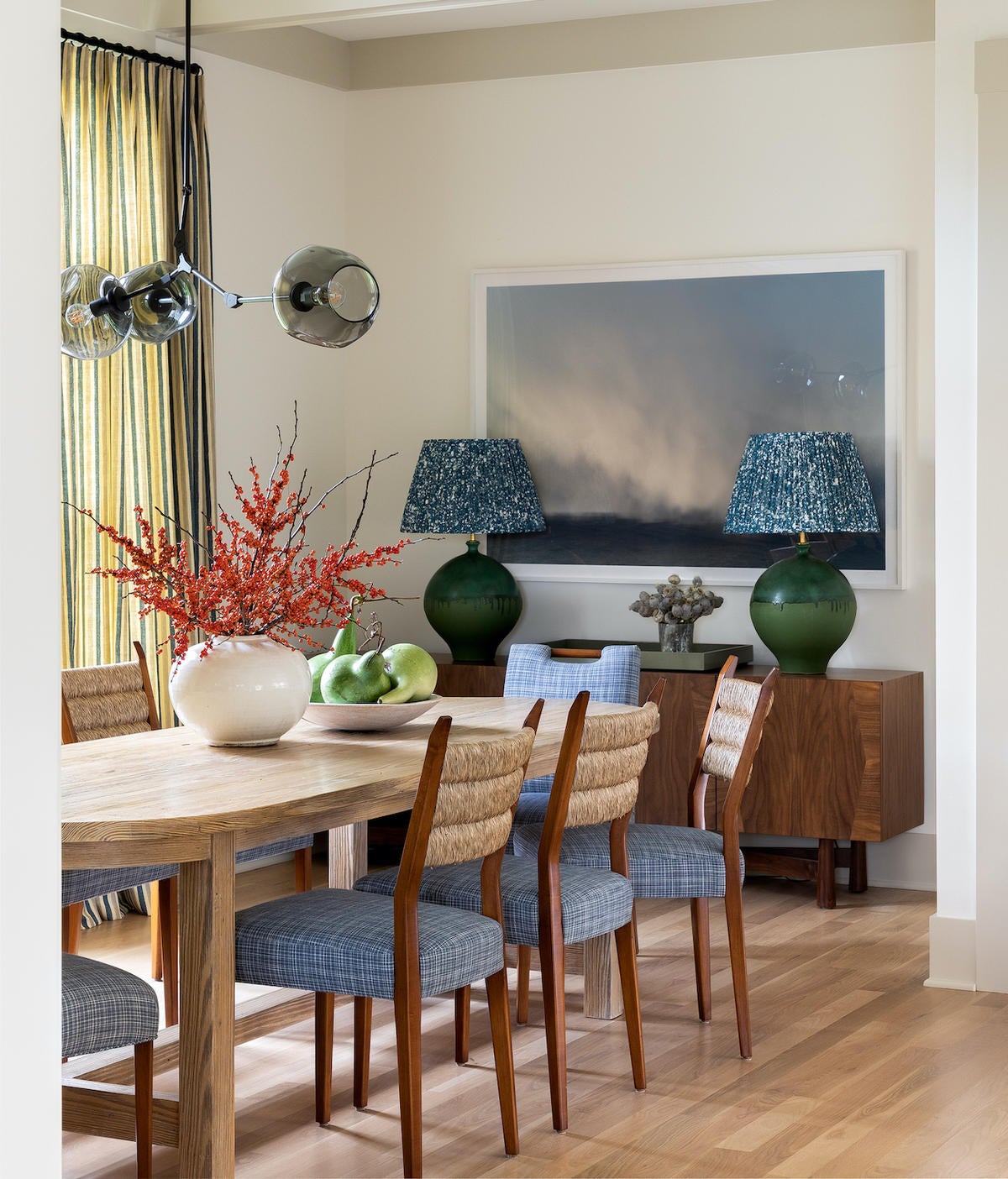 Why do you say that?
I knew nothing about the history of B&B Italia or contemporary design, to be honest with you. At the time, my heels were dug in on traditional design; I wanted to bring super-WASPy Newport style to the West Coast—which, good luck. It's just not really a thing here. It was also 2009, so no one was coming into the showroom. There would sometimes be four days in a row where literally not one person would walk in from nine to five.
One day, this guy randomly walked in; he had just purchased a condo and was looking for design help. He thought he wanted B&B Italia, but what he really wanted was vintage and antiques mixed with rough-hewn, mixed with contemporary. He hired me to help him do his condo, so I managed this project in my spare time. I had to find a drapery workroom, a receiver, a wallpaper hanger, painters, and, and, and—it was definitely a fake-it-till-you-make-it kind of thing. That project took almost a year. At the end, I told myself, "It's now or never. You've got to quit your job and devote yourself entirely to this." So that's what I did, without having any other work.
How'd you get new clients?
The money I had made from that first job held me over for a little while. I started buying a bunch of inexpensive vintage and reselling it to friends or on Facebook for a little profit. And I had met a few women through the showroom who bought furniture and needed help with window treatments in a room—and then they would pass my name on to another woman that needed window treatments in maybe two rooms, and maybe needed some pillows made. Really, that was the first four to five years of this business. It was really, truly slow and steady.
What was the moment you felt like you had made it, or had hit your stride?
I didn't trust that at all. I have some pretty lofty goals for myself—but I also used to have very different goals, and I think that's really important. Back then, I wanted to be Nate Berkus or Thomas O'Brien. I wanted a big firm and stores and product lines for big companies, and I wanted to be the face of something. And I [eventually] got a lot of that—I opened a store, and at one point I had eight or 10 employees. Some of them were doing kitchen and bath remodels that I had nothing to do with; we were just taking on the work to pay their salaries.
Along the way, there are all these little steps where you're like, "Oh, that's really cool, but I don't think I've made it." At the time, I was photographed in my 190-square-foot apartment and interviewed for Rue magazine, and that was a big deal. I mean, that was the biggest thing that really got my name out there as a known entity—like, "Oh, there's this kid with this tiny, weird apartment who is doing stuff that doesn't really look like Seattle." That got me a little cred, and it helped me meet a lot of people. I mean, there have been a bunch of really cool things. I have a book coming out—that's crazy. But there's no, "I've made it," you know? I think that just doesn't exist.
Because there's always another goal?
There's always another goal—and honestly, if you own your own business and you're creative and there isn't another goal, then you really need to pivot to do something different. I firmly believe that. Anybody that's like, "Ah, I made it," I don't know, maybe do some soul-searching about that?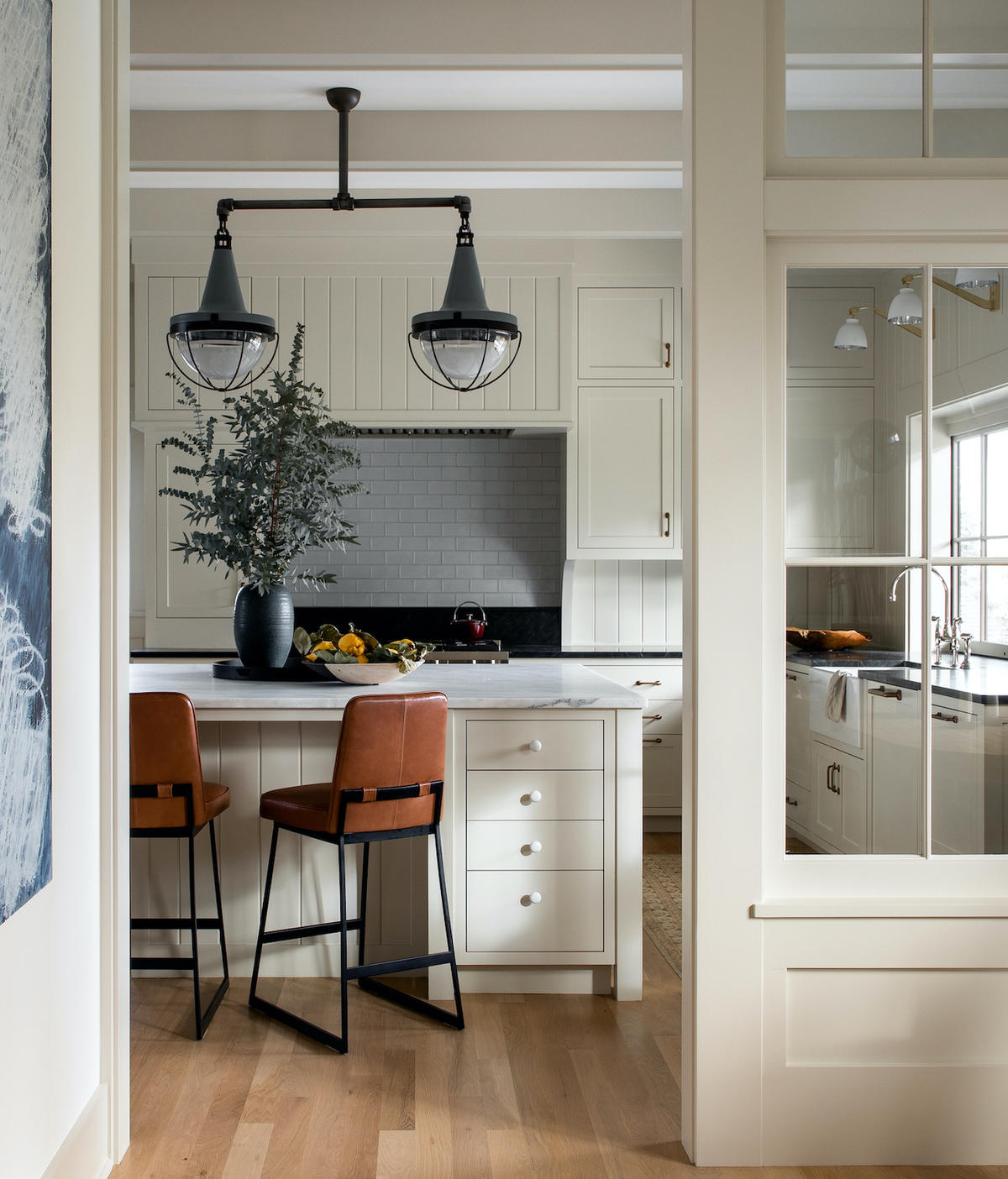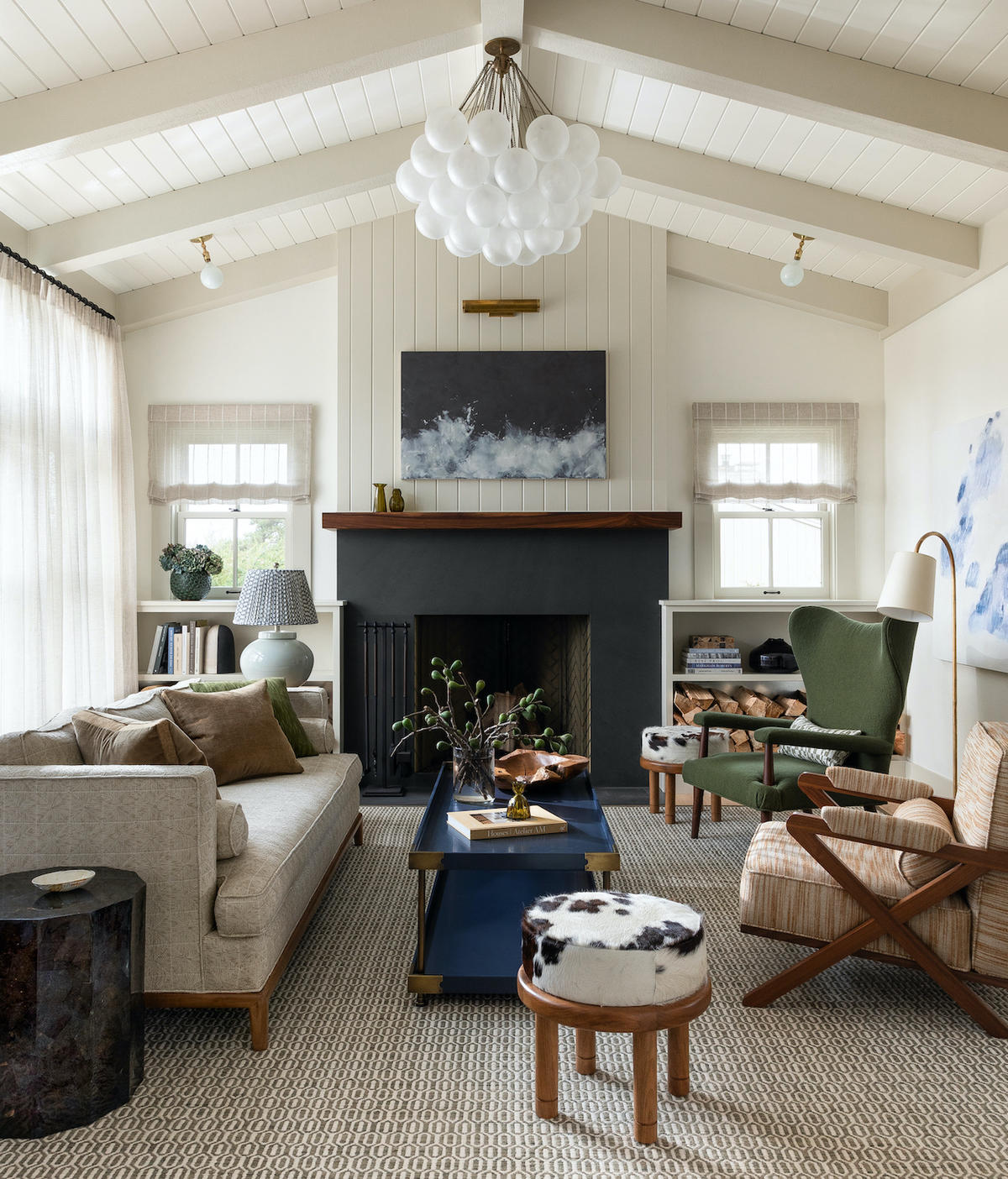 You said that at one point, your goal was to have a business like Nate Berkus or Thomas O'Brien. What changed for you?
I met my now-husband almost four years ago, and I realized what was important to me. For a long time, I had been burying myself in work and avoiding some things I needed to work on. I had just ended a long-term relationship, and when I met [my husband shortly after], my priorities completely shifted. There were all of these things—there was a store, managing staff, projects, a product line. It was like: What of this do I actually enjoy? And of the things that I don't enjoy, what do I need to figure out [so] I can enjoy them to sustain what I really do enjoy?
When you decided to focus on what you enjoyed, where did that leave you?
I realized that what I really, really love to do is residential work with like-minded people who want to hire us for us. What I don't like is managing a staff of 10 people who are doing projects that I have nothing to do with. I don't like having a store in a city where retail is already really hard, in a time when retail is even harder. And I realized that a lot of those things had a lot to do with ego, especially the store.
So we stripped it all back. I closed the store, and kept one employee, who's been with me for six or seven years—it was two for a while, but now it's just one. [My husband] Justin and I bought a house; the third floor is our office, and I love working from home. Now, it's a lot more of, like, head down, do really good client work that you feel proud of, and say "no" more to things that don't feel right.
What kind of things are you saying no to?
Product endorsements that don't align with my values. I don't need to be a face; I don't need to create content for content's sake. That's not really what I want to do.
We're much more low and slow. Ninety percent of the things I'm selling to my clients are custom-made from small shops that I trust and admire. We work with a small handful of textile companies and a few makers, and I really value quality over quantity. I value the values of the people, whether political or just being a decent human. That's really important to me, and if [we] don't align, it just doesn't make any sense to me. It's like, Where are your values? In this summer of social uprising, I hope that got people to think about where they put their money and where their values lie.
How did that shape your thinking?
I'll be the first one to say that I did not have all the knowledge. I was not someone who was sharing stuff because I knew it all. I learned so much. I'm 38 years old, went to a private Catholic school in Rhode Island, and did not travel or have those experiences that a lot of people do growing up somewhere like New York or Los Angeles, so I had to learn a lot, read a lot, and I was sadly finally pushed to the point where I wanted to do that work. I wanted to understand how privileged I was as a person, regardless of the fact that I have said over the years that I'm not the privileged interior designer because I don't come from family money or have connections or anything like that. But the fact of the matter is, I'm still white, and I'm still a male, and I still had every advantage growing up.
So a lot of that was like, OK, I'm learning now, too. I'm not the beacon of knowledge here. I'm just sharing this because I'm outraged, and I should have been for a lot longer. But here I am, humbly saying that I have been wrong, too. I've been very wrong, and here's some knowledge. And I am sick and tired of our industry showing the pretty all the time, and not feeling that they need to engage with the world around them. I think that's what a lot of people are going through, regardless of the industry that they're in: What am I supporting?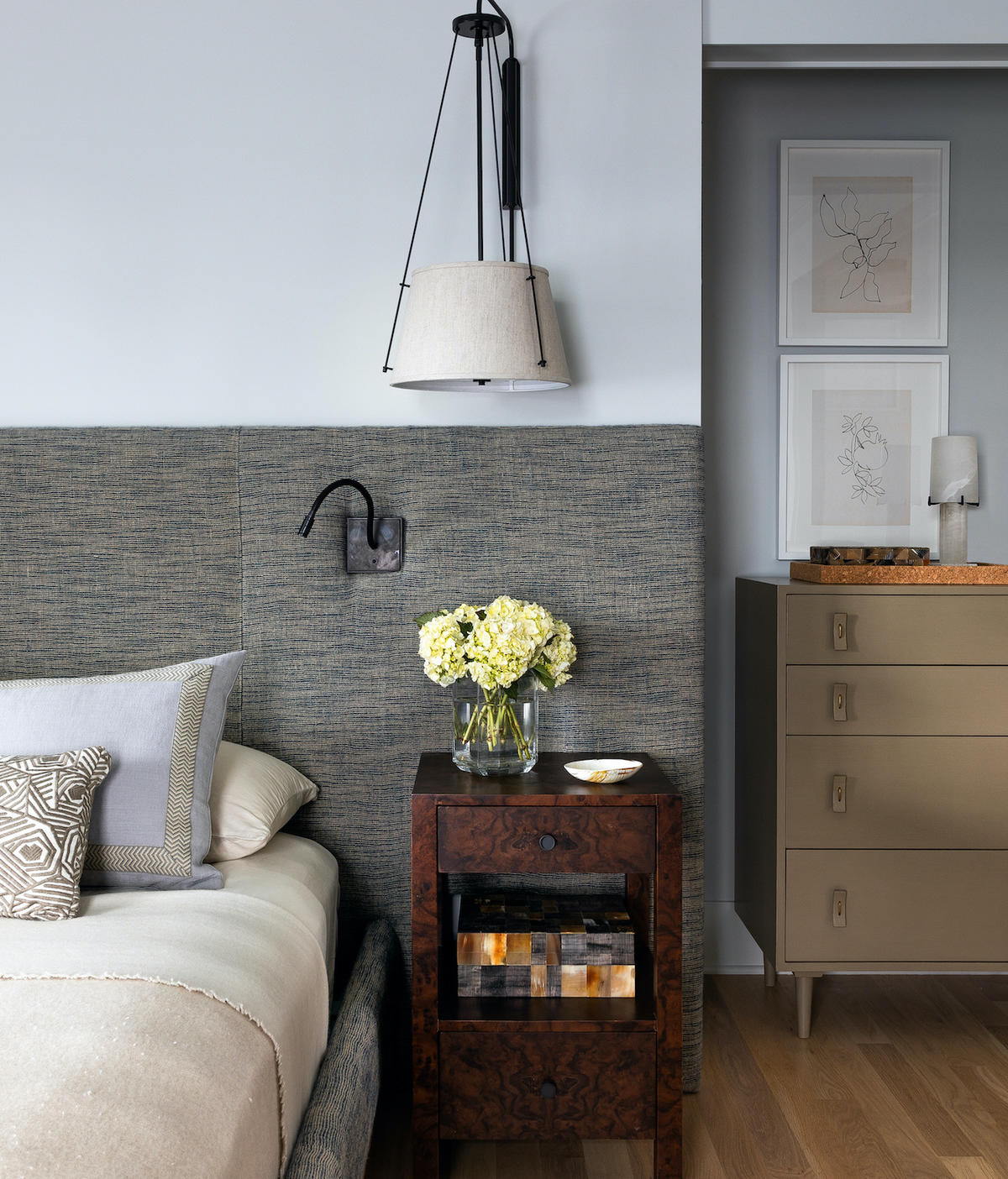 Totally. Tell me a little bit about Seattle. What's so unique about the design scene there?
It's not just Olson Kundig houses like a lot of people think. It's that, but it's not just that; it's more about the clientele and how people live here. That means a couple of things: For one, you have the weather, which is very specific. It's not raining all the time, but you have nine months of gray, and you really need to take that into consideration when thinking about how people live. A lot of people are hermits here, or they're hermits and they're also very active outdoors, and so nature plays a really big part in how designers work here.
What are the clients like?
We have a lot of tech people and a lot of creatives. I've only been here 11 years, but it has changed massively in that time. I'm not one to necessarily dwell on change, but as I'm getting older, I do miss the grit. Seattle is a big city that doesn't know how to act like a big city. We have the biggest tech company in the world based here, and we have offices for every single other big tech company here, but it doesn't quite know how to be that. For a while, people thought of this as an international city—and then they'd get here and [realize] it's very much a local city in terms of, like, you don't come here to shop like you do in Los Angeles or New York. That doesn't really exist. It's much more small and local.
But what's also interesting is that people aren't showy here. They will spend lots of money on architecture, but when it comes to interiors—I mean, Olson Kundig is a perfect example. People will spend whatever they're spending on an Olson Kundig house, and then furnish it extremely humbly. It's about the land, the structure and their connection to it, but it's not about being showy.
How did that Seattle mindset shape or change your aesthetic?
Over the years, comfort has been paramount—and I mean comfort in all realms, like the comfort of feeling like your best self when it's March and you're on your fifth month of gray. And when it comes to style, I think—or at least I hope—that our projects feel collected. There's obviously a big midcentury bent here, so I try to take some lines of midcentury—maybe I'm not using the Eames chair, but I'm using this other lounge chair that doesn't scream midcentury so that you see a room and you don't see an object. That's really important to me when I look at design, and that's probably why design for me has morphed over the past five or six years from a lot of color and print down to really sensuous textures and subtle tones that can be enjoyed for a lot longer.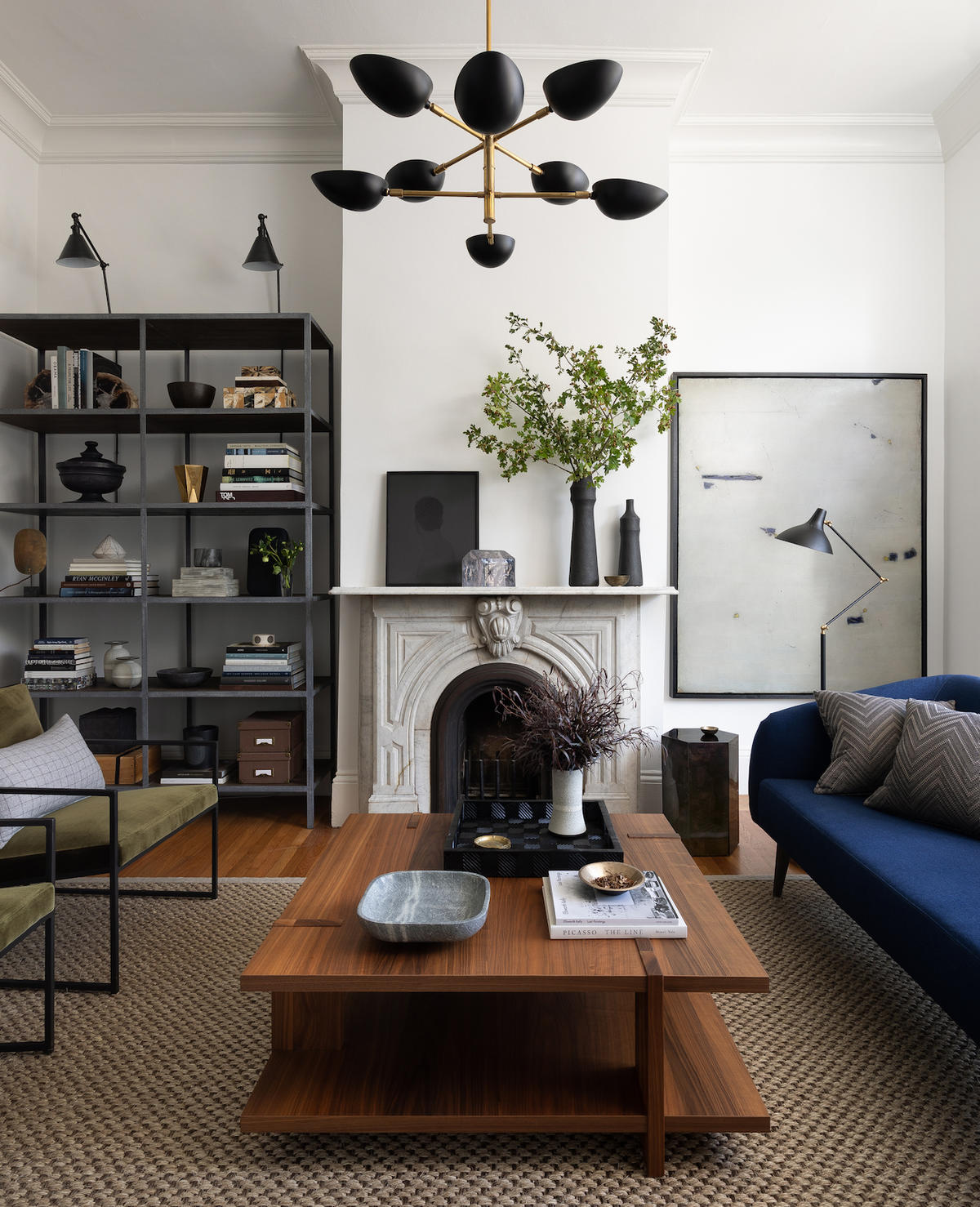 When you took that first job, how did you figure out the business side of running a project as you worked through it?
I was definitely figuring it out as I went. As a project manager in Newport, I was doing the billing, so I learned about markup and how to keep hours. And for the project I worked on, I was always there—if it was a drapery meeting, I had to be there; if there was a carpet meeting, I had to be there with the installer. I think also it goes to the systems [you set up]. Working at the firm in Newport, John kept it very old-school; we used binders there, and I still use binders.
For real?
Yes. For every client. For a sofa, there's literally a picture of the sofa in one of those clear sleeves; the next sleeve is the work order for the sofa, followed by the fabric for the sofa. If there's a trim, it's a sleeve. The front of the binder has the floor plans, the client's contract, and a copy of every invoice.
That's a big binder.
They can be big, depending. If it's a house, there are usually three binders. I used to call them "if you die" binders, because if I died, you could walk through this binder and see everything that was billed and made; all the details, costs and timelines; and all the floor plans if you need to install a project. If I blew up in a fiery crash, you'd know where the sofa went, where to put that rug.
It also goes back to systems. We created these systems that got solidified over time—and they solidified, honestly, with having really good employees over that time. The fact of the matter is, I didn't know how to use CAD or SketchUp, and I can barely make a spreadsheet. But as I could afford better employees—people with much more experience in that stuff—it [shifted] from me doing pencil drawings and blue-taping everything out on the client's floor to the project manager getting floor plans from the architect, scanning everything in and creating the presentation in SketchUp. [Our presentations are] now digital, and it's very polished and professional.
Did making that shift create new opportunities?
The more we can move from "imagine" to "reality," [the better]. Your clients aren't interior designers; they can't visualize everything. I don't like it to be a math equation, because I feel like that sort of takes away the energy and the organic nature that this process should be, but to rally 70 vendors and receivers and trucks and subcontractors, there does need to be math involved.
But when it came to the business—and this is still pretty much the way it is today—I wanted to keep the business side of things very, very simple so that the clients and I could focus on the creative task at hand. I didn't want everything to be overly wordy, I didn't want multiple markups or different hourly rates for different employees or any of that stuff. I mean, I wish I had hired an accountant from day one; you think hiring an accountant is going to be so expensive, but it's only as expensive as the amount of work you do.
How is that reflected in the way you bill?
I charged a flat fee until about three years ago. Now it's straight hourly with a retainer for a chunk of hours at the beginning, which shows the client that we mean business. I have a 60-hour minimum and then we just have a straight 35 percent markup on all goods and services.
On all services, too—does that ever get tricky?
The reason I [include a markup on subcontractor services is] because we manage all of them—and we use the same subcontractors on every project, so we're not paying cold-call pricing to our painters or our wallpaper installers.
I think it's different based on your business model. Having a 35 percent markup if you're working with a budget where everything is coming from big-box stores—that doesn't make sense. We are very lucky that I have positioned myself to work with a certain clientele where all of the upholstery is custom and almost all of the case goods are custom. There's a value to the client [in that work], and I don't want to assert that the value is in discounts. If I'm buying a yard of fabric and it's $50 for me, retails for $100, and you're paying $75, it's not about the savings you're getting. It's about us knowing that that's the right product for you, for its function, durability and color—and that I know exactly what to do with it.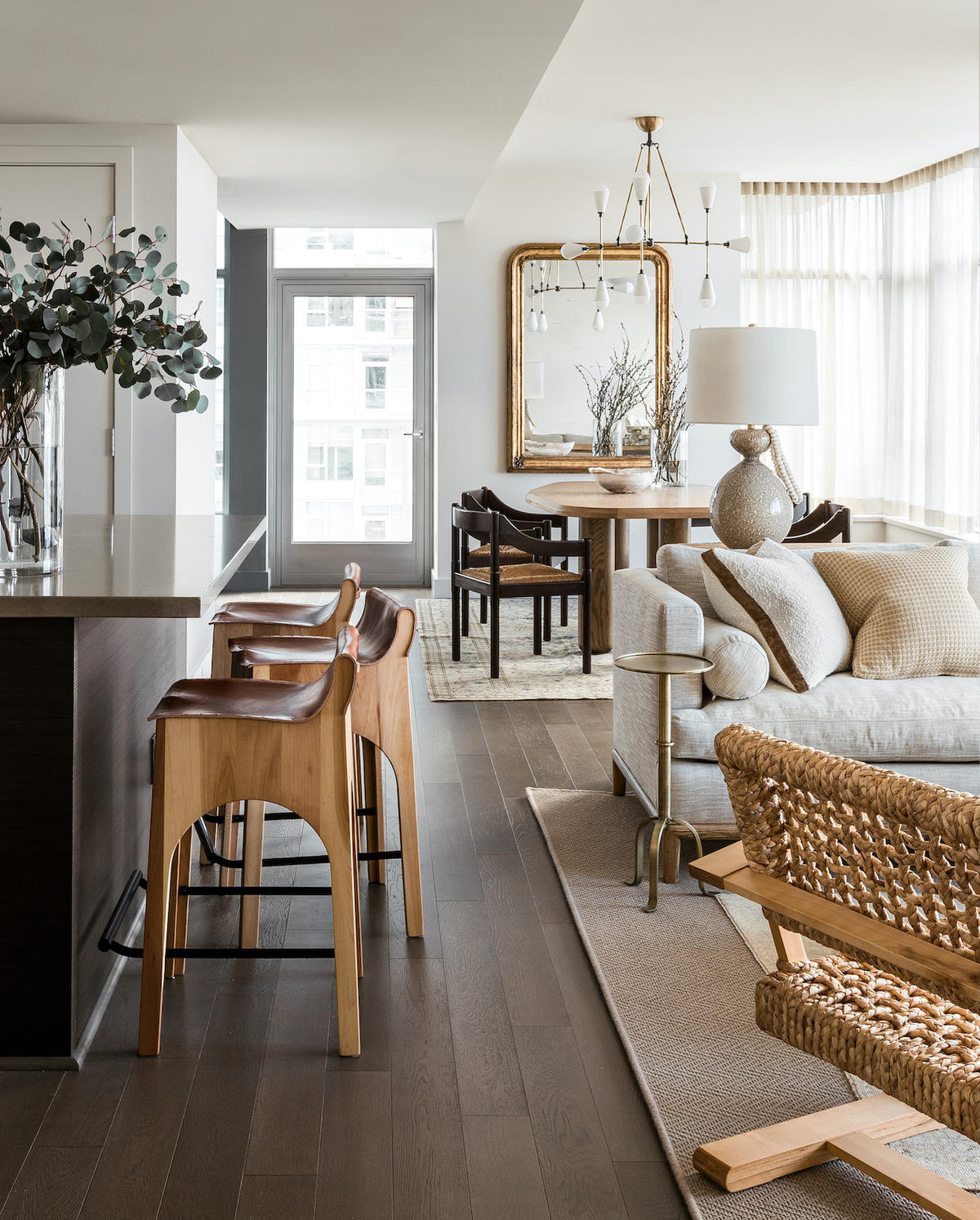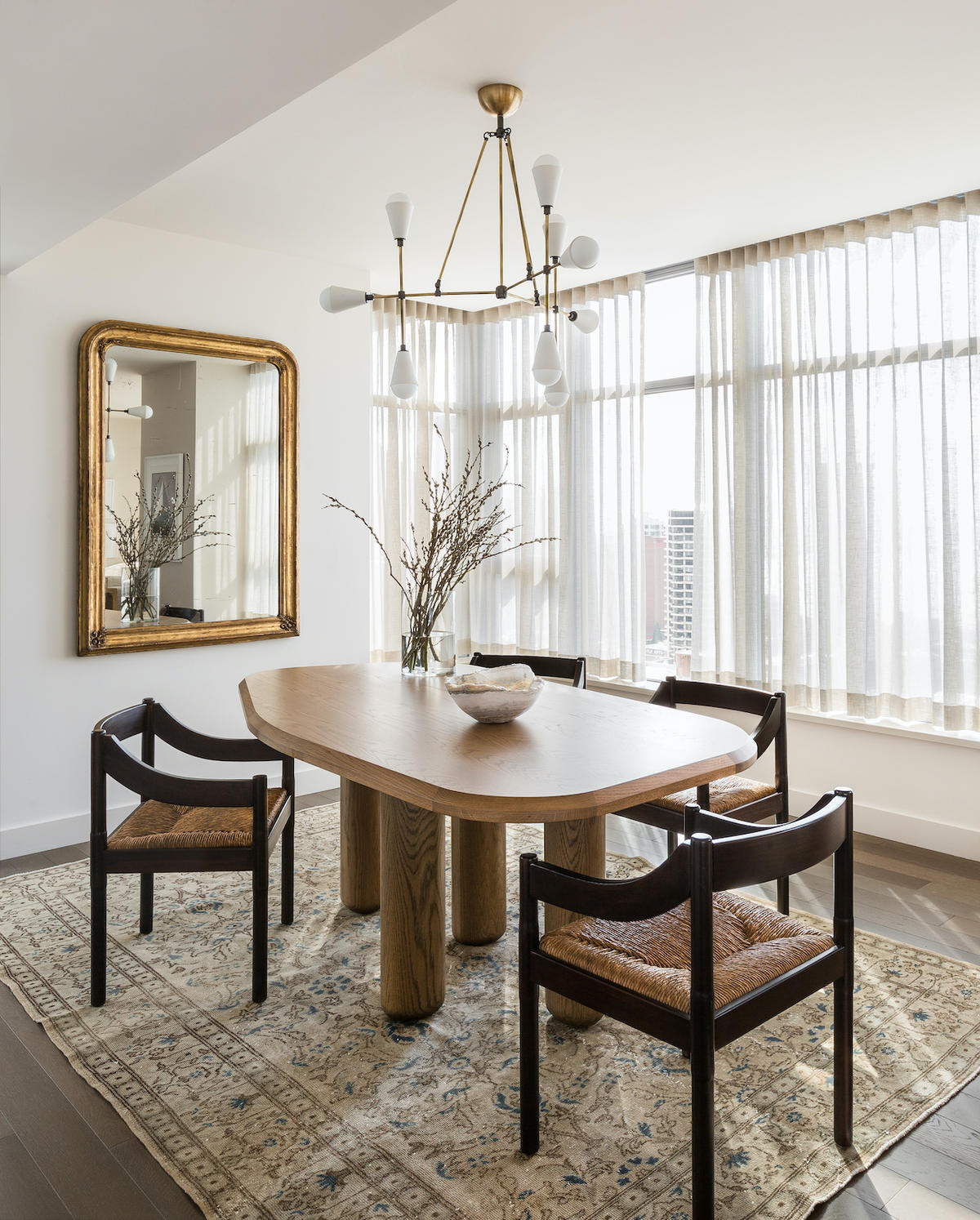 How has the way you talk about money with clients changed over time?
The fact of the matter is, these are some of the biggest checks people are going to write. Even if they're buying a house, there's a mortgage involved. So I think it's really important to have frank conversations about it—literally right after the first email.
Why that kind of timing?
It's [changed the projects I take]. I don't take on small jobs; I want to be able to sink myself into 15 projects a year versus 60, and to really be there for the clients that we do take on. So if you email me, you get a response that is catered to you, but there is a canned part that talks about budget minimums and our expectations. If you're cool with all that, great—we'll schedule a time to call or meet up in person.
If [as a designer] you don't [talk about money right away] and you're not confident in it, you should figure out why. Maybe you're not billing what you should be billing—not billing what you're worth. But it takes a while.
To develop that confidence?
Yeah. I mean, maybe not for everybody—I know a lot of people who had a business background before they started in interior design, and gosh, that sounds awesome. I didn't, so it took a lot of [developing the mindset]: This is my worth. This is what things cost.
How do people find you these days?
Not through Instagram. It's 50 percent referrals from other jobs and 50 percent cold Google searches—seriously, people searching: "Seattle interior designer."
Do you spend on improving your Google ranking?
I do—that's something I started doing about a year and a half ago. I always thought: I have all these Instagram followers, this has to be [where clients are coming from]. And then I did some research and it was not the case. My husband's in tech, and he was like, "Really, how do people find you? And where are you on Google?" Honestly, by doing that, the uptick has been insane.
And they're real clients who want to write real checks.
They are real clients, yes! I want to say 80 percent of the people that [cold] email me are like, "Yeah, we know the costs." Obviously, we have a website, and if you're doing any sort of research, you're seeing some pretty high-end projects. Maybe if you dig a little bit deeper, you'll see published work. I mean, if you immediately email and have no clue how expensive it is or how long it takes—I mean, that's probably 20 percent [of our inquiries], and that's totally fine. I would rather give people information than have them make a ton of expensive mistakes.
Seattle's a little different, too, because we have a lot of tech money here; they're very organized and they know what they want to spend, or at least they have a good idea, so if we align, then we're golden.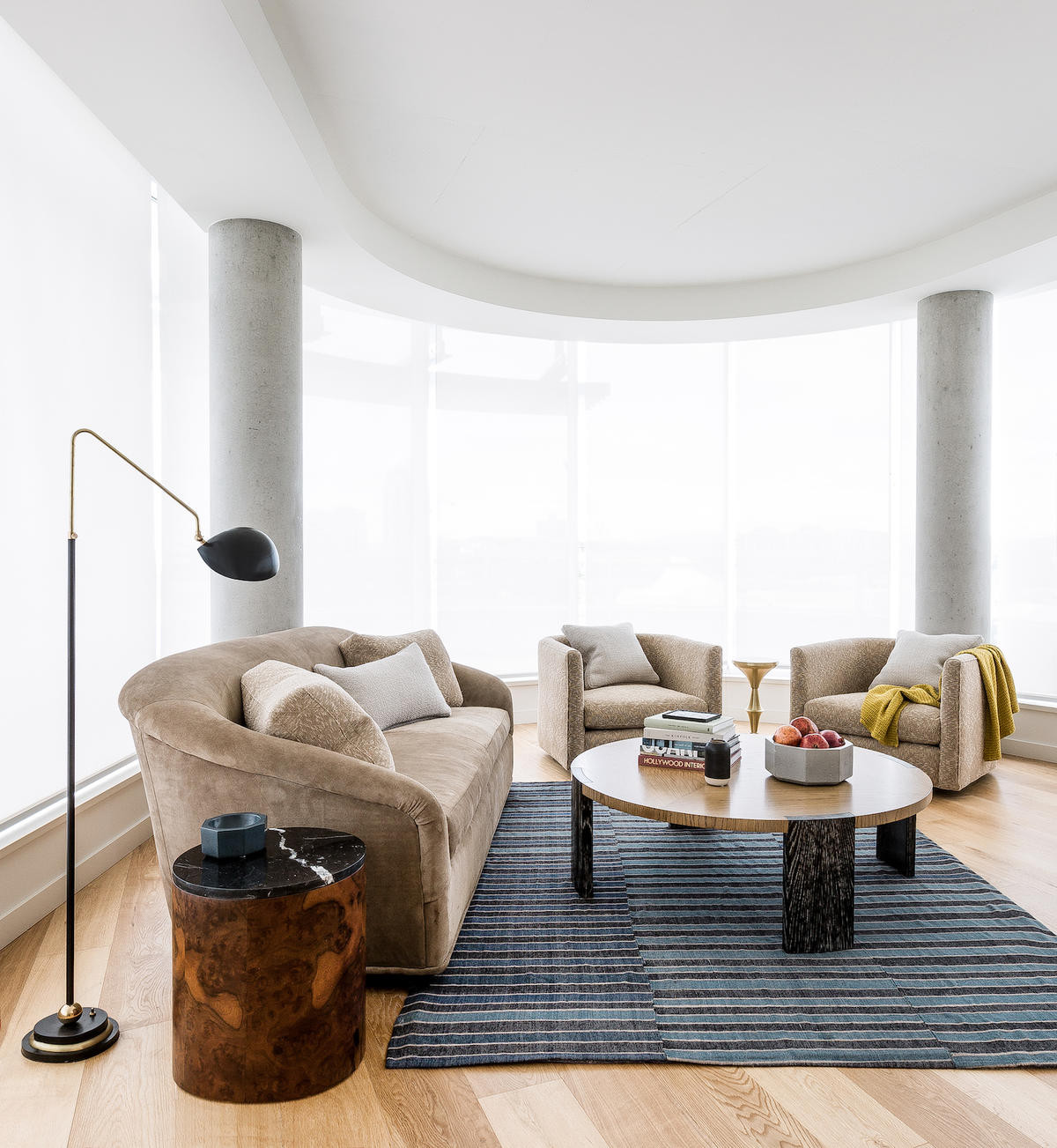 You said you're working on about 15 projects a year.
Yes, it's about 15 projects a year on average. This year has been insane and I'm very grateful—obviously, the industry has seen an uptick. But, honesty hour: Last year, 2019, was the worst year for my business by far and I was having a really hard time. The projects just weren't coming in. We were working with long-term clients, so everything was kept afloat, but I was creatively depressed. It happened to be the same year that Justin and I bought a house and we were getting married, so I was [busy] planning a lot for that, but it was so weird [to have leads and new work slow down].
Was it the same for other designers, as well?
It wasn't. But what I learned is that, in any business, you really need to be prepared for the ebb and the flow. The hardest thing for me is not making sure that we have money to pay the bills; it's more: Am I creatively challenged? I get really down on myself if there aren't new projects in front of me. I was really stuck. But as I was reaching out to seasoned interior designers in Seattle—just getting together for lunch and catching up, because I couldn't do that when it was busy—I realized that I need to make time for that always.
Were those designers saying not to worry about it—that it's just going to happen in your career periodically?
Yes—people who have been in the industry for 30 years said, "This just happens." Nothing is linear, especially not if you're creative, and you've got to be OK with that, or at least have some tools to deal with it. It's like: Well, if you're slow, what can you do? I can work on those systems, explore new product, do photo shoots, do new types of marketing—that sort of stuff.
Was it COVID that brought the turning point for you this year?
No, it was actually the end of fourth quarter last year. In one week in December, I signed four contracts for whole houses—and at that time I did not have an employee. It was like: This seems stressful, but there are four clients that have just hired you, and they've paid their deposits, and they want you to design their house. They've got good budgets and they like your work. How awesome is this? You just need to dig in and get this done.
I presented all four in the same week, which is crazy. I invoiced all four in the same week, and then there were little ebbs and flows. When COVID hit in March, we were in the middle of all those projects.
It was dead in March, April and May, and I was like, Well, at least I had a really good fourth quarter. I am going to understand this ebb and this flow. I'm going to take this time to do a ton of research. I'm going to take this time to finish my book. I'm going to take this time to just walk, to have some breathing space and to support my husband, who's never been busier with work. (He works for Kindle, and readership was up 600 percent at the time.) And then the end of May came around and it was just basically project after project after project after project, and it's been that way ever since. But I have a very different brain about it, you know? I know that there needs to be a bigger nest egg, and I know what I need to do if, say, one month we don't sign a new project. I have a very different thought process about it now.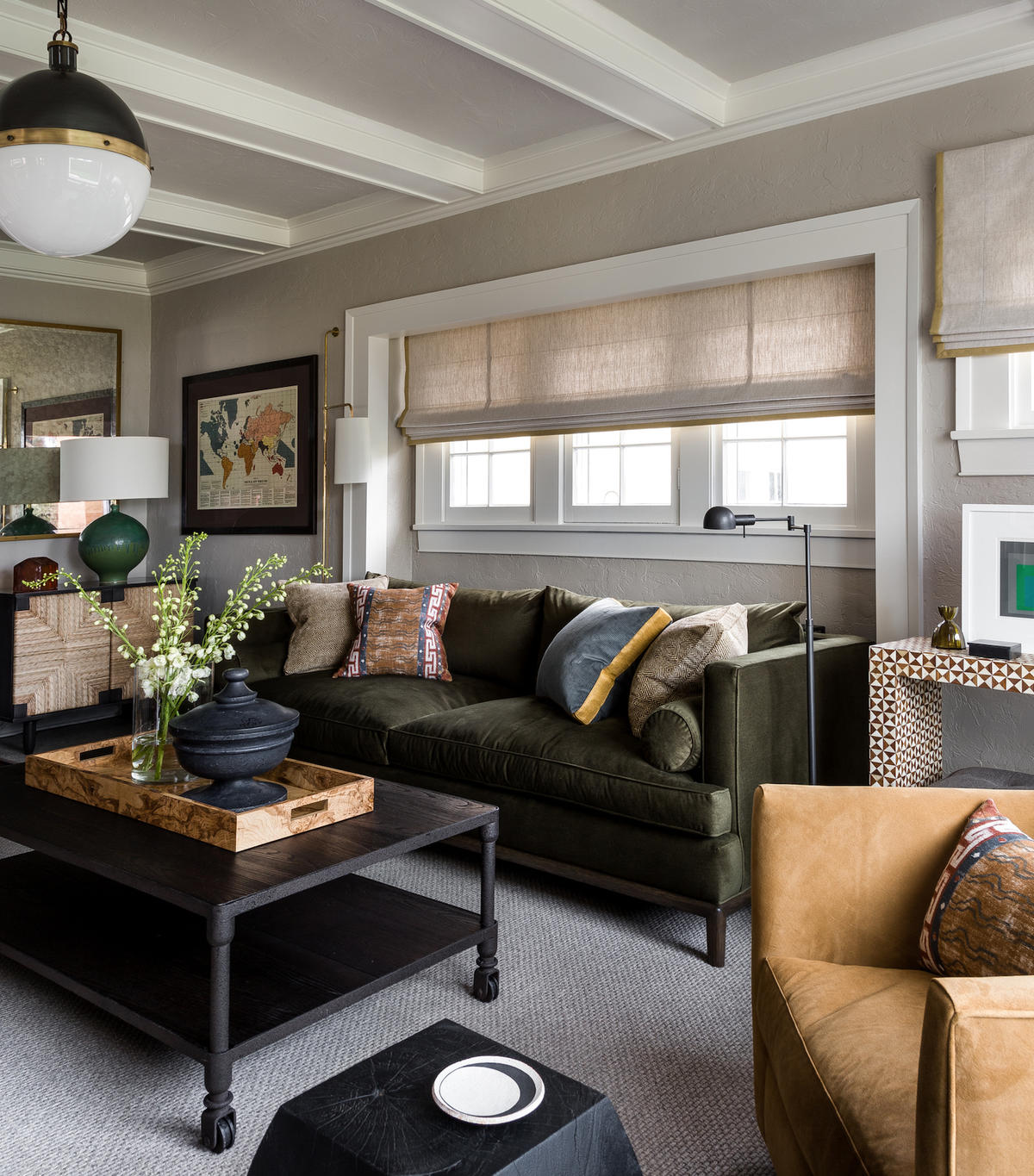 What does success look like to you next, for now?
Success is a continuation, honestly. Right now, I feel really happily supported by my clients, by our vendors and by my family. I don't feel like I need anything else, to be honest with you—and it's taken a long time to get to this place. Maybe that goes back to your earlier question: The aha is taking a breath, and knowing that you already have everything that you need, so you just need to keep your head down, stay humble and do the work that you were meant to do. Yes, I'd be excited to take on insanely larger projects, but the universe is going to guide that, and hopefully our work ethic and the work that we do is going to guide that. But I'm not here to figure out what that's supposed to be.
Would you ever grow your firm again, or do you like staying small?
Oh no, no. I mean, maybe I would have two people, plus we have an accountant. But two people tops.
Is that where it changed for you—where it got bigger than that and the job was just different?
I loved my employees, and I loved working with them. They are all extremely talented, but [that meant] they were all getting a certain salary, and to [support] that, we needed to take on a lot more projects. And you know what? When you do that, half of those projects are not going to excite you. I did not take the risk 11 years ago and pull the rug out from under myself to be underwhelmed by the creative work that I'm going to do.
That's such a good way to say it.
I mean, I know that comes with a lot of privilege, because at the beginning—for six, eight years—you've just got to do the work that you need to do. And with every project, there's going to be work that you do not want to do, but there is a means to the end. And the means to the end is continuing a creative conversation as a creative, not only with yourself and your clients, but with other creatives. I feel this need and want to be able to push things further as a creative. I feel like it's the next gallery show, even though I'm not working on a canvas.
That doesn't mean that I'm pushing my clients to do things that are uncomfortable for them; it's more about taking something I did and turning that dial just a tiny little bit. It could be turning it down—that could be the thing that pushes the envelope! Where it used to be pumped up to get people's attention, now I turn the dial down to get people to look closer.
To learn more about Brian Paquette, visit his website or find him on Instagram.
Homepage photo: Brian Paquette | Jenny Jimenez