The 50 States Project is a yearlong series of candid conversations with interior designers we admire, state by state. Today, we're chatting with Santa Fe, New Mexico–based Chandler Prewitt about learning to clock client personalities from the get-go, bringing a local sense of place and culture to every project, and how the pandemic changed his focus from quantity to quality.
When did you know you wanted to be a designer, and what was your path to this career?
I was a barista in the Union Square area of San Francisco, which is the fancy shopping district. I used to wait for the bus in front of Nordstrom, and they had these amazing, beautiful windows; I was there so early in the morning or late at night, and I used to just love watching them working on it. I thought it was the coolest thing; I stopped being a barista and became a window trimmer. As my career developed, I became the visual manager for Saks Fifth Avenue. And then, as I was reaching the peak of my career there in 2008, I decided that I wanted to go into interior design.
How did you make the transition?
I happened to have a friend working for Ken Fulk, so she got me in the door, and I worked there for about four years. When I got there, he had a staging business and an interior design business and was just starting the events business. I started doing home staging, and from there I was able to work my way into different areas of the business. I was a project coordinator and did interiors styling —I got an inside look at the operations side of an interior design firm.
After that, I was hired as a senior designer by a company called Geremia Design, which at the time was most known for its 81,000-square-foot office renovation for Dropbox's headquarters in San Francisco. We did work for all these dot-coms, as well as the homes of their CEOs and owners; we also did a lot of bars and restaurants. I went from high-end residential interior design to incredibly fast-paced commercial design. Then I took a little hiatus and went to Cape Cod before coming to Santa Fe in 2013 and starting my business here.
What brought you to Santa Fe?
I grew up here, and I wanted to be closer to my family. I love Sante Fe and the Southwest—it's home to me. But also, to be totally honest, San Francisco had become very expensive to live in. I had a wonderful flat most of the time I was there, but then that person sold the house and I had to look for a place to live and it was just crazy. I knew that I wanted to start my own business, but also that the people doing interior design in San Francisco were—I mean, they were working on another level. Competing against some of those huge names in San Francisco, I didn't think it was going to be an easy thing to do when I was also struggling to figure out how to start a business and pay rent. I know a lot of people who have design businesses come from money and are already comfortable. Starting an interior design business may still be a struggle for them, but it wasn't a huge financial conundrum, you know? Whereas for me—to figure it out would have never worked.
How'd you get started?
My first clients. They are still, to this day, those clients that you always dream about, where they just trust you, want the best thing, and don't argue about cost. I haven't really had any clients like that since then, to be honest. Most clients have budget parameters, or there's a lot of working through details that couples need to agree on, and a lot of trying to find the right thing for them. This one specific client was so generous, so kind and so trusting—and the finished product was so great that I got a ton of press off of it.
That's amazing.
I have a friend who worked for California Home + Design when I met her, then at Houzz. She followed me on Instagram and we're friends on Facebook; she saw some of the pictures I was taking on my phone and wanted to cover the project. It was featured on Houzz, and then ended up getting a ton of interest from everywhere and was [ultimately] featured in Luxe. That gave me a really great platform and a good, solid thing to put in my portfolio.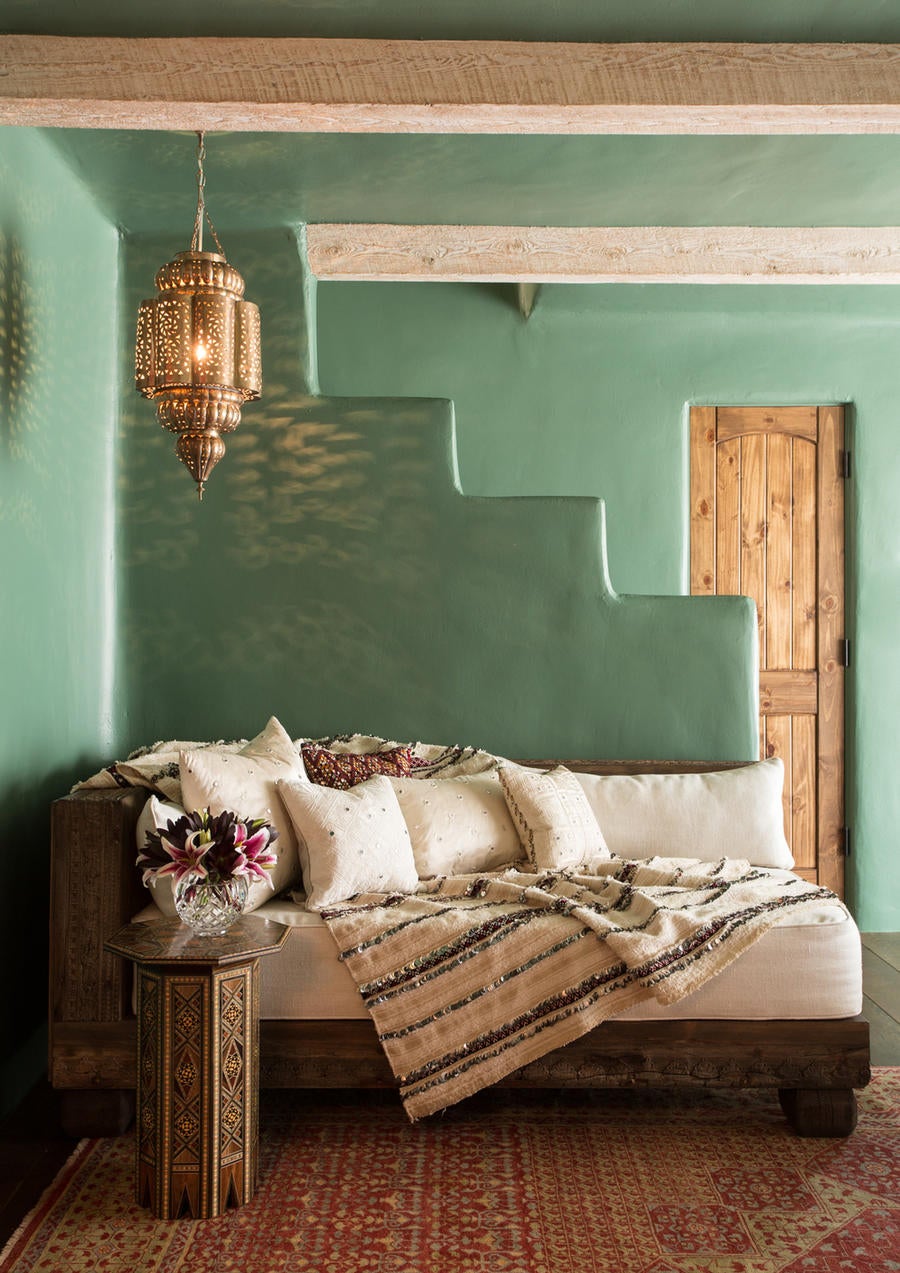 Courtesy of Chandler Prewitt
Did that attention on your work bring in the next jobs?
It got me a lot of work. And the owners of the original project—they're friends of mine now, but they're also very connected; people love that house, and they're always very generous about saying, "Oh, this was our designer," and giving out my name. I also got connected with some of the private communities here in Santa Fe—these upscale gated communities that have their own in-house real estate divisions. By networking within those groups, I ended up getting referrals from the real estate offices in those communities.
So someone would buy a house and say, 'Who should I hire?'
Yes. A lot of these communities have preferred vendor lists—like, "OK, here are four good plumbers" and "here are three good designers" and "here are two good solar panel installers." They want the homes in their neighborhood to retain their value, right? So they don't want bad work done on these homes. Between word of mouth and getting on those lists, [my firm] ended up taking off. It wasn't an overnight success story by any stretch of the imagination—it took three years of hustling and trying to get my name out there before I started to see the value of that work come back.
Tell me about the city—the housing market, the types of clients.
Santa Fe is really small. It's like being in Aspen or another small community. You have builders, architects and interior designers, and we're all part of the same professional community, but a lot of these people wait and see how you do before they start bringing you on and trusting you with their clients, so I had to put in a lot of work in those first couple of years to put my name out there and show my work to as many people as I could. I did everything I could to create recognition of my name and of brand [so that] when they see me on the streets, they say hello, you know? In a small town like this, having that familiarity is really important.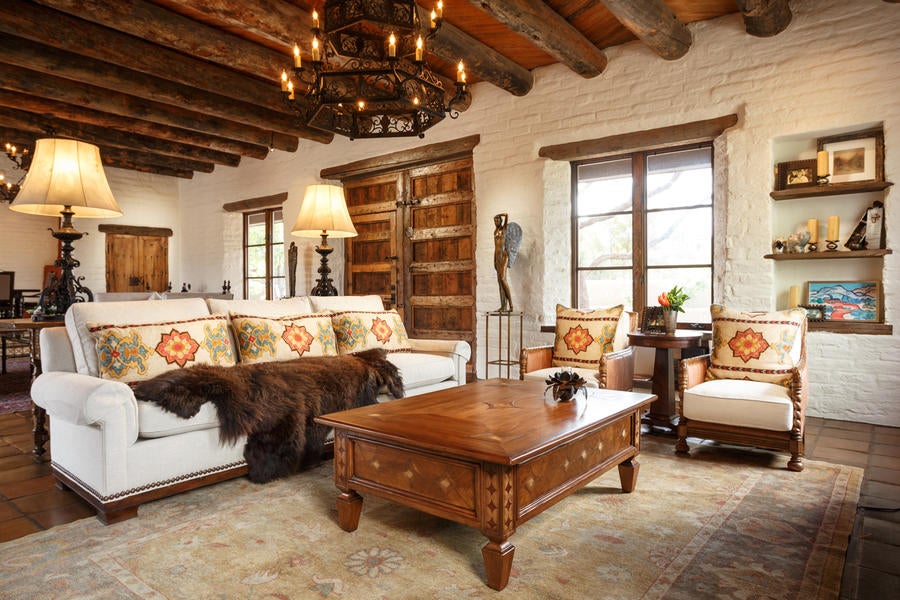 Courtesy of Chandler Prewitt
What kinds of projects are you working on now?
From the start, part of my business plan was to target second-home owners. We have a lot of second- and third-home people here in Santa Fe, as well as a lot of people who are retiring, which is my other niche. Most of the houses I've done have been remodels—though that's changed in the last two or three years because we've really run out of inventory. New homes have become a larger part of my business; our building envelope is getting close to done and there's not a lot of real estate on the market right now, so a ton of people are opting to buy land and build, and we've had an incredible building boom in Santa Fe.
Are people building homes instead of remodeling because they just can't find a house to buy?
I think that's a large part of it. But also, the homes here are old—I mean, this is a historic town. You move here because it's historic. But there was also a big building boom in the late 1970s in Santa Fe, so there's a specific visual vernacular of that late-1970s and early-1980s Santa Fe style, so a lot of people buy those homes and gut them. When you're talking about buying a $2 million home in Santa Fe and then you have to put $1.5 million into it, it kind of makes sense just to buy a lot of land and build a house on it. It ends up costing close to the same.
What are the hallmarks of these '70s and '80s homes? Is that what you're trying to subtract in your remodels?
There's one community here called Quail Run—that entire community was built in the late '70s; and every single [home] was built the same, with this mauve pink and blue Talavera tile countertops.
That's super specific as a look.
Totally. And even though Saltillo floors will always be OK because it's Santa Fe, there is a whitewashed pinky Saltillo tile treatment that a lot of people did then, so it's these really pink floors and then this pink plaster treatment and pickled white cupboards—
I see why you're doing renovations.
It is so specific to a certain era in Santa Fe, and it reads as dated no matter [what].
You can't fix that, can you?
No, you have to remodel it. I mean, there are people who still love that look, don't get me wrong—people who have a nostalgic reference point for Santa Fe that is that period of Santa Fe style—but most people have moved on from it.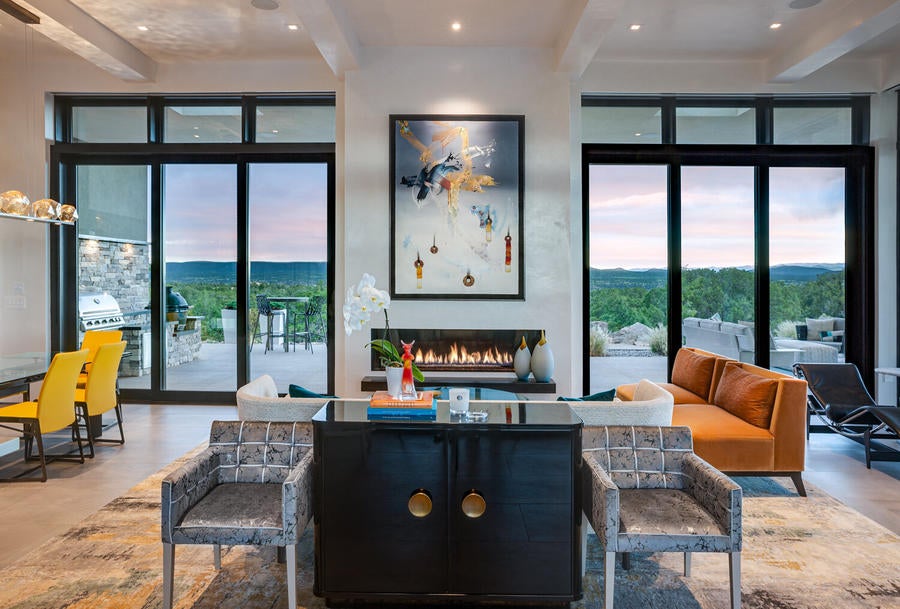 Courtesy of Chandler Prewitt
Something I love about your portfolio is that your work feels both like it could be anywhere and like it belongs in Santa Fe.
[I started] my career in California, [which has] its own look and feel, you know? So when I came here, I really thought about what it is that inspires me about Santa Fe. I was able to narrow it down to a couple key elements that I try to bring into every single project: a very strong reference to nature, so I always want to have beautiful open-grained and hand-hewn woods, stone, wrought iron, handblown glass—I want things where you can see the craftsmanship, but also [that connect] to nature. Even in the colors I use, I try to reference what you see in our natural landscape here.
Our culture here is important, as well. Native American pottery and jewelry, for example, is something that I love about Santa Fe. But then we've also got the International Folk Art Market, which is huge every year and a major part of who we are. We get vendors from all over the world selling their textiles and goods, so I try to bring a lot of that into the homes. No matter what the client's taste is, I try to bring those elements into the project so that there is a sense of place when it's done.
I've always wanted to go to the folk art festival.
There's also the Santa Fe Indian Market and the Traditional Spanish Market each year, where all the local New Mexico craftsmen show incredible things—custom tinwork and wood carving. I'm so inspired by that.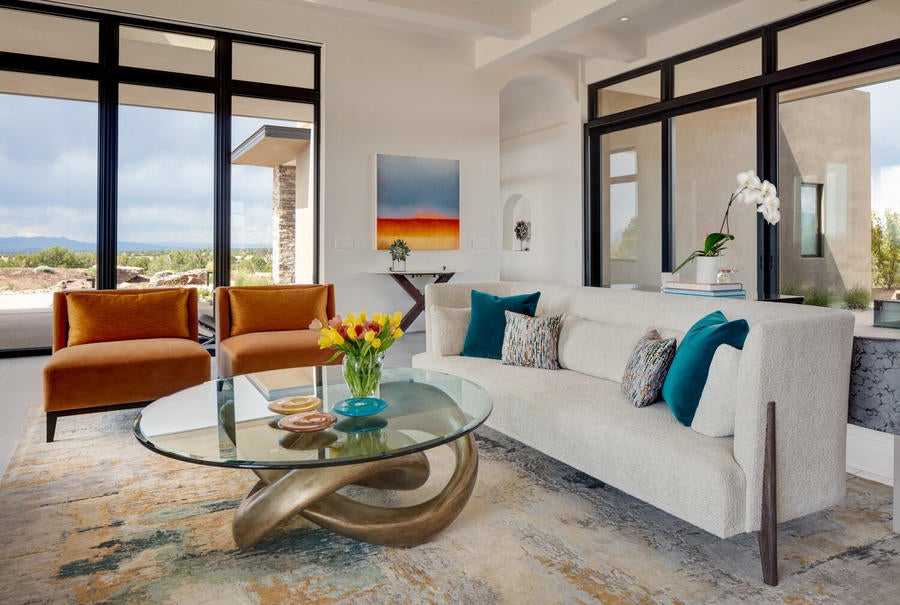 Courtesy of Chandler Prewitt
In terms of trade resources, where do you shop?
I attribute some of my success as a business to the fact that there are very limited resources here. We have a couple furniture stores that sell brand-new furniture that is of medium to good quality, but not designer-brand furniture. The nearest showrooms are in Denver and Scottsdale, Arizona. Luckily, the reps—especially the fabric reps—are really good about taking care of us. Both design centers have really helped support the designers in Santa Fe—they are very good about sending us what we need, getting us samples, trying to make business as easy on us as possible, because we can't take our client to go sit on a chair or feel three yards of fabric. When you take somebody into a showroom, they really can get a sense of the quality of whatever they're purchasing from you, but here, you just have to ask them to trust you.
That has to be a big switch from the way you were working before!
In a lot of ways, it is. You have to know your resources. Having lived in San Francisco, where you have every major interior design resource you could possibly imagine at your fingertips—I got to see all of that and get to know the brands really well. I got to really understand the quality of those pieces, so when I am sourcing something and all I can do is see a piece online and get a finish sample, I have a pretty good idea of what the end product is going to be because I spent a lot of time familiarizing myself with those resources in person. There are definitely times when I just have to ask my clients to trust me, and they are buying something based on an image and a rendering. I have to talk them through what the quality is going to be.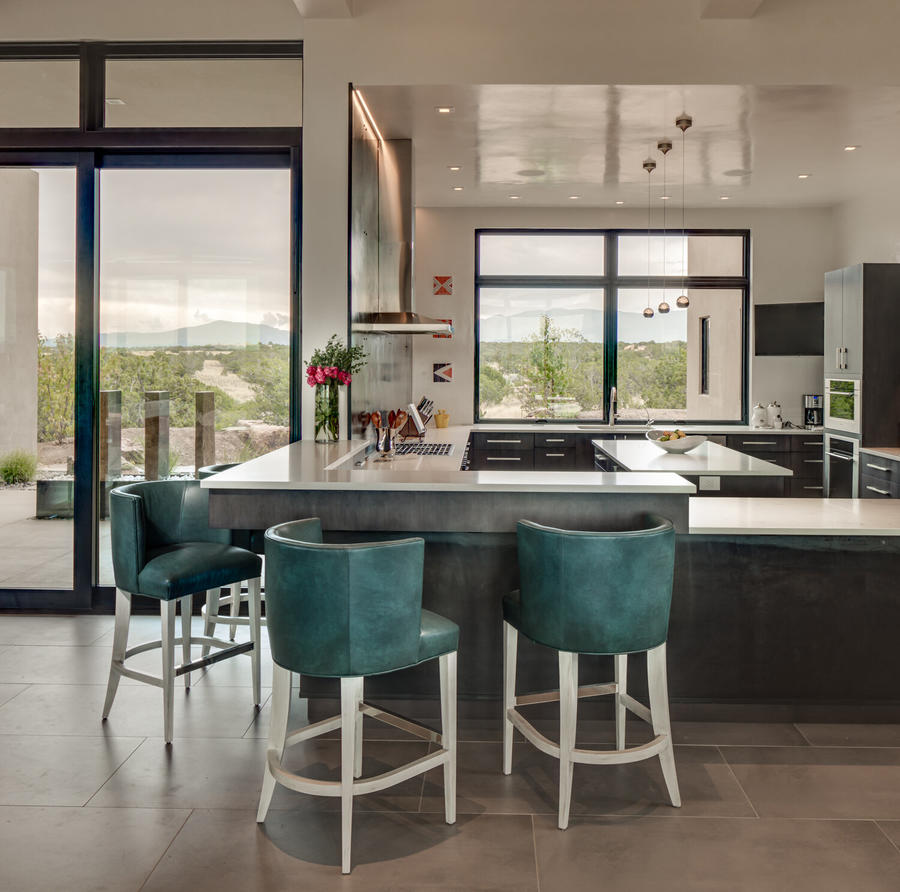 Courtesy of Chandler Prewitt
Do you have to shop differently because of the climate?
It's hot here and also very dry, so you have to be careful with wood. I just bought some pieces from a vendor and all the doors had warped, they were all bent.
In the heat?
Well, who knows whether it was from the heat during transportation or the dryness of our climate—wood tends to warp. It means that [what we specify] has to be a quality piece. If they put a thin veneer on something, there's a good chance that will pop because the air is so dry—it makes the backing of that veneer a little bit more brittle, so if there's any movement at all in the wood underneath, the veneer will pop off. The veneer also just might crack because of the dryness of the air. When it comes to wood, I try to make sure that we either do something that's made locally or from a really good brand—Berman | Rosetti, Michael S. Smith's Jasper Furniture, Ebanista, Alfonso Marina. Good-quality solid-wood-construction pieces.
That's a crazy extra thing to think about.
Oh, and also sun! Especially with modern architecture that has a lot of windows, [it's about] choosing fabrics that are not going to bleach with the sun. Some of the finer fabrics, like silk, really start to degrade when exposed to sun, heat and dryness. You have to worry about that stuff too.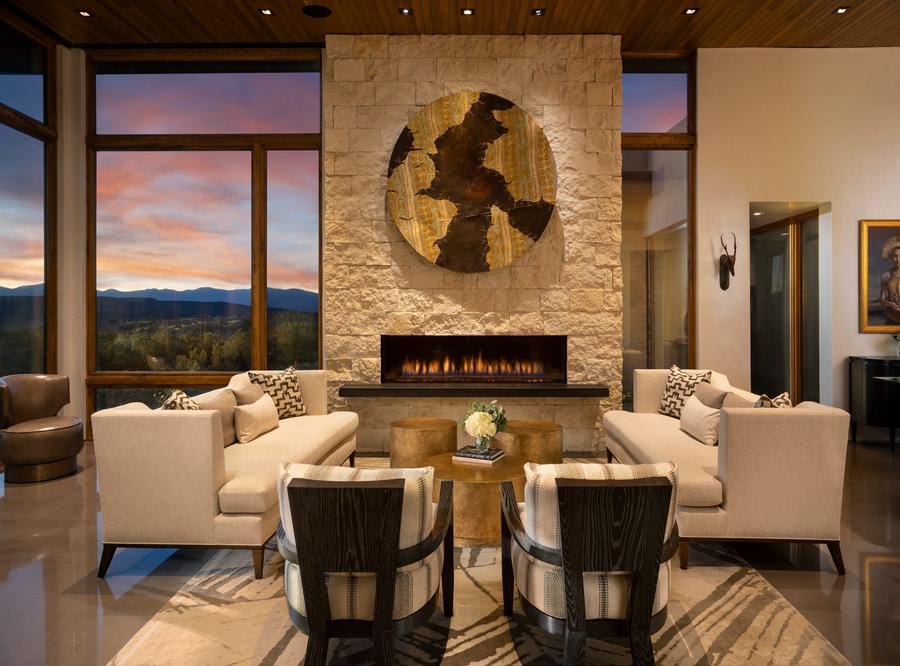 Courtesy of Chandler Prewitt
Is it too hot for indoor/outdoor living, or are you thinking about that, too?
Probably the primary reason people move to Santa Fe is to experience indoor/outdoor living. It's not like Phoenix, where it's a hundred thousand degrees or whatever—so hot that you don't want to go outside. We mostly get people from Oklahoma and Texas, where summers are awful and muggy, because even though it's hot here, the air is dry, so you can really get out and do things. You're always five minutes away from mountains and walking trails; everything here is very much about getting out, being in nature, bike riding and hiking. We don't have a lot to offer in terms of nightlife, but if you like to go hiking, we've got that in spades.
You mentioned that some of your clients don't have an unlimited budget. How do you tackle talking about money?
I've tried a lot of different ways to figure that out. I'll tell you what I'm doing now: I don't bring it up unless they give me some indication that there is going to need to be a budget in place. A lot of people don't have a strong concept of how much it's going to cost to completely renovate and furnish a house. If it's a younger couple or a first-time home buyer—or if it's somebody who I don't think has unlimited resources—I bring that conversation up right away. I'll say, "I believe that your remodel is going to end up taking this much money, and I also believe that, in terms of furniture, to furnish this whole house, you're looking at a medium price point of about X, but if you really want quality, luxury goods, you're going to be right about here."
But here's the thing: I have a lot of clients for whom money is not a concern. This house is the third or fourth house they have bought, they're only going to spend a couple weekends there, and they have unlimited resources. A lot of my clients are that too, and for those clients, I don't really talk about money. If there's just something great that I think is going to work—let's say it's tile—I'll just say, "This is the tile I think you should use in your house." Yes, that tile might cost $75 per square foot, but I'm not trying to get them into that $4-a-square-foot price point anyway.
Those clients are usually more interested in the end result—how it's going to make them and their guests feel, or how it's going to help later on when they want to sell. They don't really think so much about, "How can I get this done as cheaply as possible?" People who have a lot of resources approach design a bit differently—in terms of self-fulfillment and what's going to make them happiest. I think that that ends up being the bigger question than, "What is it going to cost?"
When in the process do you talk about your fees and contract and billing?
I usually like to feel out what the job is before I start talking about my costs. If I think it's going to be a yearlong project, I might design my fee structure differently than something I think is going to be a really fast, get-in-and-get-out kind of project. Once I have a better idea of a project, I can make a fair assessment of how long I think it's going to take and what kind of resources it will [require] and give them a pretty good idea of the costs. A lot of interior designers charge by the hour, but I do not. I give one price for the whole project, because I hate to do billing or keep track of my hours. I also think clients get a bad taste in their mouth when you spend three hours looking for the perfect pillow and you end up charging them $500 in fees to buy them a $300 pillow.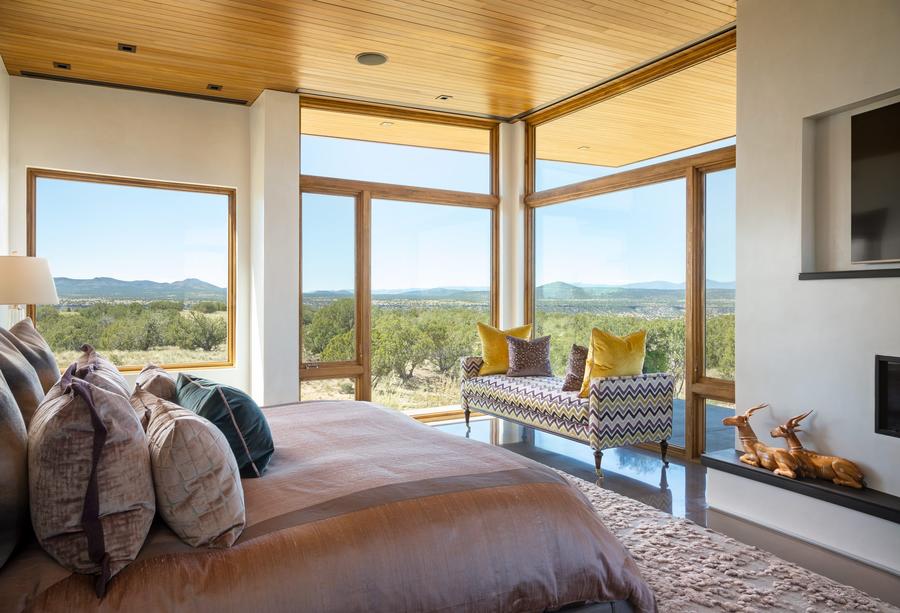 Courtesy of Chandler Prewitt
Does that ever backfire—with a needy or indecisive client, for example?
I try to get a full understanding of the job, but also of the client. I can usually tell right away if this is a client that is going to take a long time to come to decisions; I can also usually tell if they're someone who changes their mind a lot, or the type that's going to be unsatisfied. I think to own a business, you have to really know people and have a good understanding of people's motivations and world views. If you're talking to someone and you can tell that they're generally pissed about the world and have a poor attitude—well, I won't usually take those jobs.
Because you know how hard it's going to be?
Because I know there are going to be problems I'm going to have to pay for. I talk about my fees upfront, and then I bill once for the entire project, they pay me, and we get going. Once I get a sense of the client and the job, I give them a proposal that they can either accept or not—which is another great way to vet your clients, by the way. "Are you able to make a $15,000 purchase for my time right now?" If not, then maybe we're not compatible anyway. In that beginning negotiation, I also get a very good glimpse of what they are going to be like to work with the whole way through the project.
What is your biggest business challenge now?
My post-pandemic reality is that my company is no longer taking every little thing that comes my way.
Why the change?
If you have only two or three good projects, the ebb and flow of money coming in—and the periods without—is a little bit harder and more dramatic. You have higher highs and lower lows. But if you have a lot of projects, like 10 or 15 at one time, your cash flow stays pretty steady.
You're always taking on something new.
Right. You're in different phases of different projects, and there are certain phases when you make more money. So for the longest time, my objective was to have a steady cash flow so that I could manage employee and overhead costs; that gave me the feeling of security. But after COVID-19, I did a lot of introspection—I mean, we had two months to do nothing but watch Netflix, right? So I had a lot of time to think about things!
If steady cash flow was the goal, how'd you land on the decision to scale back?
To be honest, I had thought this could be the end of my business, something that was going to devastate me. But then, right at the end of quarantine, I started getting so many phone calls. It was kind of insane, the amount [of inquiries] we were getting—I was shocked. And at the same time, all my old clients are coming back and being like, "We never finished that one thing, remember, Chandler? We need to finish that, right?"
You can't say no to your existing clients, but I have been saying no to a lot of other work because I've decided that I'm only going to do full-house jobs now. Like, if it is not a full-house remodel with furniture, I am not interested. I love the work I do, and I really want to do jobs that I'm inspired by and invested in. Doing a little kitchen remodel here, a bathroom remodel there and helping somebody pick out some pillows—those small things that come up, I'm turning them down.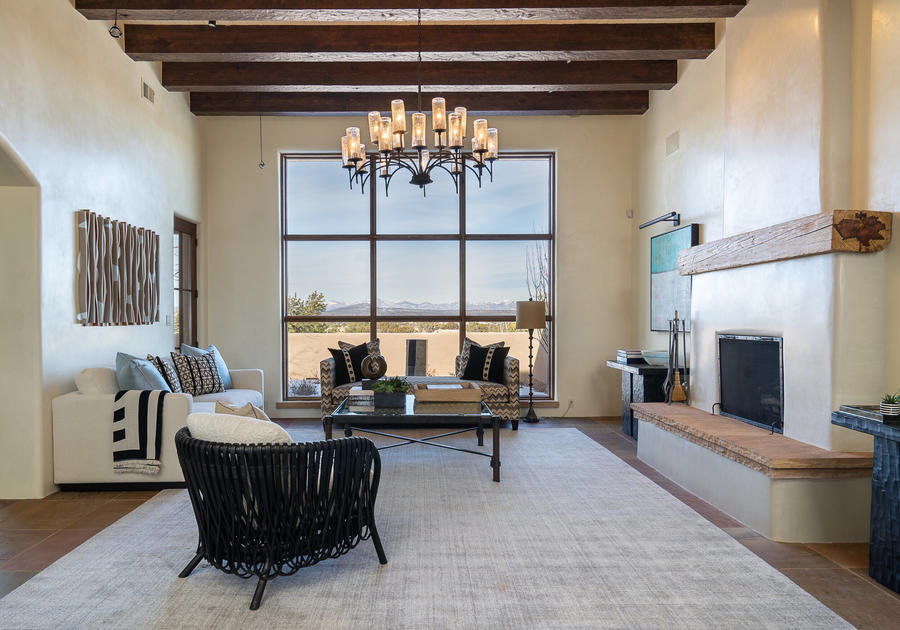 Courtesy of Chandler Prewitt
How does saying no feel?
Saying no is so hard! Especially when you had to hustle and take every little thing to get your business started. Like, color consultations where they want to know what color to paint the garage doors, and you're like, "Oh! I've got the perfect thing, let me tell you!" I had to sell—everything was always, "Yes we can!" So it's hard to go from having a ton of business and always taking new work when it came along to now saying no. It's hard, too, because some of these people have followed my work for a long time—they know what I do and they've been waiting for that moment to call me. But if it's not a big enough job, I've just decided it's not in my interest from a business perspective to take that work.
Because of the efficiencies of working at scale?
It's like doing commercial work: You pick out one light fixture and end up buying 30 of them. When you're doing larger projects, it's a more profitable, streamlined process. You're able to get a lot done in a more efficient way. I am also just more interested in doing them.
Besides, it's always the little projects that end up taking forever. I did this lady's house—she wanted to refurnish her bedroom, and I thought it was going to be two months. We're in, we do our drawings, we pick out the things with her, we get our fabrics, we place the order, it comes in 10 weeks later, we install it, done. But this project took a year and a half. I don't mind taking on big-big work right now, but I'm not taking on smaller ones.
That's rough. How does this shift change your supporting team?
When COVID started, my clients were calling, saying, "My stocks are going in the drain, I'm freaking out, I need to put everything on hold for now." I started really worrying, so I gave it a lot of thought: I thought about furloughing my employees; I thought about keeping them on but having them work from home; I thought about all of the things that I could do. But with that little $600 stimulus, I realized the best thing I could do for my employees and my business was lay them off. So I did. And honestly, they were making the same amount of money as when they were working for me, and they weren't putting themselves at risk.
What did your team look like before COVID?
We had an interior design assistant, a junior designer who did all of my renderings, and a part-time office manager. Since things have picked back up, all three have come back to work, but as independent contractors for now.
That's interesting. Why was that a better fit?
It gives me some flexibility—I mean, we're all still wondering if the bottom is going to drop out, I think. Even though everything seems like gangbusters right now, maybe there are some financial impacts [of the pandemic] that we can't foresee at this moment, and I don't want to bring them all back on and then have to lay them off again. Working for me on a contract basis also allows them the opportunity to continue to collect unemployment—they just have to report the earnings that they make with me. This way, they don't have to go off unemployment and then reapply in six months. My assistant also ended up getting a job at a consignment store here that she really likes; my junior designer is doing freelance drawings for another interior designer in town. This arrangement is allowing them some freedom that they didn't have before, so it's been working out. And for now, the best thing for my business is to keep the overhead down as much as possible.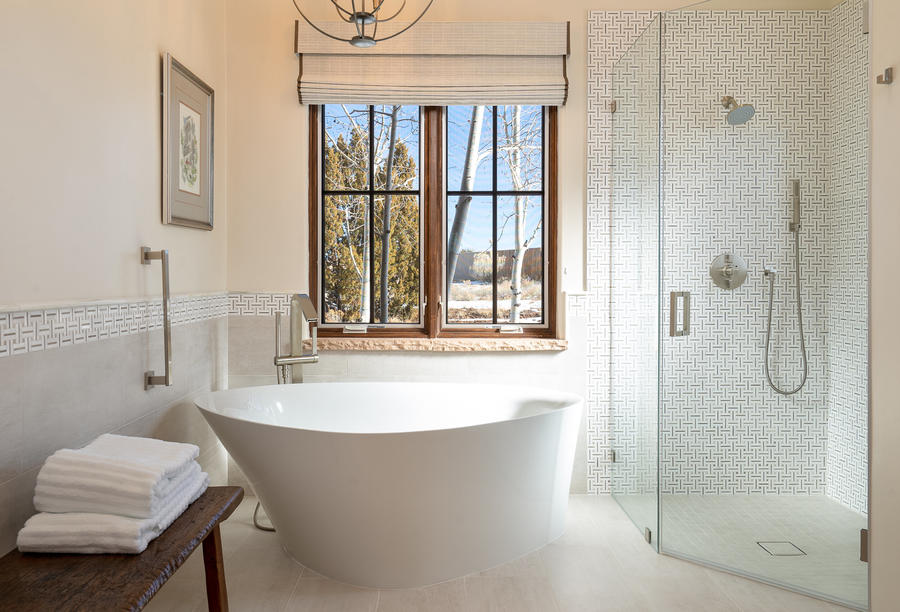 Courtesy of Chandler Prewitt
What is the biggest thing you wish you'd known when you were starting your firm?
I think I was prepared for it to be hard. I'd spent enough time in the industry, and I did so much project management with these other companies, so I had a good understanding of the business side of things. But when I started a business here, I thought it was going to be like my experience in California, where there are so many resources. If you need a painter, there are 500 of them. If you need somebody to do millwork, there are 500 of them too. So if somebody doesn't get back to you or hasn't gotten you a quote on time, it's OK [and you look elsewhere]. I think when I started here, I didn't realize how limited the resources were in terms of good painters and good contractors. And those people had already been gobbled up by more established designers. That was the biggest challenge: building a professional network of contractors and tradespeople.
People you're proud to call in.
Exactly. Just having your trades lined up—I thought it was going to be a lot easier. But it took a long time to find people that you can trust, who treat your clients right, and stand by their work, and then to develop those relationships.
Did those relationships open up to you because you discovered those people over time, or were there other professionals in town who shared their resources?
It was a combination of both. Some of it was seeking out people who had a good reputation, some of it was just discovering them by accident, and some of it was trying to network with designers to find out who the best person in town is to do what kind of jobs. But it took several years. At one point, I was like, Man, if I can't find a reliable person to install something, this business isn't going to work. I mean, that is just as much a part of my business as my staff, you know?
There's another interior designer here in town, Heather French—she's great, and we started our businesses at about the same time. We were so good about sharing our resources—and not just our resources, but also our processes. She was a great support.
But sometimes, it was just a fluke. The general contractor I work with—I was hired as the interior designer for a project, but the client already had a contractor that she wanted to work with. At the time, I was like, "Great, sounds good. And thank God, because I can't seem to find a good one!" And then he and I just ended up clicking. A lot of contractors don't really respect interior designers, but he was so respectful of my contributions—and I was respectful of his process, and the materials and documentation that he needed too, and as a result, we found a great partnership. Now I tell my clients, "I have a couple of preferred vendors, builders and GCs." It goes back to what we were talking about before: These days, if a client isn't going to work with my contractor, I'm probably not going to take the job.
As you look ahead, where do you see the most opportunity to grow?
I've spent the last seven years being really focused on growth, and I think because of COVID, I've realized that growth is not what I want. Right now, what I want is to have several big jobs that I enjoy doing with clients that I love, who respect me and my work. I feel like my quality of life has taken a front seat over the growth of my business.
And that's the path you want to stay on?
For right now, yes. When you own a business that has a lot of projects going at once, you spend all your time working—it's a morning, noon and night thing. You think about it even when you're not working, and it can be exhausting. Last year, I had that epiphany of, When was the last time I took a vacation? When was the last time I relaxed? And it had been since before the start of my business. I took a vacation last year and was like, Wow, this is incredible. Why am I not doing this more often?
I mean, the money is great—when you are cranking out a lot of projects, the financial reward is great. But I came out of the quarantine thinking I just want to do projects that I love with clients that I love, and if I make less money, that's fine. My career has allowed me to be very comfortable, and I don't need to make three times the amount that I would ever need, you know?
What's your timeline?
I mean, with the amount of people that are out of work, the amount of hotels that are not reopening—on NPR, they were talking about hotel property foreclosures. I just don't see how there's not going to be economic [fallout], and until I understand what that is, I don't want to overextend myself. So I guess that's when I'll re-evaluate. When I feel like, OK, there's enough of an indication here that the economy is on track, that I can hire people and not worry about having to lay them off—then I might go back to thinking about growth.
I feel like there is an external pressure to grow, and the idea that growth means bigger or more. But I think this is a moment of pause, and a lot of people are starting to say, 'Maybe the next thing for me looks different.'
I have all these ideas of expanding: hiring another person, developing this or that relationship with someone that would bring me in more work, doing more like hotels. I was going to get into doing boutique hotels. That's the game of owning a business, right? You're always thinking about how to be better, how to be bigger, how to get the job that elevates you to that next level or gives you more exposure. But right now, I don't want any of that.
To learn more about Chandler Prewitt, visit his website or find him on Instagram.