The home furnishings brand's latest project? Actress Mindy Kaling, of The Office and The Mindy Project, hired The Studio at One Kings Lane to transform her apartment in Manhattan's Nolita neighborhood. "The first time I walked into the space after One Kings Lane designed it, I thought, Who is this chic person who lives here?" the actress told OKL's blog. "I couldn't believe it, and I desperately didn't want to mess it up, because it's just so chic and clean."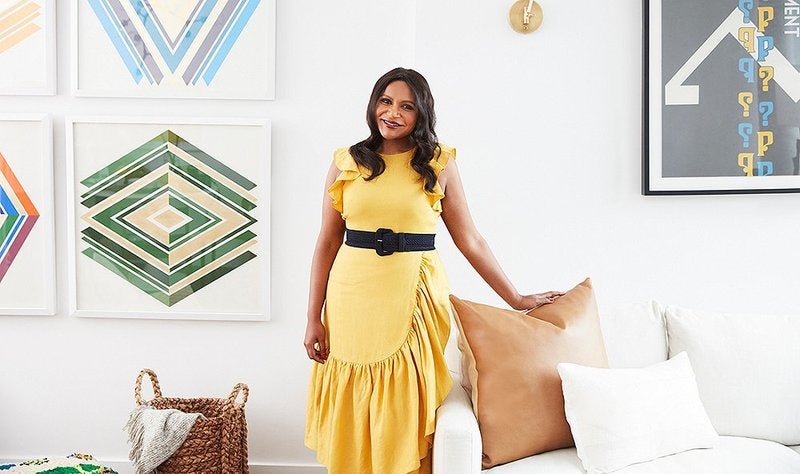 "Moroccan midcentury," says Sally Gotfredson, of the style Kaling requested. "Mindy wanted it to feel different than any of the other spaces she's lived in before. She's always gone for tons of color with layers of pattern, and this time she really wanted to push herself out of that comfort zone." 
Working with OKL largely from Los Angeles, via email and phone, meant that Kaling  "got to be surprised, like in a reality television show," she says. "It was also great because I couldn't micromanage, which would have driven everyone crazy."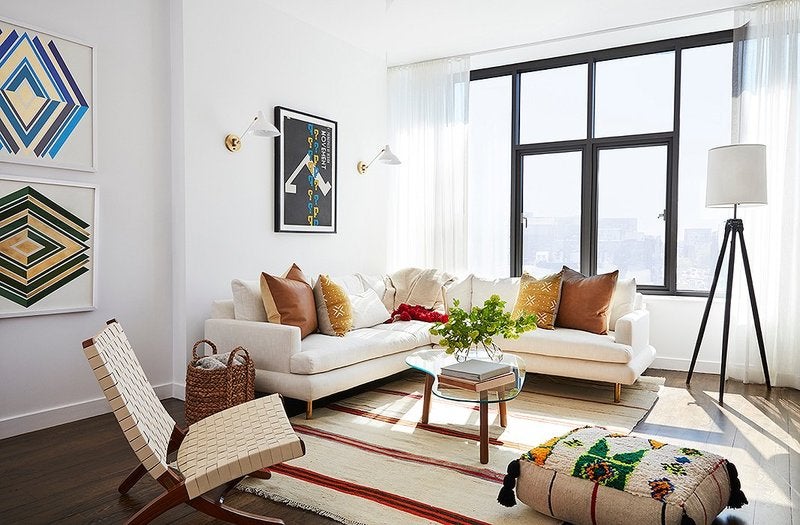 "I would work on her design, send it through, and then we'd arrange a time to dissect it," Gotfredson explains of the process. "She wanted each piece to be meaningful. It was a collaborative process, and it forced me to put myself in her shoes to deliver a design that reflected who she is and how she lives."
Among the pieces used in the design: a sectional by Kim Salmela upholstered in stain-resistant Crypton, a patterned pouf from Habibi Imports, a vintage kilim, and mud-cloth throw pillows backed in leather from Mike Seratt. 
Kaling's father, an architect, played a role in her design sensibilities. She tells OKL, "My dad loves midcentury modern, and the house that we grew up in was furnished with a lot of pieces in the Danish midcentury style. As I grew older, I reacted to that. Whereas at one point in my life I loved wallpaper and gilded things, now, as a 37-year-old, I'm gravitating more toward my dad's style, and I think Sally really captured that in the vintage pieces she found."
The Studio at One Kings Lane offers complimentary design services, working one-on-one during an hourlong conversation and providing a design concept, room layout and online shopping list.