Giant waves were lashing against the side of the apartment building. Just outside the living room window, an electrical transformer exploded, sending sparks flying. Inside, Nick and Rachel Cope were starting a wallpaper company.
It was 2012, and Hurricane Sandy was laying waste to New York's low-lying neighborhoods, including Red Hook, Brooklyn, where the young couple were hunkered down. In the aftermath of the storm, most of Nick's projects—he had a design-build company at the time—were put on hold, and the hospital where Rachel was working as a therapist was shut down for post-Sandy repairs. So the Copes took advantage of the break to experiment with making marbled paper, a project that evolved over time into a bustling company, Calico Wallpaper.
Almost a decade later, they're facing another disaster-induced hiatus, with their Brooklyn design studio closed by stay-at-home orders issued to halt the spread of COVID-19. This time around, the Copes have a staff of 11, not to mention two young children at home—the stakes are different. "Sandy was awful, but it was fairly localized and we did see the light at the end of the tunnel," Nick tells Business of Home. "We're taking some of that experience into this, but this situation is obviously different."
The company is facing a heap of challenges—a creative team learning how to work over Zoom, a design director stranded in South Africa with a wonky laptop—but in many ways, the Copes are lucky. The mills that manufacture their wallpaper are currently operating, placing them into the fortunate category of vendors who can still ship product. Across the country, many makers are facing a more complete shutdown, putting a famously industrious community into uncharted territory: downtime.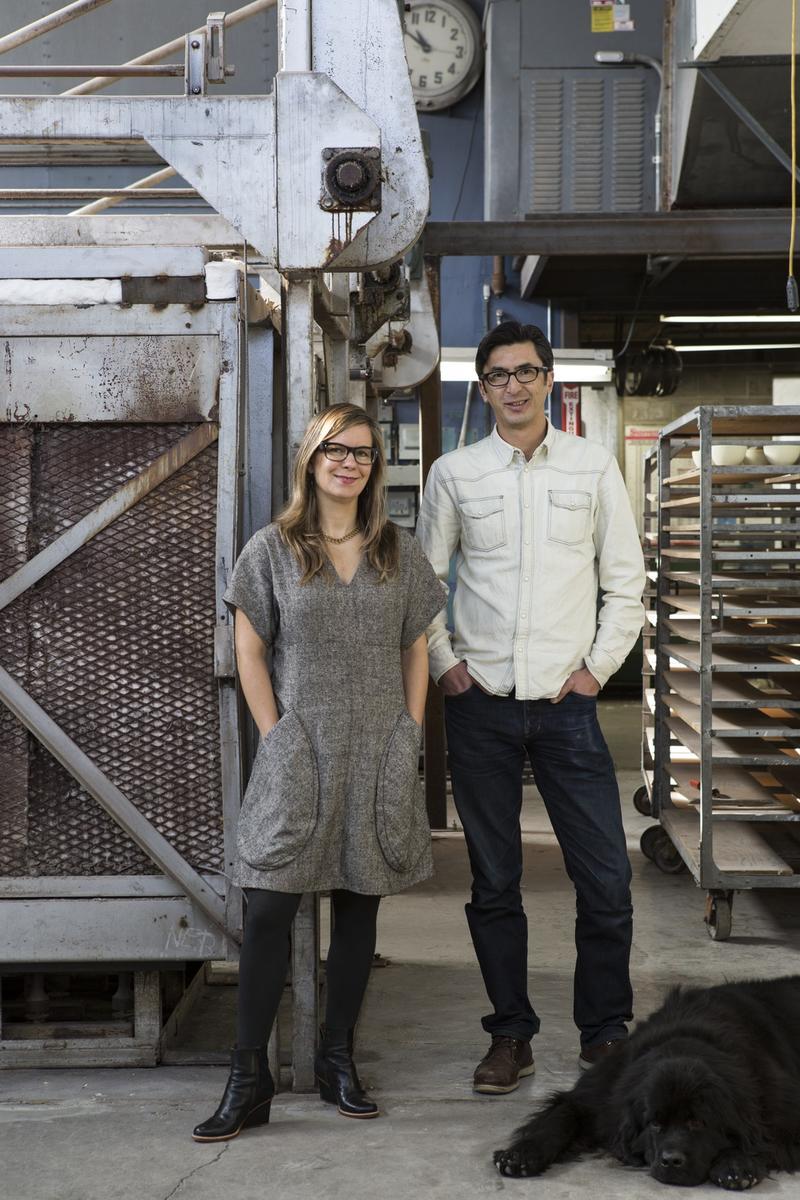 For many, the shutdown came like a dam bursting—there was a little trickle of bad news, then all of a sudden the worst-case scenario arrived. Catherine Bailey and Robin Petravic, the married couple that run Bay Area–based ceramics brand Heath, had been fine-tuning their facilities' health and safety protocols and planning for a limited closure. "We had a plan to shut down voluntarily on our own for a couple of weeks right before the health orders came in," says Petravic. "There are certain stages of shock. Two weeks we were going to do anyway ... The reality that this is going to be months has a very different meaning."
What started as shock quickly turned into a new kind of all-encompassing busy-ness. While across the industry, the shutdown of manufacturing operations has led to furloughs and layoffs on the production floor, for principals and the back-office staff, the new normal is a mad rush to reorganize businesses on the fly, untangle the knots of the government's Paycheck Protection Program, and prep for what lies ahead.
"There's been no pause," says Bailey, who is creative director of Heath. "Creating a [new] financial model was Robin's constant day-and-night task [as managing director], because it's like no other model we've done before. On my side, there are so many things to think about … Even thinking about what product we're going to put on the shelves first once we start to ease out of this. Everything changed. Everything had to be rethought."
"I've been reaching out to the team to remind everyone to literally shower and get dressed before they go to work for the day," says Cope. "And I've been trying to remind people that it's important to take breaks."
+ + +
Like many makers, Scott Hudson, founder and CEO of Seattle-based cabinetry and furniture brand Henrybuilt, had been prepping for some kind of shutdown. Still, Washington state's indefinite shelter-in-place order arrived abruptly. A few of Henrybuilt's projects were sitting at the end of the line on the factory floor, ready to be shipped, when word arrived. They're still there—a little piece of the pre-COVID world trapped in amber.
For Hudson, the shutdown carries a certain irony. Almost a year ago exactly, he voluntarily closed Henrybuilt's production facility to new business for two and a half months as his staff learned a new production methodology, one-piece flow, inspired by hyper-efficient Japanese automaker Toyota.
It was a challenging time, in the best possible way, says Hudson. "There's the excitement of learning things you didn't know before. … There was a bit of a scramble when we first opened back up, but we never had to be late. No one even knew we had done it."
Now, Hudson faces a shutdown of a different character. Still, he sees some relevant takeaways. "Culturally it had a benefit, which is that whenever you have a crisis or you run into an unexpected barrier, there's an infinite number of possibilities for how it could go," he says. "If you're creative, you can figure out a way to turn what seems like a total loss into something that pushes the company forward. Everybody knowing that makes them see this differently."
It's a lesson that applies across the industry, as makers try to make the best of a uniquely strange time. For Jonathan Glatt, the founder of Rhode Island–based O&G Studio, a maker of handcrafted Windsor-inspired furniture, the canary in the coalmine was the postponement of the AD Design Show in early March. From there, it was a quick escalation to the shutdown of his facility and the furlough of some members of the production staff. But many employees are using the pause in business to learn 3-D modeling software that will come in handy when the company can reopen.
For Bailey and Petravic, the shutdown has seen an inspiring reshuffle at Heath. Roles are being swapped, with many team members finding themselves taking on something new. "Our photographer is now managing our social media [from] her home studio," says Bailey. "Our design director is doing internal communications, and our studio director, who now can't work in his studio, is on our social media team. It's making it feel more authentic and real. We never would have tried these things before."
It's also been an opportunity to reassess the company with a sense of philosophical remove, free from the daily grind of making stuff. When the restrictions are lifted and Heath is able to ease back into manufacturing at capacity again, it won't be the exact same company it was a month ago, when the lights were first shut off. "Our tile line—is it too complicated? Is it too broad? Well, now we have a chance to think about it and do something about it that we never would have if we were continually making," says Petravic.
"There seemed to be these stakes in the ground that everybody thought were not movable, and when something like this happens, you realize, Wait, why do we have them there?" says Bailey. "You're asking, What is Heath? It's not every single SKU that we make. Before, people might have said it was, but now it's clear that it's the overall quality of what we do … it's the relationship we have with customers."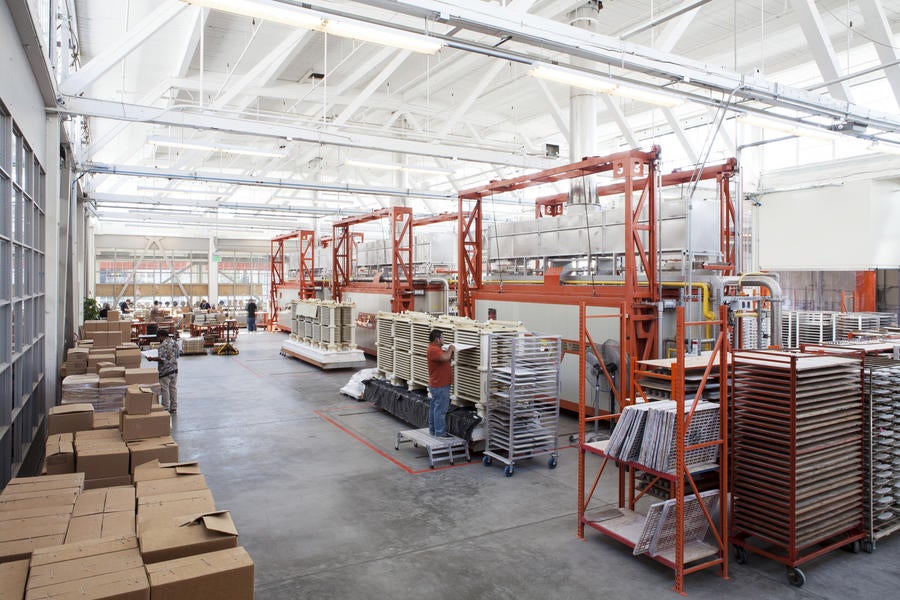 Even for those who are dealing with less-significant disruption, it's been a time to tackle long-delayed housekeeping projects. Websites are being revamped. Assets are being organized. In a time when the digital world is the primary channel to reach customers, anything that works online takes priority.
Hudson is in the enviable position of having started a software company adjacent to Henrybuilt, Symbolic Frameworks, which designs digital workflow tools. That company, and a new portal for trade customers, has occupied much of his energy over the past few weeks. Glatt has developed a walled-off section of O&G's website where designers can view pictures of in-stock product.
The Copes are planning new video content and tutorials about their process, as well as an Instagram Live series where Rachel teaches a painting workshop. "We're modeling out what a decline in sales could look like and thinking about creative ways to replace that revenue. Not new products, but thinking about marketing as an inroad to connect with new customers," says Nick. "We field a lot of inbound leads and requests—this is a time for us to play offense."
+ + +
For many makers, the challenges of COVID-19 shutdowns have been as much psychological as they are logistical. It's been a period of extraordinary mental and emotional stress, full of a near-constant flood of bad news from the outside world, not to mention tough choices and emotionally wrenching layoffs and furloughs.
Staying in touch with the teams that are still working also presents its own challenges. Hudson has increased the frequency of company-wide Zoom meetings and is penning a daily email to staff that highlights new sales and anecdotes from interactions with clients. Bailey and Petravic have instituted similar policies and are looking for ways to make up for the lack of informal passing-in-the-hallway conversations that fuel a busy company. "This week I'm making it a point to reach out to all the people I'd normally run into at lunch, and just say hi," says Petravic.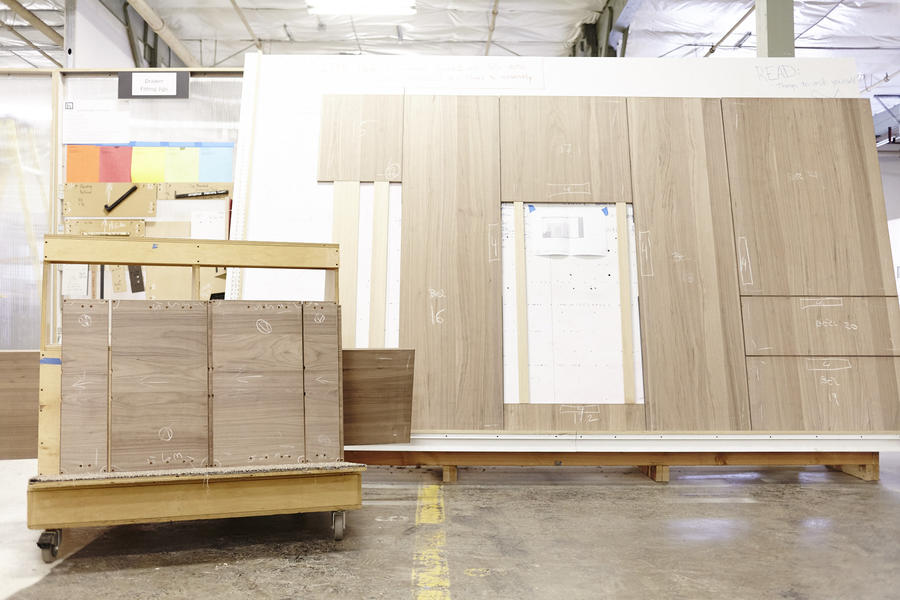 Then there's an even more basic challenge: staying positive and creative in a time of global gloom and doom. More than one principal told BOH that it had been helpful to ease up on reading the news and concentrate on the day-to-day.
"At first I had a lot of dark moments … but I realized that in order to really focus on the right things, you have to find a way to be OK with the outcome," says Hudson. "I still look at the news, but I discard it really quickly and focus on the positive, watching the progress we're making with clients and watching the way our team was rallying."
"It was a huge challenge in the first week or so, it was so overwhelming," says Bailey. "But once it was digested, it became: Do the work."
+ + +
What precisely the future holds is difficult to predict. Most of the makers we spoke with are confident they'll be able to revamp their production process to accommodate the health and safety concerns of the moment. "Manufacturing actually lends itself very well to the constraints [of social distancing]. We know we can do that with a few slight adjustments," says Petravic. "We're pretty confident that we could be making dinnerware and tile in a way that's safer than the supermarket … I would rather work in our dinnerware factory than go to Safeway."
The greater concern is for retail shops and design showrooms. "People who I think of as almost nonchalant about danger are now saying, 'I'm not going to ride the train for six months, and I don't want to go into a room unless everyone is wearing a mask and has gloves on,'" says Hudson. "People are talking about remote-control showrooms where you can buzz clients in, no one's there, and you have a museum-style walkaround. I think that's going to happen."
For their part, Petravic and Bailey are planning a revamp of Heath's retail locations with cautious shoppers in mind—another item on a long laundry list of COVID-hiatus tasks the couple is chipping away at. A strange quality of this extraordinary time is that, a few weeks in, it's beginning to feel slightly normal. Petravic and Bailey say they've settled into a work-from-home rhythm. The Copes, too, are making it work with two young kids. Hudson is seeing the bright side: "At the beginning it felt like the end of the world, but people were still starting projects."
And while the past few weeks have been uniquely challenging for makers across the country, they've also been uniquely galvanizing. A cliche that's never felt more true: If you can make it through this, you can make it through anything.
"The first week, I started getting calls from other business owners," says Petravic. "One friend of mine said, 'Come on, you've thought about it, right? Why not just shut the whole thing down? That's the reality, you've got to think about it.' As business owners, that's the first decision we made: OK, we're not going to do that. So then it comes back to what Cathy said: Just do the work."
Homepage photo: Nick and Rachel Cope of Calico Wallpaper | Daniel Shea