British entrepreneur Carmine Bruno is careful to point out that his forthcoming online antiques marketplace is intended to complement 1stdibs, not compete with it. It's easy to see why: With $170 million in venture capital funding and a 19-year history in the business, 1stdibs is a formidable adversary, one you'd have to be crazy or absurdly well-funded to come after directly. Bruno is neither. However, he clearly sees some daylight around the online antiques giant—space he's hoping to fill with a new platform, The Bruno Effect, launching early next year.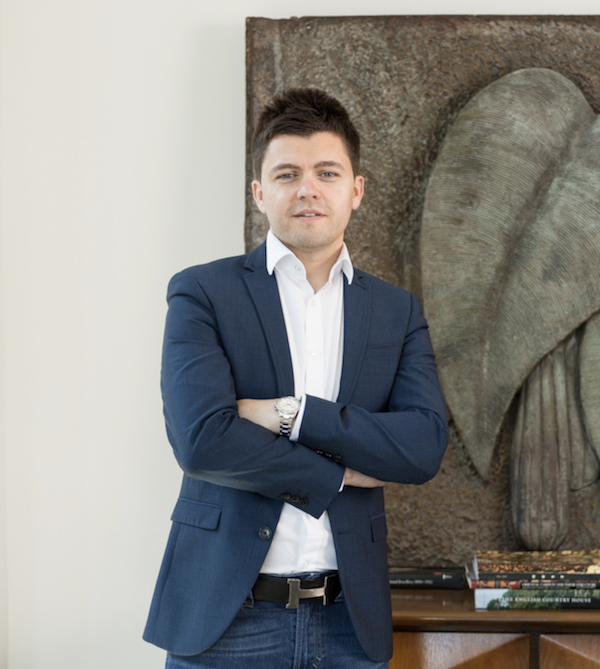 Courtesy of The Bruno Effect
For all online antique sellers, a comparison to 1stdibs is inevitable. For Bruno, a 1stdibs alum, it's personal. He joined the company in 2012 after it acquired Online Galleries, a U.K.-based digital antique marketplace he started in 2006. For eight years, Bruno helped build out 1stdibs's portfolio of European dealers before leaving the company late last year as managing director of its international division. After a brief hiatus, he decided to get back into the business, this time with a different approach.
The Bruno Effect will buck the recent trend in online marketplaces toward transactional one-click e-commerce. Instead, the site will simply list dealers and their selections, allowing buyers to make inquiries directly, online or off. While the model feels almost old-school in 2020, Bruno points out that the antiques business has never lent itself toward Amazon-style simplicity.
"There's a lot of friction within a transactional marketplace at this level," he says. "These are not $20 purchases. When you're spending $2,000 or $10,000 or $20,000, it's a relationships business, and [when] marketplaces deprive you of those relationships, that causes friction. There isn't a huge amount of transparency, engagement is controlled … That's the reason why conversion on the transactional platforms is not great."
Bruno is not alone in attempting to bring the lead-generation model for antiques sales online. Competitors have failed to make serious traction, he says, because they lacked a serious supply at launch: Customers came to check it out, found little, and never came back. For that reason, Bruno is planning to launch with 650 dealers. He tells BOH he currently has 200 signed up, including Howard Walwyn and Lennox Cato in the U.K.; Galerie Gaudium and Studio Cadmium in the Netherlands; Galerie Harter in France; and Pascal Boyer, Dual Modern and Pegboard Modern here in the U.S.
Despite an entry fee of $3,500 (temporarily discounted to $1,500 as a response to COVID) and a monthly cost that will come in around $7,000 to $8,000 per year, Bruno says he's encountered a good deal of early enthusiasm from the dealer community. (The site will be free to use for buyers.) That's partially because, unlike many competitors, he won't charge his sellers a commission. He's also confident that dealers will respond positively to a marketplace that gives them a more direct relationship to their customers.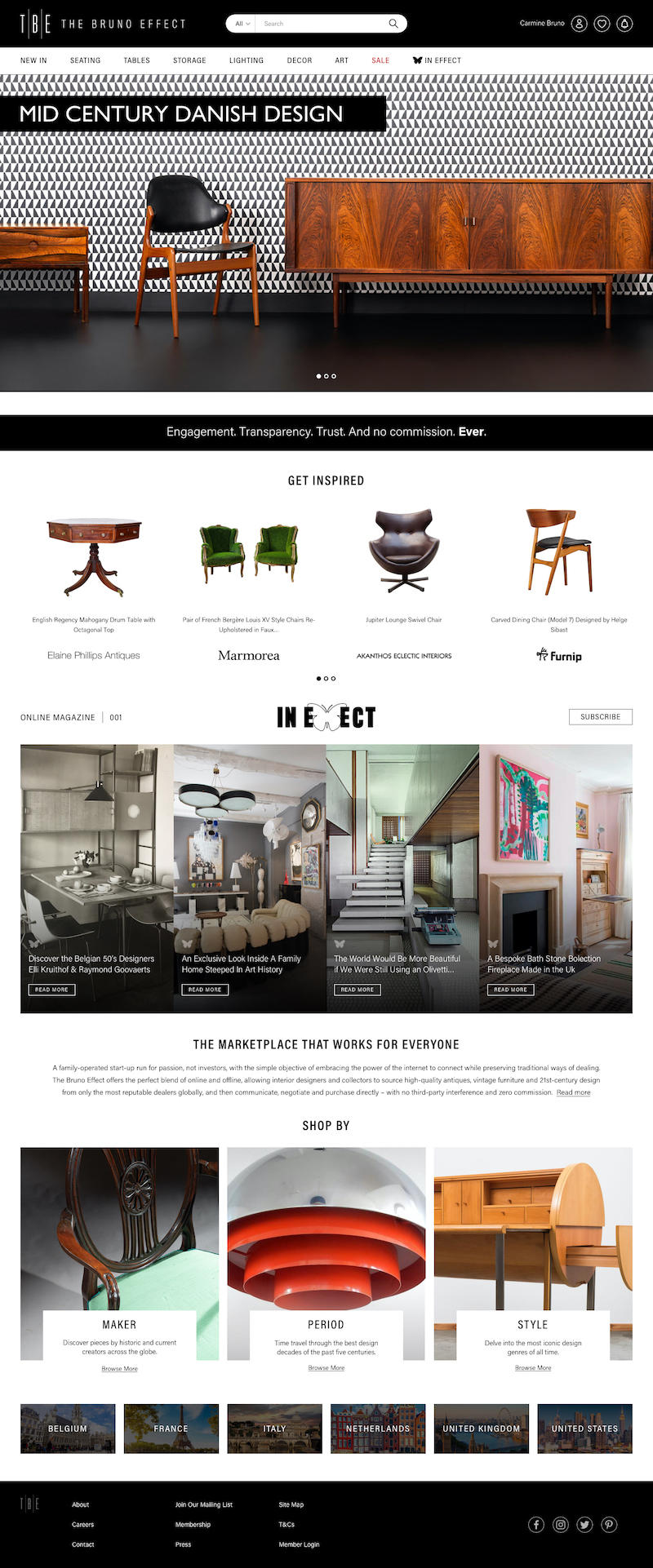 Courtesy of The Bruno Effect
"Our goal is to create an alternative for those people that want to shop this furniture, but they want to be able to do it in a manner where they'll be able to communicate and have relationships," he says. "Ultimately, the transactional model deprives [them of] that—dealers are seen more as a supply chain, and the marketplace is the transactional vehicle. What we're trying to do is give dealers back their most prized asset, that's the ability to own and nurture their own relationships."
For dealers who chafe at selling through transactional platforms, Bruno's model will hold undeniable appeal. The challenge, he says, is simply getting them to trust that he won't change the model down the line. (Both 1stdibs and competitor Chairish have switched to fully transactional commerce over the past decade, to the dismay of some dealers.) The Bruno Effect is self-funded, and Bruno insists he's not planning on taking on any outside investment. He currently employs a staff of 15 and says he plans to keep the company modestly sized—all facts he hopes will comfort dealers who feel burned by shifts in the industry.
Of course, the proof will lie in sales. Bruno is acutely aware that "you only get one chance" to prove that the model offers not only a feel-good alternative to the big platforms, but also serious revenue. He's planning on marketing the site almost exclusively to interior designers, seeking a targeted, engaged audience.
On the designer side of the equation, the picture is slightly different. 1stdibs clearly understands the importance of its professional clientele (over half of the shopping in its furniture and fine art category comes from the trade) and has spent heavily to court designers. Last year, the platform acquired popular project management software Design Manager; this year, it rolled out a new trade program loaded with cashback perks and a free return option. Chairish, too, is aggressive in its pursuit of a designer audience. However, Bruno says there's an opportunity there, as well.
"Initially, we're going for interior designers—and not for the few thousand that have ever purchased over the transactional model. We're going for the 40-odd thousand that are registered, they use it, but they try and bypass the platform at every opportunity," he says. "There's a lot of frustration within the design community, arguably in some areas more than with the dealer community, because sometimes they just want to pick up the phone and make a very simple call, but [platforms make] it very difficult to do that."
Bruno's pitch to designers is an offer of simplicity: I'll bring the dealers and the supply, then get out of the way and let you conduct business however you like. The Bruno Effect can't offer the same free-return guarantees as its larger competitors. However, Bruno's hope is that by curating a prestigious roster of dealers (he intends to cap it at 1,100, and points out that a not-insignificant joining fee will eliminate amateurs), customer service issues will be minimal.
In many respects, the site is an attempt to recapture the magic of 1stdibs in its early incarnation—even the name conjures up 1stdibs's original founder, Michael Bruno, though the two founders aren't related. (It's a comparison Bruno himself doesn't entirely resist.) The key difference, he says, is where he wants to go with it.
"The world is a very different place today … [but] if you look at the key fundamentals, we're very alike with how 1stdibs used to be," he says. "[But] Michael had a goal to sell that company. ... We don't have those aspirations. Our aspirations are to keep it boutique and exclusive."