While the past year found so many industries struggling to survive, the home goods sector was quietly, guiltily booming. As retailers face down a certainly uncertain autumn, Chicago-based furniture company Interior Define is plotting a hugely ambitious future—and has landed a key hire to help make it happen.
Previously focused on made-to-order living room furniture, Interior Define added many new categories during the pandemic, including lighting. This week, the brand relaunched its dining line, with new tables, upholstered chairs, stools, benches and sideboards. On the retail side, it's planning to open 18 to 25 new stores over the next year and a half. Boarding the rocket ship is Benjamin Reynaert, style director at Domino, who signs on as Interior Define's creative director.
"My goal throughout my career in working for brands and publications has been to push the boundaries between editorial and retail—to tell beautiful and compelling stories around living," says Reynaert, who will remain a contributing style editor at Domino. In conversations with Interior Define CEO Antonio Nieves and chief customer officer Jill John, Reynaert says their focus was on creating a fresh, style-forward approach for the brand that takes its cues from editorial storytelling: "We spoke about how the company is really eager to put a stake in the ground across print, digital and video channels, as well as elevated in-store experiences."
For Nieves, Reynaert brings "a distinct voice that can really position us and give us credibility within the home decor space," making him an ideal fit for the role. "As you connect with customers over a long period, so much of the opportunity is building this relationship where they can look at you as a trusted adviser across multiple avenues," he says. "Part of that is a great-quality product, great-quality service—but also there's a design inspiration that we really feel Ben can help bring to our voice of the brand."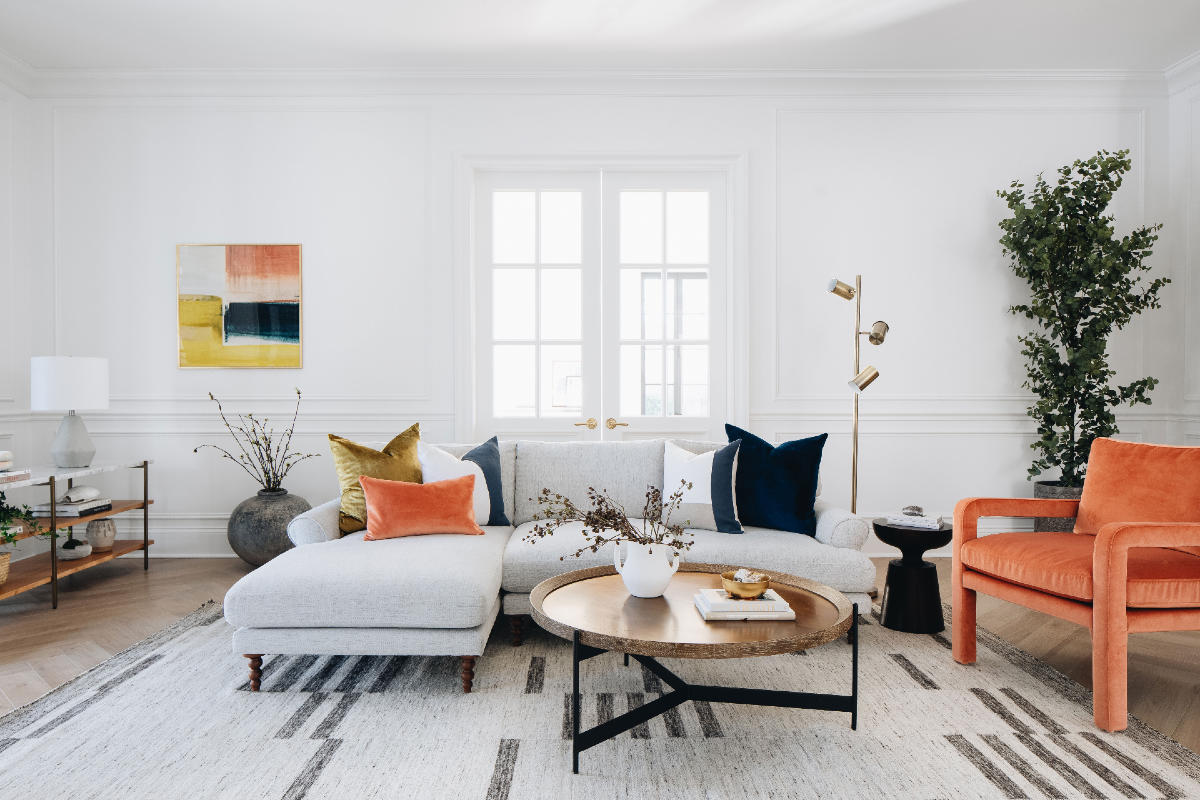 Courtesy of Interior Define
While Interior Define's expansion into so many new merchandise categories may seem sudden, it's been in the works for years. When Nieves and chief product officer Christina Holland joined the company in 2019, they initially scaled back the product offerings to focus on sofa customization. "Now that we've proven that out and have seen great success, we feel more confident and have the resources to go and play in [other] rooms," says Nieves. They expanded first into living room items (like rugs and coffee tables), driven by consumer requests. "They constantly would ask us for that," he says.
In fact, he says, all the new products are a response to customer feedback and demand. He's most excited about new digital products that will help the brand's in-store and online design specialists support customers (more than 80 percent of whom take advantage of the service). But when pressed, he admits there's one merchandise area he's particularly jazzed about: "With the work-from-home situation, I am in the market for a new desk, so I'm really excited for the new office collection that we're launching next week."
As for the retail expansion, a location in Dallas will open in August, followed by another in Seattle in September. From there, the company expects to open one store per month for the rest of the year, and then two or three locations every month in 2022. The stores have a showroom model, in which no products are stocked for immediate purchase. Instead, customers can do their sit tests, then work with design specialists to discuss swatches, seat depth, legs, piping and more. To elucidate the purpose of these locations, the company plans to rebrand them this fall as "Define Studios." It's a transformation that Reynaert will be contributing to. "I want to help build out a design center destination for customers to work with our specialists in a way that feels like you're in conversation with a great friend," he says.
Why is Nieves so confident about retail after a time of drastically reduced foot traffic? He points to the data. "In the last three months, as markets have reopened, you're seeing a rapid shift in the productivity of businesses that have brick-and-mortar stores versus those that don't," he says. Interior Define's average order is over $2,500, which is a deeply considered purchase. "What we find is that the markets in which we have stores, consumers feel more confidence because they're able to come in [and try it], and then get the benefit of working face-to-face with design specialists who walk them through the whole journey."
Homepage image: Courtesy of Interior Define