Joining Interior Define's line of sofa, bed and chair collections, a new dining line offers three chair styles and a table, in varied finishes and materials. The brand, which was built online and is now found off the web—with showrooms in its headquarters city of Chicago, as well as Los Angeles, New York, and Austin, Texas—was originally known for its custom sofas and is now branching out.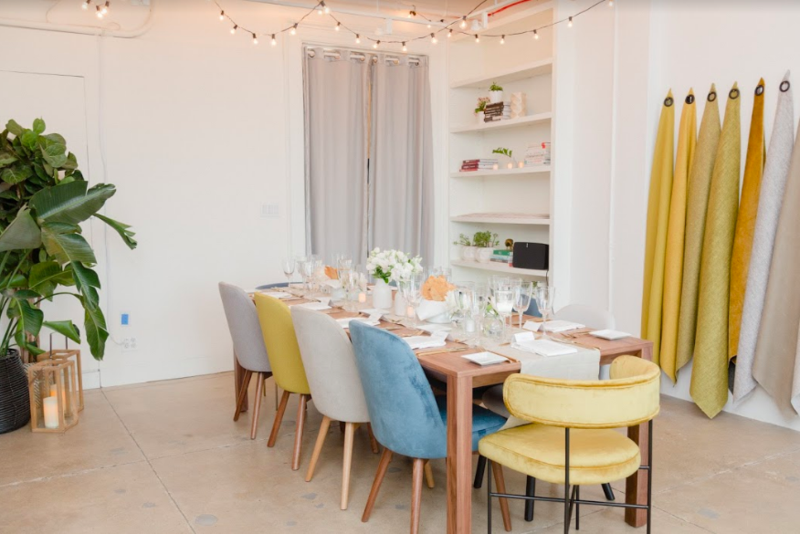 Interior Define's new dining line includes a Parsons-style table, which is available with a number of customization options (among them, four finishes, seven metal and wood finishes and three shapes, including round, square and rectangle) that are available. The chairs include the Audrey, the Dylan, and the Kit, which are available in over 70 fabric and leather options. The dining table ranges in cost from $900 to $1,400, while chairs start at $350 and go up to $600. The cost includes both white glove delivery and furniture assembly.
"We launched with a mission to build the most personalized and comfortable sofa shopping experience around. We believe a sofa is one of the most important pieces of furniture you purchase for your home and deserved a better consumer experience. We carried our custom, high-touch customer experience thesis into the bedroom with bedframes last year," says founder Rob Royer, who recently appeared on the Business of Home PODCAST to discuss the impact of customer experience and company culture.
"With dining, we're serving another highly considered furniture category," Royer explains to EAL, "where we believe unique customization, at a non-custom price, coupled with a focus on a more thoughtful customer experience contributes to the most comfortable option in the category."