Robert Leleux is confident in his belief that Southerners are the best customers of design in America. In defense of the claim, he says: "Who buys more fabric than Southerners? It takes a lot of fabric to make those ruffles." And while ruffles may have stood the test of time, the Southern Style Now Festival founder and former editor at Domino says the "frou-frou tutu" ideas often associated with Southern design are fading—and there's an influx of new residents and design mediums ready to prove it.
In 2017, the U.S. Census reported that the Nashville area's population grew by 94 people a day. The Nashville Area Chamber of Commerce 2018 Vital Signs report shows a gain of more than 25 percent over the previous decade—a population growth that placed Nashville fourth behind Charlotte, Austin and Raleigh (at 53, 33 and 27 percent, respectively). The findings also concluded that the median cost of housing in Nashville increased by more than 50 percent since 2008.
Jean Allsopp, courtesy of Southern Style Now
All the data points to several promising developments for the Southern design industry—greater opportunities for construction, interior design services and furniture purchases among them. A few industry players are already planning their moves in hopes of securing a slice of the market. Luxe Interiors + Design announced the debut of its Southeast edition in September, and Veranda relocated its editorial operations from Hearst's New York headquarters to the publisher's Birmingham, Alabama, office this winter.

It's a real sense of tradition that is unique to the South. There's a whole movement going on right now, and I think the incoming editorial will benefit greatly because of it."
—
Robert Leleux
Luxe's Southeast edition will premiere with a May/June issue, under the direction of editor in chief Pam Jaccarino, along with regional coverage from the title's new homes editor, Kate Abney. "There is so much to love about the Southeast," Jaccarino tells BOH. "A tremendous design boom is taking place—and for good reason. It's a charming region with centuries of history, an undeniable sense of place, and immense pride when it comes to architecture, interiors, decorating and design; we also appreciate that historic preservation is so highly valued here."
Meanwhile, Southern-bred publication Veranda has seen significant recent editorial changes—Steele Marcoux, previously style director of Country Living, was named editor in chief in October, replacing Clinton Smith, who left the title after serving five years at its helm. As for the glossy's next phase, Marcoux tells BOH, "Our goal is to provide readers an escape into our pages and celebrate the very best in gracious living."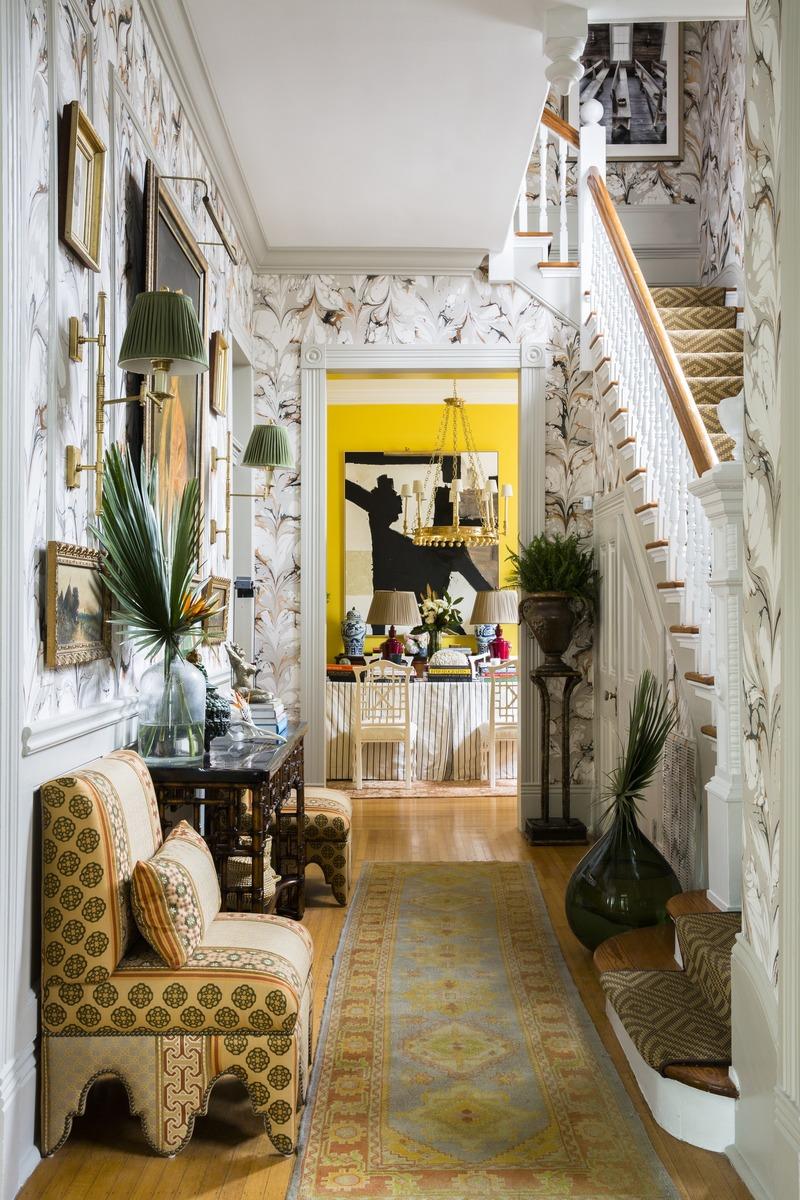 Brittany Ambridge, courtesy of Southern Style Now
It's a type of living that seems to come naturally in the South. A sense of pride that Leleux first noticed while meeting with young designers across the country during his time at Domino. "I never heard a designer under 30 identify herself as a Western designer or a Pacific Northwestern designer, but I constantly heard elegant young designers in Atlanta and Birmingham say, 'I'm a Southern designer,'" he says. "I thought, How peculiar that this sense of heritage is coming up in this young generation."
The trend led Leleux, a native Texan, to found the Southern Style Now Festival, including panel discussions and a designer showhouse, in 2015. Last year's event, held in Charleston, South Carolina, drew the likes of designers Nicki Clendening, James F. Carter and J. Randall Powers as keynote speakers, while also featuring emerging designers.
A closer proximity to editors could mean new opportunities for those designers—ones that Leleux says haven't always been attainable for the region's talent. "If you're out of the immediate proximity of Atlanta and your project hasn't been done by Miles Redd or some spectacular name that would grab attention, it has a small chance of getting published."
Not to mention, there are lessons to be learned from the Southern design community. "There's a consciousness to incorporating Grandma's silver or a vanity in a useful way to complete a modern design scene," says Leleux. "It's a real sense of tradition that is unique to the South. There's a whole movement going on right now, and I think the incoming editorial will benefit greatly because of it."