We're in the midst of a painful and necessary moment of reckoning in America. It's a conversation sprawling out into our streets and parks, our houses of worship and places of business, our neighborhoods and even our homes. The interior design industry, existing as it does in somewhat rarefied air, is often sheltered from difficult conversations about racial injustice—but it shouldn't be.
It has long been clear that people of color have been underrepresented in our industry. It was true before the death of George Floyd ignited a firestorm of protest, and it is a subject that deserves attention no matter what the national headlines are. But now is certainly a good time to reflect on the things we can do to make our industry more diverse, more equitable and more beautiful.
Here's a small way to start: Support Black-owned businesses. We'd love to grow this list, so if you know of a company we should add, drop us a line.
54Kibo
Born in Ghana, raised in South Africa and now living in New York, Nana Quagraine created 54Kibo when she realized how underrepresented African designers and artisans were in the global market. Specializing in contemporary African design, 54Kibo sells a wide range of product, from lighting and furniture to skin care and candy.
Accent Touch
Based in Atlanta, Isabelle Domkam runs this line of unique pillows, accessories and Juju Hats, headdresses made from raffia and feathers that are traditionally worn in ceremonies in Cameroon, where Domkam's family is from.
An Orange Moon
This Chicago shop specializes in vintage mid century modern and Danish pieces ranging from furniture to lighting to textiles and accessories.
AphroChic
The Brooklyn–based husband-and-wife team of Jeanine Hays and Bryan Mason founded AphroChic in 2007 as a blog before expanding the business into a full-blown lifestyle brand. In addition to its recently-launched magazine, AphroChic explores modern design that highlights African American culture, creativity and arts.
Atelier 55
British-born and of Zimbabwean descent, Tapiwa Matsinde was raised and educated across both countries. While working as a graphic designer in Zimbabwe, Matsinde was amazed by the beauty of the craft that she saw around her—so in 2010 she founded Atelier 55 as an online marketplace for a curated collection of contemporary African design.
BLK MKT Vintage
Nestled in the Bedford-Stuyvesant neighborhood of Brooklyn, BLK MKT Vintage takes a curated approach to vintage wears, focusing on the Black cultural experience. Products range from furniture and wall hangings to kitschier finds like VHS copies of Sister Act and old Pepsi ads.
Bolé Road Textiles
Ethiopian-born and Brooklyn-based, Hana Getachew started Bolé Road Textiles out of a desire to merge her love of Ethiopian handwoven fabrics with her career in interior design. Getachew's designs are an homage to her cultural inheritance and a reflection of her own personal global modern aesthetic.
Breegan Jane
Based in Los Angeles, interior designer, entrepreneur, author, lifestyle expert and philanthropist Breegan Jane is a lifelong partner of World Vision—proceeds from her online jewelry sales help combat the horrific realities of genital mutilation in young girls in Kenya.
Clare
This direct-to-consumer paint company was founded by interior designer Nicole Gibbons in an effort to reimagine the paint shopping experience. Clare's curated hues feature fun, of-the-moment names like Avocado Toast and No Filter and are delivered straight to your door.
Domain
Catonsville, Maryland–based designer Laura Hodges is the owner of Domain, a carefully-curated brick-and-mortar home decor store with a shoppable website.
Don't Sleep Interiors
Founded with the intention of combining interior decor with culture from the African diaspora and social and political consciousness, Don't Sleep Interiors features pillows, art and gifts.
Dressing Rooms Interiors Studio
In addition to its interior design offerings, Dressing Rooms Interiors has a shop online feature where its array of pillows, vintage furniture and other decorative objects are available for purchase. Of course, those in the Charlotte, North Carolina are welcome to book a private shopping appointment (in light of COVID-19).
Eclectic Home
Run by New Orleans-based mother/daughter design duo Penny Francis and Casi St. Julian, Eclectic Home features bold and one-of-a-kind furniture, accessories, textiles and gifts.
Elle Gibson Designs
Atlanta–based wallpaper and textile designer Elle Gibson creates globally-inspired products for the home in addition to her staging services. Gibson's fabrics and wallpapers are made-to-order and made in the U.S. using cotton, linen and fine-coated paper.
Eva Sonaike
Eva Sonaike is a London-based interiors company specializing in luxury home textiles and soft furnishings with a distinctive and vibrant West African aesthetic.
Expedition Subsahara
Expedition Subsahara has a powerful mission: to start a science, technology, engineering, arts and mathematics school for young girls in Senegal. Through the sales of handmade baskets, jewelry and other goods, 20 percent goes directly to an education fund for the school.
Faux Floral Design Co.
Ohio-based Shanika Tyler's elegant arrangements of silk flowers offer a long-lasting alternative to cut blooms. Premade bouquets are available on Tyler's e-commerce shop, or commission a custom creation for homes, offices or the holidays.
GLOBAL ATTIC
Founded by Kabria Cummings in 2016, Global Attic is a carefully-curated marketplace full of African-inspired items collected from Cummings's travels, as well as pieces that she's designed.
Goodee
After selling their stake in luxury brand WANT Les Essentiels in 2017, twin brothers Byron and Dexter Peart founded Goodee, an e-commerce platform that promises to connect conscious consumers with ethical makers, last year. As Byron told BOH, "Discovering and supporting intentional brands has always been a passion of ours. This platform connects an ecosystem of makers to consumers looking to make better choices."
Johanna Howard Home
A native of Sweden, Howard brings Scandinavian design principles to her line of textiles, Johanna Howard Home, which are largely made of alpaca wool from Peru.
JOMO FURNITURE
Created by Springfield, Virginia–based furniture designer Jomo Tariku, Jomo Furniture incorporates a deep appreciation for African art and culture into his designs.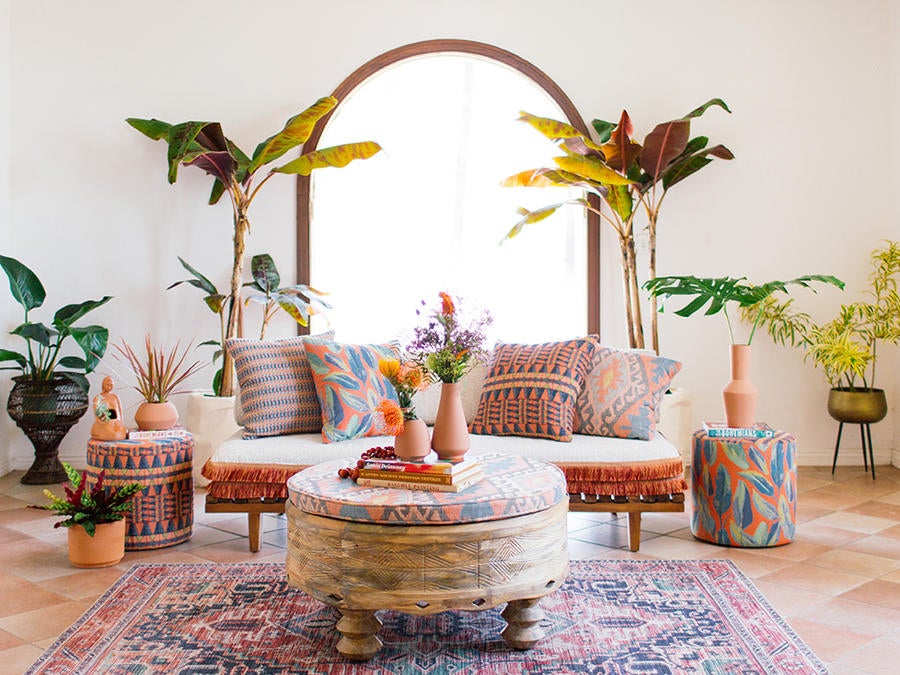 Courtesy of Justina Blakeney
JUNGALOW
Run by interior designer turned product designer Justina Blakeney, Jungalow is a lifestyle brand that features bohemian-inspired furniture, decor, art, apparel and more. Blakeney also has a number of collaborations with brands ranging from Loloi Rugs to Granada Tile to Fabricut and even Band-Aid, meaning there is no shortage of ways to support her brand.
Kintsugi Candle Co.
Allison Jones founded Kintsugi Candle Co. after experiencing the power of aromatherapy after an emergency brain tumor removal surgery in 2018. Jones began making candles because she believes that scents and essential oils possess the power to transform and elevate the mind and spirit.
Livvy & Neva
Created by New York–based interior designer Keita Turner, Livvy & Neva is a line of bespoke and limited-edition decorative pillows, imaginatively designed from excellent-condition or never-used vintage textiles and new contemporary fabrics.
Malene Barnett
Artist and activist Malene Barnett tackles many mediums, from sculptural ceramic tiles and vessels to mixed media paintings to handwoven rugs, infusing her African heritage with each. Barnett also founded the Black Artists + Designers Guild, an organization that aims to provide members with increased visibility and opportunities.
Marie Burgos Design Collection
Interior designer Marie Burgos has an independent collection of bold lighting, furniture and decorative accessories. Infused with inspiration from her native Paris, Burgos's designs invoke a simple luxury and often have an ethereal quality.
Mitchell Black
Mitchell Black is a Chicago–based brand that specializes in wall art, wallcoverings, wallpaper, textiles and flooring.
Modish Decor Pillows
Chantal Bradley founded this line of accent pillows in 2015 and has since expanded to include dinnerware and candles.
Nicole Crowder Upholstery
Independent furniture designer and upholster Nicole Crowder creates custom pieces for residential and commercial clients in addition to creating small design collections that she sells in her Washington, D.C., studio.

Nikki Chu Home
After a successful start to her interior design career, Nikki Chu launched a home essentials line made up of bedding, pillows, rugs, throws, paint, wall art and decorative accents.
Oskar Torres

On top of his interiors practice, designer Oskar Torres founded the Antique Textiles Galleries Home Collection back in 2012, most recently expanding his online tastemaking to home decor platforms Chairish and 1stdibs.
Peace & Riot
Achuziam Maha-Sanchez and her husband Lionel Sanchez opened Peace & Riot as a shop that could showcase their eclectic, global tastes and their African-Caribbean heritage. From hand-carved salt and pepper grinders to accent tables and armchairs, this Brooklyn boutique touches all corners of home decor.
Rochelle Porter Design
Atlanta-based lifestyle brand Rochelle Porter Design specializes in vibrant, eco-friendly home decor and fashion textiles. In her own words, Porter "aims to design the flyest possible products while doing the least possible harm."
Ron Nicole
After leaving Philadelphia, artist Ronni Nicole opted for a slower, pastoral lifestyle—her "floral fossils" are works of art that preserve fresh flowers to create one-of-a-kind pieces.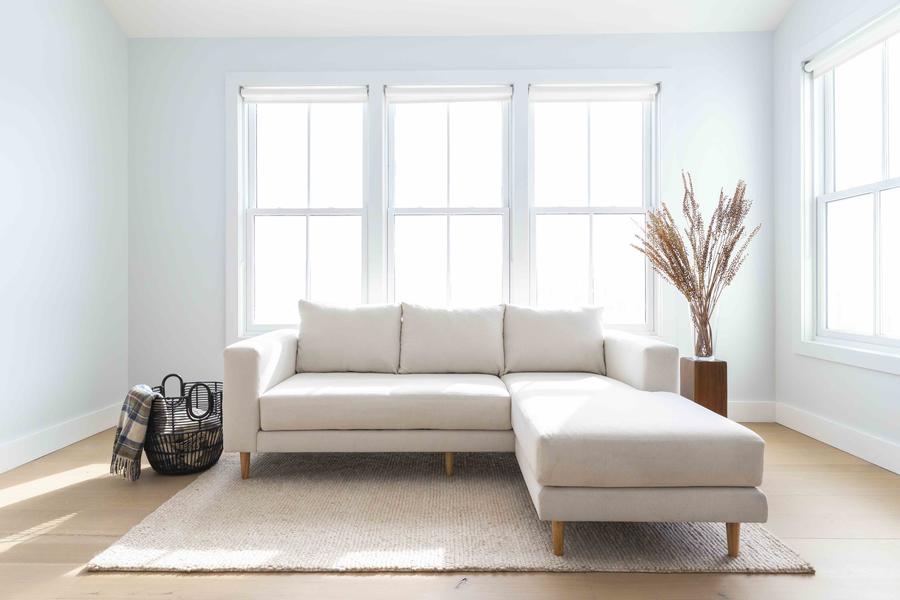 Sabai
Direct-to-consumer sofa brand Sabai isn't the average furniture company—its sofas are sustainably designed and flat-packed, with environmental consciousness driving every facet of their design process.
Sheila Bridges Design
New York–based interior designer Sheila Bridges was inspired by traditional French toile to create Harlem Toile du Juoy, an updated motif that reflects the day-to-day life of her neighborhood. The print has now been featured in The Studio Museum in Harlem, the Museum of Arts and Design, and as far afield as the Musée de la Toile de Jouy in France, and it is in the permanent wallpaper collection at The Cooper Hewitt, Smithsonian Design Museum.
Tackussanu Senegal
Founded in 2019, this brand works with female artisans in rural Senegal to create traditional handmade baskets.
xNasozi
Traditional and timeworn textiles and techniques are the foundation of this Brooklyn furniture and decor brand created by Nasozi Kakembo, who left a career in social justice to focus on her passion for textiles.
Yaël & Valérie Fabrics

Made in small factories in Haiti, this brand sells wallpaper and fabric by the yard, in addition to home accessories and furniture, that are inspired by the women of the Carribean and scenes from life on the island.
Yowie
Founded by Shannon Maldonado, Yowie is a curated home decor and lifestyle shop based in Philadelphia focused on spotlighting small collections from independent artists, designers and makers.
For recommendations from various industries, Shoppe Black has a great list of resources.
Homepage photo: A scene from Justina Blakeney's collaboration with Loloi Rugs | Courtesy of Justina Blakeney