In a time increasingly dominated by extremes—in business, politics and, well, everything—Tappan Collective is an interesting example of an in-the-middler that has carved out a niche for itself. Founded in 2012 by Chelsea Neman Nassib and Jordan Klein, the company's original idea was to bring a digitally savvy, e-commerce-driven approach to selling the work of emerging artists online.
The goal, says Nassib (Klein has since left the business), was to get homeowners who had the money to stop buying, as she puts it laughingly, "that Z Gallerie print of a sepia horse," and to invest in "real" but affordable art, instead. Much of Tappan's selection is in the $1,000 to $3,000 range—though there are pieces to be had for $50, or as much as $25,000.
Courtesy of Tappan Collective
When it was founded, Tappan Collective's digitally native approach felt disorientingly new to many of the entrenched players in the art world, like a disruptor storming in to overthrow the established order. In fact, Nassib's business, with its relatively modest scale (she started with 20 artists) is more like a digitally savvy gallery than a large-scale market destroyer.
As venture-funded marketplace sites like Artsy (which lists work by more than 100,000 artists) have stormed the art world with a "bigger is better" strategy, Tappan's curatorial approach feels almost old-school. "If you come from the art world, this is a little avant-garde. If you come from tech, you're going to go for the marketplace," says Nassib. "I think the marriage of these two has led to our success so far, and hopefully makes this long-lasting."
Another funny thing that happened along the way: Nassib found out that her biggest customers weren't who she thought they'd be. While homeowners did shop the site, the biggest orders started coming from designers working on hospitality projects. So she spun up a host of services to attend to her new audience.
"When designers are doing a project, sourcing can be really taxing. They have to scour the internet, reach out to the artist, who [might be] in Europe for the next six months," says Nassib. "We have a team of art advisers who work directly with designers. Say they're working on a hotel project. They'll send us mood boards and elevations and we'll come up with the art that would fit the project—they can outsource part of the work to us."
Tappan has also made a point of collaborating with design world notables for curated collections within its own marketplace (everyone from Queer Eye designer Bobby Berk and influencer Emily Henderson to former Architectural Digest digital director Keith Pollock has a presence on the site). Nassib also introduced a trade discount of 10 percent—a relatively small markdown, she admits, explaining that much of Tappan's pricing goes toward the represented artist, leaving less room for a margin. (Citing the privacy of Tappan's contracts, she declined to give an exact percentage of what share of the net price goes to artists, but said it was higher than industry standards.)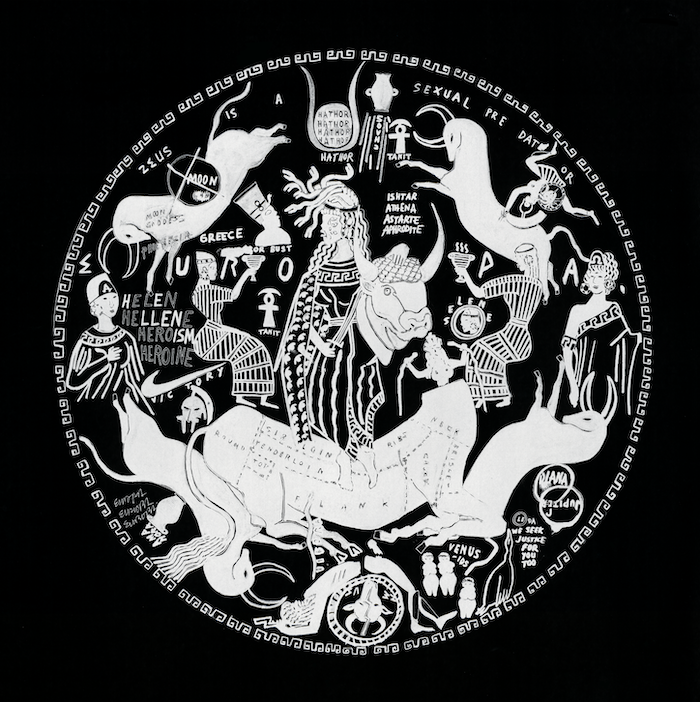 Courtesy of Tappan Collective
Like everything else, the coronavirus pandemic has flipped Nassib's business upside down. While its interior-design-driven purchasing once brought in the most revenue, the mass halting of commercial projects caused Tappan's trade business to drop 61 percent from Q1 to Q2. But what might have been a business-tanking dropoff came with a major silver lining: The company's consumer business shot up 57 percent.
"Everyone is investing in their homes and they're shopping online," she says. "It was actually an incredible experience for us and the team, [because] when all of the developers and hospitality and interior designers had to sit tight for a little, our team was able to make a strong pivot and push on e-commerce." Suddenly, the pandemic had reverted Tappan into the DTC brand Nassib originally envisioned back in 2012.
Whether that will hold into the future is unclear. Nassib says Tappan's B2B business is creeping back up, and that hotels with 2022 openings are starting to buy again. But whatever the next few years look like, she is hoping they involve growth. Her company currently represents 80 artists, and she is looking to find the formula that allows Tappan to increase that number while still delivering for each creator.
It's a sticky problem for a business that seeks to meld an e-commerce sales approach on the front end to an artist-focused gallery approach on the back end. But there's no doubt, says Nassib, that growth is what's next: "We want to get bigger."
Homepage photo: Courtesy of Tappan Collective