Bunny Williams. Celerie Kemble. David Phoenix. Steve Leung. They're ready for High Point. Are you? The spring iteration of the seminal market returns April 22 to 26, and EAL is back with its Designers' Guide to High Point Market, packed with news about the notable names and events and the latest trends at Market. To prep for the impending season, check out a few of our favorites here, and download the guide in its entirety online.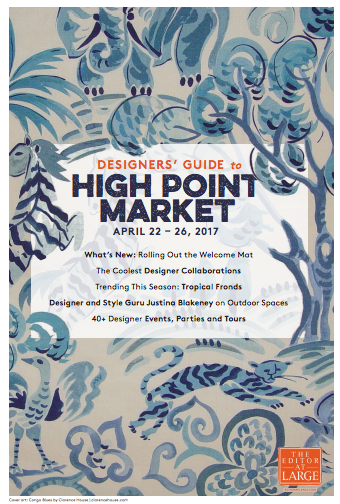 Among the features in this spring's guide are a look at collaborations: Bunny Williams with Currey & Company, Celerie Kemble with Eastern Accents, Windsor Smith with Century Furniture, and others; a how-to with Justina Blakeney, designer and tastemaker, on styling outdoor spaces; and a comprehensive lineup of all the happenings unfolding at Market.
Some highlights on our calendar? "Inside the Designer's Studio," an in-depth conversation with Jeffrey Bilhuber; brunch and cocktails with Barclay Butera; Michelle Workman's Facet Collection launch party at French Heritage; and the ever-popular Design Viewpoints Series, featuring a keynote with Robin Wilson on the topic of wellness and sustainability.
Scope out the full guide online, and look for it in-person at Market.