They have one of the most-viewed shows on cable and are launching their own network. Their product collection for Target is a bestseller. They may be the most important American influencers in mainstream design right now. But of all the many successful initiatives by Chip and Joanna Gaines, their Magnolia Market at the Silos retail complex in their hometown of Waco, Texas, may be the most amazing.
It could be the best new concept in years—not just in home furnishings, but across the entire retail spectrum.
Since its expansion was completed last fall, Magnolia Market at the Silos has become part lifestyle shopping mall, part entertainment center, part fandom shrine and part Disney—but all parts brilliantly executed. Its mix of retail, hospitality, outdoor public space and even spirituality portends a possible route for other retailers looking to stay relevant with their physical stores.
The Gaineses' story is well-known at this point: Chip was a local contractor in Waco (a small town midway between Dallas and Austin with a previous claim to fame that was not exactly positive) who brought in his wife, Joanna, to help with his renovations. Along the way, they expanded their business and their family, and eventually connected with HGTV to develop a home renovation show called Fixer Upper.
When it debuted in 2013, Fixer Upper wasn't an immediate hit, but it developed a loyal and devoted audience that responded to Joanna's modern farmhouse aesthetic and Chip's demo skills, punctuated with a touch of frat-boy humor and self-deprecation. Their on-screen chemistry and genuine affection for each other and what they were doing didn't hurt. By the time the show finished its first run in 2018, the duo were already well into licensing their brand, first for individual products like rugs and furniture, and then with a broader decor line for Target. In the meantime, they had developed a direct-to-consumer online business and expanded their original Magnolia Market store (open from 2003 to 2006) to include a plot of land that features several buildings and a pair of landmark grain silos. Magnolia Market at the Silos opened in 2015, selling souvenirs and home accessories. Even before its recent expansion, the site drew an estimated 30,000 visitors a week.
The success of their retail product business led the Gaineses to launch the full Magnolia Market experience. With so many people coming to Waco specifically to see Magnolia firsthand, they no doubt realized they could offer far more than just one store for all those day-trippers. Now, demand is likely to increase even more: Fixer Upper has returned as part of HGTV parent company Discovery's streaming service, and a reboot of the show will be the linchpin of a future Magnolia Network, still in the works.
Magnolia Market was followed by a bakery in 2016 and a coffee shop in 2019. The original Magnolia store was rebranded Magnolia Seed + Supply, which now sells live plants and gardening gear. And late last year, they debuted Magnolia Home, featuring furniture, larger decor items and decorating services in a 9,000-square-foot store with a light, open layout. Given the tourist traffic, it makes a very visible point of offering delivery services no matter where the shopper lives. It is a physical manifestation of the TV shows, Instagram presence, magazine and books that have all become part of the Magnolia story.
In February 2020, the couple announced on their blog another expansion effort. Most prominent are six freestanding buildings—the Shops at the Silos—each the size of a small cottage and themed to a particular segment, such as kids, jewelry, paper and stationery, and "Chip's favorite things." Some of the products are available at the Magnolia online site, but many are exclusive to the complex. These shops also feature products from third-party vendors. (It's worth noting that none of the Target merchandise, sold under the Hearth & Hand sub-brand, is sold there.)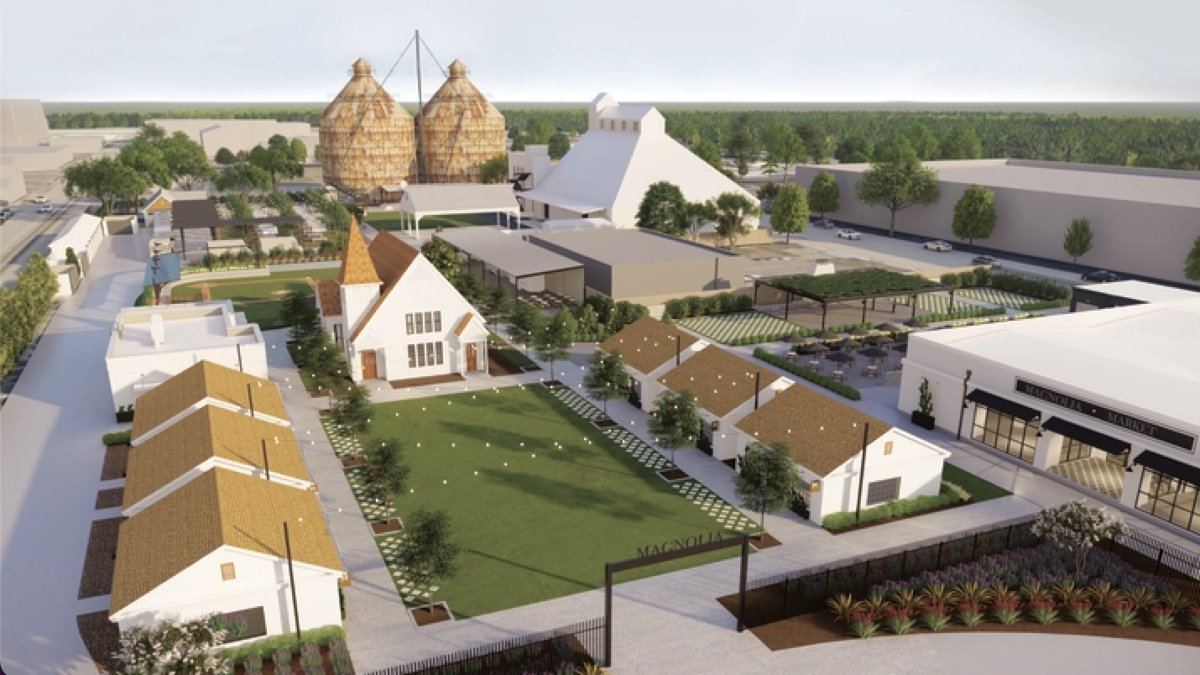 These shops bookend a public green that can be used for picnics or strolls. Food trucks, several serving suitably Texan fare, are nearby on the property. So, too, is a whiffle ball field that recalls a now-demolished local landmark. Picnic tables, restrooms and open space are abundant in the complex, which is the size of a city block. Nearby, two Magnolia guesthouses welcome overnight visitors.
Perhaps the most incongruous element—but one that reflects the Christian faith of the Gaines family, never flaunted but always present—is a chapel, a historic structure that was moved to the head of the green from elsewhere in the area. (In a blog post, the duo explain that they had purchased the chapel—built in 1894, it is one of the oldest structures in Waco—several years ago in order to ensure that it would be preserved.)
As the Magnolia business is privately owned, it's not possible to get any revenue or growth estimates. Pandemic travel restrictions and social distancing would likely skew those numbers anyway. But this writer's random visit over the winter showed a good-sized crowd and more than one tour bus parked nearby. Anecdotal evidence suggests that Magnolia Market is a hit.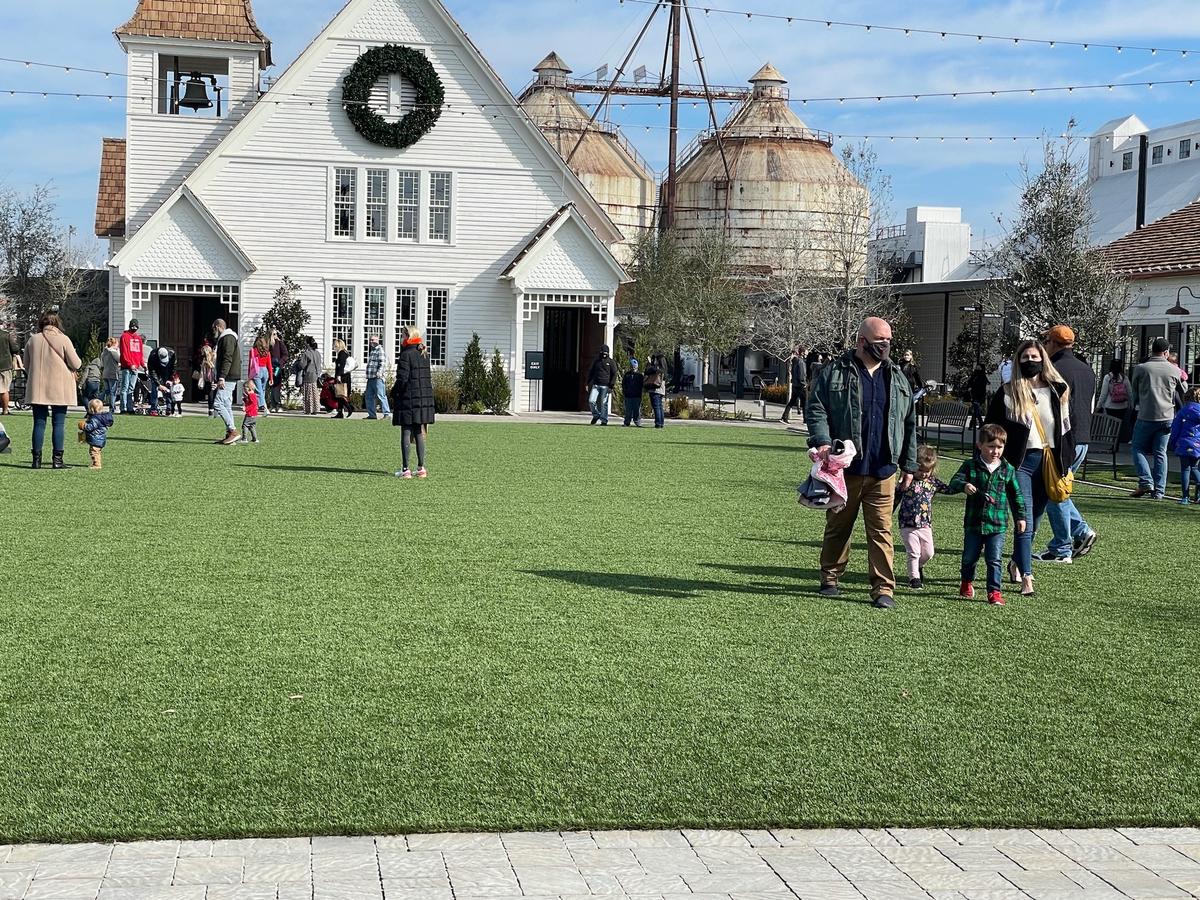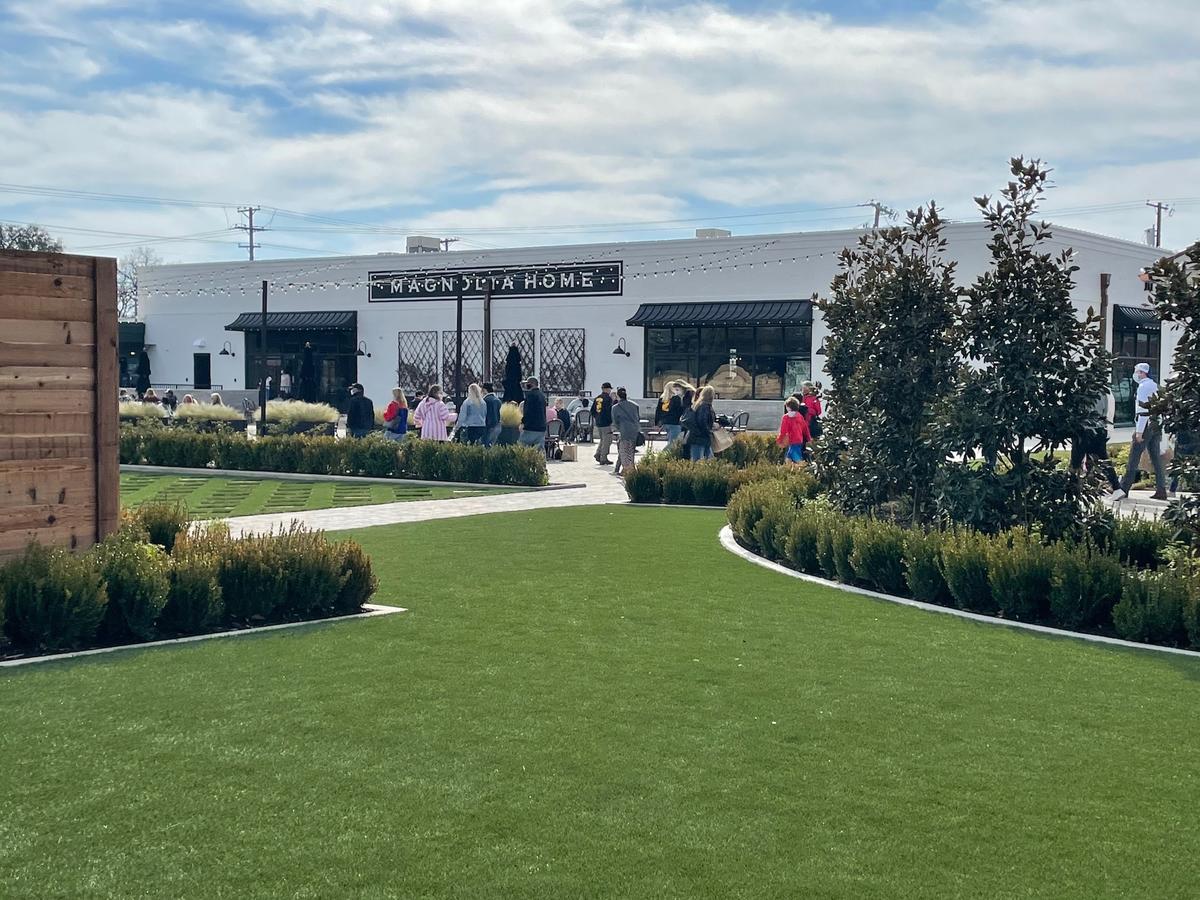 So, can Magnolia Market be replicated by other retailers? Certainly, the celebrity status of its creators transcends most retailers' brand identities (it's hard to imagine Ashley Furniture launching Ashleyworld). But similar, smaller enterprises, from Gwyneth Paltrow's Goop to Ree Drummond's show The Pioneer Woman, that the idea can be translated.
It's a very small club of brands that can effectively group multiple selling spaces together, combining retail and hospitality. Perhaps the most comparable example is the RH complex in the wine country north of San Francisco—though, with four buildings and an outdoor space that clock in at just 20,000 square feet, it is on a much smaller scale than the sprawling Magnolia experience in Waco. (RH is planning a bigger development along the same lines in Aspen.)
Though they come to the market at wildly different angles, both RH and Magnolia share the central premise that retail is about much more than just buying stuff. The experience created by Magnolia Market is very real, and even in a pandemic, it strikes a chord for people simply looking for something to do.
Just as Chip and Joanna Gaines found the right formula with their TV series in a field crowded with home decorating shows, they appear to be duplicating that in the business of retailing. It's worth the trip to Waco to see it in person—and if you need one, they've got a place for you to stay.
Homepage photo: The Shops at the Silos | Joanna Gaines/Instagram
____________
Warren Shoulberg is the former editor in chief for several leading B2B publications. He has been a guest lecturer at the Columbia University Graduate School of Business; received honors from the International Furnishings and Design Association and the Fashion Institute of Technology; and been cited by The Wall Street Journal, The New York Times, The Washington Post, CNN and other media as a leading industry expert. His Retail Watch columns offer deep industry insights on major markets and product categories.