Quick: Name all the placemat brands you can think of. If your list begins and ends with Chilewich, you're not alone. Founded in 2000 by product guru and entrepreneur Sandy Chilewich, the company has gone from a small collection of woven vinyl mats to a nationally recognized name. Over time, Chilewich added to its product selection—it now does floor mats and window treatments—and opened a stand-alone retail location in Manhattan, but the company remained a family affair, helmed by Chilewich herself alongside her husband, Joe Sultan.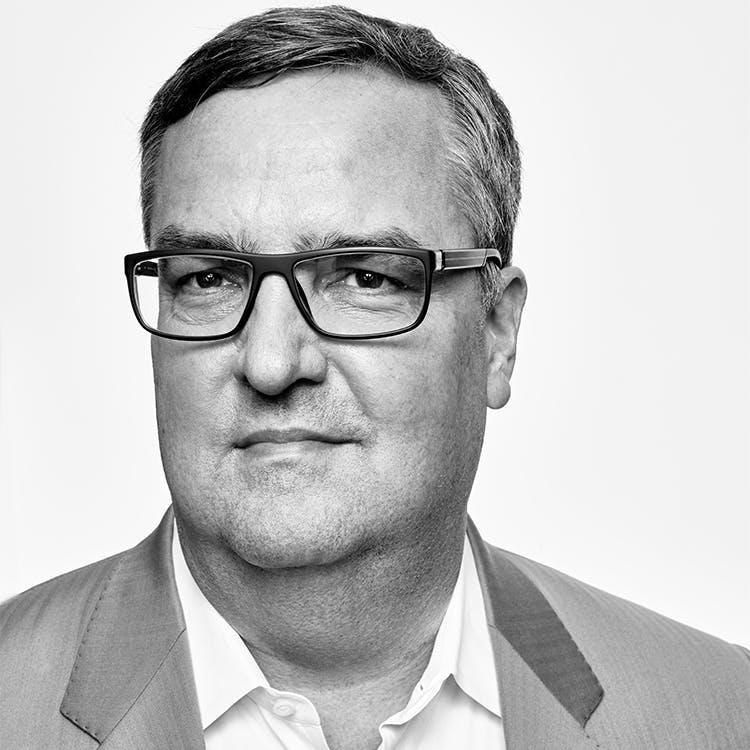 This year, there's change afoot. First, the company was acquired in March by private equity firm Berkley Capital (the price was not disclosed). Now, industry veteran John McPhee takes the helm as CEO and former Design Within Reach chief John Edelman joins the board.
That both McPhee and Edelman are joining at the same time is no coincidence. The two Johns have long run together in the design industry, first at the footwear brand run by Edelman's brother Sam Edelman, then growing Edelman Leather into a powerhouse of the industry and finally rescuing DWR from the brink in 2009, turning it into the retail force it is today. "Jokingly, I say that whatever I've done for the past 20 years is whatever John Edelman didn't want to do," says McPhee with a laugh.
Business of Home chatted with McPhee about his background and his plans for Chilewich.
How did you get into the design world?
I met John Edelman in my 20s when we were working for his brother, Sam Edelman. We were young, aggressive—always the first two guys in the office and the last two guys to leave, so we spent a lot of time together. We traveled the world and became fast friends. Sam ended up selling that business, and John left too, joining his parents' business, Edelman Leather, which he then recruited me for about a day later. We built Edelman Leather from a company that had a good reputation, but was actually tiny, into one of the leading design brands—certainly for leather—in the world. We ended up selling that business to Knoll in 2007.
Then you both ended up at Design Within Reach, right?
A friend of ours acquired Design Within Reach, we went to talk to him about it, and next thing you know, John and I buy in as partners. When we took over in 2010, it was a pretty troubled business and needed a lot of cleaning up.
From our Edelman experience, we understood the power of the to-the-trade business, and we grew that at DWR—from something like 2 percent of the business to 40 percent. That was probably one of the things that worked best for us at DWR—that, and emphasizing authentic design. We sold that business to Herman Miller in 2014, and we agreed to stay on and run it for five years more, which we did. It was a good run. I was the point person on [DWR's] acquisition of Hay. We also went through a whole digital transformation, where that became the key driver of the business at DWR.
Then you ended up full circle, back with Sam Edelman.
Sam had been my first real boss, and he is an impossible person to say no to. And so, instead of taking a break and traveling the world, my last day at Herman Miller was February 9, 2020, and my first day as president of Sam Edelman was February 10. And as we all know, the world changed very quickly within a month. We managed the business through an incredible slowdown in the footwear and fashion industry during the beginning of COVID-19, and then an incredible resurgence as we started—theoretically, anyway—coming out of the pandemic.
How did the connection to Chilewich come about?
I had heard that Sandy and Joe were in the process of selling the business to private equity. I've always really loved Chilewich as a brand, and I reached out thinking that I could co-invest. I got in touch, and they said, "We're not really looking for investors, but maybe there's an opportunity to be an advisor. Why don't you come meet with us?" I go in for this meeting on Park Avenue, and I realize that I'm being interviewed for the CEO role.
It seems like you were happy at Sam Edelman. What convinced you to make the change?
It's kind of appropriate with the [50th] anniversary of The Godfather here, you could say they made me an offer I couldn't refuse. It's just a really great team. I've known Sandy for more than 25 years, and Joe's a super interesting guy, very hands-on. Most people probably don't know this, but he's actually a large-scale sculptor. I've been following his art over the years—so the connection was there. And I joke with Sandy, and Joe, that I may, between my wife and I, have the largest private collection of Chilewich place mats already. It's a product we live with every day.
Also, I'm just excited about it. I think it's a great business as it sits today, and there's an opportunity to bring some of my experiences in, whether it's digital or international. [At Sam Edelman] we had a fairly large international exposure—we had about 45 stores in mainland China. I think there are certainly global opportunities for Chilewich.
The other thing I'm personally really excited about is that Chilewich is made in the U.S. Aside from all the other good things about that, it's simpler from a supply chain standpoint.
Talk about your own experience a bit more—I know CEOs have to do a little bit of everything, but what have your areas of focus been?
Most recently, I would say it's digital expertise. But digital doesn't live by itself in a vacuum—how do you tie digital in with the rest of your business? Whether that's digital in direct-to-consumer [sales], making the website work great for interior designers who are working on a project or running your supply chain. All of those things.
There are a lot of levers you can pull. At DWR, we had a phenomenal catalog marketing program. One of the things I did when I went [back] to Sam Edelman was launch a print catalog for the first time. There's a strategy to mailing catalogs, who you mail to and how you fine-tune that list, and that's one of the opportunities we'll explore for Chilewich.
This move will, in a way, reunite you with John Edelman, who's on the board at Chilewich.
Along with Sandy and Joe, who certainly bring years of expertise. I think there will be a great collaboration among the four of us—and then the other two board members are sophisticated Wall Street guys from the private equity firm. That's a good combination.
I was in the Chilewich offices in New York last week, and the team is fired up and ready to explore new opportunities. They're making all of the floor mats for the new Rivian electric trucks, which are out of the box and just cool.
Your major career experiences had very clear missions. With Edelman it was to grow the brand. With DWR it was a rescue job. What's the mission with Chilewich?
It's probably more similar to Edelman Leather than DWR or Sam Edelman, which were much larger in scale. This is the smallest business I've been involved with, at least since the early days of Edelman Leather.
We have 140 people that work with us on the team, and that's a very manageable size, where you really can get to know everybody—what their strengths are and where they could use help. You build on the strength of that team but layer in some people who have domain expertise in, say, digital marketing. In small businesses, you tend to have a lot of generalists. If we can bring in some specific talent, that'll help. I like to call it course correction: You move things 5 degrees better, but it's not like you have to go in and change everything.
I know you haven't started yet, but what are some new things you're interested in trying?
What product expansions can we do? Who can we collaborate with? What are some interesting partnerships out there? As an example, custom closets have become very important for high-end homes. Is there a way we can partner with custom closet makers so that when you open your drawers, they have Chilewich liners in them?
They've been doing Chilewich commercial flooring for gyms, but most gyms you go into, you're not seeing Chilewich. How do we build on that opportunity and educate the A&D community about all the different things Chilewich can be used for? I think there's some low-hanging fruit there.
Purely in terms of brand, is Chilewich in the right place?
They're the dominant brand in place mats, and flooring has become very, very important for the company. How do you make sure that that brand carries over? I do think that, actually similar to Edelman Leather, the brand at Chilewich is probably bigger than the business itself. If people were to guess, I think many would think it's a larger business than it currently is.
What does private equity ownership mean for the business?
Now we have strong financial backing, so if we need to invest in a new piece of equipment for the factory, as an example, we can do that—we don't have to go to a bank. Launching the catalog takes a lot of capital, but assuming that it works, which I believe it will, it'll pay a nice return. It's those things, where, maybe as individual owners, understandably, Sandy and Joe might have not been as comfortable. So that's going to be exciting.
Are there any specific plans on the product side?
Right now, the material that we make rugs out of comes in 6-foot-wide rolls. You're somewhat limited, unless you seam the rugs, on what size rugs you can offer—and I know from my DWR experience that there's a lot of demand for 9-by-12-foot rugs for larger homes. Chilewich already has 9-foot-wide material in the works that will be launching early in 2023, so we'll be able to offer 9-by-12 rugs without a seam in them.
They've been innovating continually. I'm coming on to help support that, make decisions and say, "This is a good idea. How do we do this more often, and quicker?" That's part of what has made me successful in my career: doing things faster. You make mistakes quicker that way, too, but it's about trying a lot of things. And if you do, and you have a good gut for the business, you're going to find things that work.
Is there a big secret to targeting designers as customers, or is it just doing the small things correctly?
It's making sure they have all of the right collateral materials, making sure that they're offered a discount, and that they have a private, password-controlled website they can go to place their orders. We learned that at DWR: When a designer needs to place an order, it doesn't matter if it's 10 o'clock at night in California. Going back to digital, it's about making that easy for them to do, whether it's ordering samples or ordering the actual product. That will definitely be a focus for us. Of course, I say all of this not having started yet.
Sure, it all seems easy from the outside.
Nothing's actually easy, right? But I'm looking forward to the challenges. I wake up every morning now at 3:30 thinking about Chilewich. That's a good sign.
Homepage photo: Courtesy of Chilewich