In 2001, Knud Erik Hansen took over the family business, Danish furniture maker Carl Hansen & Son. Once a powerhouse, the company had dwindled to a small operation, just 18 people churning out a handful of designs from a small factory. Over the course of two decades, Hansen has revitalized the brand, expanding operations all over the world, growing the company to 400 employees, and spreading the gospel of Danish modernism as the home of iconic pieces like Hans Wegner's Wishbone chair (officially "CH24" in the company catalog).
Twenty years in, Hansen's company is moving into other categories—it releases its first bed later this year—and looking to make a bigger impact in the U.S. Hansen spoke to Business of Home about the scourge of knockoffs on the market, a changing attitude in American consumers, and his succession plans.
I read an interview with you last spring in the early days of the pandemic, when it was very unclear how everything would shake out. Things probably look a little different now. How has COVID been for Carl Hansen?
Last March/April, there was full panic here. The Danish government allowed us to send people home, and they compensated some of the income. We sent about 25 percent of the company home, but only for about a month, then we could see that we needed them back again. Although most of our customers—at least the furniture dealers—were closed, they still sold a lot through the web and over the phone. So our orders have actually consistently increased since around last May. So we haven't had a big crisis like in 2008. Not at all.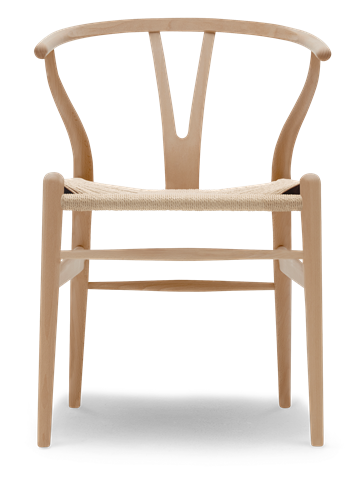 Courtesy of Carl Hansen & Son
How do you think about the COVID home boom? Do you think the renewed interest in home is here to stay, or do you think the surge is going to taper off?
Well, a lot of people have [shifted] their attention onto their environment and home. At the same time, it's not the buy-and-throw-away [attitude we've seen] in the past. It's not only the material or the look. It's also the quality of what you're buying, so you get more for your money. By traveling and by seeing how we live in Europe, many people in the United States can now see that this throw-away [culture] has to stop. We feel that as a positive development of our business here, because we increase our sales constantly in the U.S.
How big of a slice of your revenue pie is the American market?
Between 8 and 10 percent. It's growing fast.
I know the brand has had a lot of success in contract applications. Why is that? I think of it as being more of a residential product.
In our collection of about 130 products, there are products that fit into hotels and lobby areas. [Post-pandemic], we will revert to that [strategy] slowly but surely [once] hotels start investing again. But I also think the private market is increasing. It is a huge market [where] you are bombarded by advertisements, and perhaps we are not entirely geared toward the American way of buying yet.
What do you mean by the American way of buying?
"Buy today, you'll get a free pillow," or whatever.
Let's talk about residential interior designers. Is that a market that you to try to attract?
We do. We pay a lot of attention to it, and we have our own people based in the U.S. We don't use agents. We have a showroom on Park Avenue and shops in New York and San Francisco. I think that [market is] going to change a lot in the U.S. over the coming years because [of the] different [consumer] attitude. A lot of Americans, they travel to Denmark or to Scandinavia and see how we live. And I think that's changing their buying mood.
So your big-picture bet is that Americans will care more about sustainability and buying stuff that will last?
Definitely.
Tell me about who you see as your competition in the American market. Who are you losing sales to?
In the United States, still, the knockoffs are a problem for us. You import a heck of a lot of knockoffs from China, which is terrible. American people are not used to seeing the quality that we are offering. When I visit interior decorators and interior architects in the U.S., I usually spend a lot of time explaining the difference between knockoffs and originals. I think our big challenge is to educate the interior architects to stay away from cheap knockoffs. There is a huge difference—take a little thing like drying the oak. Here it takes us nearly a year. Over there, I guarantee you it's not even a month. And that means when you put the furniture in the air conditioning, you'll have a problem.
Can you put numbers on the knockoff market? Do you have a sense of how much Carl Hansen copycat furniture is out there?
In the U.S., it's probably more than double or even more.
Wow.
Americans love the furniture, there's no doubt, but they are trying to get the cheapest deal. [But] if you look at it over a longer period, it's more expensive and environmentally costly, because it doesn't last. I went to the workshop yesterday and we were refurbishing a Wishbone chair that was 40 years old. It was being sanded down by one of our carpenters, and then it gets an oil surface, and then a new woven seat, and then you have a brand-new chair that could last for another 40, 50, 60 years. [That's] a big part of the environmental story, which we have to do better than we are doing today.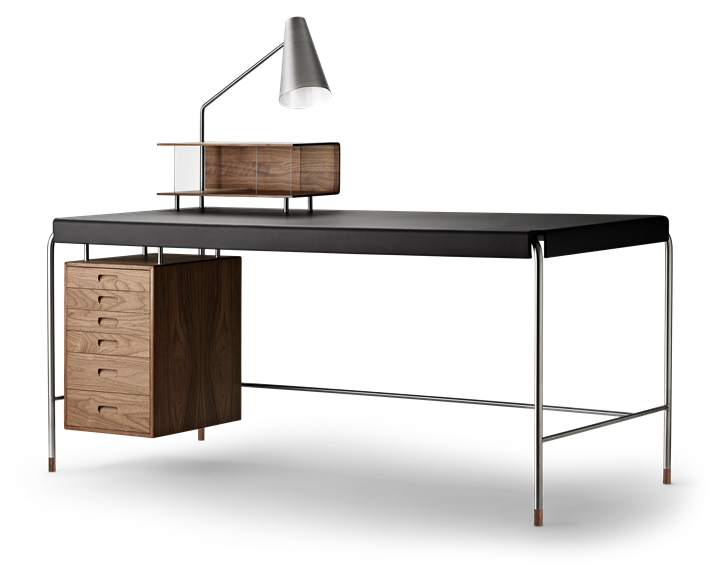 Courtesy of Carl Hansen & Son
You built the company in its modern incarnation, and it has grown so much over the past 20 years. How much bigger do you think is the right size for Carl Hansen?
I wouldn't put a limit on it because as long as we can oversee the business and it is humanly controllable, we will continue. Denmark is a small country. Our domestic market is small, so we live from exporting. We need to be big and strong to meet competition everywhere in the world. So it is no good for me to say to my children when they take over: "Don't worry. We're big enough—you can sit back and relax," because in no time we'll be gone. It's exactly like running a business in the U.S. You have to press, press, press to be better and bigger and more financially powerful.
Carl Hansen has a few particular iconic midcentury designs. How are you planning to make more icons?
Most of the golden-age architects are dead now, but we work with young architects, both internationally and in Denmark, who work on from where these people left off, and there's a lot of talent among the young people today. We are putting new products in the market. We have just introduced a sofa called the Sideways sofa, which fits into the Carl Hansen DNA using [modern] material in a completely new shape. A young lady architect called Rikke Frost made it. This year, we are introducing a new sofa by EOOS in Austria, a modular sofa, and a new bed and some fantastic chairs. We do change all the time, but the U.S. is a huge market and it's difficult to reach everywhere in the States.
Well, there's still a lot of people in the States to sell Wishbone chairs to.
Yeah, that's for sure.
You've turned Carl Hansen into an international brand. Your sons are coming into a very different business. Tell me how they see it and what their goals are. I know that you're talking about succession.
I think they grew up to take it over. Of course, they have been sitting at the table with my wife and me when we talk in the evening. So they are spoon-fed information, they see the new products, they see the things developing, they see the new factory and how things are going. So I think they understand what has happened in the past. We are still a family company and have never been traded. They appreciate all the efforts that have been put into the company in the past, but of course, they have ideas too, and I think that is perfect. I can hand over a business to them that is able to stand on its own and that's my pride.
I could have sold this business many times, but I'm not doing it. My task is to bring it to the fourth generation, and what they do is not my business. But they seem to understand that it's hard work, and perhaps they will be a bit more international than I've been, because the Danish [and] Scandinavian market is limited.
What idea of theirs are you most skeptical about?
I'm really not skeptical of what they're saying, because they know me quite well, so they don't provoke me. On the other hand, they have [their own] ideas, especially the youngest one, whose taste is very good, so I think he knows how to bring it forward. So it will be different, but we will maintain the people that are working here today. It is not going to be a revolution from one day to the next, but they will change, and that's good. My dad did it, and I've done it. It's a natural thing.
Well, I hope they institute that free pillow with a furniture purchase here in America.
They will—otherwise they will never get into the American market.
Homepage photo: Knud Erik Hansen | Courtesy of Carl Hansen & Son