In the series What I Love, we're asking designers to build us a mood board of what's inspiring them right now.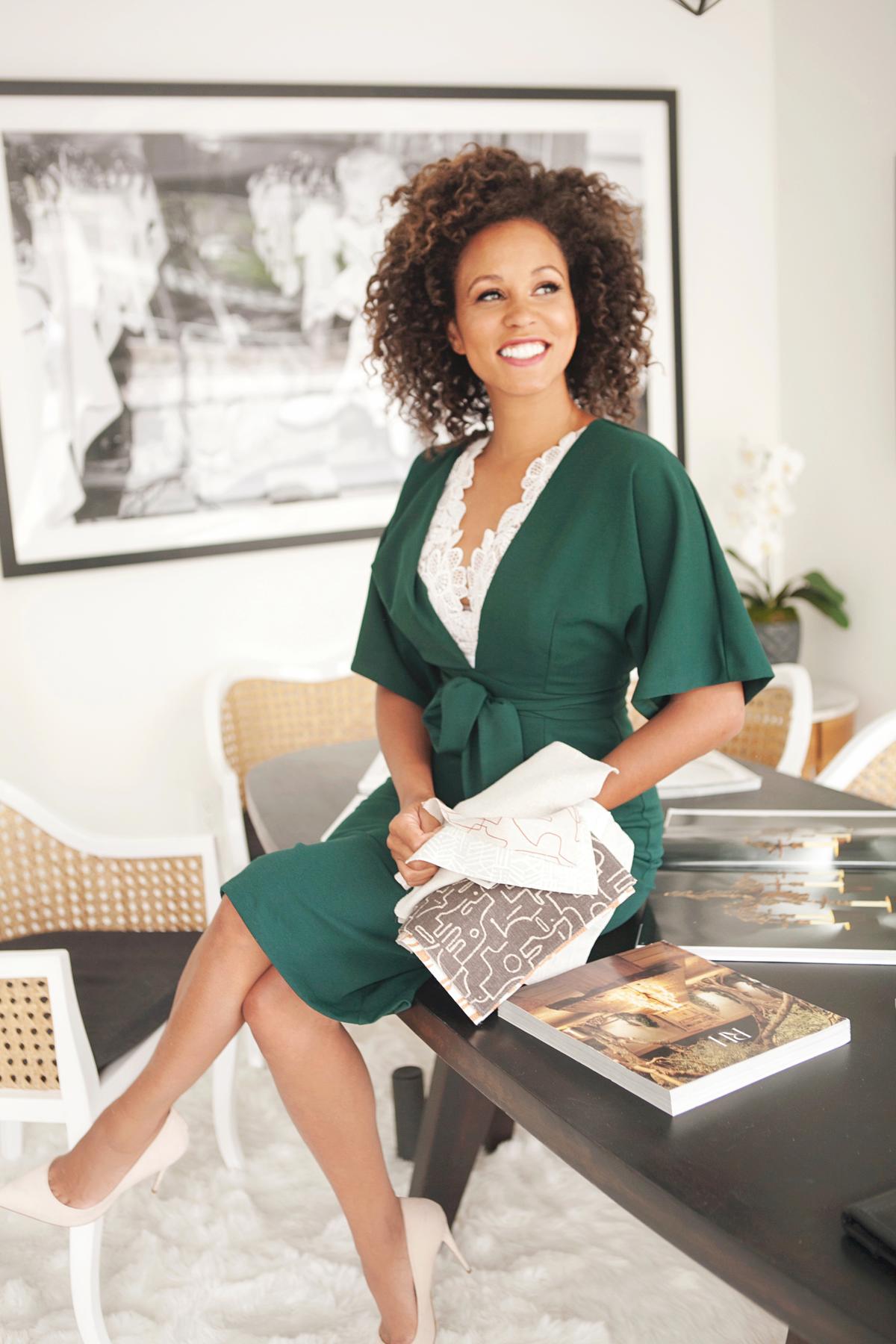 While some designers shy away from mixing high and low decor in the same space, Breegan Jane embraces it. "I believe every space has the potential to be beautiful, and luxury should be attainable for everyone," she tells Business of Home.
True to form, her current mood board boasts a blend of elevated design details and affordable everyday items that prove you don't have to spend a fortune to achieve a sophisticated look. Brimming with bold prints, neutral stones and a medley of metallic finishes, Jane's flat lay elevates the California-cool aesthetic. "It's inspired by all the elements that combine to create modern, approachable luxury," she explains. "Every detail contributes to the splendor."
The designer says it's the "polished artistry" of the various selections that draws them together. "So many of these pieces showcase the work of talented and skilled artisans who truly love their work," she explains. "They each have an undeniable refinement and charm, and those characteristics combine to make any space feel grand and inspired."
Here, Jane breaks down the details—from bright teal blue paint samples to brass outlet covers.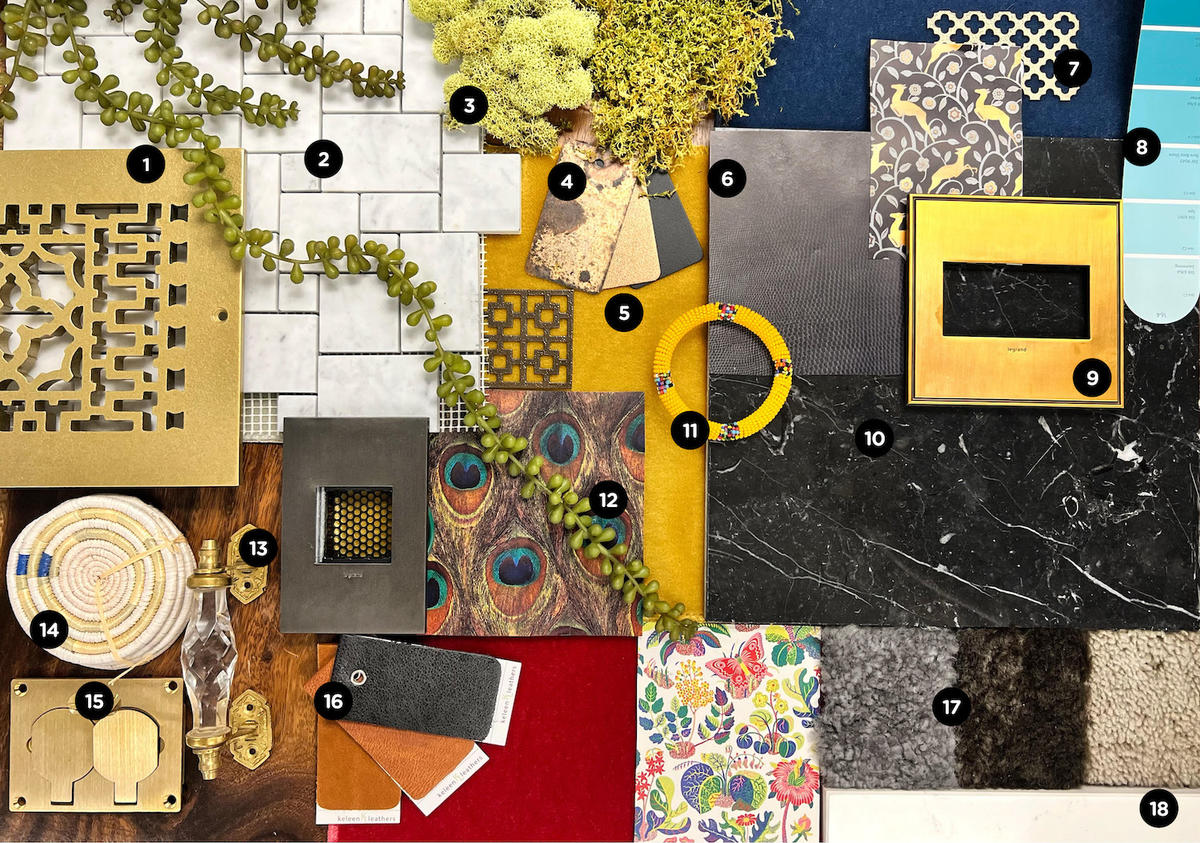 1. VINTAGE VENT COVER
"You'll almost always see brass or golden metallics in my designs," Jane says. "They add opulence as well as a beautiful sheen. Incorporated cleverly, they can almost act as jewelry in a space. This was an amazing vintage find on one of my treasure hunts in L.A."
2. CAESARSTONE — B&W TILE
"I love Caesarstone for its beauty and durability," she says. "This selection is particularly nice for shower walls and floors."
3. FAUX FOLIAGE — ROLLING GREENS
"Faux plants are a favorite of mine to use," says the designer. "I mix them with my real plants, and my guests are none the wiser. It's a clever design trick I love!"
4. CORTEN STEEL, NEW BRASS AND DARK IRON FINISHES — ULTRALIGHTS
"No space is complete without the perfect lighting," says Jane. "While there are tons of fixtures out there, finding the right finish to complete a design isn't always as easy as I'd like. UltraLights Lighting, however, has finishes to match pretty much any style I need."
5. MOHAIR Fabric IN GOLD, LIPSTICK RED AND OCEAN — MICHAEL JON DESIGNS
"I adore this fabric for furniture upholstery," she says. "The deep blue [top right], bold red [bottom center] and chartreusey orange [center] are some of my favorites."
6. RADIANT REPTILE IN BLACK SILVER — KELEEN LEATHERS
A snakeskin-style hair-on-hide swatch adds a touch of texture and dimension to the flat lay.
7. Vintage gold mesh
Gold mesh in a curvy quatrefoil motif provides the designer with some old-school pattern inspo.
8. TEAL PAINT SAMPLES — SHERWIN-WILLIAMS
"The power of color is undeniable," says Jane. "It can influence mood, and help or hinder productivity. It can also bring a space together. I always encourage my clients to use colors that will bring about the feeling and energy they wish to have in the room. For me, teal does all of that. It has long been a favorite color of mine, and I use it throughout my spaces in many ways."
9. ADORNE BRUSHED SATIN BRASS AND BRUSHED BLACK NICKEL WALL PLATES — LEGRAND
"Luxury is often in the details, and those details need to be as elegant as the overall design," says Jane, who is an ambassador for Legrand. "I enjoy using designer switches, outlets and wall plates that can be customized to complement the space I'm curating."
10. NERO MARQUINA PorcelAin Slab — ROCK MILL TILE & STONE
"I love working with stone, and I've even flown to Italy to source it for a trophy estate of more than 40,000 square feet," she says. "Stone has a way of instantly elevating a design in an effortless way."
11. BEADED BRACELET — WORLD VISION
"Beaded elements are often used in styling shelves and tablescapes," the designer says. "They make beautiful additions to areas that are on display. These are from Kenya, and they hold a special place in my heart because of my connection and work with the girls and women there."
12. LES GAZELLES AU BOIS, PEACOCK ORE, AND EXOTIC BUTTERFLY WALLPAPER — SCHUMACHER
"Wallpaper is an excellent way to make an impact," says Jane. "I particularly love using fun and vibrant prints in small, jewel-box powder rooms." Her flat lay includes Schumacher's Les Gazelles Au Bois wallpaper in Noir (top right), Peacock Ore (center), and Exotic Butterfly in Spring (bottom).
13. CUSTOM HANDLE — ANTHROPOLOGIE
"You'd be amazed at how different a space can appear with simple touches like switching out your handles and pulls," she says. "You don't have to spend a ton of money to refresh your space. Finding unique and decorative handles provides an easy face-lift."
14. CIRCLE OF STRENGTH UPCYCLED COASTERS — WORLD VISION
"Good design should never sacrifice function for beauty, and coasters are always useful in a home," she explains. "Whether you're entertaining or just enjoying a beverage at dinner, you can protect your furniture in style. These are especially lovely because you help children and families in need with every purchase."
15. BRASS FLOOR COVER OUTLET — WALMART
"We all have outlets," she says. "Why shouldn't they coordinate with the rest of the space? Never forget that there's always a way to make the mundane magical!"
16. PERSUEDE ME IN RUSTY NAIL, ANGUS IN 180, AND CUBA MI VIDA IN HOT IN HAVANA — KELEEN LEATHERS
Buttery soft yet durable, neutral leather upholstery options bring an organic element to the flat lay without sacrificing livability.
17. CURLY Q IN WOLF, MACCHIATO AND FAWN — KELEEN LEATHERS
"Whether used on furniture or in a rug, shearling adds richness and texture," says Jane.
18. BIANCO DRIFT — CAESARSTONE
"I'm a huge fan of neutrals in a space," says the designer. "If you select whites, grays and blacks for your foundational surfaces, you will always enjoy versatility with the endless options available for accent pieces!"
Homepage photo: A flat lay by designer Breegan Jane | Courtesy of Breegan Jane