In our new series What I Love, we're asking designers to build us a mood board of what's inspiring them right now.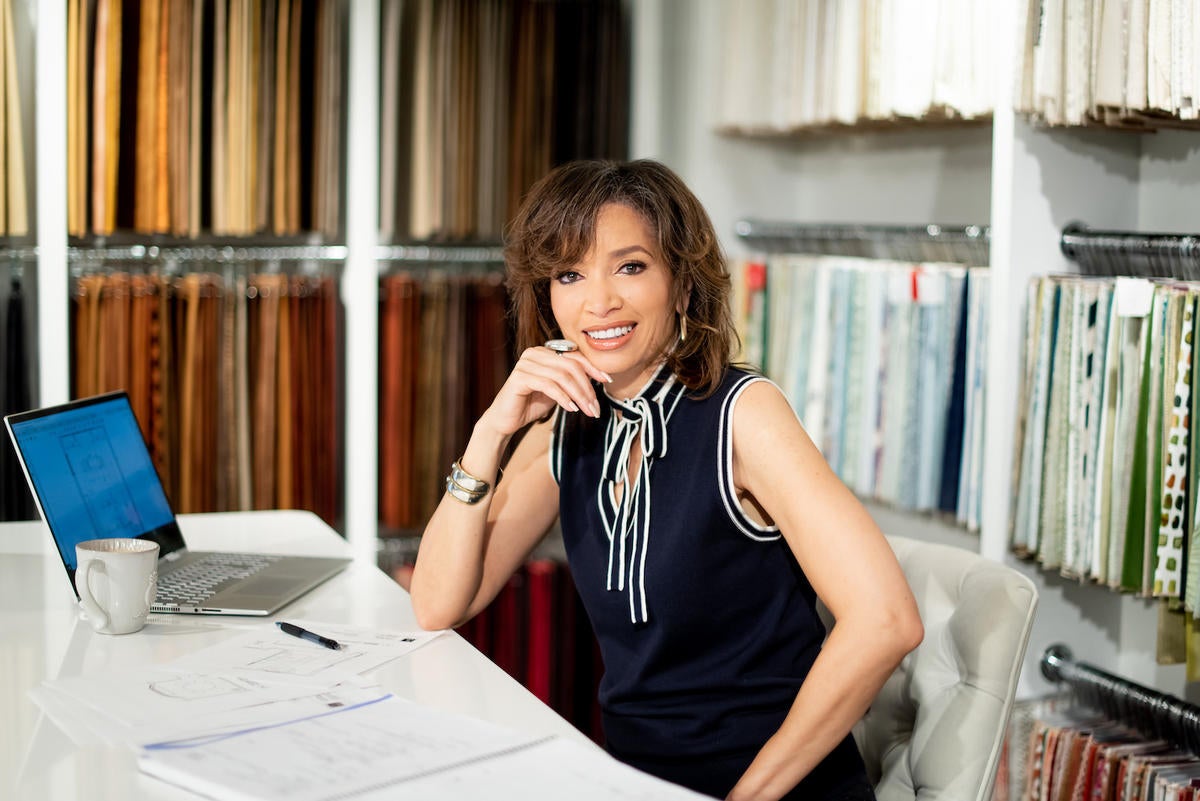 Lorna Gross strives to create spaces that reflect the people who dwell within them. The Washington, D.C.–based designer relies on a mix of soothing hues, luxe finishes and the occasional zip of vibrant color or pattern to forge warm, elegant interiors that don't scrimp on function.
Her current mood board is a perfect example. Drawing from a recent project for a client with young children, the flat lay is filled with plush performance fabrics and sleek sustainable materials designed for comfort and livability. "The mood is light and fresh," she tells Business of Home. "Although it is airy and upbeat, the metallic finishes ensure notes of sophistication and elegance."
With a nod to what she describes as a "nouveau high tea," Gross says what ultimately unites all of the items in her flat lay is their spirited simplicity. "I picture a group of good friends enjoying an afternoon of treats and lively conversation in this room."
Here, the designer breaks down the details—from crisp white cabinet samples to embroidered fabric swatches.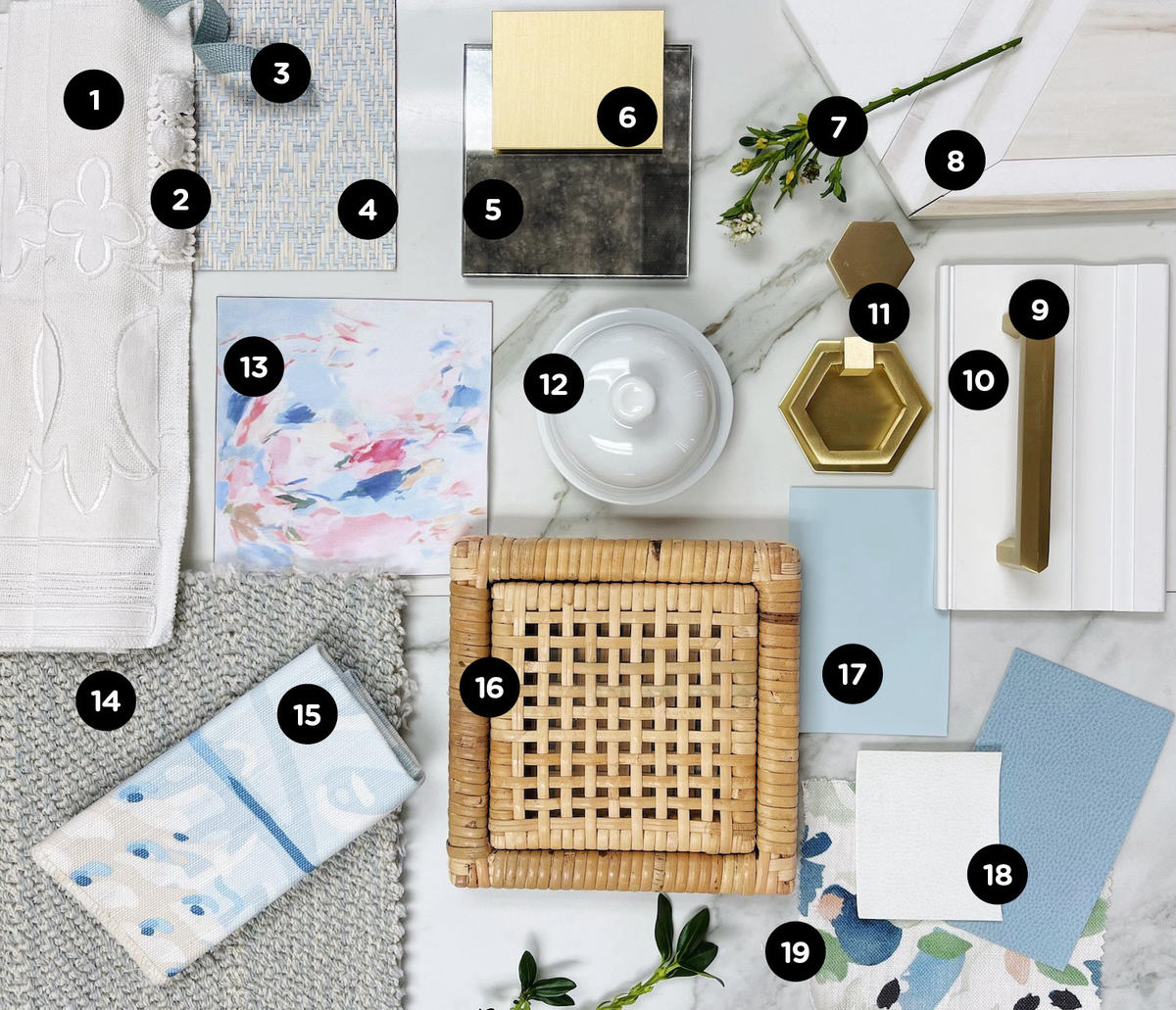 1. BERGAMA Fabric IN WHITE & IVORY — SCHUMACHER
"Maybe because my mother was a seamstress, I am so delighted by beautiful textiles like these that have the most extraordinary stitched details," says Gross.
2. HARBOUR BEADED BRAID Trim IN SAIL — SAMUEL & SONS
The designer uses this monochrome, embellished flax-and-linen trim to dress up neutral throw pillows or window treatments.
3. GRAY BLUE RIBBON
"Grayish-blue ribbon literally adds a twist to the flat lay," she says.
4. VALLEY WEAVE Wallcovering IN RAIN WATER — PHILLIP JEFFRIES
"A blue and ivory grasscloth wallcovering in a flame stitch pattern adds a subtle backdrop with a bit of texture," says the designer.
5. ANTIQUE MIRROR
"I'm using an antique mirror as the face for a few accent cabinet doors in the kitchen," Gross explains. "I love the way they reflect light but don't reveal any disorder within."
6. CUSTOM BRUSHED BRASS HOOD — MODERN-AIRE VENTILATING
"The fully brass hood is a showstopper," she says. "In the midst of a fresh palette and many organic textiles, it brings a big punch of elegance to the kitchen."
7. GREEN BOTANICAL FOLIAGE
"I love natural foliage in a flat lay," she says. "It's a reminder that some of the most beautiful elements simply aren't created by man."
8. GEOMARBLE ALTAIR THASSOS SABBIA MOSAIC — TILEBAR
"Whenever I'm designing, I try to balance masculine and feminine elements," the designer says. "This strong geometric marble was chosen to ground the space and create stability."
9. MT2232 ANVIL PULL IN SATIN BRASS — ASHLEY NORTON
"With my affinity for jewelry, I could wear this pull as a bracelet," says Gross. "The matte brass metallic finish creates continuity with the door knocker hardware."
10. CABINET SAMPLE — GREENFIELD CABINETRY
"Fresh white cabinetry acts as a blank canvas for a mix of layers of colors, textures and patterns," she explains.
11. MT4335 CABINET KNOB and MT6347 DROP PULL IN SATIN BRASS — ASHLEY NORTON
"So much of my design is inspired by jewelry, especially statement pieces," says Gross. "In a smaller scale, I could see this hex pull hardware doing double duty as a gorgeous door knocker earring or pendant necklace."
12. PETIT BUTTER DISH
"I've always loved creating gatherings around a gorgeous tabletop that makes each guest feel special," she says. "I found petit butter dishes at a discount store and snatched them all up. Who wouldn't feel important at any table with their own covered butter dish?"
13. ORIGINAL ARTWORK — LIZ CANE
"Artwork adds the final note to any space," says Gross. "This vibrant, oversized piece pulls in the whole color palette."
14. CLIFFSIDE Rug IN AZURE — PRESTIGE MILLS
"A striated light blue wool rug can take a beating from young children and pets but also helps to define a space that isn't surrounded by walls," the designer says.
15. TIVERTON Fabric in SPA BLUE — THIBAUT
"This light blue patterned pillow fabric adds interest to a large beige sectional," she explains.
16. CUSTOM WICKER SWATCH
"The natural wicker helps to bring the outdoors inside during any season of the year," Gross says.
17. SLEEPY BLUE Paint — SHERWIN-WILLIAMS
"The island is painted in a soft blue to anchor the kitchen and provide contrast to the white cabinetry along the perimeter," she says.
18. OVATION Plus Fabric in WHITE AND CRYSTAL BLUE — MAJILITE
"In a room where toddlers may hang out with jelly-stained fingers, I selected off-white and soft blue vinyls for the upholstery that can be easily cleaned," says Gross.
19. WILDFLOWER FABRIC IN NAVY/LEAF — REBECCA ATWOOD
"It's difficult to find colorful floral fabrics that aren't overly traditional," she explains. "After searching for months, I came across this abstract floral that brings me joy whenever I see it. The blend of blues, greens and blush remind me of an impressionist painting."
Homepage photo: A flat lay by designer Lorna Gross| Courtesy of Lorna Gross