In the process of specifying, ordering and tracking all of the pieces for a project, a design firm must make thousands of decisions and manage thousands more tiny details. In short, there's plenty of room for error (not to mention a lot of pressure to get it just right). We asked eight designers about how they keep all of that information straight—and their craziest moments when it all went awry.
Who handles procurement on your team right now, and how does it work?
Chenault James: Our design director places most of the orders once we have approval and the deposit from clients. Typically, the same person who is placing the orders is tracking and managing the expediting process, which keeps our systems pretty streamlined. If we have a lot of orders at once, we'll split them up by proposal or priority among our team so we can keep everything moving as quickly as possible. To manage so many moving parts, you have to have great systems and communication in place. For us, that's Studio Designer. The software makes it very easy to propose an item, place the order and manage the expediting process. There are also an abundance of reports available so that you can see the whole picture of your business and procurement process all at once, whether that's [organized] by client or by room.
Sean Anderson: We also use Studio Designer. For us, the software's integrated bookkeeping made it a natural fit, and the custom reports and processes that are tailored to how we operate have been deciding factors in staying with the platform. We have a full-time expeditor on our team whose sole function is to run procurement from top to bottom, from opening trade accounts to ensuring item delivery up to installation. Ideally, as we expand, each expeditor will be assigned to specific projects. Having one person who is  assigned to all aspects of an item's procurement maintains transparency and accountability, and reduces the chance of communication failure in an area of this industry that relies heavily on extended communication.
Katie Hodges: Everyone on our team plays an integral role in procurement, but most orders are placed and tracked by our remote procurement associate. The design team obtains quotes and enters all of the item data into Studio Designer, which ensures accuracy when the procurement associate places all the orders. We do it this way because of all the specialty items we order—no one knows the details better than the person who specified the item in the first place! Then the order placing and tracking is done by the same person. It works because they have established a rapport with sales reps at the outset. The fewer cooks in the kitchen, the better—not only for the team but for our vendors, too. The only orders we still place in-house are for custom pieces made by our local furniture and drapery workrooms. These orders are complex and often require multiple trips to the workroom, plus status-check calls or meetings involving strong technical skills.
Mikel Welch: I've been using Ivy [now Houzz Pro]. I like that it's pretty simple and that my clients can go in and approve or deny things, which makes it easier for us to move forward and place orders. I'm a big fan of having that openness on both sides. My lead designer handles all of the procurement once the client and I have signed off. Everything is done by that one lead designer in order to streamline the process. What I've found is that if I'm doing part of it in combination with my lead designer, sometimes things can get out of whack and it's hard to remember who did what.

Pamela O'Brien: One of our design managers usually creates the order, but then we often have our administrative designer place and handle it. The design manager reviews the order and creates an invoice for the client, and then tracking is done as needed—which is a lot more necessary these days than it used to be! We do all bookkeeping in QuickBooks and use Microsoft Office for presentations, emails and spreadsheets.
Lorna Gross: We have a project manager and procurement specialist on our team, each with individual responsibilities. Order placement is handled by the project manager because she is more acquainted with the design details of the project, and then payment and tracking is handled by the procurement specialist.
Dominique Calhoun: I handle every part of the process, from consultation to implementation, with my right-hand girl and design assistant, Charise House. She typically waits for me to give the request to start ordering materials after the presentation meeting, once concepts have been confirmed by the client. We both handle this task, and once orders are placed, we document and track everything via a budget-related Excel sheet for every project. We use a combination of DesignFiles and Excel: DesignFiles shows the materials we've sourced per room, and then we track buying through an Excel sheet organized with the name of the store or vendor, budget collected and our markup, plus an income tax column and retail cost—it's like gold! We then scratch items off the DesignFiles [mood board] as they are purchased.
Amanda Lantz: Our project manager, Erin Harding, handles procurement in partnership with [bookkeeping and business management service] Designer Advantage, which is a great resource for designers. They have a fabulous software program that we use in-house to input all items—that's how we generate our quotes and invoices. Then, once the client moves forward, Erin approves the purchase orders, and Designer Advantage takes it from there and provides us with weekly expediting reports. They handle the payments and everything for us.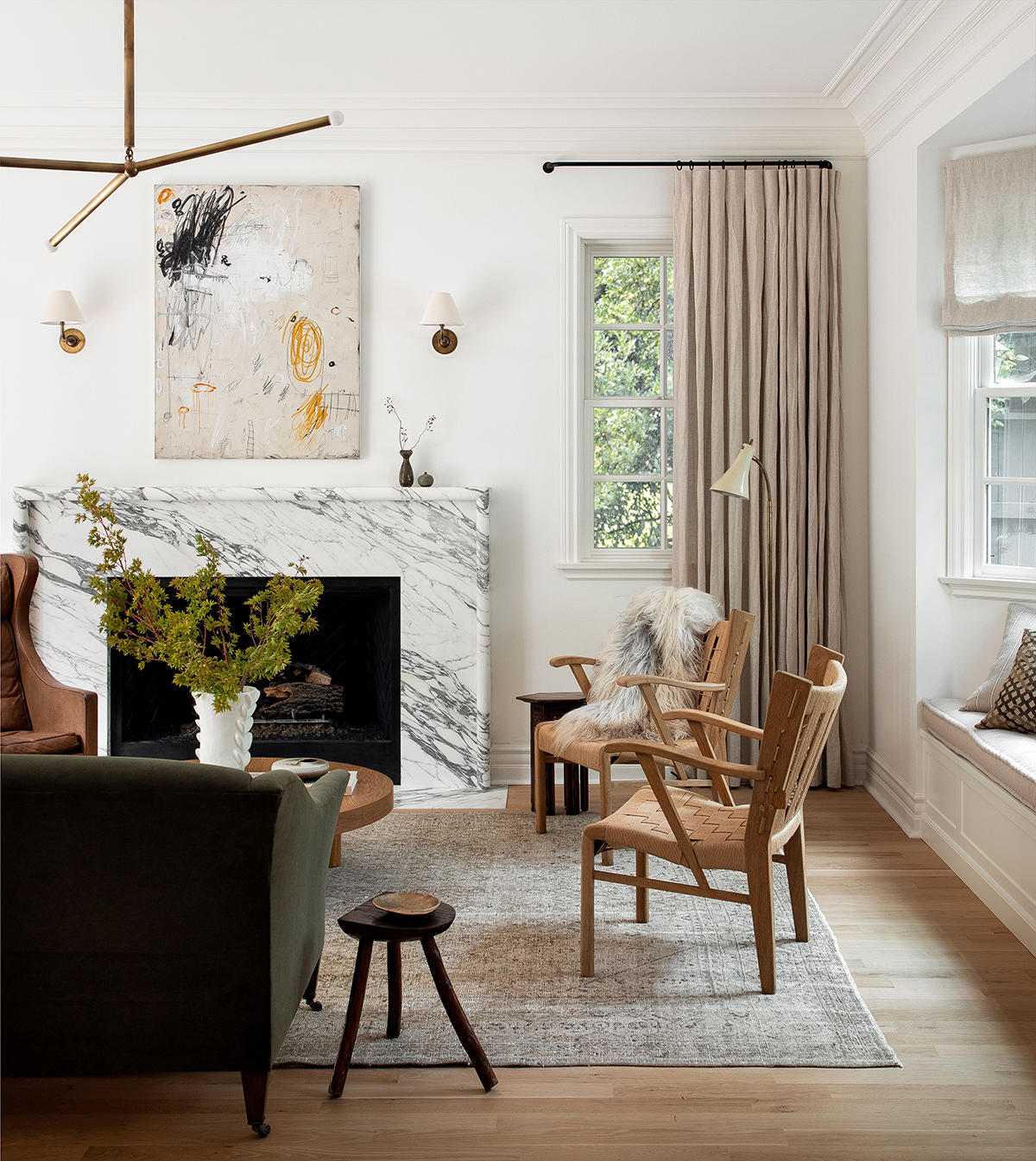 How did you arrive at your current workflow for this process?
Lantz: We have so much money coming in and out of the business all the time, and I found that Designer Advantage's weekly and monthly reports help me to always know where we are at a glance. My business is so much more organized on the back end because of this, which allows my staff to focus on other things rather than getting bogged down in the details. I had a designer friend using this service and she introduced me to it—I can't recommend it enough.
Welch: Initially, we were trying to do everything—placing the orders as we went and putting them in an Excel sheet—but that just did not work for us. For me, it was trial and error, testing various programs and apps. As you grow as a designer, you learn what works for your business and what you need to tweak. One of the things that I really needed to work on was my follow-up with clients. The designing portion we've got down to a science—but following up with the clients when it's time to process orders is where things can go a little haywire if I'm not on top of the schedule. I wanted a system where we could all jump in at the same time.
James: The procurement process in interior design is pretty complex. There can be five different components, from labor to trim to inserts—and that's just for one pillow. It's imperative that we have a way to track all of the details, communications with vendors, vendor invoices and tracking numbers for each and every [piece]so we can always have a picture of where the items are in the process. We always get in trouble when we stray from our systems, so sticking with a process that is clear to our team and clients has been important. Like any small business, we've experimented with many iterations but have landed on a roadmap that has been successful for us.

Hodges: Every day, there is so much time-sensitive minutia—filling out credit card forms, sending resale certificates, emailing to follow up—and I noticed that it was taking too much focus and creative energy away from the design team. We are not above doing any of those things, but it became clear that our time and talents were better used attending to other parts of the business.
Anderson: For me, it's been trial by fire and learning to scale at a manageable pace. I also brought on a business consultant with a corporate background to help shape some of the workflow processes early on, which was an investment that paid for itself many times over. We were able to avoid many mistakes that a lot of burgeoning designers fall victim to, such as overcommitting [to new projects] or billing inefficiencies.
O'Brien: I have a business background, so we use standard business practices that I have adapted for design. We stay close to our projects and are generally up to speed with the timelines and status, and we try to use a shortlist of preferred, trusted vendors with whom we communicate frequently. Each week in our staff meeting, we review every project and do a quick check-in on progress, status and next steps. Clients have binders, folders and bags to keep notes and samples in one place. Selection options, decisions and final selections are documented in a PowerPoint with photos, links and illustrations. At the end, we have a full, detailed report of the entire project, which we often use to work on future projects or to service client needs.
Calhoun: To get to this process, it took a few times of looking over my assistant's shoulder to make sure she was ordering correctly (including putting POs in each order and all the details), but she caught on quickly. My accountant helped me to develop the Excel sheet and input the proper formulas, so I was able to tell the amount of money the company was bringing in from selling the product, how much I would in turn need to budget for income tax purposes from the money made, and how much the client would have spent buying the product at retail cost, to show them the savings they captured working with our team.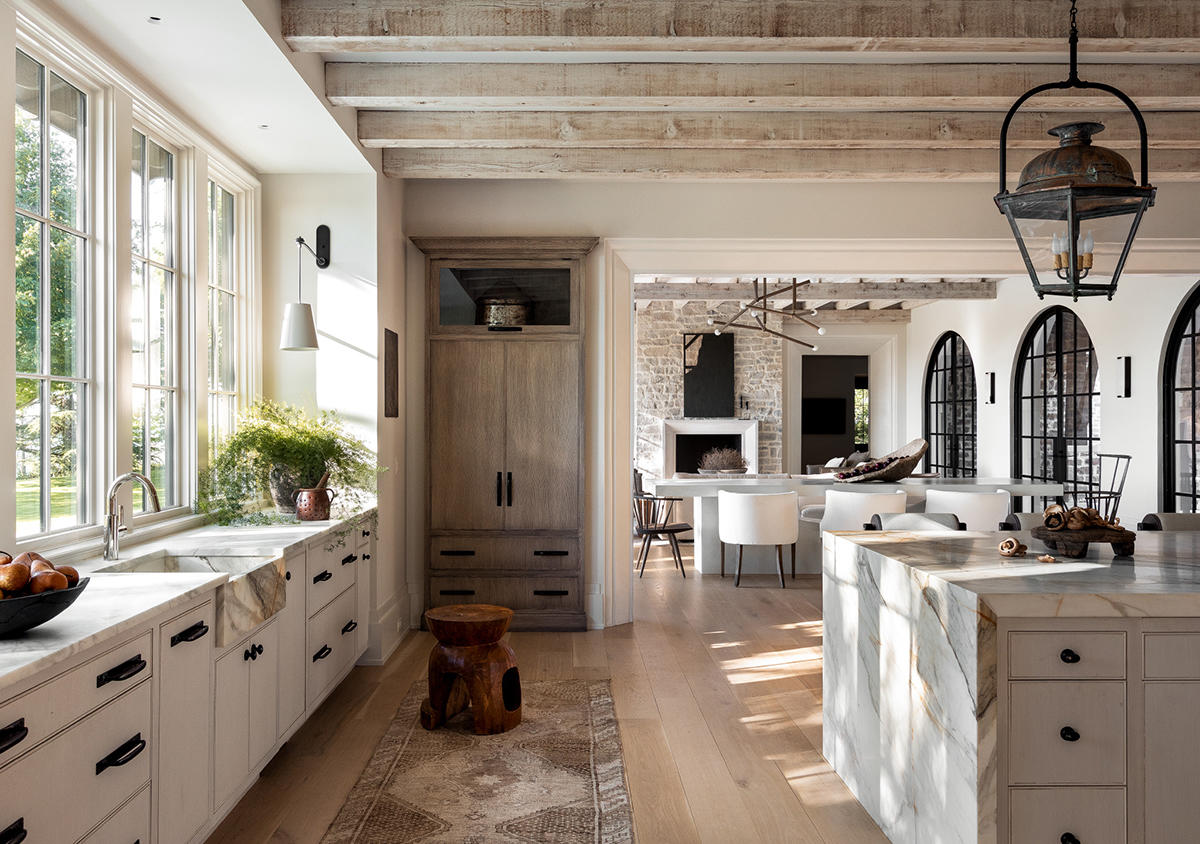 What are some efficiencies you've discovered over time?  
Hodges: I have found that working with remote employees on purchasing requires clarity and an extremely organized system that's not too complicated and allows for some flexibility. We created a process sheet that outlines who does what and when, from the initiation of an order to delivery. Whenever there's a hiccup, we look back at the process doc and reevaluate. One recent improvement we made to the system was to include instructions for where to send the CFA within the order. We're often shipping fabrics to vendors or workrooms, so we don't want CFAs going there!
James: We did something similar. In the last year or so, we really started utilizing the options to track CFAs, vendor order numbers and tracking numbers in our software. It means that our entire team can look up the information as needed and not be reliant on one person for the information.
O'Brien: Assigning each project to one person from start to finish has helped us simplify the process. Because we have defined skills and levels, certain projects and tasks are handled by a specific team member.
Gross: We develop an item tracking sheet that we share with the client to update them on the status of their items; this also helps us to stay on track internally with the receiver at the warehouses and to better plan installations.  
Welch: It's important to have a paper trail for everything. I've had situations in the past where the client was like, "I didn't order this." And it's like, "Well, you did," but maybe it was a phone conversation. Now, we make clients sign a waiver saying they approve the item before we place any order.
Lantz: For me, it was about letting go. Allowing Designer Advantage to manage the payments as well as procurement—at first, I was reluctant, but it has kept me out of the weeds of day-to-day operations and allows me to spend more time with clients.
What's the biggest pain point when it comes to order placing, order tracking and logistics?  
Hodges: I have two. The first is responsiveness and accountability from our vendors—sometimes, they just ghost us and stop providing updates! The other is entering all items accurately into Studio Designer but then not changing specs after the order has been placed.
James: The number of different vendors we work with on a given project can be tricky, and there is more back-and-forth communication with vendors than most people realize. There are little nuances to each vendor we work with, and getting to know them and maintaining those relationships is important to a smooth procurement process.
Welch: Right now, the biggest pain point in terms of placing orders and tracking is the wait time. On top of lead times being a disaster, it's [even worse] when you've waited so long to get a piece and then something arrives damaged. The greatest asset for me has been my receiver, because if there is an issue, I'm able to handle it on the back end—they open up the packages, take the photos, send it to our team, and then we can call the vendor and get things corrected as needed instead of the piece going straight to the client and then they're upset. I just had that situation a couple of weeks ago, and I was so glad that I had a receiver—it's been a blessing, and I recommend that for everyone.
O'Brien: Not being able to get product when needed. For the most part, the pain point is getting the product delivered in good condition and efficiently to the job site or workroom.
Anderson: I agree. I've just had my first item take over a year from order to delivery after a half-dozen delays. This can make it difficult to run a structured, timely job for my clients.
Calhoun: The most annoying part of this process is shipping and delivery. The most painful part is when the receiving warehouse doesn't open the product upon arrival, and it goes to the client's home damaged. That, or when an item on a website says "available" and you place an order, only to find out the site's inventory was inaccurate and the item is out of stock.
Welch: I try to be hands-off with some things so I'm not micromanaging, but at the same time, I've learned that I have to have my eyes on every part of my business, which can be so draining. Even after my assistant has gone through everything, I glance over things, because if I don't double-check something and an order isn't placed properly, the client is always going to come back to me, because it's Mikel Welch Designs.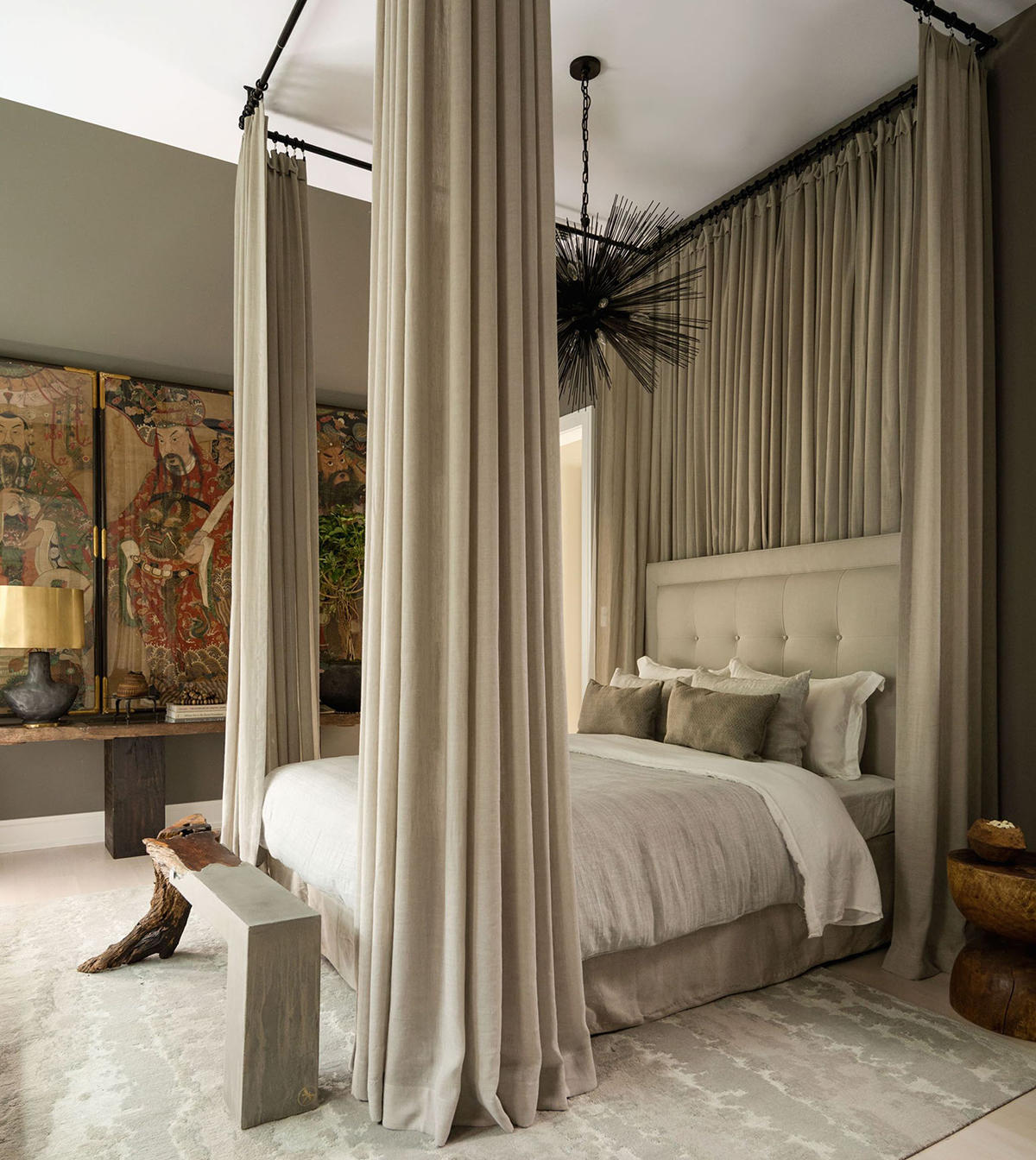 How do you keep clients informed while this work is taking place?  
Calhoun: We are very transparent about our process from start to finish. We explain from the consultation that there are different layers involved in the process and keep them in the loop via our client-portal message feature when things happen.
Hodges: It's usually pretty quiet for the first month after orders are placed, but we give an approximate install date once we have some firm deliverable ETAs—though I am very transparent that an install date can't be promised due to all the variables at play. We keep clients out of the gritty day-to-day operations and usually resolve most issues internally so clients can enjoy the process and feel taken care of.
Lantz: We email them directly if there is an issue or back order. We try to be open and honest in the beginning—especially right now—that the supply chain is really having some struggles, and we do everything we can to manage it.
James: We send a weekly email to clients who have active projects with updates on our progress. We are looking at our expediting reports weekly, so if our anticipated install date ever needs to be adjusted, we communicate that with the client as soon as we know.
Welch: Every Friday, we get in contact with the client via phone or email so that they know what's going on. I have this intuition and can feel when my clients are about to call me. I try to stay on top of my designers, because oftentimes they have the information before I do—and if I'm in the middle of filming a television show, the last thing I want is my phone ringing and a client screaming about lead times.
O'Brien: During our weekly review, we confirm any client meetings and send calendar invitations. If there is an update, or if we haven't updated the client for a few weeks, we send a courtesy email to keep them posted on the progress. Each meeting, job site visit, delivery, trade appointment and showroom visit has a calendar invitation with all of the pertinent details.
Gross: In addition to our tracking sheet, we touch base via phone or email with updates on a regular basis. We try to be in the practice of underpromising and overdelivering.
Anderson: With the current climate surrounding logistics and endless delays, we keep our clients informed of disruptions as they occur if they are going to interfere with our projected install date. Otherwise, we prefer to insulate our clients from the mess of the industry.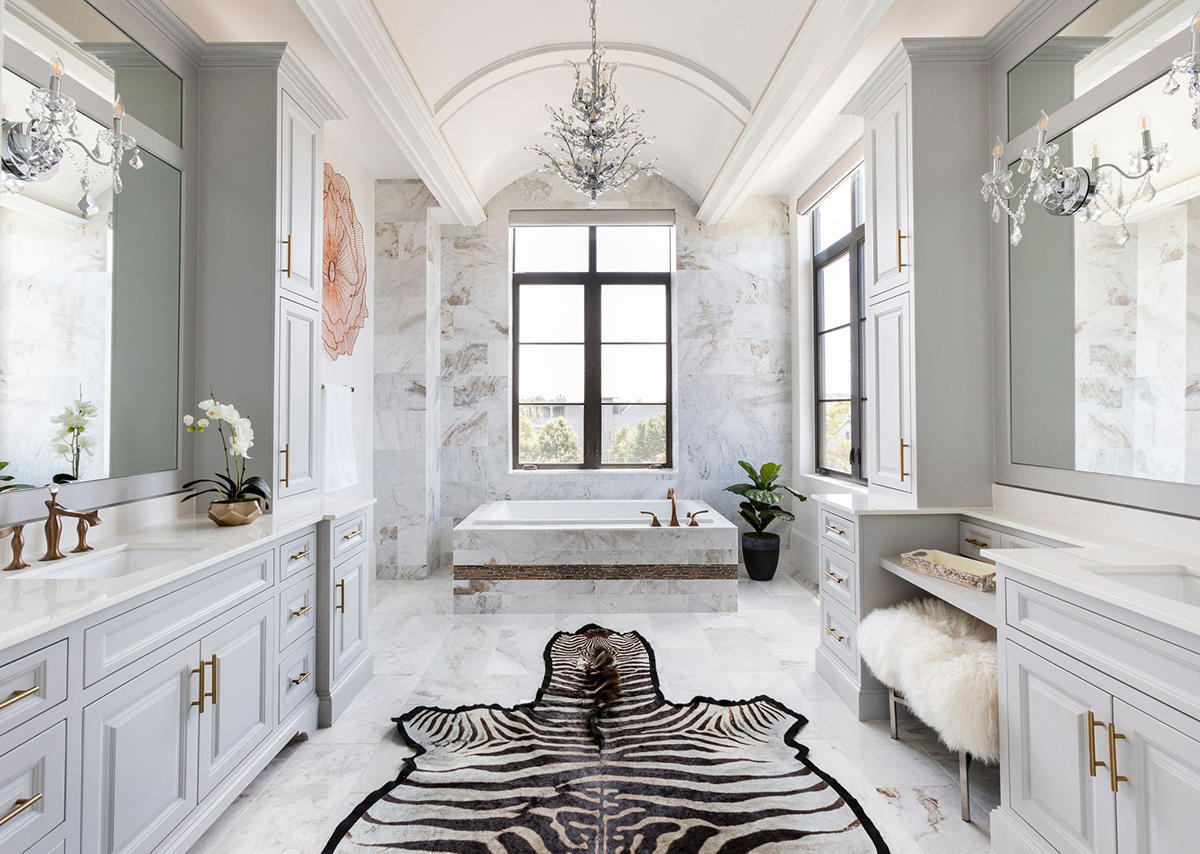 Procurement can be as much about problem solving as it is about design. What's a mix-up you and your team had to fix on the fly?  
Calhoun: One of the biggest mistakes I ever made was when I had an issue with my Excel sheet and didn't apply the correct formula for markup—which meant that the client got all the furniture at our wholesale cost.
Lantz: We are all human. Mistakes like ordering a barstool instead of a counter stool are the cost of doing business, and you have to be realistic that those things will happen. I once had an order for a huge install and found out that it wasn't going to make it—with two days' notice. I ended up hiring a separate trucking company to get it there.
James: Oh, goodness—how do I only pick one? Well, we had sourced these fabulous antique stone troughs from France that we wanted to turn into sinks for a commercial project. They were so expensive that we didn't want our local plumber to risk cracking them when drilling the drain hole on-site. Because we had plenty of time before 
the installation deadline, we sent the drain to France to have the holes drilled there in order to ensure that there was no damage and get a perfect fit. Even after a hang-up with the wrong drain—not to mention many conversations about meeting ADA requirements—the troughs were ready to go and shipped across the ocean well in advance of our deadline. Long story short, they were then held in customs for months. It got to the point where we had so little information that our vendor started to make alternate plans to ship us new troughs or buy temporary sinks for us because we didn't know if and when we were going to receive our order, but we had to have functioning restrooms for the opening. Luckily, it all worked out and we pulled off the install.
Gross: Having something arrive isn't the only challenge. We were recently expecting a tile delivery for a foyer and powder room, [which was on a tight timeline] because our client was hosting a family wedding at their home. When the entire order arrived, it looked like someone had dropped a huge wrecking ball on it. It was completely unusable, with 12-inch-by-24-inch tiles smashed to bits. We had to refuse the delivery, our vendor expedited a replacement shipment from Miami, and our contractor worked overtime to make sure the installation was done in time for the event.
O'Brien: We once ordered the same sofa for two different clients, in similar fabrics and styles. I was out of town and had not planned to deliver either of the sofas while I was away, but one client called the showroom directly, found out her sofa had arrived, and demanded that the sofa be delivered that day. I told her we preferred to coordinate and handle the delivery for her, and that I was out of town but would do it immediately upon my return the following week. Instead, she called the showroom again and insisted on getting her sofa. Of course, the delivery team picked up the wrong sofa and delivered it to her—and of course, she had a fit and started calling me and the showroom multiple times. Unbeknownst to us, there were three nearly identical sofas in the warehouse. As a result,  a game of musical sofas was played around town that afternoon. They were all in their rightful places by the end of the day, but the entire process could have gone more smoothly had we booked the delivery as planned.
Hodges: Our receiving warehouse once accidentally returned a vintage Italian brass mirror to Restoration Hardware instead of the RH mirror that had arrived damaged. To their credit, the warehouse [acknowledged the mistake and] took care of a replacement—but somewhere at RH, there's an abandoned vintage brass mirror! 
Homepage photo: Hand-painted walls in a faux suede finish provide a serene ambiance for a collected study Lorna Gross designed for a pair of avid readers in Potomac, Maryland. | Angie Seckinger