Two college friends launched a direct-to-consumer sofa company with a twist: It's completely sustainable.
It's a familiar story in the direct-to-consumer home space: Founders who went shopping—whether for furniture, dinnerware or bedding—and just couldn't find what they were looking for. But Phantila Phataraprasit and Caitlin Ellen weren't seeking any old sofa after graduating from Columbia University in 2016. As the friends both tried to furnish their first apartments, they were discouraged by the lack of affordable, sustainable options. "Everything we could find that was made in ethical, eco-friendly ways was high-end and unattainable," says Ellen. "It didn't seem like anyone was trying to bring those ideas to a younger consumer." The two founded Sabai (a Thai word meaning cozy or comfortable) to create the products they wanted to see—sustainable pieces at an approachable price point. In their debut collection, which launched last summer, the sofa is just over $1,000; the sectional is just under $1,400.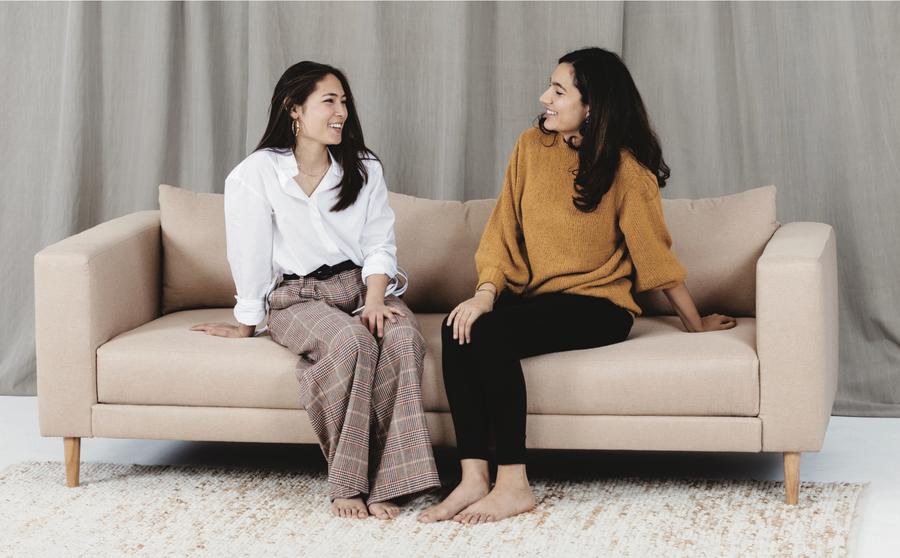 Sabai's pieces all feature Forest Stewardship Council–certified wood frames and CertiPUR-certified foam, and they are offered in fabrics like a velvet made from recycled water bottles. Even the water-based glue is low in toxins. Before launching, the pair spent two years researching suppliers and meeting with potential partners in North Carolina. "Finding a manufacturer who would take a chance on us wasn't easy," says Phataraprasit. "It took time, but we eventually found someone who understood our vision and was willing to try something new."
Though they hope to expand the line in the future, starting with a sofa made sense, since it's one of the first pieces consumers shop for when furnishing their homes—and, as they saw it, the category hadn't been disrupted so far. "We felt like this was something we could realistically put our mark on," says Ellen. 
The duo know that most sofas end up in landfills at the end of their life cycle and they are working on ways to prevent Sabai products from meeting the same fate. "We're exploring buyback programs that would allow us to donate used sofas to colleges or to communities that wouldn't normally be able to afford them," says Phataraprasit. "Affordable sustainability is not something that's discussed much in this industry, but we're committed to changing that." 
Homepage image: Helga Traxler