The latest housing craze might be smaller than you thought.
It's the cool new thing in real estate, with a decidedly uncool name: the ADU, or accessory dwelling unit. Truth be told, there's nothing "new" about it—homeowners have been converting their garages and building small secondary homes on their properties for decades. But the phenomenon has gotten undeniably buzzy in recent years. Hipster architects are designing them; prefab startups are raising venture capital millions to build them. ADUs are even finding their way into the pages of glossy shelter magazines.
Design trends are sometimes driven by vague, big-picture cultural factors, but the reason for the rise of these dwellings is simple: the nation's housing crisis. As cities across the country struggle with a lack of affordable housing, easing permit restrictions on ADUs is seen as a way to increase stock without the political challenges of building low-income developments. "Look at any major metropolitan city, and they either have passed an ADU ordinance or are looking to pass one," says Caitlin Bigelow, the co-founder of Maxable, a startup that connects curious homeowners with ADU resources. "At the end of the day, it's a supply and demand issue."
In 2017, California took it a step further, passing legislation that allowed all single-family homeowners the right to build an external rentable unit on their property. The result has been a rocketfueled ADU boom in the Golden State. In 2016, the city of Los Angeles issued 80 ADU permits. In 2019, it issued 6,747.
Legislation may have cleared the way for the rise of the ADU, but for individual homeowners, the motivations behind building one can vary. The most common, says Bigelow, is to house aging parents or extended family. Rental income is a close second, though the two aren't mutually exclusive: Often, a homeowner will rent out the unit in the short term with the anticipation that parents will move in when the time is right. Another common use, made more popular by COVID, is the stand-alone home office. Sometimes, the structures even take on a more evocative, lyrical form. For a retired client who wanted a quiet place to write poetry, New York architect Eric J. Smith designed a monastic mini library with a solitary desk overlooking a forest. Cue ADU envy.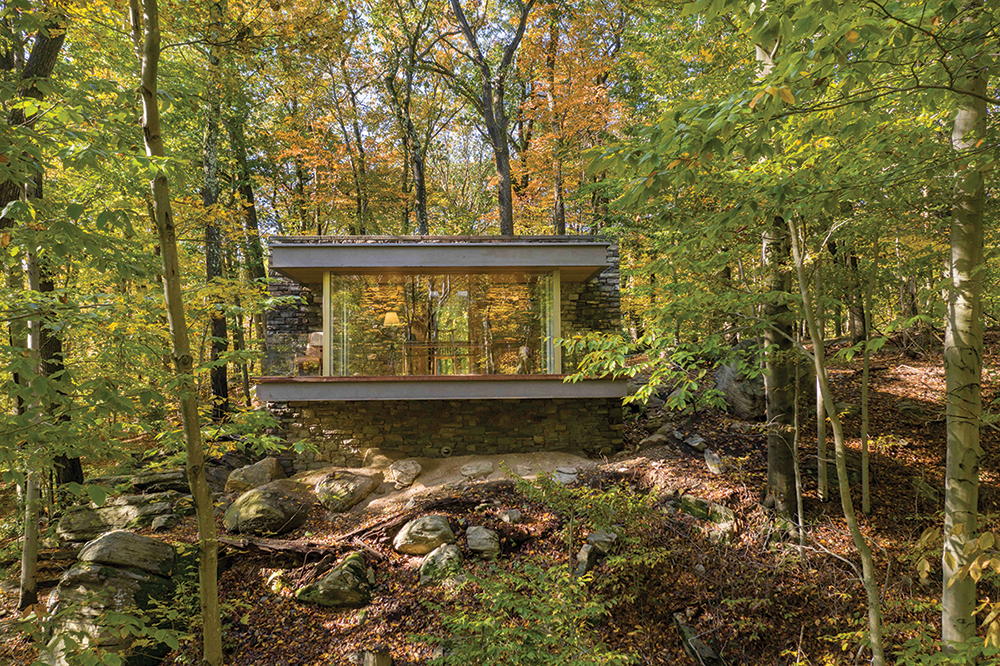 There are plenty of reasons to build an ADU, and with legislative changes clearing the way, all signs are pointing to a continued surge in the years ahead. But is there something in it for designers? It's complicated.
At first glance, ADUs are far from the classic idea of a designer's dream project. The very obvious first strike against them is that they're small—most local governments have regulations that limit ADUs in size, to anywhere from 800 to 1,200 square feet. 
There's simply not a lot of space for product, which means not a lot of margin. The other challenge for designers is touchier. Though there are certainly glammed-out ADUs, they are, generally speaking, a middle-class phenomenon. Rare is the client who wants to pull out all the stops and go through an extensive design process to build a mini home full of natural stone finishes and sumptuous silk velvets.
San Diego designer Krystin Krebs says she cuts her design fee in half to work with clients on ADUs. "The clients are generally looking for [the unit] to make money, and they don't have a lot of expendable funds," she says. "I wouldn't say it's lucrative, but I like small spaces, and I enjoy the challenge of it. Also, people are so thankful to have the help. I do it more for the love of it than to make money off of it."
Krebs is not alone: Designers who specialize in ADUs tend to share a pure love of solving organizational puzzles and Tetris-ing a lot of stuff into a little space. However, that's not to say that there's no financial opportunity. The phenomenon is undoubtedly going to grow, and if designers can streamline a process to do these projects quickly and efficiently, there's money to be made.
Ileana Schinder, a Washington, D.C.–area architect who has worked on many ADUs, says the key to making small projects profitable is to develop an easily repeatable process. Her firm has created templates for the various required licenses and go-to specs for the technical side of the units' construction. "With elements that repeat from project to project, we're not repeating the work," she says. "Every project contributes to our learning curve, and it's getting easier and faster, so I can do more every year. But I'm not cutting back on design time. All the time I would have spent researching air conditioning, I'm dedicating to design." Schinder says that her firm is booked solid with (paid) ADU consultations. 
These jobs also make for excellent schedule fillers. Los Angeles–based designer Patrick Ediger has seen an uptick in ADU-related requests and says that one in three of his new contracts involves some kind of external unit. He welcomes the surge. "As a sole proprietor, I don't want to be developing three whole-home projects at once—it's way too much to take on," he says. "However, I can take on one whole house, one ADU and one master bedroom suite and still have the bandwidth to do implementation on other projects." Plus, Ediger points out, successful small gigs have a way of turning into bigger ones down the line.
The ADU boom is not without its controversies. While much of the legislation driving the surge has been motivated by a housing crisis, there's some debate as to whether these homes can really make a dent in the problem. On a more individual level, anything to do with housing, says Bigelow, evokes NIMBYism. Ediger has seen it in action: "A neighbor can't veto an ADU, but they can cause a stink, which can cause a client to question the project—I've been down that road before."
But for most, ADUs are a welcome addition to the housing landscape—if only someone could come up with a better name. "On the East Coast, people are more inclined to use the term 'in-law unit,'" says Bigelow. "In California, they say 'granny flat,' which I hate, because it makes me think of this retro old house with linoleum floors and a plaid couch. I don't know what the solution for that is."
Homepage image: A backyard ADU project by Washington, D.C.–area architect Ileana Schinder | Erin Kelleher