TOV Furniture tapped an all-star lineup—Don Ricardo Massenburg, Carmeon Hamilton, Nile Johnson, Erika Hollinshead Ward, Nicole White and Justin Q. Williams—for a collection debuting at High Point Market this season that was inspired by each designer's personal experiences. 
Several years ago, Durham, North Carolina–based designer Don Ricardo Massenburg walked into TOV Furniture's High Point showroom and expressed an interest in creating his own line of chairs. The encounter led to plans for a collaboration, which quickly grew into something much bigger. Massenburg suggested five more designers to contribute to the line, leading to a collection that was ultimately named The Voice. The lineup of designers—Carmeon Hamilton, Nile Johnson, Erika Hollinshead Ward, Nicole White and Justin Q. Williams—all worked alongside the TOV team to create a collection of more than 20 items, ranging from chairs and chests to beds, tables and credenzas. Pieces from The Voice are both adaptable for a variety of uses and acutely personal to each designer, with multiple items named for children, spouses, grandparents and other loved ones. The line fulfills TOV's long-held goal of addressing the lack of visibility for the Black design community. Founder Chaya Krinsky says the company was intentional about handing the reins over to the designers to steer the collection's creative path. "It was important for us that they be the catalyst for their message," says Krinsky. "Our voices are always stronger as a group rather than as individuals. Each of these designers is so different in their craft and has such a different background, so it was only natural to include multiple perspectives in the collection.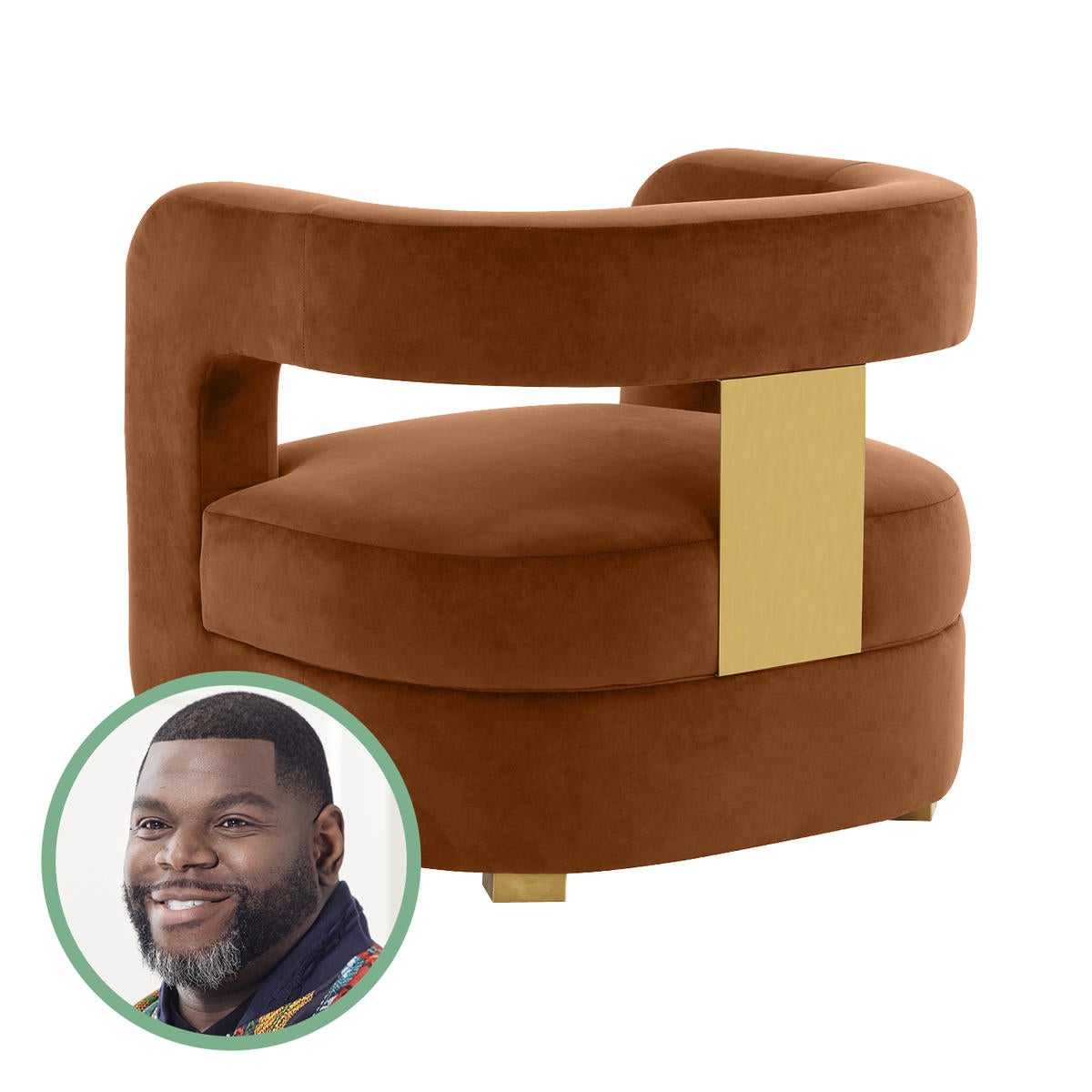 Courtesy of TOV Furniture
Designer Don Ricardo Massenburg pulled notes from several iconic eras, drawing upon shapely art deco curves and nodding to the simplicity of mod 1950s style to create the eponymous Ricardo chair, along with the Ayanna chair and Durwin bed, which are named for his niece and nephew. The plush, rounded pieces all fulfill his goal to create "furniture that feels like a hug." Beyond the appeal of the designs, Massenburg hopes the collection will be trendsetting in other ways, too. "Focusing on the perspectives of different types of people is a benefit to any brand," he says. "I hope this will create a huge splash so others will jump on the bandwagon."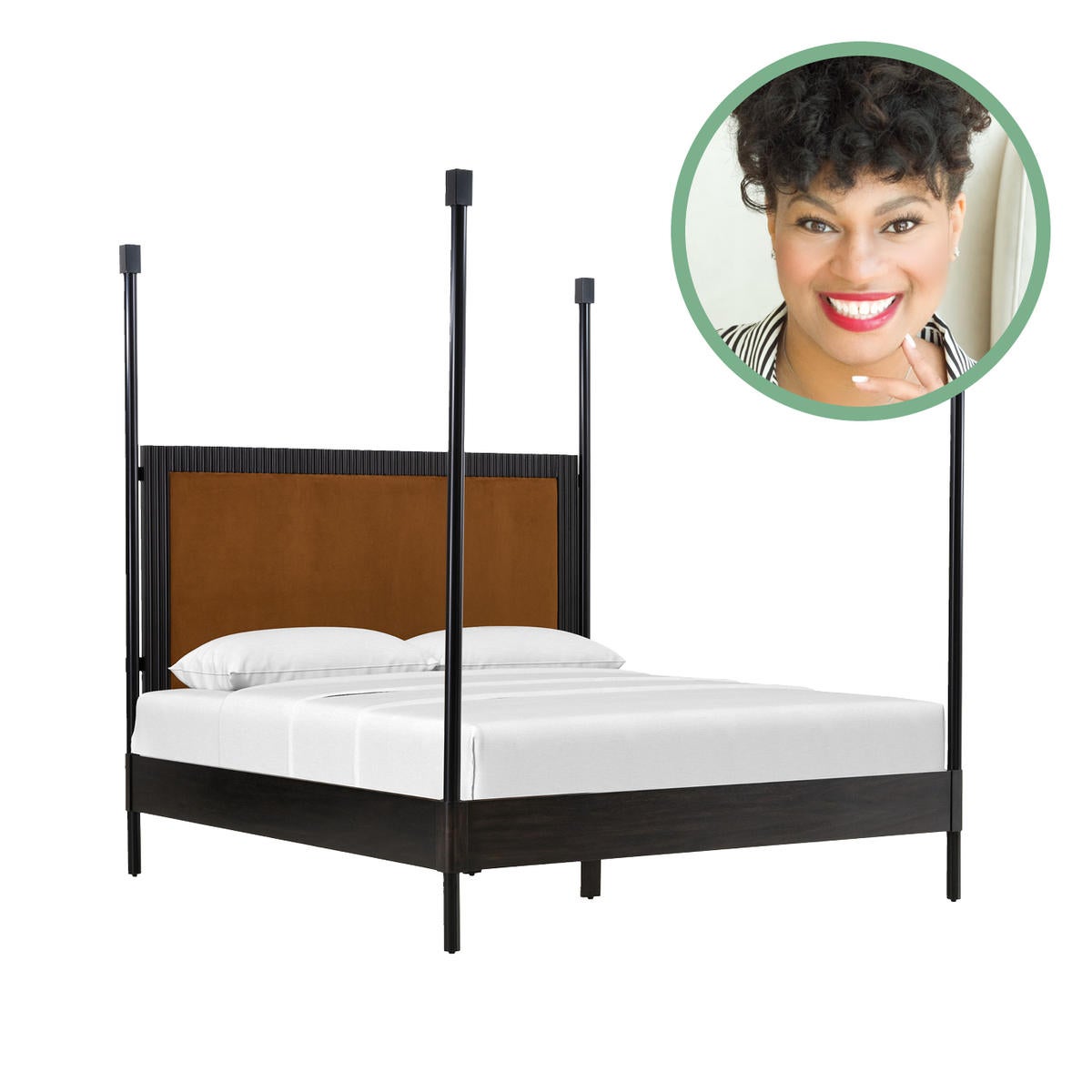 Courtesy of TOV Furniture
Erika Hollinshead Ward deployed her signature "traditional with a twist" aesthetic to the Ava bed (above) and Brooke dresser—pieces named for two of her daughters. For the bed, the Atlanta-based designer drew from her client experiences to solve a common dilemma she has encountered: women requesting a four-poster bed, only to receive pushback from partners who find the piece too feminine. Ward's solution is a sturdier rendition of the piece, complete with a headboard made from a weighty mix of acacia, iron and faux-suede upholstery. "I wanted to design something that would suit both aesthetics," says Ward. "I believe your home should be flexible and adapt to your needs."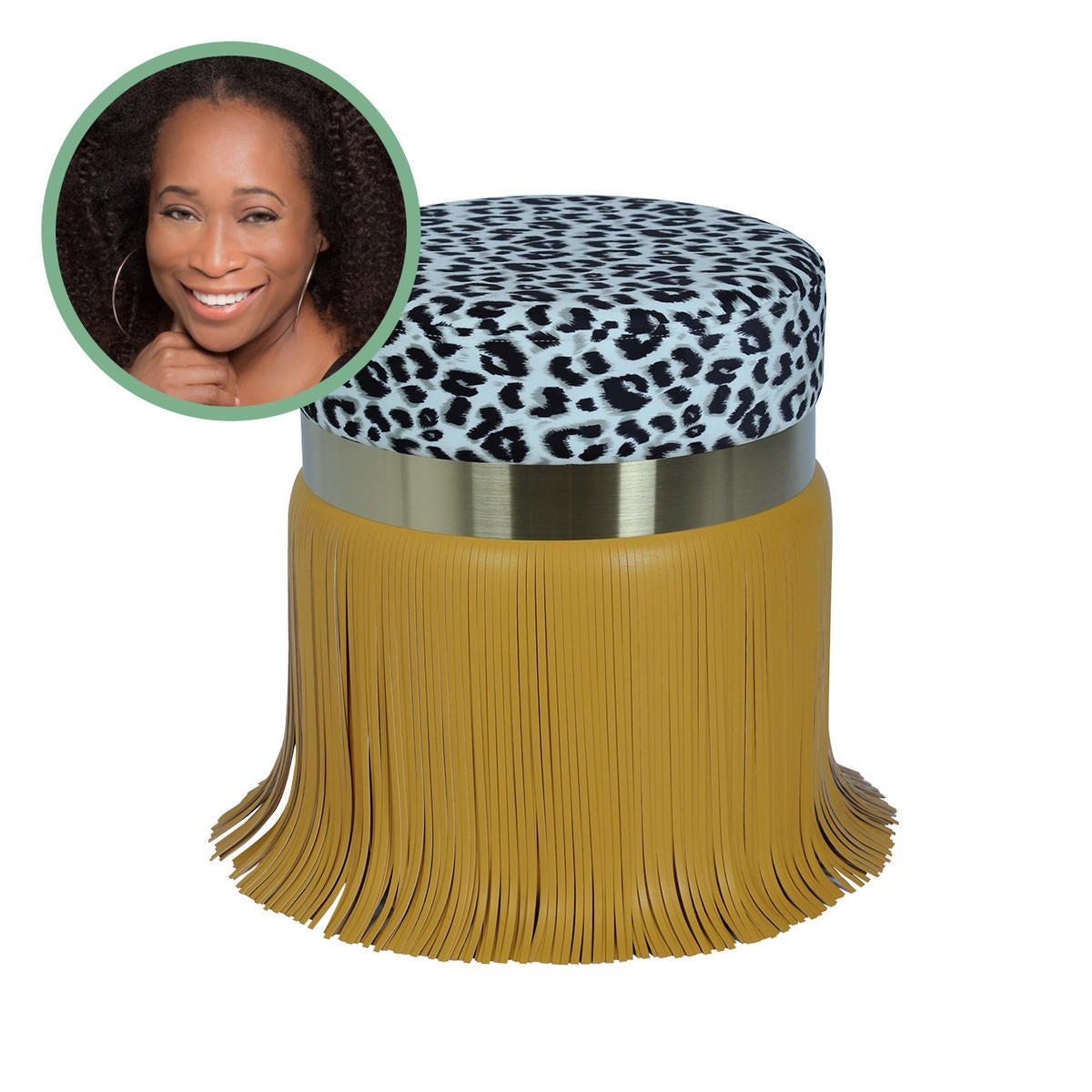 Courtesy of TOV Furniture
For her first furniture design venture, Nicole White started with a key source of creative inspiration in her own life: her closet. The Sunrise, Florida–based designer started the process by pulling out a variety of jewelry and clothing, creating a tray that would guide the fashion-inspired pieces she contributed to the collection. White's designs feature vibrant orange and yellow textiles, metallic jewelry-like motifs and leopard print (a neutral, she insists). They also pay homage to her own lineage—the Enid chair and Mavis bench get their names from her grandmothers in Jamaica, while the Ajani ottoman nods to her son, Xavier Ajani. That familial feeling, also extends to her fellow Voice Collection collaborators. White originally met Ward and Hamilton when all three were struggling bloggers. "I am proud that we've all grown our businesses from the ground to this level," she says. "It's like a homecoming."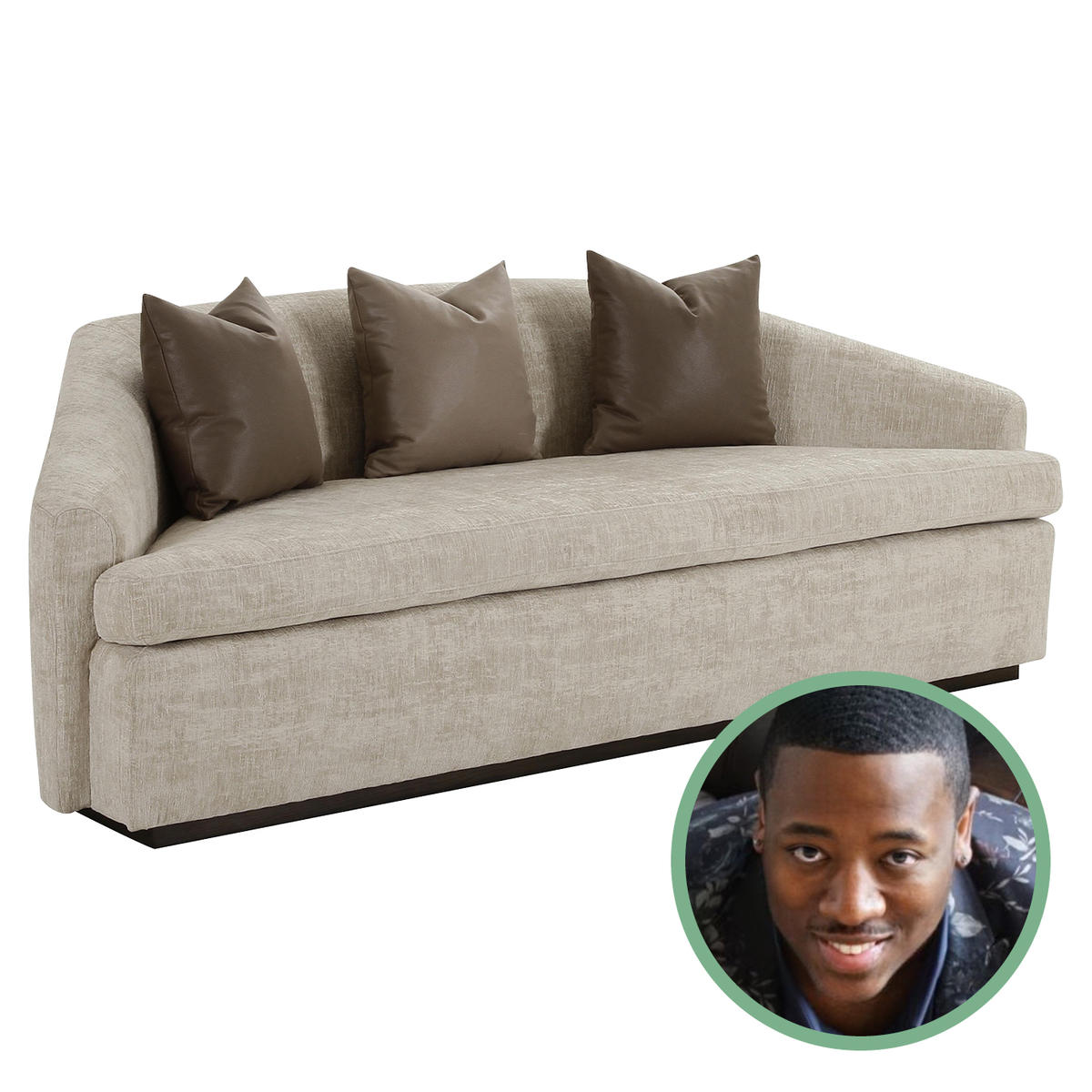 Courtesy of TOV Furniture
Philadelphia designer Nile Johnson crafted the Abreeyah sofa, Jibriyah bed and Makai desk as love letters to each of his three children. The neutral-toned pieces each evoke the promise of stability at home, a nod toward his children's journeys through the foster-care system. For Johnson, joining his peers in the spotlight for his debut product designs enhances the celebratory moment of reaching a long-awaited career milestone. "I'm one of those people who, if I get a candy bar or if I go to a great hotel—whatever I have that's good in life—I always want to share it," he says. "It's one of the reasons I'm a designer, because not only do I love beautiful experiences, I love sharing beautiful experiences. To be able to share this experience with [my fellow designers] probably means more than the actual tangible goods coming out of it."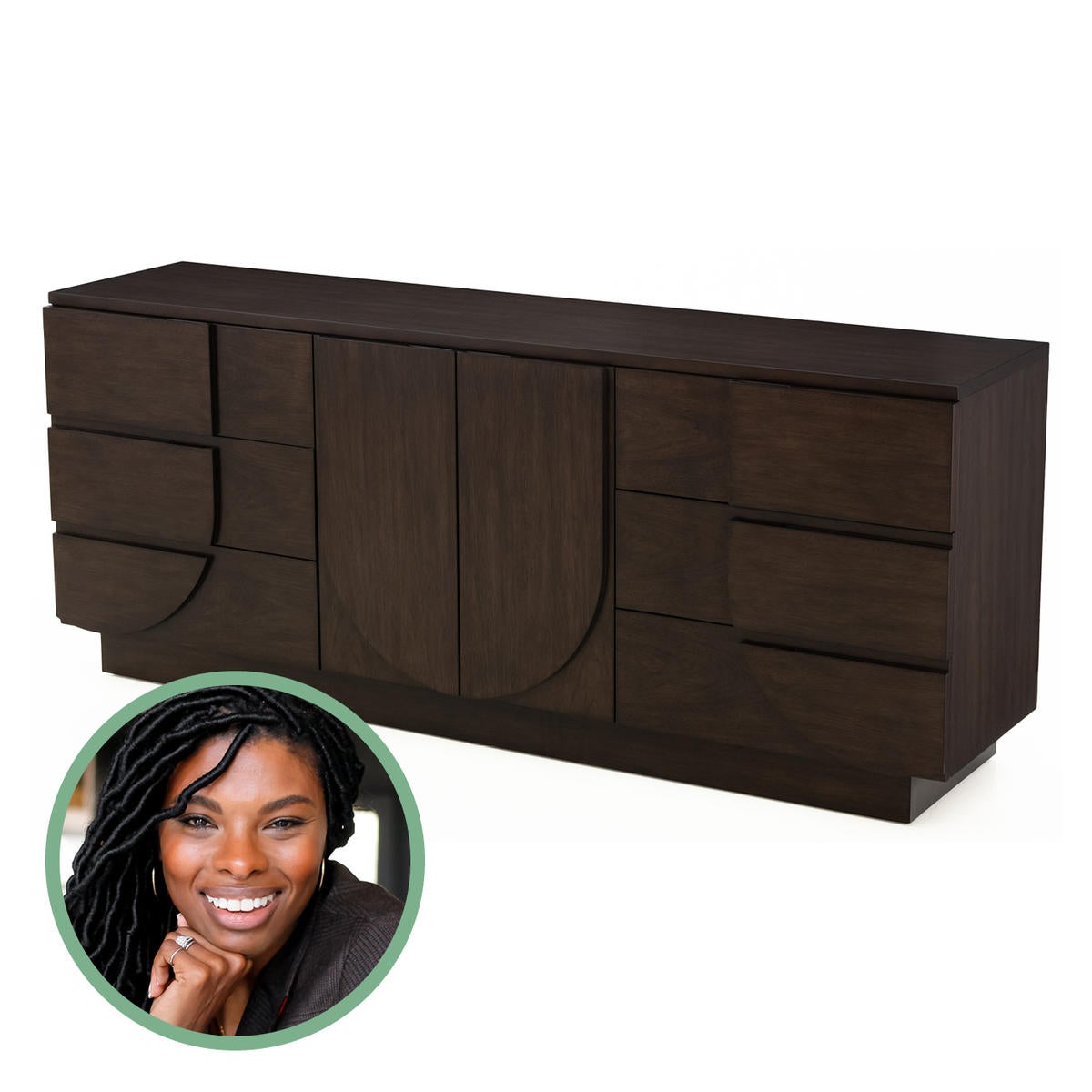 Courtesy of TOV Furniture

Carmeon Hamilton crafted pieces that act as a time capsule, with each design nodding to a major event that influenced her career. The Adu chest features a texture that mimics that of the art installation–meets-headboard wall she created as part of the One Room Challenge. The base of the Etta coffee table and side table, meanwhile, reflects a handpainted mural that went viral on social media, and the arched, raised panels of the Simone credenza  recall the very first piece of furniture the Memphis, Tennessee based designer built as a winning contestant on HGTV's Design Star: Next Gen. Hamilton has dedicated the collection to her late husband, Marcus Hamilton, who helped her name each piece after the women whose voices the pair enjoyed listening to together—Sade Adu, Etta James and Nina Simone. "We're not typically a people who have space and opportunity to be heard," she says. "To have this loud expression of who we are not only as people but as designers—and to have these tangible items speak for us—'voice' is just an encapsulating word for so many different things that are happening with this collection."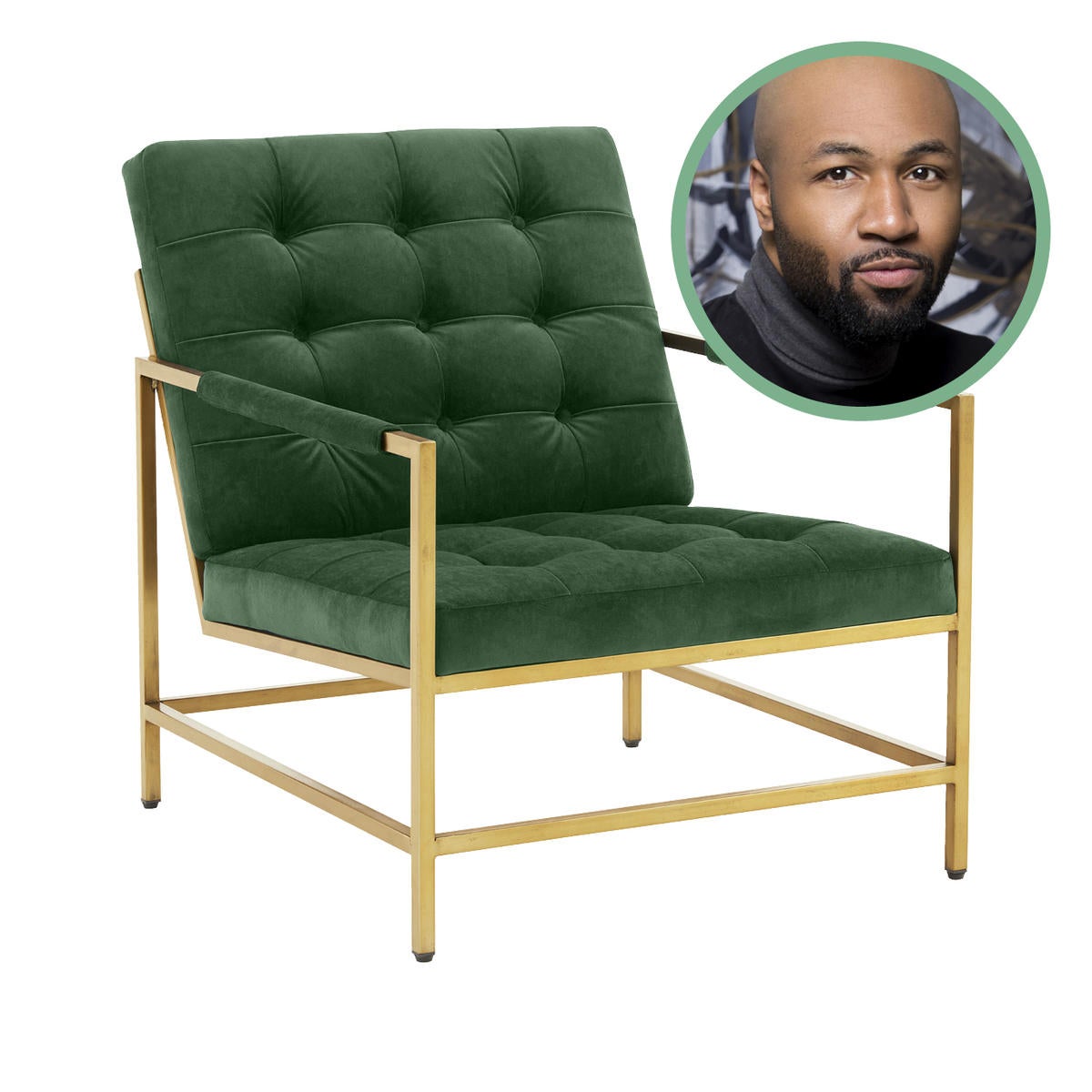 Courtesy of TOV Furniture
Atlanta designer Justin Q. Williams looked to the important people in his life for cues on how to craft namesake pieces in the Voice collection—the Van chair, named for his father, is understated and stylish, while the Crystal chair gets its name from his mother and features an eye-catching pattern that reflects her charisma. For the Jessie sectional, a nod to his grandfather, Williams sought to evoke "the quintessential gentleman," an impulse that dovetails with his interest in creating a more elegant modular sofa. Williams says exhibiting the pieces alongside close friends like Ward and former Design Star: Next Gen co-contestant Hamilton only serves as an added honor. "To me, the Voice collection is just that—it is giving designers of color a voice in an industry that typically doesn't reflect us," he says.
Homepage image: Pieces from the Voice Collection | Courtesy of TOV Furniture