The 50 States Project is a yearlong series of candid conversations with interior designers, state by state, about how they've built their businesses. Today, we're chatting with Charleston, South Carolina–based Cortney Bishop about how her firm has survived "tremor periods," how she found her perfect photographer, and which Oprah quote has influenced her staffing strategy.

What was the moment you knew you wanted to be a designer?
My family moved about every two years for my father's job when I was a young child. When she was about 30 years old, my mother said, "I want to stop moving and [have] my own career, so I'm going to keep the girls in [one place] and you can commute from here." She is a very creative woman and had always wanted to have her own business, so she decided to take a chance and launch an interior design firm. She was a one-man show with a thriving business downstairs in the basement. I think that was probably the first spark.
I love that. Did you pursue design right away yourself, then?
My father was a huge businessman and it was always about economics with him. And I was quite an entrepreneur as a child—I would have lemonade stands, or make and sell braided barrettes with ribbons, or stationery—whatever I could do to make money. He pushed me to continue to get my business degree and go into the corporate world. Once I graduated from the business school at [the University of Georgia], I went to work for [a] consulting corporation, where I was selling beautiful beach club memberships to high-end resort communities. I was doing very well and I loved it, but then I met my husband in Paris.
We were there to see a rock band that I loved at the time, and we hung out in Paris for about 10 days and I fell madly in love. By the time we came back to the States and had our courtship, I decided to marry him. I moved to Bozeman, Montana, with him, and we [eventually] came back to the South and settled in Knoxville, Tennessee. I had a new husband, a new life, a brand-new community, and it was at that point that I decided this was my chance: I wanted to go into either fashion or interior design. They both seemed in line with what I felt capable of doing, but I chose interiors based on the opportunity to do it for the rest of my life and knowing that I was in a community that would engage and support it. Plus, I felt like I could bring something to the community at that time that was a little edgier.
How did you take that leap?
I found a job at a design gallery that sold beautiful furniture and art with a design firm connected to the business, and I attached myself to one of the designers and learned everything I possibly could for two years. And then I asked her to leave with me and start our own business. For five years, we [ran] Barlow and Bishop together, and we were great. And then, 16 years ago, my husband and I moved back to Charleston, [near where I spent summers as a child] on a barrier island named Kiawah Island. [That's when] I decided that it was time to go out on my own.
What is that like, starting fresh?
The business degree really paid off. I enjoyed building the business almost as much as the work itself—strategically thinking about how to grow a brand was so exciting to me. The outreach part felt like it always came naturally. We threw beautiful costume parties in town for nonprofit events, and I just continued to keep my name out there and be involved in the community. We bought a lovely home on Sullivan's Island and I was able to renovate and decorate it myself, and then, as people started to come over, my name started to get mentioned.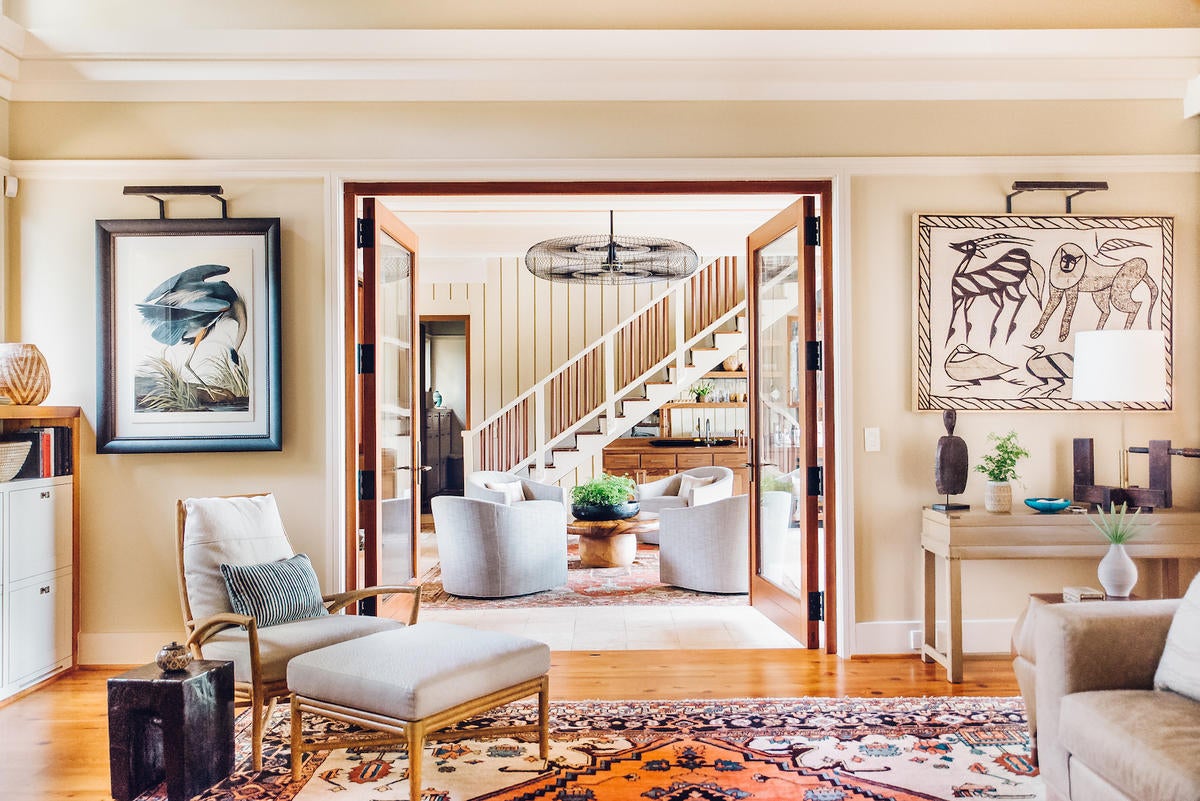 Courtesy of Cortney Bishop Design
What drew some of your initial clients to your work?
At the time, I think I just had a different perspective. I wasn't formally trained, so I didn't play by any rules, and it might have paid off that I was able to mix things up. It caught on through this renaissance of younger, fun, different types of people moving here that were wanting something Southern but a little more modern. [Not playing] by the rules wasn't great when I was growing up, but it served me in the end.
We've built our business slow and steady. I always felt that we took a more modern, edgy approach to Southern design. There's a beautiful Low Country aesthetic here, which I appreciate—I mean, my mother was a very traditional designer, very influenced by Europe. She was very organized, everything was on point, and everything was holistically designed in one period of time. But I went in with a more relaxed, bohemian mentality—that's how I live my life. There's nothing pristine or perfect about me or my home and family life, and I think that was refreshing at the time. We played this wild card in a town that is very traditional.
It sounds like there was an audience that was ready for it.
Floor plans were changing, formalities were breaking down. Parents were wanting to spend more time with their kids instead of having parents in the formal room and the kids [somewhere else]. Things were starting to happen in architecture that alleviated those compartmentalizations, and we started doing things like deeper sofas—the more European-depth, relaxed furniture. Nothing oversized, but playing a little bit more with frames and sizes. Islands were at countertop instead of bar height—those kinds of things were becoming quite appealing here. Also, this is a beach community, with barrier islands everywhere, so I think that coastal L.A. vibe is also something that was slowly growing here through our work.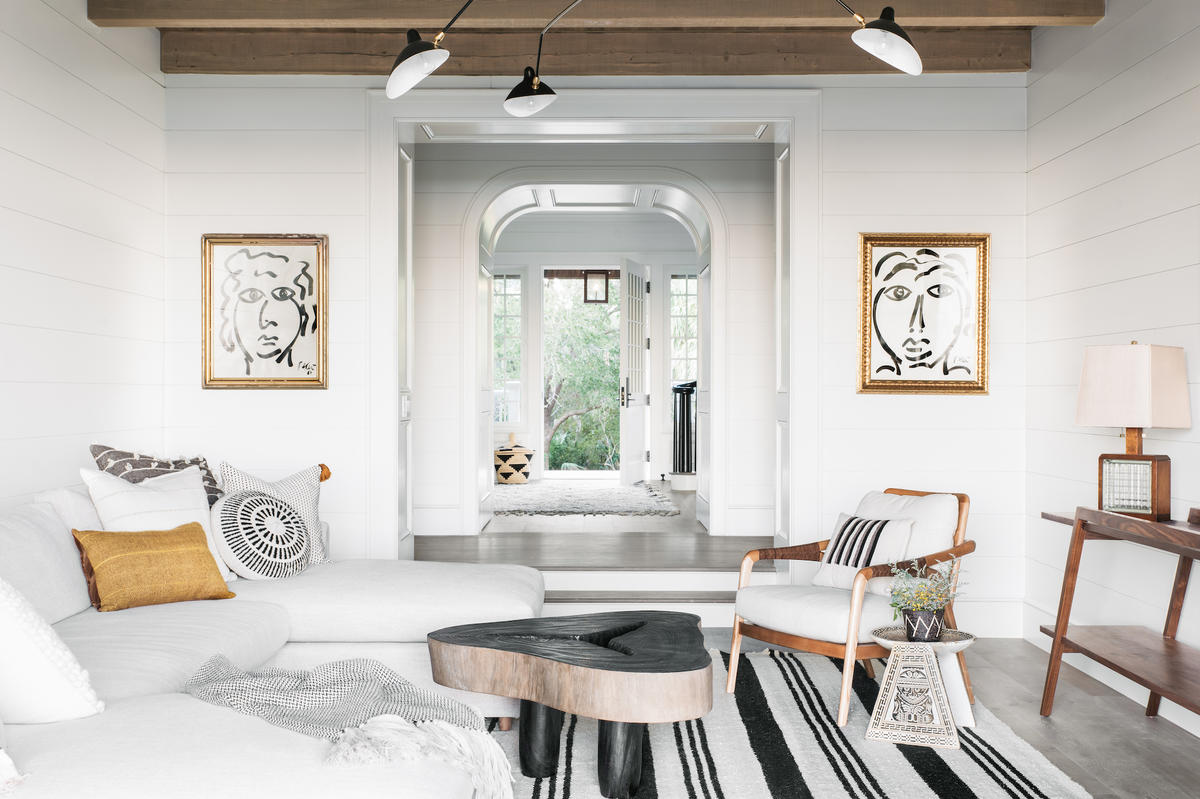 Courtesy of Cortney Bishop Design
Do you still feel like an outlier in the Charleston design vernacular, or has the look and feel of the city caught up?
When I moved to Charleston, there was an old guard of interior design firms that were extremely talented—and then the next jump was to people my age, this younger guard of women that were in our 30s. There were three or four of us trying to gain steam and do something a little different—and that was all before social media. And then [there was] the social media explosion with Instagram and everybody caught on—even the do-it-yourselfers caught on. It's just a matter of evolution of lifestyle and design, and I do feel like everybody's catching on to a little bit more relaxed living.
What has your approach to Instagram been?
When I moved to Charleston and started out on my own, I knew that having good photography was extremely important—not just somebody who could take a good picture, but a photographer that really captures your light and your vibe. I'd already been working with a couple of photographers who I loved when I stumbled across a young woman—she was actually shooting a piece on my home for Rue magazine and showed up at my doorstep. She came in so nonchalantly with her backpack on and was like, "I'm just going to shoot your house." I was like, "OK, great, what can I do to help?" And she was like, "Oh, nothin'." And she toured around and took these incredibly bright, happy, vibrant shots of the house, and it just clicked. In that moment, I was like, This is my girl, she's getting my vibe. She got the energy behind it.
I think it's extremely important to get a photographer who really can capture that for you and then invest in it. Invest in the photography every time you can, because you only get the opportunity to really shoot something one time before they live in it, right? To have her as a partner in building the business, and later in building social media, has been great for us. For me, it's about putting out a quality interior design shot every day and trying to be a little lighthearted about it—but showing the work consistently. We really do try to do one post a day; that's the expectation that I hold for myself. Though it's starting to get a little more complicated ...
With COVID?
With everything reopening, yes. We've got to work—we've got to design these homes and make our deadlines and make our clients happy. And I realized that social media [could be] a full-time job, so we're starting to fill those positions in the firm now, which is something I never really thought we would do—[hiring] somebody in charge of making sure these projects are shot all the time, and that they're capturing the lifestyle of the design firm as well as informing the community about what we're doing and what's coming up. That is a full-time job, and it is extremely helpful. I would say 80 percent of our clients were coming from Instagram until this year, and now it's a lot of people who are moving to their beach houses permanently until this COVID disaster ends.
What does the rest of your team look like, and what are you working on now?
I have an incredible team: two lead designers, who each have assistants that are really partners in the choreographing, budgeting, and making sure that we stay in our number and on time. I also have a commercial team that helps me with the boutique jobs, plus a business management team. I really love residential, but I also continue to want to execute something for the community to enjoy, so this year, we have signed on for a lot in the Charleston area.
What kind of projects are those?
We designed the Longboard restaurants in St. John and St. Thomas a few years ago, and now we're doing one in our hometown on Sullivan's Island, which has been really fun. We're also renovating an old hotel on Meeting Street—it's going to be really hip and energized, definitely not the formality that Charleston is used to. We've also partnered with a wonderful development company to do a big Kiawah project of oceanfront condominiums along with a beach club. I've always wanted to do a beach club out there, so it's kind of full circle. I'm excited about all the opportunities that have come my way, but I'm also biting my nails all the way to the holidays.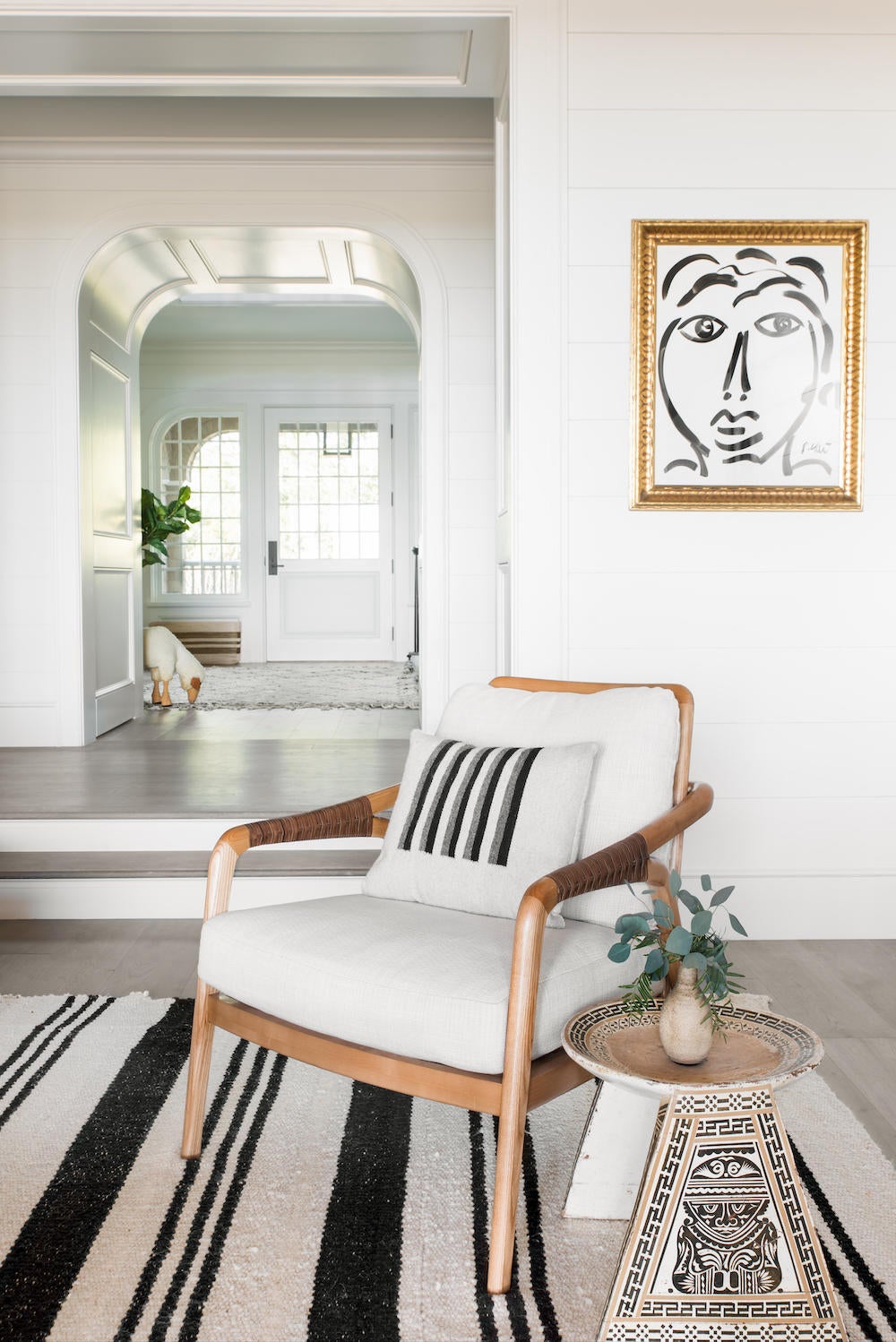 As you've gotten busier, how has your role in the firm changed? How hands-on are you with each project?
I think that's the hardest thing. But the team that I have here, they've been with me awhile—one for 10 years, others for seven and five. We have a family of girls that we can trust.
I'm a little ADD, so I like to do a lot of things at one time, and this career, it works for me. I can jump from project to project, I can have my thoughts in many different places, and it somehow turned out to be a gift. I remember Oprah once said, "Surround yourself with people at the same tempo as you." I know I'm really quick, I like to do a lot at one time, and they get that and are there to support me creatively and logistically so that I am able to be involved in every project.
Now, do I know how many projects is the max? No, I have no idea. I'm always looking at them and saying, "Oh, shit, I'm so sorry, what have I done?" They know when to look at me and say, "OK, Cortney, that's enough." And when I get that cue, I know that I need to back off. This year has been an especially interesting one, right? We all don't know what comes next.
I feel like we're all reassessing what our boundaries and limits are right now.
Absolutely. We just don't know. I'm grateful for the workload, and for the opportunities that we've received throughout this pandemic, but I'm also almost scared to choose what my next year is going to look like. I don't know what I want. The one thing I've decided is that we're not going to travel to other locations for a home build or a commercial project unless it's with one of our tried-and-true partners—someone who understands how we work.
How much were you traveling before?
We've had so much fun being able to travel—just the access we have in the modern world—and I was riding that. I was flying to Morocco for rugs, going to Paris for the design shows, and now that's all gone. It went away in one year, so we're recalibrating. We're also going to pause on [taking on] homes in New York or Atlanta or wherever it may be along the East Coast. We're going to take a little break from that and focus on our own community. There's so much opportunity here, and it's fun actually being home. That's something that I've realized—nesting is good.
Recalibrating. That's such a good word for it.
Trying to decide the best way to not stress, right? To live our lives the best way we can and appreciate what we have.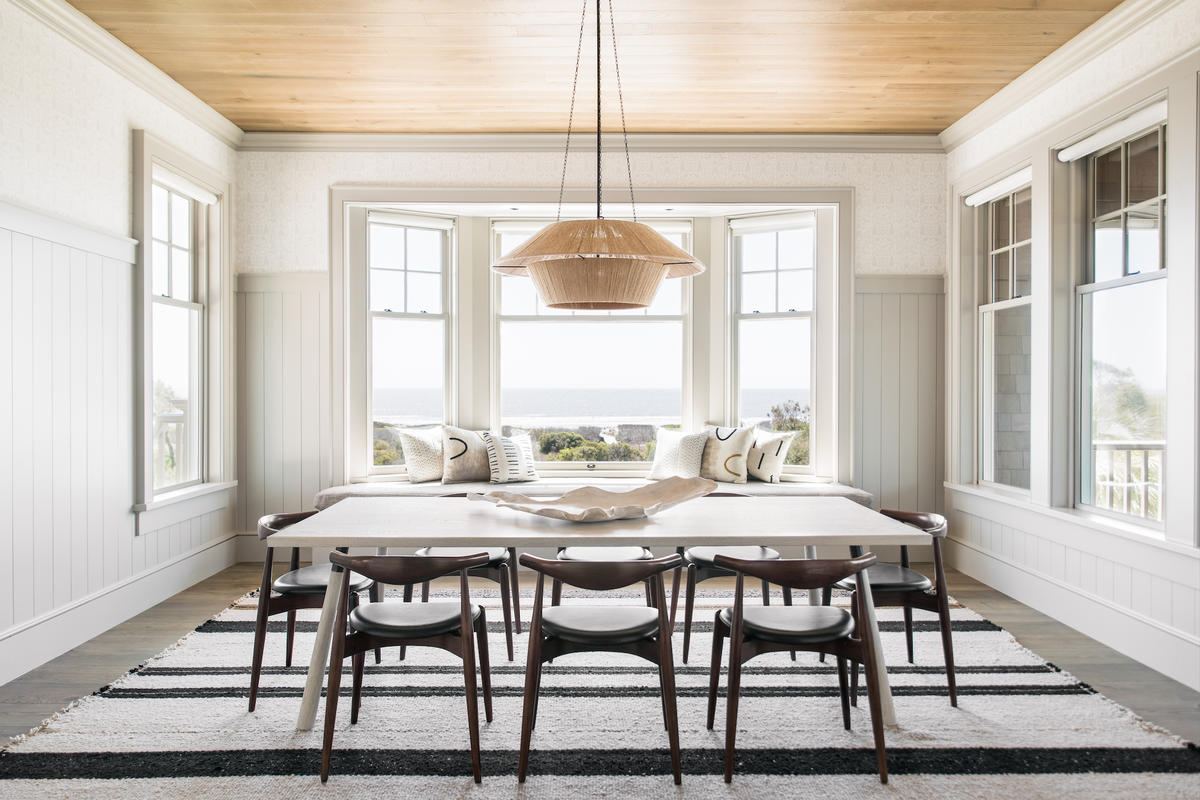 Courtesy of Cortney Bishop Design
I love that your team has stayed with you for so long. How have you cultivated that, and how did you know when it was time to grow?
I never could have been an interior designer on my own. My mother managed everything on her own, but I need that person to bounce things off of, whether it was my original partner or my very first hire, Leigh, who's still here. I needed somebody by my side. That one person turned into another person, which turned into another person—and even if we didn't have the jobs to support three or four people, we still figured it out and made it fun. [Sometimes that meant asking] if someone could work part-time for a while, but we somehow held it together—even through the economic crash, [when we were] doing nonprofit events or parties to hang on. And then things started picking up.
I always call those "tremor periods." I feel like God tests you—throws a million things at you, and if you can break through that without having a nervous breakdown (or maybe you have one or two, but you still keep going), you have to push yourself to make those moves. I've always put myself in risky situations—I love to push the boundaries and see what I'm capable of, and so just going for it [is a big part of it for me]. I get the looks from the girls, like, "Really, did you just sign on for that?" But you never know until you try! And I don't feel like failure is actually a failure—it's more like: Oops, well I learned from that. I won't do that again.
What was the most transformative change you made along the way?
The best advice I ever got about hiring was from Holly Hunt. My mother-in-law was at a lunch event with her in Colorado, and she said, "My daughter-in-law has been working so hard and her business is growing, what one piece of advice would you give her?" And Holly said, "Tell her to hire a business manager no matter what—it will pay for itself by saving her so many headaches and getting her out of the logistics." So six years ago, I hired Blair. She processes all the money and gets all that office stuff off my plate—and that's the best money I've ever spent. She's a great adviser, she cuts all the checks, she makes sure the checks are correct, that I'm not paying too much for shipping or tax somewhere, and that we're competitive when we're pricing out shippers. She's also human resources now for the team and can make sure they've got their IRAs and insurance set up—all the things that they deserve, and that I would've never been able to process without her.
And you hired her because of Holly Hunt's advice?
Yes, of course! It was a godsend. I asked my CPA to put the word out, and then Blair walked through my door and said, "I hear you need somebody." And she's been perfect. She's the biggest cheerleader for us, and it's helped us get to the next level. And now we've grown again with a few more hires—for social media, as well as for things like the Harwood House fabric line and building that brand with a second collection.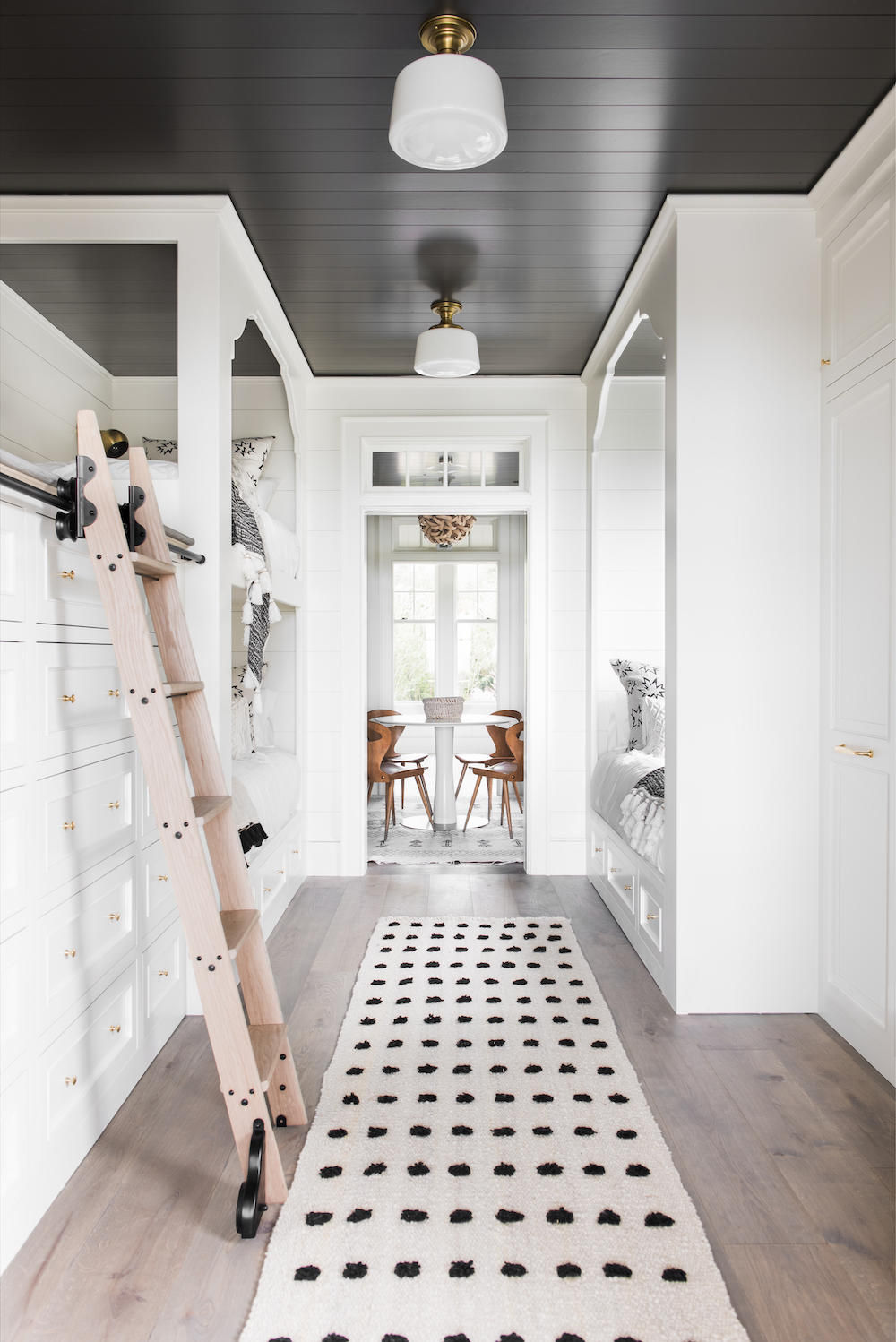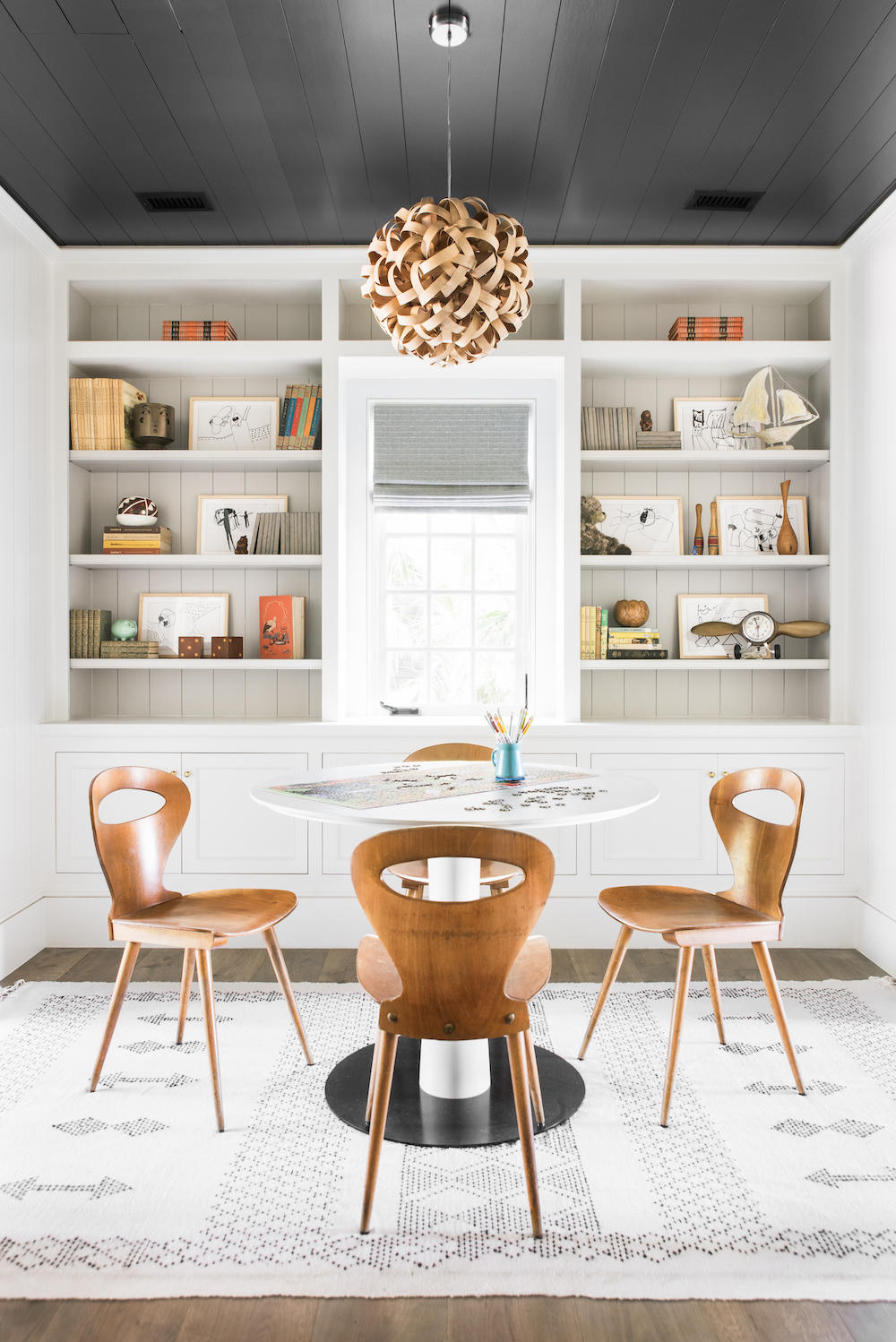 How have you landed on the right processes for your business?
One of the things that taught me a lot was getting somebody in here that wasn't in the business. Hiring Blair—she understands business management, and she listened to my ideas and helped me break them down. We did a whiteboard diagram and she asked me: "What makes your clients happy?" The first thing I said was: "Coming in on budget and on time." And if that's the ultimate goal, then how do we make sure that the client is comfortable with the money that they're spending [during] the entire process?
And you retooled your business around that idea?
We made it a priority to create processes to track our budgets, and now we have an incredibly strong business structure. When clients are interviewing us, we can pull out all the spreadsheets, starting with what we recommend the builder spend on finishes, whether it's tile, appliances, cabinets or hardware. We give the budget numbers to the builder with the client in front of us, so there's no under-bidding the job—if they're going to hire us, they know that the tile's going to be $60,000, and the plumbing is going to be $45,000, or whatever it may be. We give the builders numbers that we think are appropriate for the job, and on top of that, we continue to give the clients spreadsheets that allow them to follow along with the process.
From there, we do the furniture plan, then the RCPs, and then we provide a lighting budget that correlates to the lighting allowance, and then do spreadsheets and budgets for every line item. [Whether it's] the bed, pillowcases, household essentials, or art and accessories, there's a line item budgeted that they've agreed to. At the end of the job, they land at $450,000 (or whatever the budget is), turnkey—they know that's the number and we're not going to go over it unless they find something that's, like, a $50,000 piece of art we weren't expecting.
We're all working from a [shared] document, so there's not all this, "Oh, here's another hourly bill that you weren't expecting." Or, "Here's the shipping cost—did you know about those? Or the receiving cost?" All of that stuff is not good business. We wanted to be black-and-white. Especially with money, it's never good unless everybody's on the same page.
How did that require changing the way you worked?
It's a lot of work on the front end, and we put in the time. We did a two-week workshop to find the holes in the system and [figure out] how to create a safety net for our clients to feel comfortable. Then we created the templates and the spreadsheets. We all go by the same process and everybody is aligning to that budget spreadsheet at all times. The budget spreadsheet also carries ETAs, locations, lead times, where is the product at this moment—that's what the lead designer's assistant does, she's calling the vendors to ask, "Is this going to be in on time? We only have four weeks until install!" I'm grateful that my father pushed me so hard for that business degree, because it's really helped me. If we have a reputation for anything with our clients, I'd say it's that we're really organized and thoughtful about their money.
Did instituting this new system change the way clients reacted to the process?
Absolutely. It's unbelievable how blown away they are. I see it on their faces. I think they just weren't aware.
That so much was happening behind the scenes for their project?
I think there's always this concern clients have that it's going to be extremely expensive, and how do we keep it from getting out of control? It doesn't matter what the budget is, everybody should feel good about knowing where they're going to end up. And that, to me, was extremely important in gaining their confidence and loyalty.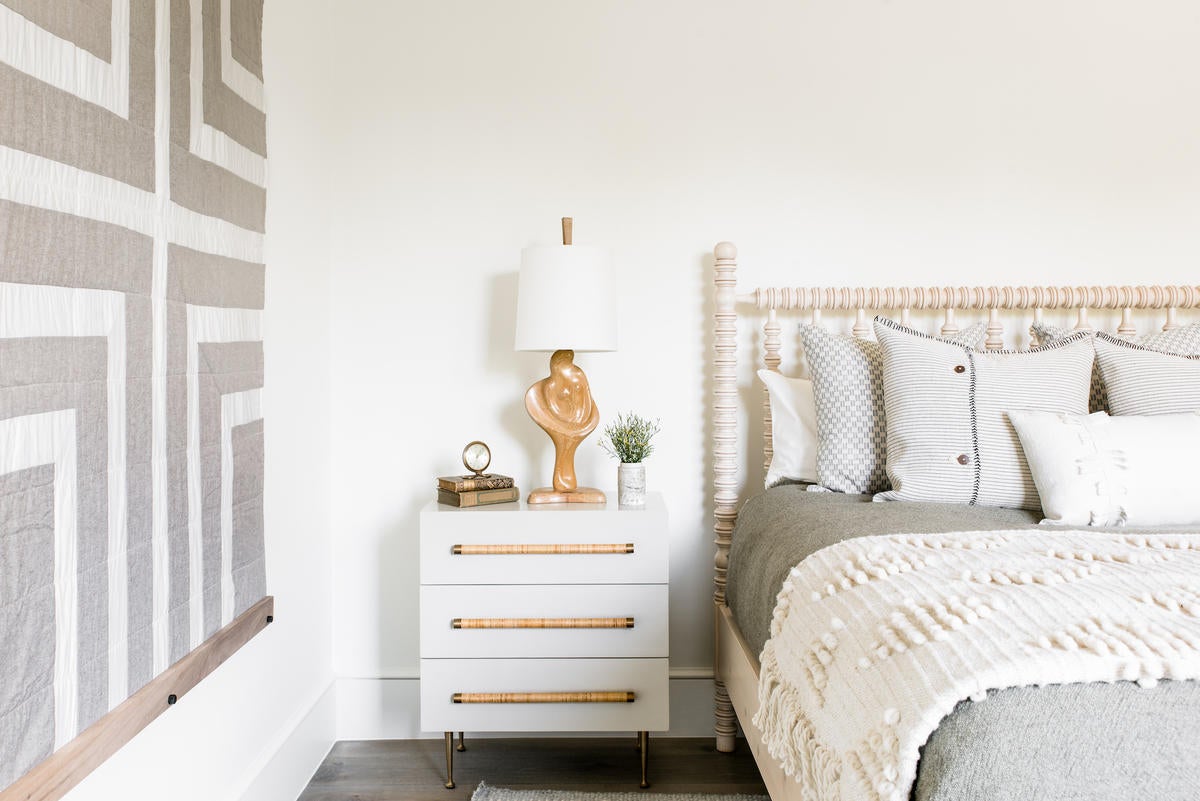 Courtesy of Cortney Bishop Design
Did that spreadsheet and road map change the way you talk to clients about money?
Absolutely. I start the conversation by saying, "You're driving this train. You hired us, you like the work that we do, and this is what that typically costs for us. But you're in charge, so if $350,000 isn't what you want to spend on your home, then let's talk about it. Is it $250,000? OK, this is what we can do for that amount of money." They're going to have to understand where maybe the quality versus the luxury is going to play—we love the high-low game, but we have standards on design and like to work with people that we love who want quality work.
We also ask for money upfront, because you know how fast you have to get things moving, so it's really important that we get the money invested in the company to keep the wheels turning for them. We will say, "Your total budget is $550,000. We're requesting $350,000 now, and we'll request another 25 percent in six weeks," all lining up to their installation date.
What's the biggest thing you wish you had known when you started your firm?
How much I would be invested in it emotionally—how much of a toll it would take on me. We're intuitive people; we're trying to create this beautiful environment for [our clients] to live in, whether they're creative or not. Which, by the way, some are, and they can see things three-dimensionally. Others are like, "I don't understand. It looks dark, but the walls are all white." You have to build it for them, and that's really tough, and I get really deflated when I hear them say that. I'm like, "No, it's going to be so beautiful—trust me!" You want them to ride the ride with you, and sometimes it's more difficult and you sacrifice some of the design because of that. I get so emotionally attached to their feedback. It's like always wanting to be liked—you feel like you've done something to disappoint them, and that's hard.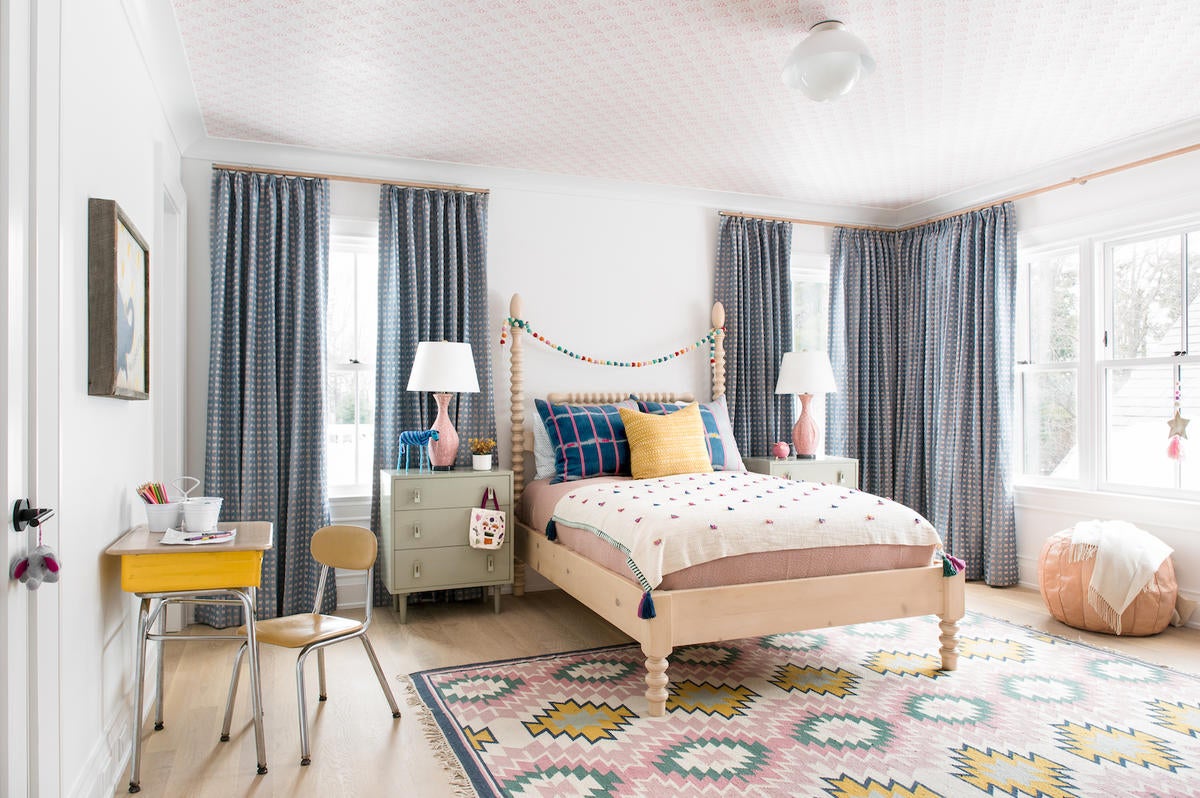 Courtesy of Cortney Bishop Design
What business decision has been the happiest surprise?
One of the best decisions I made was to start a receiving company with my husband about three years ago—which was really incredible for streamlining the logistics of the company. It was so easy, and the reason we did it was because I wanted my own installers who were at my beck and call. It's all about the reveal, right? You work so hard and you want that moment to be so special, but we were realizing that things were broken, things were lost, we didn't have accurate data about what was being received at what time. It was extremely disorganized.
I just decided one day to look for a warehouse for rent. Had I known that it would be so successful, I would have looked to buy, but at the time we didn't have the cash. We found something right up the street from my studio—it's 5,000 square feet, and everything is received there. We have one warehouse manager who stays there nine-to-five—just one—and then we invested in a Sprinter van and a 30-foot truck because we were working hard enough that there were plenty of deliveries.
Building that company has been really fun, but the benefits are really for the design firm. The level of satisfaction for my clients—poof, one second their house is sticks and bricks, and then in three days it's fully furnished. We're able to take away their furniture that they want to consign, and it's all organized for them. It alleviates any of the issues. It's a really great asset and service that we've added to the design firm.
Do you contract with other design firms locally, as well?
Yes, we do. The goal was to gather four or five of my best design friends and take their business on. Unfortunately, I've taken up most of the warehouse, but there are plenty of deliveries that my husband has choreographed with his team to subsidize the rent.
When is the right moment to take on something like that?
I think a warehouse space is always a good investment in thriving cities. We're looking to buy one, but it's impossible—there's nothing available. But if you've been in business in your community for three to five years and are continuing to get work, and are really excited about where your career is headed, I would say now's the time. There's nothing worse than having four storage units with furniture stacked up to the ceiling, where you don't know what you have and there are lamp parts everywhere.
For me, it paid for itself in the quality we can deliver and our ability to build our inventory. We of course have those budget spreadsheets, and we're specifying all the furniture along the way, but there are always those line items at the bottom of the spreadsheet—things like accessories or bedding. I hate to see something and then say, "I should have bought that." If you have big home installations all year like we do, it's worth it for me. I can also go ahead and pull the trigger on beautiful, unique pieces that are reasonably priced—quilts and bedding and beautiful textiles—the things you might not find at the last minute. We enjoy buying pottery from our vintage dealers. We probably install 15 to 20 pieces in every home, but we don't specify it until we install.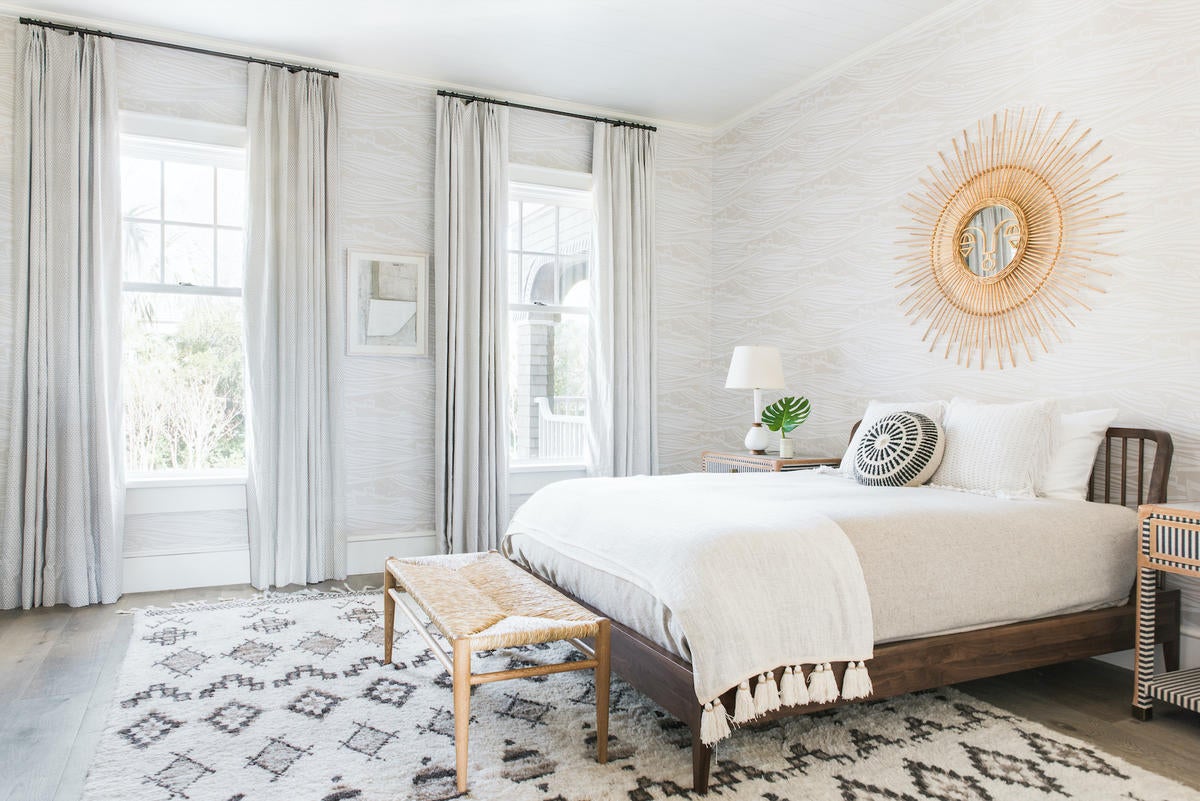 Courtesy of Cortney Bishop Design
You also have a fabric line with Holland & Sherry. What made you take that leap?
The fabric line was quite serendipitous. I always knew that I wanted to design textiles. I started to dabble in it four or five years ago, collecting fabrics that I loved. I started to draw—you know when you buy graph paper and start coloring, and you don't know how to get there but you start thinking about it. I talked to some people who knew mills that were good at printing on linens, but nobody knew how to do wovens, or where I would go to find a weaver. It seemed like I would have to travel, possibly even out of the U.S., to really get down and dirty and understand it. And so it was just this dream that was out there.
How did it all come together?
I always knew in my heart of hearts that Holland & Sherry would be the perfect partner for me—I dreamed of it. Honest to God, I did! I love menswear. My dad was always dressed to the nines in three-piece suits—when we lived in England, he used to take me to Holland & Sherry's men's store and we'd have his suits made there. I just thought, I want this oversized houndstooth and these pinstripes—I want to make classic patterns edgy, so those were the woven scraps that I was collecting. I had tabled it because I had no idea how I was going to do it, but I was starting to gather the information on an investment to figure out how much money it would cost, when [Holland & Sherry president] Bryan Dicker called me and said, "Hey Cortney, we're so grateful for your business with Holland & Sherry, would you mind if I stopped by?" My heart was just pounding, leaping out of my chest. I'd never heard from him before, but I was like, Oh, my gosh, this is my opportunity—and he's going to be here in 30 minutes. So I [decided to] gather the guts to say something to him.
He walked in and noticed the rugs in my studio. Within 30 seconds, he said, "You've got beautiful rugs in here, would you ever consider doing a rug collaboration with Holland & Sherry?" And I was like, "Yes." The lightbulbs are flying off. I was like, "I don't know if I'm ready to do rugs, but I would love to do a textile collection with you guys." And he was like, "Well, hell, let's do it! You want to go have a drink at the Dewberry?" So we chatted about business in general and I asked a few questions. I didn't want to freak out on him! I met him later that night and we never stopped talking about it.
The collection literally came so serendipitously. It was right after my father died, so I think he had something to do with it. The first collection was named the Cardinal collection in honor of him, and the fabrics are really inspired by those old suit pieces that he used to wear. So it really just came full circle for me, and I'm so grateful—I could not be happier with the partnership.
That's such a beautiful story. When you look ahead, where do you see an opportunity to grow? Or, what does success look like for you in this moment?
I used to think about that a lot, but now I feel like I'm just enjoying it. I feel like every day is successful in its own way. I get so much joy being in the studio with the girls here. I'm really happy and I feel like the work we're doing is excellent. I feel a lot of gratitude when I see how happy we're making our clients and partners. There's really nothing that I'm dying to do at this point besides more of what I'm doing now.
To learn more about Cortney Bishop, visit her website or find her on Instagram.