From April 19 through May 13, the Atlanta Homes & Lifestyles Southeastern Designer Showhouse & Gardens will display work from nearly 20 regional interior and landscape designers at a new English cottage in Atlanta's Buckhead neighborhood.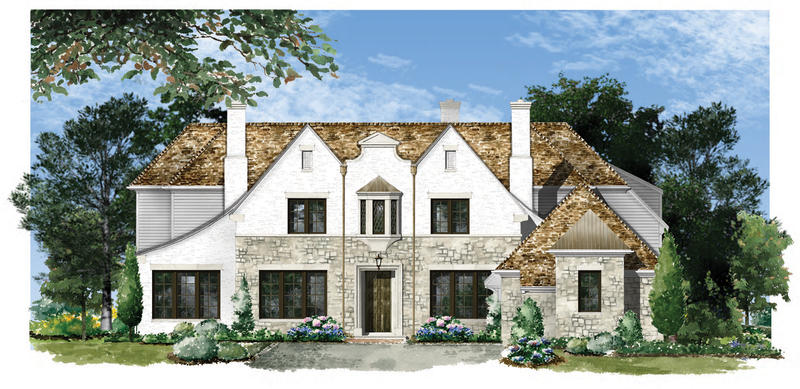 The home, designed by Harrison Design and built by Sheehan Built Homes, is inspired by the work of architect Sir Edwin Lutyens. The 9,800-square-foot residence includes seven bedrooms and six baths, and features a brick-and-stone masonry with limestone, 11-foot ceilings, two master suites, two matching grand stairwells and two laundry rooms.
"This is a house that's striking enough to make a bold statement, but cozy enough to fit
into the context of its tree-lined neighborhood," says Atlanta Homes & Lifestyles
publisher Gina Christman. "The lot is deceptively deep, and we're thrilled to have not
one but four area landscape architects we've enlisted to bring its lushness to light."
Transforming the home are 15 interior designers that hail from throughout the Southeast, including Atlanta's Beth Webb, who is designing the living room and serving as honorary chair. Landscape architects E. Graham Pittman & Associates, Floralis Garden Design, Maxwell Gardens, and Hamilton Land Services will go to work on the 1.13-acre lot's front motor court and terraced rear lawn with pool and surrounding gardens.
The full list of participating interior designers for this year's showhouse includes:
Beth Webb, Beth Webb Interiors (Atlanta)
James Michael Howard, James Michael Howard (Jacksonville, FL)
Phillip Sides, Phillip Sides Interior Design (Montgomery, AL)
Tish Mills Kirk, Harmonious Living by Tish Mills (Atlanta)
Ryan Hughes and Steven Leonard, R. Hughes (Atlanta)
Melanie Millner, The Design Atelier (Atlanta)
Dana Wolter, Dana Wolter Interiors (Birmingham, AL)
Courtney Giles Decker, Courtney Giles Interiors (Atlanta)
Cathy Austin, Catherine M. Austin Interior Design (Charlotte)
Karen Ferguson, Harrison Design, with Design Galleria (Atlanta)
Helen Davis, Helen Davis Interior Design (Atlanta)
Michael Mitchell and Tyler Hill, Mitchell Hill (Charleston, SC)
Jena Salmon, Jena Salmon Designs (Atlanta)
Nina Nash and Don Easterling, Mathews Furniture & Design (Atlanta)
Kati Hardwick, B.D. Jeffries (Atlanta)