The fifth-annual Atlanta Homes & Lifestyles Serenbe Designer Showhouse is the largest to date, with a roster of 13 participating designers from the greater Atlanta area. The Selborne Estate, which has five bedrooms, four and a half bathrooms, an outdoor kitchen, a three-car garage and multiple porches, was built and designed by Mitch Ginn and McKinney Builders.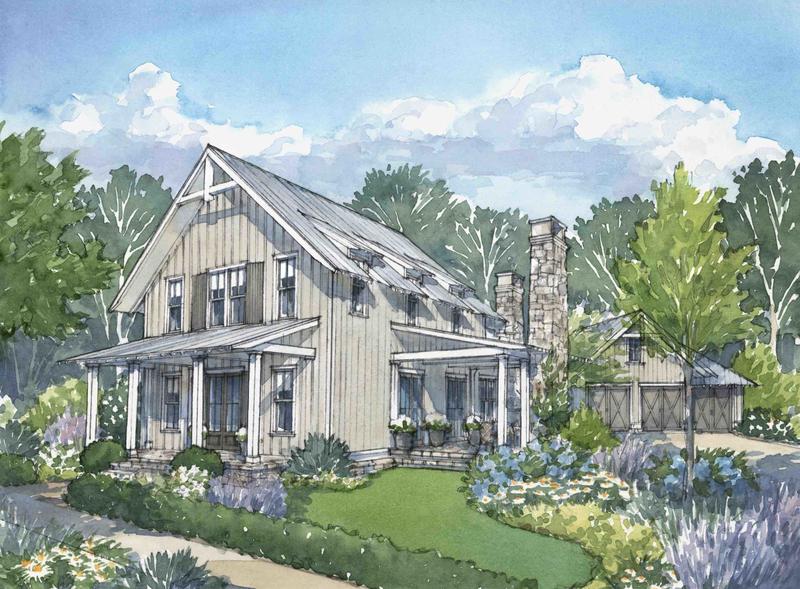 Sponsored by AH&L, Serenbe Real Estate, McKinney Builders, and ADAC, the modern farmhouse features fixtures and finishes chosen by Meredith McBrearty, the project's lead interior designer. "I always try to select materials and finishes that will last the test of time," says McBrearty. She also said her choices were "inspired by Serenbe itself." Serenbe is a biophilic community in Chattahoochee Hills, Georgia, near Atlanta.
"I'm drawn to traditional styles indigenous to our region, so this rustic cottage design is a throwback to the pioneer home builders of West-Central Georgia, who used the materials they could readily find," says Ginn. "Large covered porches are also a must."
The showhouse launches with a preview party on September 13. Proceeds will benefit the Art Farm at Serenbe, a community of artist workspaces and facilities. Following the party, the showhouse will be open for tours Thursday through Sunday, from September 14 to October 7.
The list of participating designers includes:
Anna-Louise Wolfe, breakfast and butler's pantry
A. Wooten Interiors, foyer and stairway
Elizabeth Ferguson Design, back porch
Floralis Garden Design, landscape
Gilstrap Edwards Interior Design, master bedroom and bath
J. Hirsch Interior Design, family room
Julie Holloway Studio, half bath and ground-floor powder room
K Light Interiors, upstairs bedroom and bath
Melissa Galt Interiors, front porch and covered side porch
Meredith McBrearty Interiors, kitchen
R. Cartwright Design, upstairs bedroom and bath
Rooms Revamped Interior Design, office/craft room
Stefan Alexander Interiors, terrace deck