Modernism Week is upon us (February 15 to 25), and Palm Springs is buzzing with excitement. Scope out our top picks for this season's fest devoted to all things mod.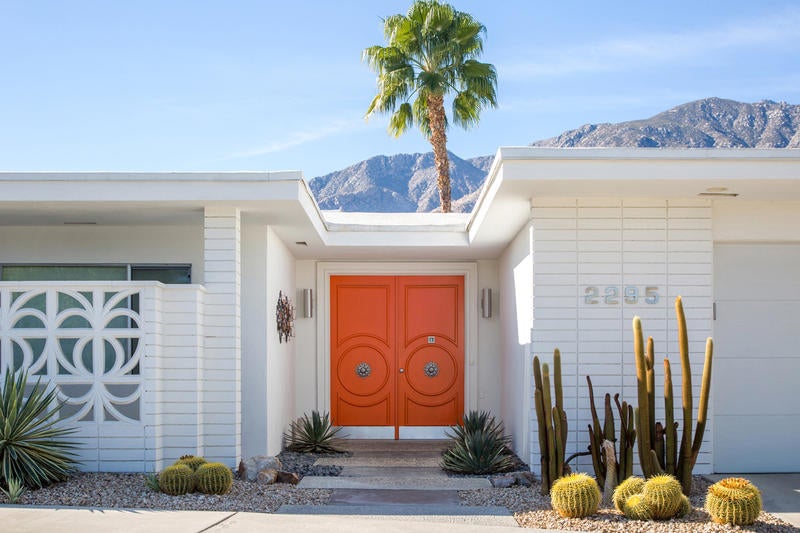 1. Catch a movie at the Architecture and Design Film Series. Nearly 30 films are part of the first-ever Modernism Week film series. "We were honored to develop this powerful film series for Modernism Week," says Teddy Grouya, founder and director of the American Documentary Film Festival. "Films about architecture and design highly resonate with Modernism Week attendees, so we arranged a compelling series of fascinating short films, documentaries and feature films to meet this growing interest. We look forward to continuing this relationship and expanding this film series each year."
No need to set aside too much time—many are under 30 minutes long. Check out East End Masters of Modernism: Harry Bates & Paul Masi, directed by Interior Design's Cindy Allen; Larsenworld: Longhouse in East Hampton, directed by Edgar Howard; and A Life's Work, a film about Peter Korn, directed by Ben Spilling.
2. Travel from Morocco to Paris and back with three new house tours. Three new homes—Moroccan Modern, built in 1975 and designed by architect Hal Lacy; under-the-radar Hidden Frey, a recently restored 1966 tennis estate designed by Palm Springs architect Albert Frey; and Maison a l'Orange, customized by Howard Hawkes and Kevin Kemper of H3K Design with a Googie-inspired lounge. Find tickets.
3. Head to CAMP. Summer camp never looked this good. Modernism Week's CAMP (Community and Meeting Place), which comprises an information desk, a box office, a café by Cheeky's, a store by Destination PSP, a demonstration kitchen, designer lounges and a theater, will host a bevy of panels, kitchen demos, design consultations and free events (pose with large-scale photo backdrop of the famous Kaufmann House pool setting).
The entire space is a can't miss. But must-sees include an exhibit of modernist architect Albert Frey's photos; garden tours; an opportunity to step inside the newly designed AlPod mobile home; and live seminars with Ron Parks of HÔM Sotheby's International and T.J. Pierce of Mid-Century Homes by Moniker Real Estate, Palm Springs contractor Steven Shields, and Howard Hawkes and Kevin Kemper of H3K Design on topics like modernist house-hunting.
4. Shop 'til you drop at a brand-new product expo. Some 40 exhibitors will unveil a showcase of home design products and technology at Modern Design Expo, including home appliances, smart home technology and security, handmade furniture and design accessories, contemporary art and photograph, and other items. Michela O'Connor Abrams, owner-founder of MOCA+, "a new design thinking practice," will deliver a keynote on February 17. One must-see at the expo? Head over to the Monogram Booth, which will host food tastings every two hours on February 17 and 18, with a focus on home kitchen technology's impact on food.
5. Swing by everyone's favorite sale. The much-loved Palm Springs Modernism Show & Sale, which last year entertained some 10,000 visitors, returns with its array of 20th- and 21st-century furniture and art objects. Don't forget to say hi to author and architectural photographer Tim Street Porter, who will be on hand to sign copies of his new book, Palm Springs Pradise—which showcases the homes of Richard Neutra, Albert Frey and Paul Williams—on February 16 at the Hennessey + Ingalls booth.