On September 27, Thibaut, Arte, and Egg & Dart will unveil their co-branded showroom at the Pacific Design Center in Los Angeles. It's a labor of love, and a joint effort: The three brands are uniting for the first time on the West Coast with a 3,000-square-foot showroom spotlighting their fabrics, wallcoverings and furnishings.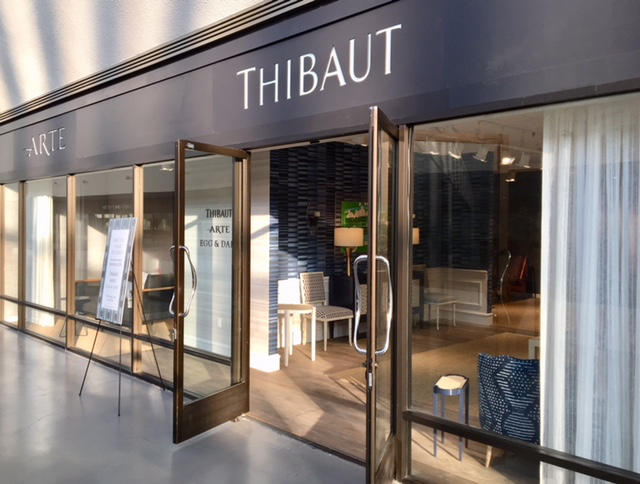 It's the next right step for Egg & Dart, following its other California location. "Having successfully grown both brands through our Palm Desert showroom location, when the opportunity to partner with both Thibaut and Arte for the Los Angeles marketplace presented itself, we could not be more excited to jump on board," shares Steven Love of Egg & Dart. "We feel that by expanding these collections at the PDC alongside a curated collection of other non-competing vendors from Egg & Dart, we've created a cohesive inspiring showroom offering designers one-stop shopping."
Thibaut marketing director Stacy Senior Allan and Arte USA president Bill Calhoun answer BOH's questions about what it takes to launch a co-branded showroom.
Why were your brands the right partners?
Allan: Thibaut had a distribution partnership with Arte 25 years ago. We've always admired the Arte brand [for] their innovation—it's a more European-looking, modern and forward brand, while Thibaut is rooted in tradition. We think clients who like either of our brands would like all of us, so it was a perfect opportunity for the partnership. Anyone who comes for Thibaut would also enjoy Arte or Egg & Dart's offering. Even though Thibaut has a deep history in print and woven fabrics, wallpaper is our core and in that we are very aligned. Egg & Dart has been known in the territory for many years with a great reputation. We're excited to partner with them and give our brand access to their relationships on the ground in L.A.
Calhoun: Arte and Thibaut actually coexist in several showrooms across the U.S., since our partners in many markets represent both brands. Given the European house style of Arte being quite different from Thibaut, we never felt there would be conflict in sharing a space. It's exciting to have the opportunity to showcase Arte like never before in the U.S. while Thibaut makes their West Coast debut alongside.
What are some of the challenges faced when designing a shared space?
Allan: The way we laid everything out was perfect because each company has its own area where their brand can shine. No brand had to adjust our style to suit the other. The space is so great because it is so big and has lots of natural light. Each of us has our own frontage in the hallway, so it really feels like two full showrooms in one space.
Calhoun: Suite B-684 was actually a "perfect fit" for both companies. We were quite fortunate to be brought into this joint arrangement after many months of pursuing showroom accommodations in the L.A. market.
What are the similarities and differences between the brands? How do these coexist within the space?
Allan: We've always admired Arte's innovation and creativity in wallcovering manufacturing. Their European influence shines in their product. While their style differs from Thibaut's offering, it is also complementary, because it gives the designer access to so much more product. Arte's style picks up where Thibaut leaves off, so when designers stop in, they can shop such a variety of styles. Designers have already popped in and told us how much they admire everything!

Calhoun: Arte and Thibaut differ substantially simply from their heritage. Arte being more fashion forward while Thibaut's offering is mostly traditional. Both offer designers an ability co-mingle the styles and shop for multiple projects' criteria in one space. There is minimal overlap in the wallcovering offerings and the brands certainly complement one another. Designers will see that immediately upon entering the showroom.