Copenhagen, Denmark's first design auction of the year, at Bruun Rasmussen, has resulted in two huge sales. Both pieces were designed by Danish modernist architect Flemming Lassen in 1935: one, an uber-rare three-seater sofa for over $101,000—the priciest sofa the auction house has ever sold—and the other, the Tired Man easy chair, upholstered in yellow wool, for just over $98,000.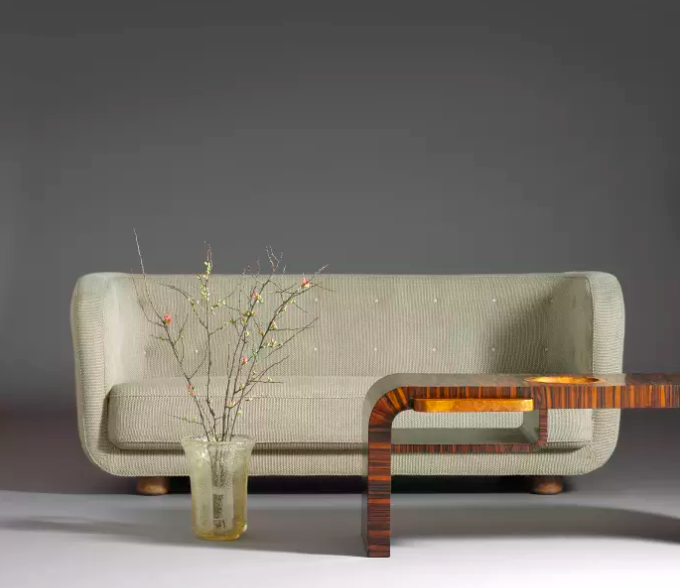 "Flemming Lassen's furniture is extremely sought after on the international design market. The auction's two highest hammer prices were achieved with furniture designed by this architect, as his iconic armchair, The Tired Man, was sold for DKK 590,000 [about $98,000]. ... We still hold the world record on this model, where a price of DKK 1.42 million [about $236,000] was achieved in 2014. Flemming Lassen is, therefore, the Danish architect whose furniture has achieved the highest prices at our auctions," says Peter Kjelgaard, head of the department of 20th-century design and decorative art.
Both of the pieces were manufactured by the cabinetmakers A.J. Iversen and Jacob Kjær. The sofa was produced in 1935 and the armchair was produced between 1936 to 1940. They also both boast their original upholstery.
What accounts for the high hammer prices? The international auction house explains that it is traced back to the modernist movement, which is a key factor in Lassen's work and an ostensible selling point: "In Denmark, the radical ideas of the international movement of modernism were rarely expressed in their purest form. For the Danish architects, it was imperative that the focus on form, function and new materials did not happen at the expense of the human aspect and the fine craftsmanship. Therefore, the first attempts at a Danish interpretation of the international modernism in the 1930s resulted in a more soft and humane idiom compared to the international counterparts, as is the case with Flemming Lassen's furniture."