Works from architects like Flemming Lassen, Finn Juhl and Kaare Klint are proving that midcentury modern is continuing to thrive. An auction earlier this month saw top prices for works like The Tired Man (an easy chair upholstered with yellow wool) by Lassen, which was sold for around $126,000, including buyer's premium. Other trending works included Lassen's freestanding three-seater sofa, selling for around $114,000; Juhl's approximately $74,000 two-seater sofa; a unique table bench of solid Caucasian walnut, dated 1972, from Jacob Hermann, selling for the highest hammer price ever for the designer, at upwards of $17,000.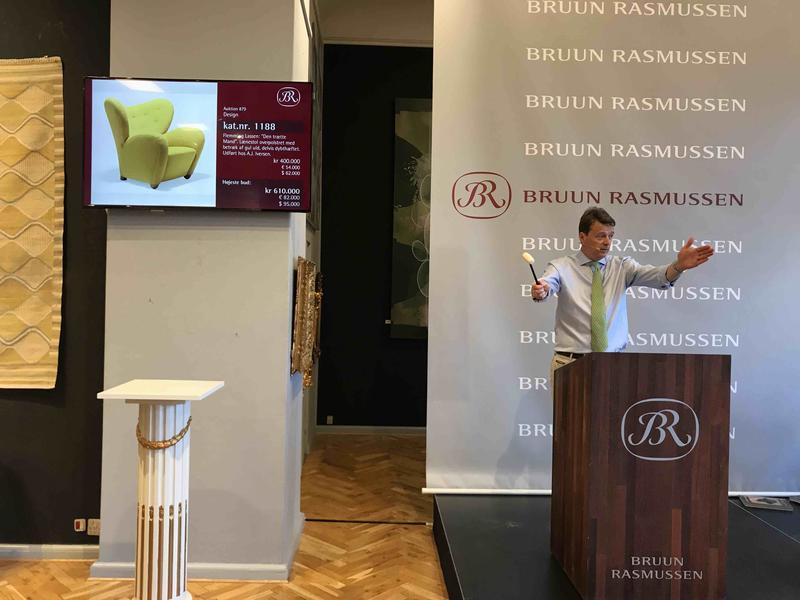 "Rarities, documentation, provenance and original fine condition are keywords for the buyers when they bid at our auctions, and the most well-known Danish architects performed the best at Monday's auction," says Peter Kjelgaard, head of the 20th-century design department of Bruun Rasmussen. "Flemming Lassen's upholstered armchair, The Tired Man, has long been a sought-after commodity on the auction market, and his very rare upholstered sofa has only followed suit."
Other pieces to take home top dollar, further evidence of the popularity of Scandinavian modern design, include Klint's three-seater sofa, selling for around $54,000 and The Red Chair, his set of six chairs with Cuban mahogany frames.
It was a trend that was proved accurate at the auction.
"This is also true of Finn Juhl's two very rare, upholstered sofas from the 1940s that also achieved fine hammer prices," explains Kjelgaard. "The furniture pieces of the father of Danish design, Kaare Klint, also had a good day at the auction, including a set with his most iconic chair, The Red Chair, and a rare sofa from the 1920s to 1930s, both of which were made for the Designmuseum Danmark in Copenhagen. The original leather cover was crucial in determining the price."