In some ways, social media can feel at odds with interior design—in the realm of TikTok and YouTube, it's all about a bright flash that captures a moment of attention, and then the audience moves on. You can marvel at a viral video, but you don't live in one, and designers make a point of creating personalized spaces that stand the test of time. The husband-and-wife duo behind the popular Mr. Kate YouTube channel is looking to bridge that gap, going from online success to a debut furniture collection.
As with many social media sensations, Kate Albrecht and Joey Zehr didn't set out to become YouTube famous. Before their design careers, they were both working in the entertainment industry—Albrecht as an actress and Zehr in the music industry—and they describe their presence on the platform as an accident. "In the early days, we saw it as a fun platform to host things for the DIY blog we were running," Zehr tells Business of Home. "When we bought our first home [in 2013], we decided to film everything for that, and we put it on YouTube and our audience took off. It was like the Wild West of the digital world."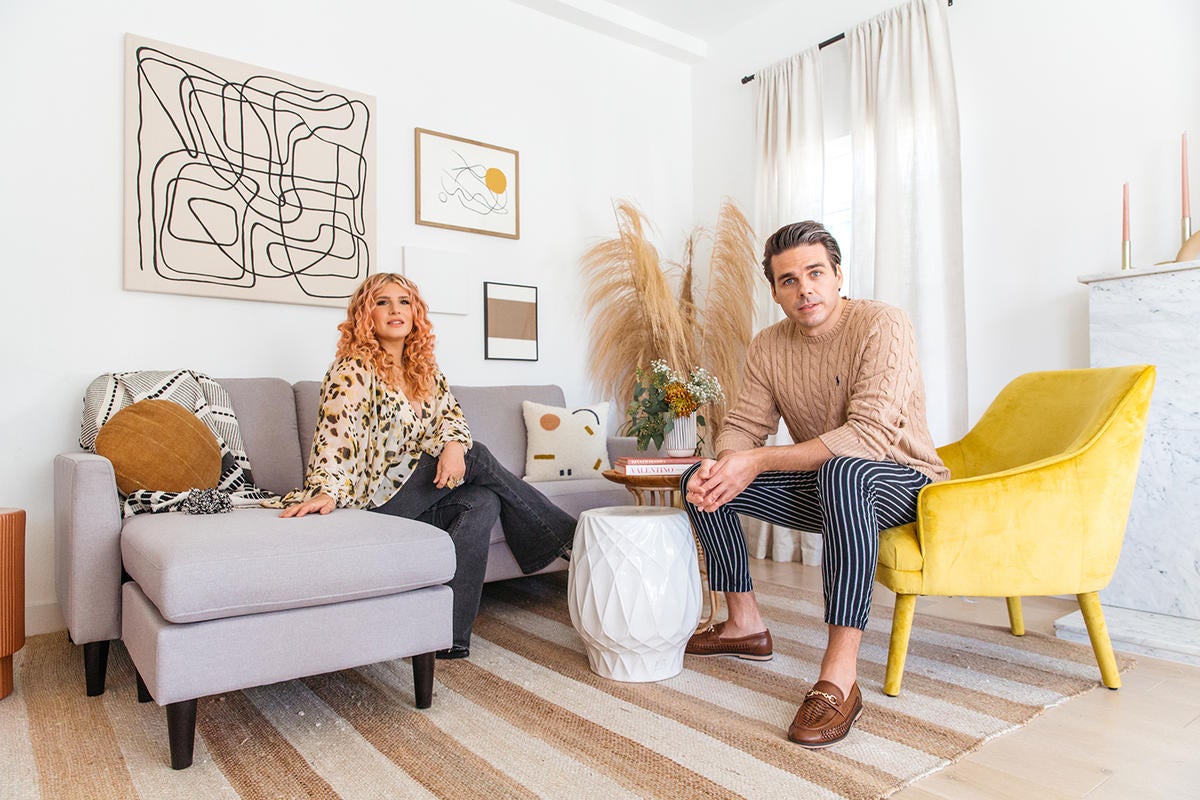 From there, the Mr. Kate duo began producing approachable, irreverent content across home, fashion and lifestyle, decorating the homes of other YouTubers as part of their OMG We're Coming Over series on the channel. Today, their channel boasts more than 4 million subscribers and more than 500 million total views (a little perspective: Shea and Syd McGee, one of the design world's most successful Instagram influencer couples, have 2.7 million followers on that platform). Over the years, Mr. Kate has worked with several major retail brands, from Norton Security and Wayfair to Pepsi and Amazon, taking a three-pronged approach to revenue: product, sponsorship, and YouTube advertising.
When the pandemic hit, Albrecht and Zehr's advertisers halted their spending everywhere, and the duo could no longer go into people's homes to do makeovers, so they immediately channeled their energy into developing a furniture line. "We knew we were going to have a ton of time designing on our own," says Zehr. "The pandemic really helped us launch this new iteration of Mr. Kate, which is out in the physical world. It was perfect timing, really."
Partnering with Westmount, Quebec–based manufacturer Dorel Home, Mr. Kate launched a line with sofas and beds at the forefront, featuring clean, youthful silhouettes clad in velvet or linen upholstery, targeting its audience of design enthusiasts and DIYers with transforming and space-saving elements. "Obviously, during the pandemic, those are two areas where people are spending a lot of time," says Albrecht. "We wanted to start this conversation around the main pieces in the room," adds Zehr. "The goal with the line was to give people pieces that could work across a spectrum of styles. And it was important to partner with someone who already had the inroads with retailers that are focused on style, price and user experience."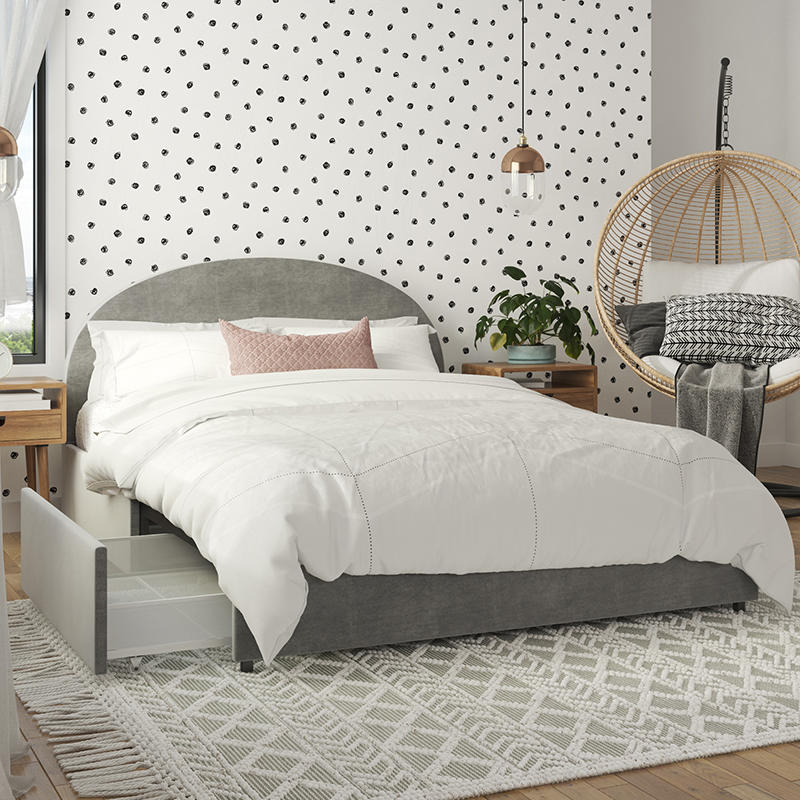 While Albrecht and Zehr weren't new to product design, this is their first foray into furniture, a move that parallels a greater shift in their overall content production. "Earlier on, we were selling jewelry and apparel and have since started to pivot into home products," says Zehr. "We noticed that was our sweet spot with our audience—as soon as we started focusing on home, that's when we started to see a lot of growth."
The Mr. Kate line is sold primarily online through e-tailers like Amazon, Overstock, Walmart and Wayfair—a nonnegotiable for Mr. Kate. "A big thing for us has been creating a line that we can bring to an audience where they're shopping—and in their budget," says Zehr. "We are known on YouTube for high-low, and we have makeovers with big budgets, but we have a really popular series where we make over rooms for under $300. Our audience is a digital audience. They need that quick-ship, easy shopping situation."
As Albrecht points out, many of the shortcomings of online sales are solved by the YouTube side of Mr. Kate's business. "The thing about brick-and-mortar is the touch and feel—that's why people like to shop in person," she says. "Because we are content creators, we get to make videos showcasing our products, showcasing the touch and style options. We give our consumer that experience more than a traditional e-commerce brand."
For now, the Mr. Kate team will continue to direct their energy online. "I think the future is digital, and for us, it's very easy to talk about something, share a link, and our audience clicks on that link and the process is done," says Zehr. "Brick-and-mortar isn't a huge part of our strategy right now—we're digital kids."
Homepage image: The Primrose metal bed | Courtesy of Mr. Kate