No one knows exactly how using the word "linens" to describe bedcoverings began—or why the term is still used today, when the overwhelming majority of these products are made of cotton and/or polyester.
Well, at least they were.
In an ongoing revolution that is perhaps consistent with the times but still somewhat remarkable given the business, linen sheets—that is, sheets made of actual linen—are enjoying a comeback. Today, these products represent a share of the marketplace they perhaps haven't enjoyed since the Middle Ages.
Linen is one of the oldest fabrics around; fragments have been found from as far back as 8,000 B.C., and for much of mankind's history, it was the cloth most often used for home textiles and apparel. Made from the flax plant, linen is generally acknowledged to have a number of properties that make it ideal for both uses, including strength, absorbency and the ability to keep cool or warm depending on the conditions. Linen also gets softer the more it is used and washed.
The fabric's hand is no doubt playing into its current popularity. As consumers increasingly favor texture, linen offers a marked contrast to flatwoven percales and sateens. It also tends to gain a weathered, vintage feel (some products are given that worn-in treatment during the finishing process before the consumer even uses them), which plays to the sense of authenticity that is a touchstone for the new generation of shoppers.
Linen textiles can be woven or knitted. As a result, some say the manufacturing process is what led all bedding fabrics produced in a similar fashion to be called "linens." Then again, who really knows?
What is known is that real linen is everywhere these days. And while it is impossible to pinpoint the cause of its revival, it didn't hurt that home furnishings retailer RH introduced linen sheets in the 2010s, before the company's upscale rebranding. (The company quickly came under fire for referring to the product as "Belgian linen" when in fact the products were made in China; RH said it was sourcing the fiber in Europe and the place of production was irrelevant.)
Regardless of origin, linen bedding began to sell. Today the RH site features no fewer than seven different linen sheet offerings, plus several towel lines in a linen-cotton blend. Prices start at $259 for sets and go to more than $1,000; the retailer continues to say they are 100 percent linen, "woven of premium Belgian flax."
It wasn't long before others were jumping on the linen bandwagon, including the direct-to-consumer sellers. Parachute offers an assortment of linen bedcoverings, tablecloths and even a shower curtain. It says its products are made in Portugal, a longtime linen supplier. Another D2C seller, Brooklinen, also offers linen bedding from Portugal. Casper, the company best known as the earliest, loudest mover in the mattress-in-a-box game, has put out linen quilts and sheets. All these brands' linen product prices are marginally lower than RH's, but still usually more expensive than cotton offerings.
More recently, mainstream and legacy retailers are getting into linen. Macy's offers linen bedding in its Hotel private-label brand, as well as cotton-linen blends under other labels, with prices more in line with the direct sellers than RH. Bed Bath & Beyond also has an assortment of linen bedding, most sold under its Wamsutta house brand. (Curiously, they are marketed as percale, a term usually reserved for cotton or cotton-blend fabrics, which signifies a thread count over 180—even though no count is shown for these linen sheets.)
The linen marketplace also includes lifestyle stores like West Elm and Pottery Barn, as well as specialized linen resources that sell primarily online. Linen has even worked its way down to the mass channel, where Target sells several 100 percent and blended linen sheet sets, some under its Magnolia Hearth & Hand sub-brand; prices start at well under $100.
Over the course of history, linen has been used for everything from currency to aircraft fabric covering, sailcloth, and mummy wrapping. Now it's the hottest—not to mention the coolest—thing around for your bed once again.
____________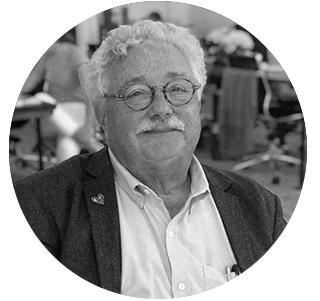 Warren Shoulberg is the former editor in chief for several leading B2B publications. He has been a guest lecturer at the Columbia University Graduate School of Business; received honors from the International Furnishings and Design Association and the Fashion Institute of Technology; and been cited by The Wall Street Journal, The New York Times, The Washington Post, CNN and other media as a leading industry expert. He was also a guest on the BOH podcast, and his Retail Watch columns offer deep industry insights on major markets and product categories.
Homepage image: Shutterstock.com