Interior designer Julie Benniardi was helping her friend, Debbie Ouyang, select fabrics for her home when Ouyang asked, "What happens to all the tiny fabric samples that aren't selected?" That off-the-cuff remark launched a mission—and a business.
First, Benniardi went to the Pacific Design Center in search of an answer. She always returned her unwanted samples to showrooms, despite a lax trend in the opposite direction. The stern label on the back of each memo used to feel like a contract; today, it's as threatening as a library fine. Benniardi checked in with Kneedler Fauchère's Rocky LaFleur, who, as an advocate for design education, often donated samples to schools like UCLA or The Fashion Institute of Design & Merchandising. Benniardi also spoke with Anna Navarrete, regional manager of Donghia, who had offered memos to interior design schools or organizations and senior centers that needed craft materials. "What I also learned from reps is that space is limited everywhere—in the showrooms, their trunks or homes—so a lot of people had resorted to discarding fabrics, which is sad," Benniardi tells Business of Home.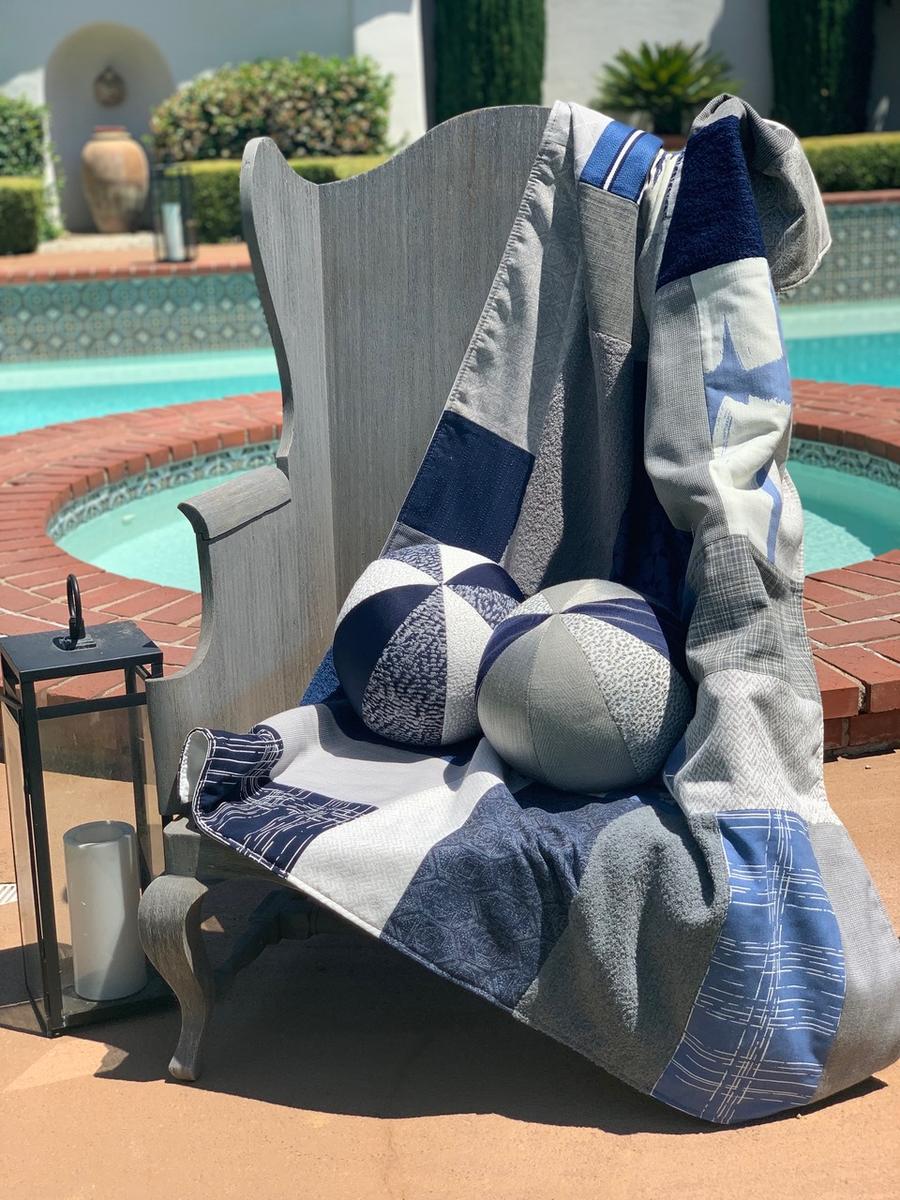 After discovering that Los Angeles has the largest landfill in the nation, she and Ouyang jumped into action. Last July, they formed ReWeave L.A., a socially minded endeavor that creates one-of-a-kind design goods from unwanted fabric samples and donates a portion of the profits to charity. "Our number-one goal was to save these fabrics from being thrown in a landfill," she says. "We also wanted to create jobs in Los Angeles; everything is made here by artisans. We've had people ask, 'Why don't you send the fabrics overseas and then get things made cheaper over there?' But that defeats the purpose. If we ship things out of L.A., we're just adding to the carbon footprint."
The industry response has been definitive. "In the first six months of being in business, we collected three tons of fabric," Benniard says. Major names like Kneedler Fauchère, Donghia, were the first on board, while others like Quintus, Thomas Lavin, Moore & Giles, Coraggio, Holly Hunt and Sutherland have since shown support. A. Rudin alone has donated an estimated 30 boxes and three pallets of fabric to ReWeave—a mix of cutting scraps from the brand's upholstery workrooms (it takes roughly 10 yards of fabric to upholster a chair) as well as memos. Benniardi details the near-constant handoffs and invitations to warehouses to retrieve material. She and Ouyang have rented their own warehouse to store bolts, boxes and the like.
For years, the industry has been reckoning with its own wastefulness from catalogs, tear sheets, samples and prototypes. Innovators like Material Bank have stepped up to present solutions, but touch-and-feel is at the core of the design profession, especially with artisan-quality textiles. One brand estimates that a single sample can cost $75 when factoring in label and labor costs.
Designing a collection from such a varied assortment requires vision. Most designers are familiar with a 6-by-8 inch swatch, but ReWeave also collects remnants, end cuts and irregular sizes. They have been offered generous wings spanning 24-by-24 inches, discontinued items, and a variety of textiles from heavy velvets, upholstery fabrics and chenille. Benniardi and Ouyang have to be creative in their product mix. "We're constantly asking, 'What can we make with this?'" she says.
The stern label on the back of each memo used to feel like a contract; today, it's as threatening as a library fine.
Quilts and throws were the first finished creations. Decorative ball pillows followed, along with ReWeave's Versa stools, which are stacked upholstered forms on casters that offer storage via a tray topper. Both Quintus and David Sutherland showcase ReWeave throws and ball pillows in their showrooms, as do Donghia and Jean de Merry. The company is also collaborating on a series of dog pillows and made its first foray into fashion during a pop-up at the Janet Yonaty showroom during Legends of La Cienega with a selection of women's tops and jackets. This September, ReWeave will show at the L.A. Fashion Festival.
"We're the opposite of fast fashion; we're slow fashion, because everything is handmade and one-of-a-kind," says Benniardi. Not a classic 501(c)(3), ReWeave has modeled itself as a social enterprise startup, a concept pioneered by Adlai Wertman, a professor at the University of Southern California. Both ReWeave founders have business backgrounds. "The idea is to make a positive community and environmental impact," says Benniardi. "The whole mantra is that you don't have to be a nonprofit to do all of this."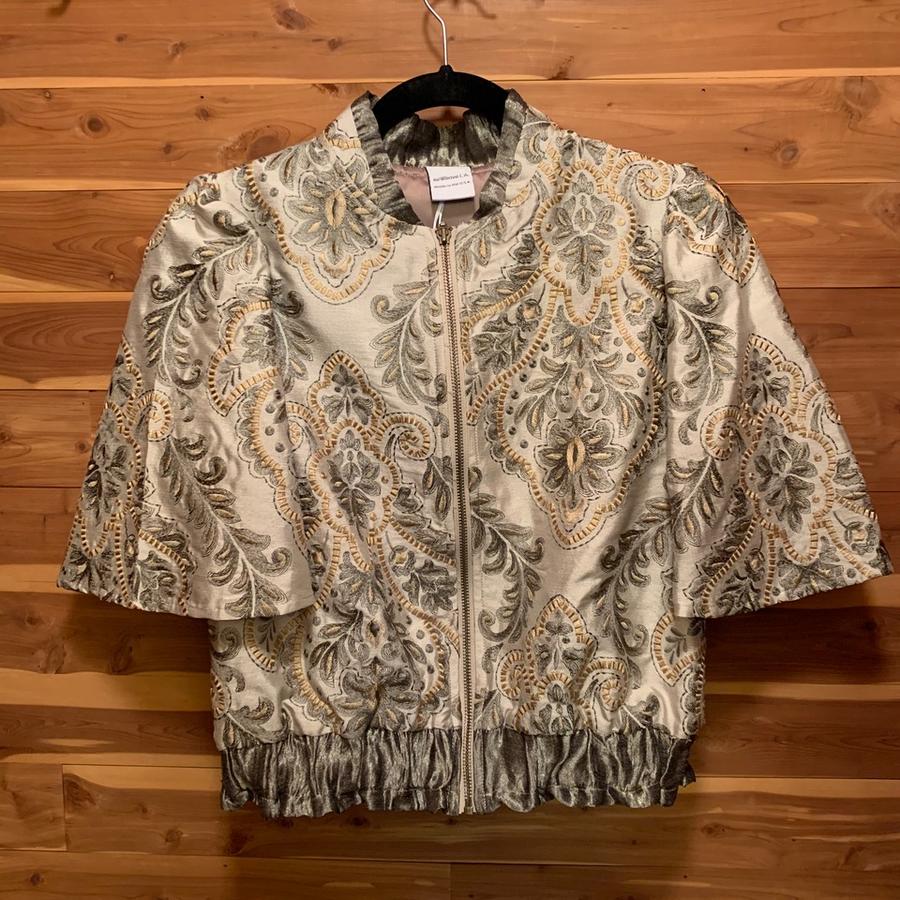 ReWeave donates 10 percent of profits to the Downtown Women's Center and Homeboy Industries—two organizations that focus on job training and empowerment programs for disadvantaged and homeless populations. Ideally, says Benniardi, they would like to employ members of these communities as artisans with ReWeave.
Consumer interest in the finished pieces is there, she says. ReWeave believes provenance and craftsmanship will appeal to the right customers. It takes several days to create one throw, which starts at $650. The price point reflects the artisan quality of the pieces and their limited-edition status. As Navarrete puts it: "These are such gorgeous fabrics, they are works of art in many cases. It's horrible to think about discarding them."
ReWeave is not dealing in scarcity. "Supply is not an issue, because there is a lot of unwanted fabric," says Benniardi. Like most businesses, they are examining their output and distribution. "We are such a young brand, and although people love the idea and the products, the challenge we face is not turning the products around fast enough to be able to receive more and more fabrics from our showrooms. So, it's just a matter of us hustling in the market."
The pair are revamping their website and rethinking market distribution and partnerships. ReWeave goods are available for order on their website as well as at showrooms and trunk shows. For those trade brands who already support them, the word continues to get out. "What ReWeave is doing is so positive and it makes us feel like we're making the world a little better by supporting their efforts," says Navarrete.