While many manufacturers have spent the last six months nervously keeping an eye on infection rates and debating whether or not to attend markets this year, Skyline Furniture founder Meganne Wecker made the call early: Nope. "We very much knew we were not going to be attending markets, and that we'd have to re-create what magic usually happens there," she tells Business of Home. "The question was: How are we going to reinvent that?"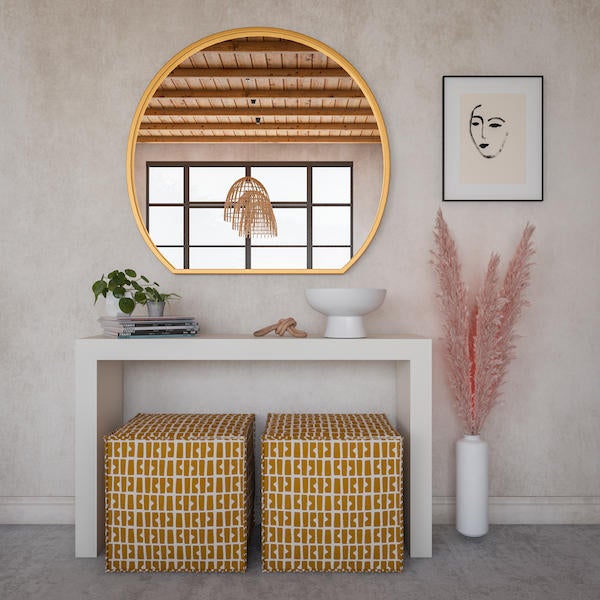 Courtesy of Skyline Furniture
Wecker's dilemma was not entirely unique. As brands of all shapes and sizes have made the call to stay home in 2020, they've scrambled to find ways to get the word out about their collections. As a result, the market has been blanketed with Zoom calls, video showroom tours, and quirky sample packages. Like many in her position, Wecker is turning to technology, but she's taking it a step further by debuting her Chicago-based company's new lines as 3D renderings. The twist: They're styled into four (also digitally rendered) "apartments" that showcase a range of aesthetics and taste. Prospective buyers can take a virtual tour through each space and check out Skyline's latest offerings in the context of a modern boho loft or "deco glam" one-bedroom.
"There's a lot of technology out there that allows people to reconceptualize their showroom visually, either by going in with cameras or setting up virtual walkthroughs, but I don't know that a showroom is the best place to be," says Wecker. "We looked at what people want to be doing: socializing and visiting each other's homes."
Skyline's pivot fits neatly into a wider industry swing toward digital rendering technology, accelerated by the restrictions of the coronavirus pandemic. There are at least three all-virtual showhouses debuting this fall. Designers everywhere have brushed up on their digital rendering skills to be able to offer e-design services during lockdowns. The question isn't whether home world brands will embrace the technology in earnest, but how.
In that, Skyline's digital apartments represent a kind of first as well: It's a debut for ALL3D, a San Francisco–based digital rendering platform founded by entrepreneur Amra Tareen, the former head of innovation for Bed Bath & Beyond. Tareen believes that the market for 3D rendering services—a vast, balkanized mess of thousands of individual digital rendering firms—is ripe for disruption.
Her play is to offer a la carte pricing (as opposed to the more nebulous cost structure employed by most rendering firms), extremely low rates, and a suite of tools that allow users to create their own rendered lifestyle imagery. The goal, says Tareen, is not simply to compete with other rendering companies, but to give brands the option of replacing their photography budget with a subscription to her service.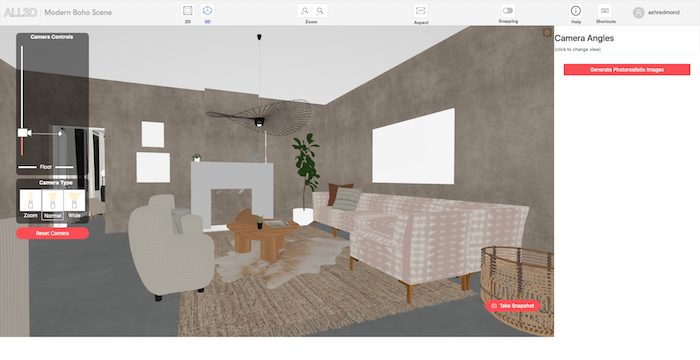 "From my experience, a lifestyle photo shoot for a small brand with 60 SKUs could cost $10,000," she says. "[For] a big retailer, [it] could cost $300,000 and up." By contrast, says Tareen, a brand could use her platform to create a complete lifestyle shoot—with multiple rooms, setups, angles and pieces—for roughly $5,000. (The digital product models can then be used in other contexts, amortizing the cost even further.)
Wecker, clearly a fan of the technology, is excited to see what else it can do—to the degree that she's not 100 percent committed to returning Skyline to markets in 2021 and beyond. "If we can start to work in this capacity, a lot of my online retailers will be very comfortable with that. I do know that our industry is quite fragmented, and a lot of people still like to interact with product and see it physically. I'm not sure markets are going away—there will be versions of in-person meetings. But I see so many advantages to working in this capacity that go beyond market," she says. "I definitely see this as the future."
Homepage photo courtesy of Skyline Furniture & ALL3D