In the age of Amazon, quick-ship has taken on a new meaning—a world where same-day and next-day deliveries are no longer remarkable, but almost expected. The coronavirus crisis may have temporarily drawn out shipping timelines, but the power of high-speed e-commerce will persist. In Business of Home's latest Community Discussion, editor in chief Kaitlin Petersen spoke with Meganne Wecker, president and chief creative officer of Skyline Furniture, a Thornton, Illinois–based manufacturer for some of the leading e-commerce retailers, which brought back its workforce of more than 300 employees last week. Wecker spoke to BOH about consumer expectations surrounding quick-ship products, e-commerce strategies and more.
Watch the recorded conversation here, or read on to find out some of the top takeaways from Wecker—from Skyline's essential technological tools to what she believes is the most important element of an e-commerce platform.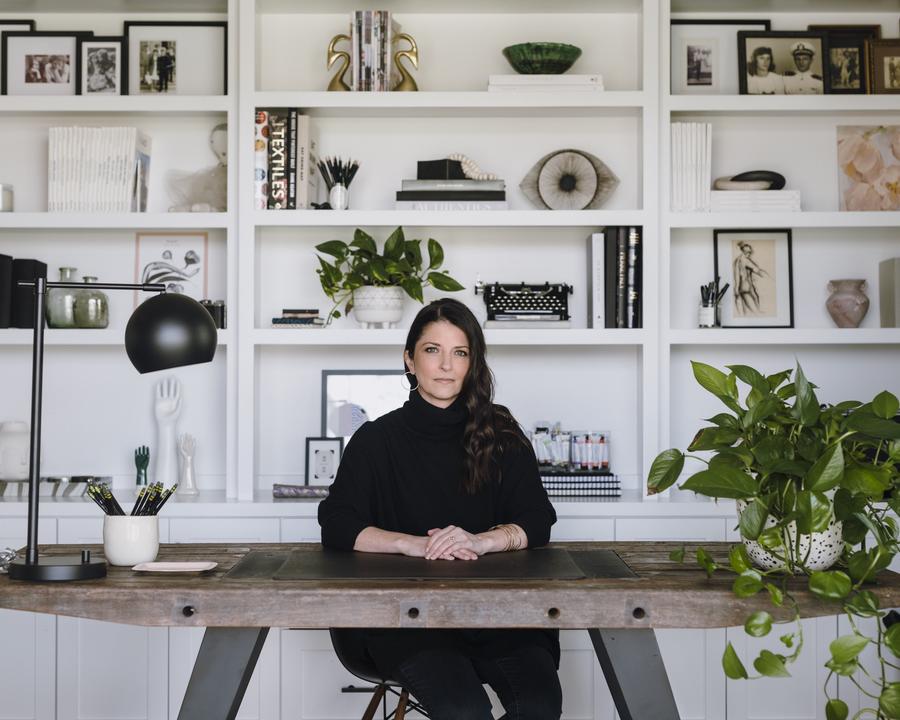 Courtesy of Skyline Furniture
Lightning-fast lead times
"There are two different ways to talk about [lead times] in the furniture industry," says Wecker. "First, there's the quick-ship that Amazon established, but that model requires inventory sitting on a shelf. Then there's custom furniture—that operates on a six- to eight-week lead time, and that's where we've tried to reinvent what 'quick-ship' means." Skyline sits somewhere in the middle, with made-to-order pieces for the likes of Target and Wayfair, among others, with a stated lead time of two weeks. (Pre-COVID, the company typically filled and delivered orders seven days after receiving them.) What's the secret? "Fine-tuned computer systems," says Wecker. "We're still hand-laying [fabrics] and hand-tufting, but the computer system takes in daily orders and organizes them for efficiency."
The Fine Print
Yes, the computer system helps with the path that different pieces take through the factory, but Wecker also points to the digital printer that Skyline uses to produce its textiles as a key source of speed, innovation—and sustainability. (The printer also powers the company's own consumer-facing e-commerce brand, Cloth & Company.) "The digital textile printer has been in the fashion industry for a long time, but now, the ink [and] the textiles hold up for home products," she explains. "We can print on demand as much as we need—it's free reign to design new colors, patterns and collaborations." In addition to eliminating the need to wait for textiles to arrive (which greatly accelerates the manufacturing timeline), textile designs can be scaled up or down, recolored, and printed in the exact quantity the company needs for the piece at hand, eliminating waste.
The ins and outs of reopening
After being shutdown for two and a half months, Skyline amassed quite the backlog. Wecker, however, had a sense of what a shutdown would look like—with import partners in Poland and China, she was able to hear about the challenges overseas manufacturers were facing months in advance. "In January and February, we watched Chinese factories go through the same situation," she explains. "I learned a lot watching them—their strategies to get up and running quickly and safely." In anticipation of supply chain disruption, Skyline began buying extra raw materials in early February. Once pre-closure preparations were complete, the company moved to making masks very early on, spreading out work stations and implementing cleaning procedures that would ensure the safety of its employees.
When it comes to the early challenges of reopening, the standout adjustment has been Skyline's transition to operating under two shifts—something the third-generation company had never done in more than 70 years of operation. "It's something new, and it's challenging to restructure the computers and workflow to optimize [production]," says Wecker.
Designing for e-commerce
Part of the ease (and delight) of e-commerce is that orders arrive by mail—no scheduling truck delivery (or the costs that come with it) required. That means that when designing a piece, Skyline's team has UPS's maximum package size in mind, engineering components that can be shipped in one or two boxes. Products must also be designed and packed to withstand being thrown on and off of a truck without being damaged. Because there's no inventory in stock or textiles to order, the company can also pivot quickly to respond to design trends they see coming through the factory floor. "What we see moving through the factory can very easily tell us what's trending in home globally," says Wecker. "So if we see a lot of pink running through, or a lot of blue running through, those tend to be trends that we see happening across the board." The team can bring that new collection online in less than a week.
Custom—within reason
The ability to offer customers completely custom pieces—from leg style and nailheads to the scale and coloring of the upholstery pattern—has provided Wecker with a host of data about consumer behavior online. For now, she says, shoppers prefer a curated menu of choices (five to seven options is a sweet spot) rather than a sense of limitless possibilities. "I don't know that the world is ready, but I think the design community is ready for that level of customization. We've learned that consumers don't want endless options; they get paralyzed," she says. "When they're given a built version in the context of a beautiful room, they'll default to what's being shown." For example, Skyline powers One Kings Lane's "design your own" program, Palette.
The future of online furniture shopping
The power lies with those who can emulate an in-person buying experience while still providing the convenience of internet browsing. For online shopping, Wecker says that storytelling becomes an incredibly important element. "Anything that lets [consumers] feel like they're up close to the piece," she says—features like images that allow a customer to see the piece from all angles, or a close-up on an image of the upholstery to convey its quality and texture. Other strategies include offering swatches, 3-D renderings and videos, all which provide important information to shoppers.
Often, Wecker has found that what resonates online isn't the same as what moves on the floor of a retail showroom. Sofas, for example, have been a more difficult category to break into, both because they are harder to ship in boxes and because most consumers would still prefer to test them out than buy sight unseen. Meanwhile, "optic white" textiles on occasional furniture—impossible to keep clean in a retail store—are frequent bestsellers. "E-commerce has so much room for growth. There are so many people that haven't purchased furniture online before, so bringing them online and making them comfortable is a huge growth opportunity—and retailers have a growth opportunity there too."

____________
Business of Home's Community Discussion is a weekly series of interactive Q&A events on Zoom for BOH Insiders. Hosted by editor in chief Kaitlin Petersen, the conversations explore how COVID-19 is impacting interior design and the home industry—and how designers and brands should respond.
BOH Insiders can tune in every Tuesday at 1:00 p.m. EST, or watch the recorded sessions here. (Not a BOH Insider? Learn more about our membership community here.)
Homepage image: Meganne Wecker, president and CCO of Skyline Furniture | Courtesy of Skyline Furniture