Photographer Patrick Cline passed away earlier this year, leaving behind an indelible mark on the design industry as an illustrious interiors photographer and co-founder of Lonny, the first digital-only interior design magazine, where he went on to serve as the title's director of photography for three years. Beyond his professional accomplishments, Cline is remembered by friends and collaborators for his striking and largely self-taught approach to capturing spaces and as a champion of new voices and perspectives in the design industry.
Cline, who grew up in the U.K., discovered a passion for images during his time as an 18-year-old apprentice processing film in a studio under East London's Spitalfields Market. That experience served as the genesis for the unique style that would come to define his place in interior photography—unlike many of his contemporaries, Cline shot almost exclusively on film with available light. His eye for spaces and easygoing on-set attitude eventually drew attention from lauded designers such as Albert Hadley, Celerie Kemble, Kelly Wearstler, Mark D. Sikes and more, whose work he documented for titles like Vanity Fair, Architectural Digest and Elle Decor.
In 2009, Cline and close friend Michelle Adams decided to embark on their own venture. The pair had met while both assisting on a photo shoot for Domino, and later launched Lonny after brainstorming on a napkin at a Chili's restaurant one night—an amalgamation of their hometowns, London and New York. (Long after the idea had blossomed into a name brand in the design world, the duo still made a tradition out of visiting a Chili's in every city they visited.)
"I literally felt cooler just by knowing him," says Adams. "He made work fun, and I felt insanely lucky to get to work with him for a living. I always wanted to make him proud."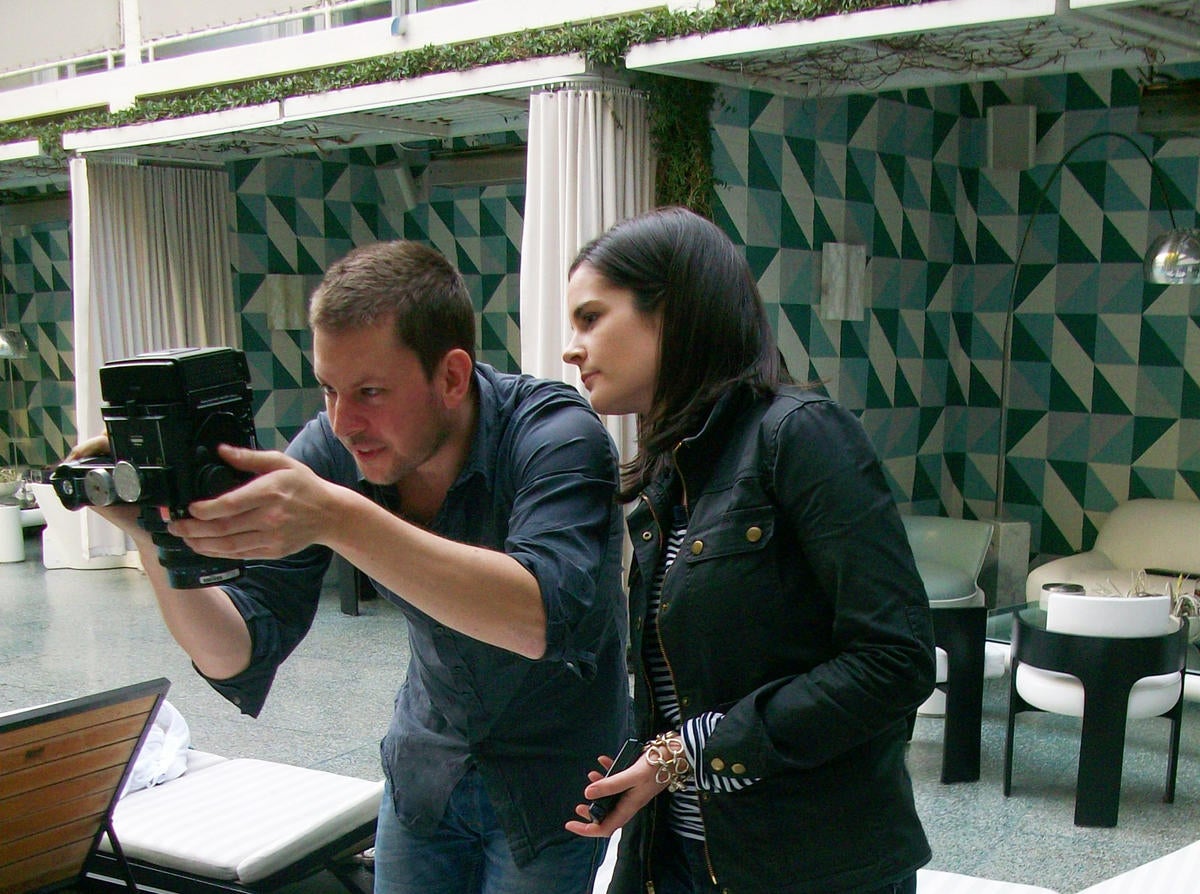 Courtesy of Michelle Adams
The pair hustled to get the fledgling magazine off the ground, with Cline trading photo-developing lab sessions in exchange for ads in the yet-to-be-created publication, while Adams called in favors from stylish sources she'd met through her previous role as an editorial assistant at Domino. Ultimately, the publication was a labor of love for Cline, who photographed every single feature in each issue himself—often capturing up to 40 images per shoot ("which is just unheard of," says Adams) and favoring the natural, lived-in grace of subject's homes rather than highly stylized shots.
"We had so many adventures together, and we laughed hard every single time we worked together," says Adams. "He was so proud that we were able to turn Lonny into a proper business. I felt proud to have Pat in my corner and am so grateful that we were able to keep our friendship alive all of these years."
Designer Celerie Kemble first met Cline during his early years at Lonny and remembers the photographer as an early proponent of the relaxed approach to capturing interiors that has become dominant today. "He found a way to show personality and warmth in spaces that were actually being lived in," she says. "It wasn't frozen and propped and styled. He was shooting rooms like they were someone telling a story 20 years before [it became popular], when it was the more avant-garde style."
Kemble went on to work with Cline on a variety of projects over the years and even traveled with him to the Dominican Republic to shoot a compound she had designed for clients who were family friends. His passion for photography, she says, did not stop at interiors—nor did it end when the workday was over. After a full day of shooting, she says Cline grabbed his camera and set forth for the closest town, where he mingled with locals and snapped photos of his surroundings. "As a photographer, that's what made him so talented—he could quickly find the reason for the poem and compose it," says Kemble.
As friends and collaborators of Cline, Jeanine Hays and Bryan Mason of Brooklyn-based interiors and lifestyle brand AphroChic first enlisted the photographer to shoot a product line nearly 10 years ago, drawn by the soulful quality of Cline's images. The small project was the start of a yearslong partnership: Cline went on to capture the images for the husband-and-wife duo's first book, Remix: Decorating with Culture, Objects, and Soul, as well as their forthcoming title, AphroChic: Celebrating the Legacy of the Black Family Home, which will be published in November.
Later in their friendship, Cline's offer to lend out his New York apartment overlooking Bryant Park to the couple was the experience that led them to relocate to the city. From a professional perspective, he also took the chance to mentor interns and junior staff members at AphroChic and to dispel harmful narratives that Black individuals are harder to photograph due to the light and color qualities of film, which the pair say is often a reason photographers cite for finding projects featuring Black subjects challenging. "What we would hear from him was, 'That's not an actual thing,'" says Mason.
"It's very important because, just like everything in America, unfortunately, even in photography and the home decor world—it's not very diverse," says Hays. "Patrick understood that AphroChic was deeper than just pretty images or pretty products—that there was something that Bryan and I have been working to say, to disrupt an industry in which we are not seen or showcased. He believed in that."
For Hays and Mason, Cline's ability to produce some of the industry's most exceptional work—while still prizing authentic people and relationships above all else—may be the strongest legacy he leaves behind. "It's something that all of us who live in New York and are in the design industry know: You can have a lot of collaborators, you can have a lot of acquaintances, you can have teammates, but you don't always have friends," says Mason. "Patrick understood, from the beginning, really, how to be a friend."
Homepage image: A self-portrait of Patrick Cline | Patrick Cline