Influential designer Suzanne Rheinstein passed away on March 20 at the age of 77 after a battle with cancer. Known for her signature style that was often described as a relaxed elegance, Rheinstein also owned the beloved Los Angeles home furnishings shop Hollyhock.
Born in New Orleans in 1945, Rheinstein attended Tulane University and began her career in publishing before pivoting to broadcast journalism, working as a self-proclaimed "girl Friday" at CBS News in Washington, D.C. During her tenure there, Rheinstein worked under venerated newscaster Eric Sevareid during the height of the Vietnam War and Watergate scandal. After settling in Los Angeles with her husband, the late television news producer Frederic Rheinstein, Rheinstein opened Hollyhock in 1988. It was through styling the shop and its signature, eclectic mix of antique and new furnishings that Rheinstein realized her passion and skill for interior design, prompting the launch of her firm.
Her previous career in newsrooms deeply informed her approach to interiors. "She had a real editor's eye in everything she did," says Rheinstein's longtime friend and fellow designer Bunny Williams. "She created interiors that were incredibly curated. There were no gimmicks, no tricks in what she put together. She had a wonderful, spare way of arranging furniture, but it always worked. It always made you feel comfortable. She loved beautiful furniture and great art, and she had a very soft, elegant palette to her work. Every room that she ever did, you just thought, 'Oh, this is so divine and so livable.' She was also the best friend anybody could have—funny, smart, kind and loving. I will miss my weekly calls with her because I always learned something."
Despite spending much of her life in California, Rheinstein always held on to her sense of Southern hospitality and made Hollyhock a lively fixture in the Los Angeles design community, regularly hosting cocktail parties and book signings at the shop. "Suzanne was the most generous friend and mentor," says Charles Miers, a publisher at Rizzoli International Publications. "I remember pilgrimages to the exceptional excitement that was her store, where she shared her vast knowledge and boundless enthusiasm. An event there was always an important launching pad for new designers—and [it's where] I made many an entreaty to do her first book, never expecting she'd do it, as modest as she was about her own work."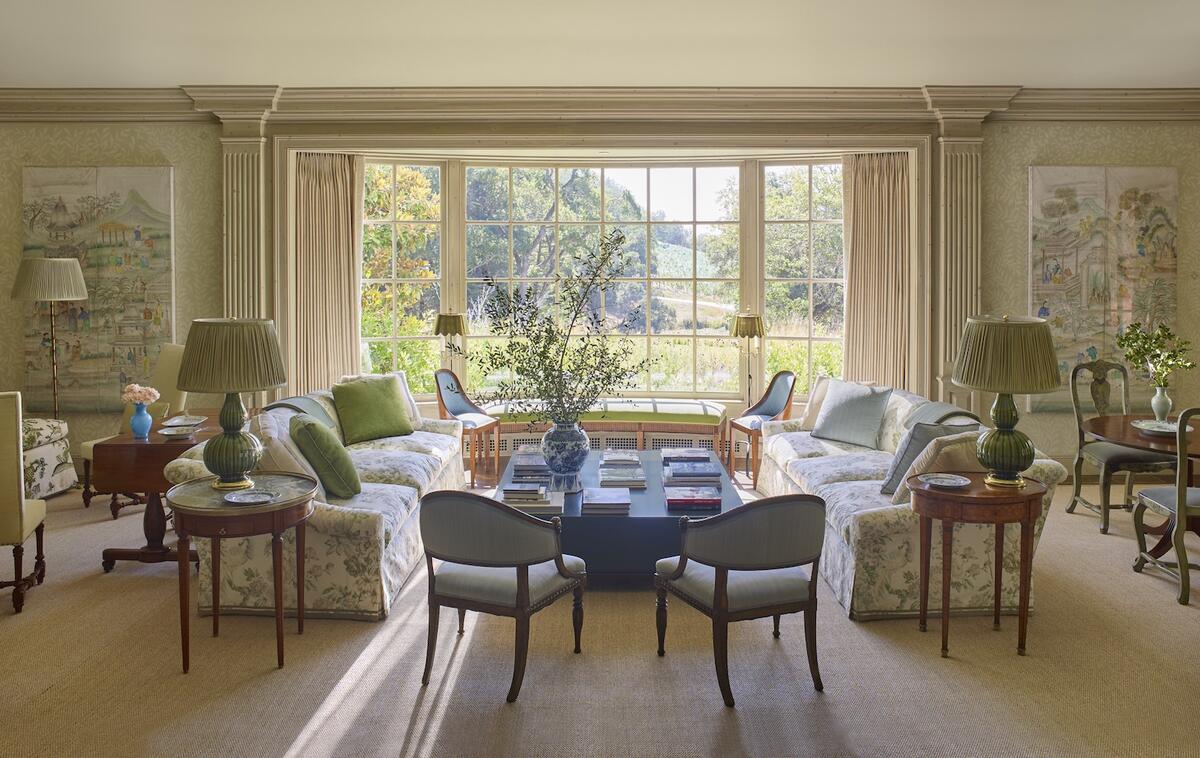 Of course, Miers's entreaties ultimately succeeded. Over her celebrated career, Rheinstein published three books with Rizzoli: At Home: A Style for Today with Things from the Past, Rooms for Living and her latest tome, A Welcoming Elegance, which was released earlier this month. "I feel so privileged," says Miers of the experience developing each title. "She spent the last two years carefully preparing her third book, looking forward to the ways we are to live and through which her vision will live on."
Interior design editor Michael Boodro, who authored Rheinstein's latest book, attributes the late designer's success, in part, to her welcoming nature. "Even though she was very gracious and elegant, she was never pretentious," says Boodro. "She loved people, especially people who shared her passions. She wanted them to be part of the life which she loved so much, and she wanted to improve other people's lives. One of the interesting things about working with her on the book was that every project we featured was from a repeat client. Her clients loved that she made their lives better."
Rheinstein's generosity extended to philanthropic work outside of the design community as well. She sat on the board of The Garden Conservancy and, in memory of her late husband, founded the Suzanne and Frederic Rheinstein Fund for Garden Documentation for The Garden Conservancy, which helps to create documentary footage and archival materials of important gardens so they can be preserved for future generations.
Throughout her career, Rheinstein was the recipient of the New York School of Interior Design's Albert Hadley Lifetime Achievement Award, the Institute of Classical Architecture & Art's Arthur Ross Award for Interior Design, the Institute of Classical Architecture & Art Southern California Chapter's Legacy Award, the LCDQ Living Legends Award and the LACMA Design Leadership Award.
She is survived by her daughter, Kate Rheinstein Brodsky, and three granddaughters.
Homepage image: Suzanne Rheinstein | Drew Blackwell