What started off with an 18-part series on Instagram last week has led Magnolia Network to pull one of its home renovation shows, Home Work, from the air. The television network, developed by Chip and Joanna Gaines in partnership with Discovery, premiered on January 5 as the long-awaited rebrand of the DIY Network. It removed the show from its lineup following claims from several homeowners that their homes had been damaged during renovations, projects went tens of thousands of dollars over budget and timelines had been ignored. The series, hosted by Andy and Candis Meredith, focused on renovating homes in Salt Lake City.
The brouhaha began on January 5 when homeowner Aubry Bennion took to Instagram to recount her experience of working with the Merediths. The couple initially told Bennion they could renovate her kitchen in three weeks for $20,000, though the budget shifted to $25,000 during the taping of the first show. The renovation ultimately cost $39,000 and took five months, with Bennion claiming that much of the additional expense came from fixing issues created during the renovation. In another post, she wrote that the Merediths added a deck to the back of her kitchen, but they built it over a sprinkler system and created a drainage issue that nearly caused her home to flood.
Bennion's account, which quickly went viral, prompted two other homeowners to share their experiences working with the Merediths. One of them, Vienna Goates, explained over 19 Instagram posts that she connected with the Merediths in 2019 after seeing a casting call for their new show. She alleged that she and her husband paid the duo $50,000 as a down payment for a 2019 renovation, funds they have never recouped on a project that never started. The Merediths have since confirmed Goates's account.
In her posts, Goates said that when she was selected as one of the 10 homeowners that would appear on the show in October 2019, Candis Meredith told her that the planned renovations would be done by Christmas. The timeline was continually pushed back, even after the clients wired their down payment in February 2020. Goates says that Candis became hard to reach, and by November 2020, the family hired an attorney, who formally requested the repayment of their deposit. Goates told Today that they have only received about $14,000 back.
The third homeowner, Teisha Satterfield Hawley, wrote on Instagram that she and her husband Jeff gave the Merediths $45,000 to renovate their living space in four weeks. Ten weeks later, with little work done on their home, the designers told the Hawleys they would need an additional $40,000 to make the project work.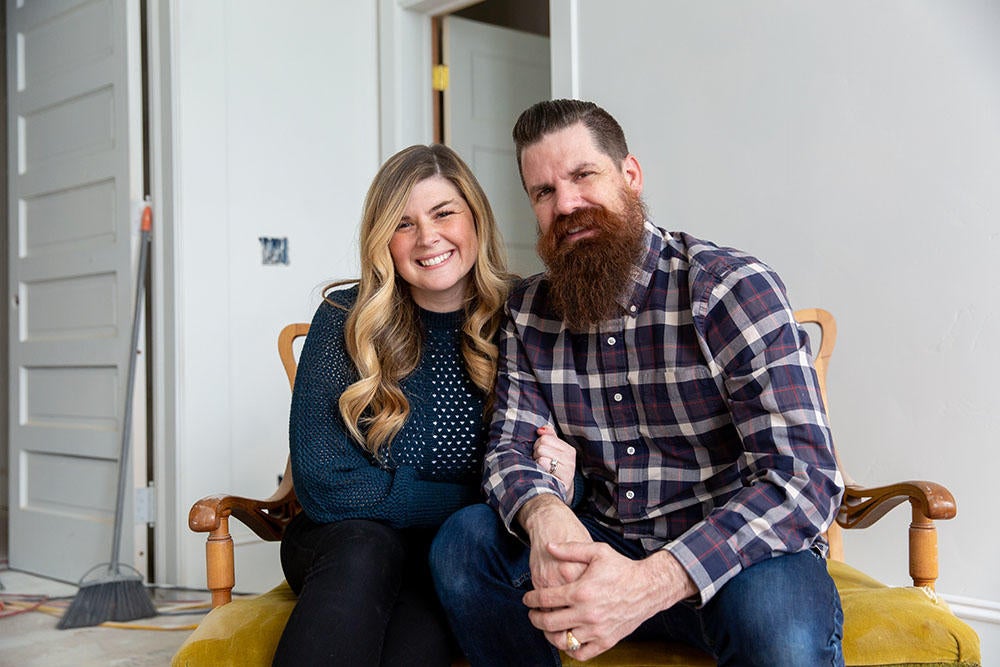 Courtesy of Magnolia Network
In a statement posted on the couple's Instagram, the Merediths address some of the claims made by the homeowners. "We adamantly deny that we have ever stolen money from these clients; we haven't defrauded 'so many families,'" they wrote. "We worked with licensed general contractors. It is true that we are sometimes left with outstanding balances, but we always pay, even if it takes some time for us to make arrangements. To say anything otherwise is truly not OK. We have paid every amount of money we could to make things right and have continued making payments when necessary."
The controversy is certainly at odds with the type of network the Gaineses were hoping to build. In a statement released last week about the launch of the network, the couple—whose lifestyle empire has grown from a cult following of their former HGTV show Fixer Upper to include a massive retail and licensing footprint, a magazine, an entire shopping center in their native Waco, Texas, and now, a dedicated TV channel—outlined their vision for the network: "It wasn't long ago that watching TV meant time together as a family. It was a place where people of all ages could gather and be informed, entertained, and inspired by the kind of honest, authentic programming that brings people closer. That's what we've set out to build with Magnolia Network, and we've been amazed by the stories and storytellers we've found, people whose lives are living proof that our world is full of beauty, hope, courage and curiosity. We can't wait to see these stories brought to life on cable, and we're hopeful about the impact it might have—to help reclaim the best of what television can be."
After days of controversy building around the show, Magnolia Network announced on Saturday it would take it off the air. "Magnolia Network is aware that certain homeowners have expressed concerns about renovation projects undertaken by Candis and Andy Meredith," network president Allison Page said in a statement released over the weekend. "Within the last few days, we have learned additional information about the scope of these issues, and we have decided to remove Home Work from the Magnolia Network lineup pending a review of the claims that have been made."
Homepage photo: The Magnolia store in Waco, Texas | ©Roadwardbound / Shutterstock