In a new series, What I Love, we're asking designers to build us a mood board of what's inspiring them right now.
The warmer weather has arrived, and Jesse Carrier and Mara Miller are feeling inspired. "Spring is in the air, which means summer and all those summer house projects are around the corner," Miller tells Business of Home. "Our current mood board is very much an homage to the return of spring: the blooms and blossoms, the bursts of color and the longer, lighter days."
The husband-and-wife design duo behind New York–based firm Carrier and Company is feeling optimistic about the future, and their present-day flat lay, with all its playful prints and sprightly shades, is proof positive. "The mood is fresh and forward-looking," says Carrier.
A nuanced use of color and texture is evident throughout the board, where vibrant hues and tactile finishes take center stage. "If garden chic were a theme, we'd describe our scheme as that," says Miller. "From the loose, gestural botanical print to the natural jute fibers woven into the carpets, everything is hand-crafted, organic and sustainably sourced—down to the vegetable-based ink used in the artwork!"
Here, Carrier and Miller break down the details, from kaleidoscopic velvet fabrics to handscraped oak floor samples.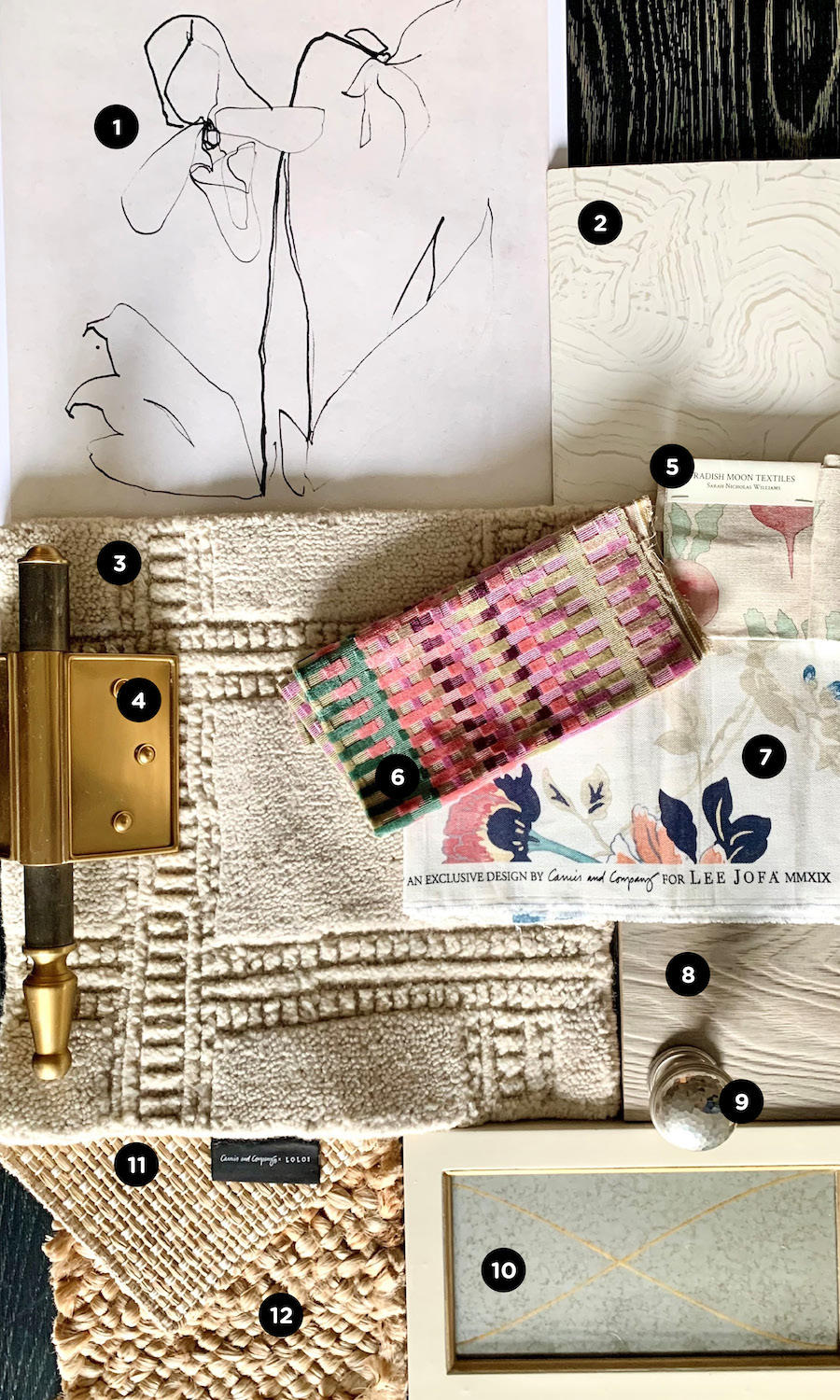 Courtesy of Carrier and Company
1. ESSENCE II BY CARRIER AND COMPANY — SOICHER MARIN
"Evocative of sketches found in a botanist's notebook, this naive black-and-white floral study—part of our newly minted collection with Soicher Marin—speaks to the handmade qualities layered within this palette."
2. CUSTOM-COMBED PLASTER WALL FINISH — MARK URIO
"Like a karesansui garden in Japan, this handcombed plaster wall finish we developed for a client in concert with the incredibly talented decorative finisher Mark Urio is the ultimate Zen pattern."
3. MLT-02 CC RUG IN WHEAT/NATURAL BY CARRIER AND COMPANY — LOLOI
"Combining three of our favorite materials, natural undyed wool, jute and cotton, this loose basket-weave pattern from our Milton rug collection with Loloi is 100 percent handknotted perfection."
4. JACQUES BED BY CARRIER AND COMPANY — CENTURY FURNITURE
"We often find beauty in the hardware and tools that might otherwise play a supporting role in design. This inspired the hardware in our bed collection for Century Furniture. The mix of materials and campaign-style detailing speak to the beauty found in simple utility, much like the tools found in a garden shed."
5. RADISH IN RUBY — RADISH MOON TEXTILES
"Sarah Williams's gorgeous watercolor studies of botanicals and, yes, even radishes are among the most coveted materials in our library. These delectable studies have been meticulously orchestrated into playful repeats and patterns for a collection available through John Rosselli & Associates."
6. PICKET IN MULTI/RUSSET BY CARRIER AND COMPANY — LEE JOFA
"With a high-low textured velvet pile inspired by the patterning of picket fencing, our Picket fabric at Lee Jofa is bursting with spring colors and perfect for upholstery."
7. INISFREE IN SUNSET BY CARRIER AND COMPANY — LEE JOFA
"Inspired by a favorite garden near our weekend home, our Inisfree print for Lee Jofa boasts a bouquet of handpainted botanical beauties printed on both cotton/linen fabric and wallcovering."
8. LUMIERE BASTILLE WOOD FLOORING — EXQUISITE SURFACES
"Handscraped and wire-brushed, these oak floors from Exquisite Surfaces enhance and celebrate the organic grain, pattern and texture of natural wood."
9. HK019KH DOORKNOB IN BRASS — HAMILTON SINKLER
"With a handhammered finish, this nickel-plated brass doorknob feels as good as it looks. Combined with a knurled-edge detail and solid brass construction, the hand and heft of this hardware make it blue ribbon worthy."
10. AVERY DRESSER BY CARRIER AND COMPANY — CENTURY FURNITURE
"Like April skies full of rain, an antique mirrored finish and back-painted eglomise pattern give the drawer fronts of our Avery dresser a sense of rhythm and texture."
11. INTEMPORELS PAMPELONNE CARPET — COGOLIN
"An age-old classic, originating from mills in the South of France, Cogolin interweaves the simplest grass fibers with white cotton to create the most sophisticated and elegantly natural floor coverings. Rapunzel herself couldn't produce a more magical material."
12. FORMOSA IN WHEAT — STARK CARPET
"Like a walk in the park, this braided jute broadloom material from Stark Carpet not only feels like you're stepping onto a freshly mowed field, but it's actually made of fibers that came from a field. So silky soft underfoot."
Homepage photo: A flat lay by designers Jesse Carrier and Mara Miller | Courtesy of Carrier and Company