Is social media marketing all it's cracked up to be? "It's certainly widespread," says Pamela Danziger, the founder of Unity Marketing and the author of Marketing the Luxury of Interior Design. Drawing from her latest whitepaper, "Interior Designers & Social Media: Help or Hype?"—a survey conducted in conjunction with Home Trust International—she shares her findings on designers' use of social media, as well as some actionable ideas for designers to improve their strategy.
In a study conducted among 200 or so interior designers, she found that almost 80 percent of professional interior designers are active on social media, with Facebook and Instagram appearing as their most important platforms, followed by Houzz, LinkedIn and Pinterest.
"Yet among those designers using social media, only 17 percent rate it as very effective in promoting their businesses," says Danzinger. "Compare that percentage with the 85 percent of designers who say word of mouth is 'very effective.' In other words, for eight out of 10 designers, social media over-promises and under-delivers. That is a huge performance gap." It's an industry-wide conundrum, she suggests. "Designers are challenged when it comes to social media. They don't know the appropriate platforms to use. They don't know how to measure its effectiveness. And most haven't figured out how to monetize their social media presence."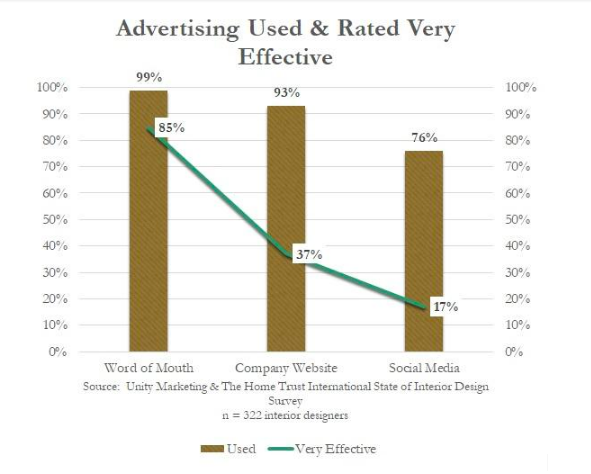 The study points out that there is an abundance of missed—and potential—opportunity. In another recent study, a YouGov survey conducted among the richest Americans (those with $10 million or more net worth and household income of more than $350,000) found that only 10 percent of them "regularly" use the services of an interior designer. "While that doesn't include the wealthy who occasionally use designer services, it does illustrate a huge gap," says Danzinger. "It means that among a million of Americans in that upper-income echelon, only about 100,000 households "actively engage with interior designers." To reach the remaining households requires a dedicated strategy, on all fronts of the business. "Directing your marketing efforts in the most efficient way possible can help you to bridge this rift and reach a largely untapped audience."
Despite the lack of measurable—and monetizable—success found on social media, two-thirds of interior designers polled in Danzinger's survey reported they will spend more time on social media in marketing their businesses in 2019; while less than one-third "will keep their social media activities on par with the past and only 4 percent will pull back."
The takeaways? Designers are wasting time, and money, on social media strategies without considering the potential payoff, or evaluating their effectiveness. Danziger suggests identifying which platform is attracting the right clients, and channeling your resources and efforts there. "Each designer's best platform may not be the same as found in this study, so evaluating how each individual platform delivers results is critical. Once the best platform is identified, forget the rest and focus on what works now—and learn how to make it work even better in the future."
Want to learn more? Find the whitepaper in full here.