Just this morning, the granddaddy of social media announced its latest effort to enter the home world: Facebook Marketplace is partnering with on-demand service providers HomeAdvisor, Porch and Handy to help users source assistance on home jobs of all kinds, from major renovations to plumbing and cleaning. While it may have started like a humble Craigslist or eBay, Facebook's Marketplace section is evolving toward a Houzz or Amazon model, investing heavily on furniture e-commerce and launching new partnerships with home improvement companies.
The category is, for Facebook, a booming one. "More people ask for recommendations related to home services on Facebook in the U.S. than any other topic," Bowen Pan, product manager at Facebook, says. "By partnering with Handy, HomeAdvisor and Porch, people will now have a place on Marketplace to find the right professional to help with their next home project. Following home rentals and autos, services is the newest category where Marketplace is partnering with businesses to expand inventory and offer greater convenience to consumers."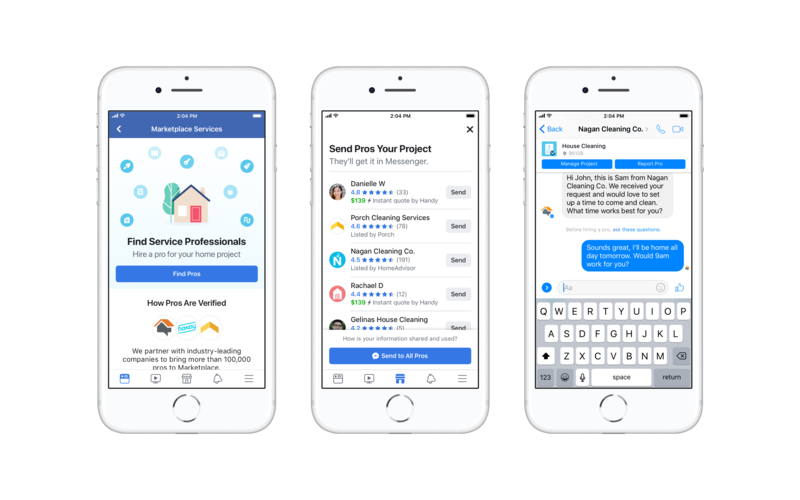 With today's launch, Marketplace invites its users to browse thousands of home services professionals—the social media company says it's "an all-in-one place to complete your next home project from proposal to completion, and will spotlight the work of hundreds of thousands of top-rated professionals" throughout the country. Like Houzz, a ratings feature will specify reviews by home pros, credentials and location. Users will be able to briefly describe the project they need assistance with and request quotes from multiple pros at once. Users can also communicate with their potential home hires via Facebook Messenger.
Leading up to the home services launch, buying and selling home goods on Marketplace has also been on the rise; in fact, the furniture category is currently one of the most popular categories on the platform (desk, sofa, and dresser are the top-purchased item categories within the category). Marketplace receives some 800 million international visitors—and, with one in three Facebook users in the U.S. using the feature, reach is a large part of the appeal for sellers and partners like Handy alike. As we learned, product and interior designers, stylists and small business owners of all stripes are using the service to buy and sell product.
"The idea for Marketplace came about after seeing that one of the most common uses for groups was to form communities to buy and sell things. Now, over 800 million people globally visit Marketplace every month." Donna Brown, Facebook Marketplace spokesperson, discusses the growth and strategy of home category in Marketplace with EAL. "To greater serve the needs of our engaged community in the Housing category, we expanded Home Rentals and partnered with businesses such as Apartment List and Zumper to offer more inventory and options," she continues. Other growth is planned, too: "We just launched translations in Marketplace, so buyers and sellers can communicate across languages, and translate messages from English to Spanish and vice-versa. We plan to increase Marketplace's utility by incorporating machine-learning and computer vision, making it even easier to list items."
The goods on Facebook Marketplace, like those on Craigslist and eBay, look like a motley mix of classified ads. But a deeper dive turned up more high-end, custom items like a Charles Pavarini-designed sofa in Kravet fabric and Samuel & Sons trim; a teak midcentury Danish headboard; a custom tufted banquette made with Crypton Suede; and a gray Jonathan Adler bed. You'll also find a litany of secondhand items from retailers like West Elm and antique dealers, amateur and pro alike.
One of the major perks for sellers—and, as of today, home service professionals—is reach; the platform is in 71 countries and has 550 million-plus on the platform in Facebook's third-quarter 2017 financial report. The revamped marketplace, which had originally launched in 2007, but later closed, was rolled out again in October 2016 beginning in U.S., U.K., Australia, and New Zealand; it entered 17 countries across Europe last August. Entrepreneurs, like shop owner Heidi Balthazar of the Washington State upcycling boutique Nest Vintage & Home Decor, are using that wingspan not only buy but resell. "One of the problems I face is not getting enough people to see my product," Balthazar tells EAL. "Marketplace gets exposure. I can get my product out to different cities."
Unlike eBay and Amazon, which provide seller support for shipping and pickup, Facebook Marketplace functions more like a bare-bones Craigslist, where shipping and billing arrangements are up to the buyer and seller. Unlike Craigslist, Facebook Marketplace users can see the names of the person from whom they are buying or selling; unlike sites which pocket part of the profits—including eBay (a varying percentage), Amazon (rate varies depending on the seller's membership plan) and other sites, like furniture and decor focused resale site AptDeco (23 percent)—Facebook Marketplace doesn't take a cut or require listing fees or taxes.
For Jen Francis, an emerging furniture designer, the platform is a useful small-business tool. She lists her handmade farmhouse tables, barn door consoles and floating shelves on Marketplace. It's a part-time career she says she wouldn't have had otherwise: "I would not be able to do it if I had to sell in person. I do not have the time to be present, I am not large enough to hire someone else to be present, and I do not have a storefront." She also notes that the site has a much faster buy/sell turnaround time than other online marketplaces she has used. Her offerings are, like others users who maintain business pages on the networking site, integrated into her business page's profile, accessible via a column at left. Other designers, like Houston-based high-end residential designer Lisa Goe Roberts, use the platform to earn side cash in other ways: Roberts makes $1,000 monthly via Marketplace sales, offering furniture that "goes unused" in the homes she stages.
The platform appears largely untapped, however, for the luxury market, but the potential is stark. In addressing its users' most frequent requests Facebook notes that "millions of people have asked their friends for suggestions on house cleaners, plumbers, and contractors." Are designers simply the next frontier?