The ASID New York Metro chapter will soon release the third issue of its recently relaunched magazine, Design. Founded in 2005, the original publication didn't quite capture a design-centric aesthetic and it was relaunched this past November.
"Starting last year when I became very involved with the New York Metro Chapter of ASID," recalls Glenn Gissler, the organization's president, "I opined that I thought the then-current magazine looked like it could be for the Dry Cleaning Association! After months of complaining, I learned that the producer of said magazine was a specialist in association magazines—so maybe they did do a magazine for the Dry Cleaning Association."
He ended the contract with that specialist and teamed up with the publishing and production team at Aspire Design and Home magazine to produce Design, a quarterly that speaks to members and non-members alike.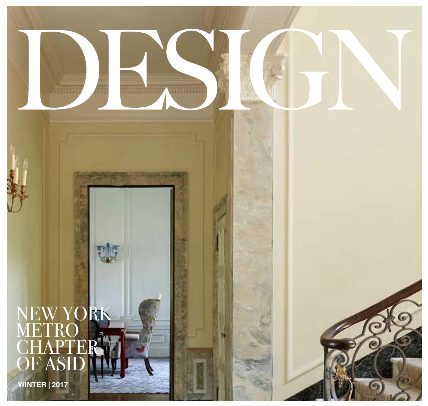 Today, the magazine covers design talents from around the city. Of the 5,000-copy print run, the organization distributes 1,940 by direct mail to advertisers, ASID designers and other industry professionals, with the remainder shared via showrooms and events.
What's the new mission of the publication? Gissler says, "The editorial goal is to have a real design magazine to showcase our values and our many events, and the members of our ever-expanding community of designers, students and industry partners."
The second issue focused on topics including diversity in design, social media stars within the interiors world, and brief profiles of newly joined members like Caleb Anderson and Laura Kirar. The relaunch is part of a push—coupled with ASID's Emerging Designer Events series for students and young professionals—to reach more of the design community.
"Ultimately," says Gissler, "the goal is to create a publication that represents the ASID New York Metro community to our membership and to the community at large through distribution in showrooms of sponsors and industry partners."
The team is currently at work on the third issue, to be published this season.