"I've always wanted to see my name in lights, but this is pretty good," Miles Redd captioned a recent Instagram photo of a Florida billboard promoting his "Decorating 101" DCOTA Fall Market keynote. Held earlier this month, the morning address was a master class of sorts, with the three-time AD100 design honoree and Big Book of Chic author dishing his decorating secrets.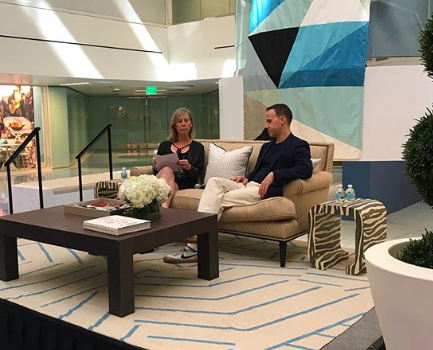 But one can't decorate without product. Sister brands Schumacher and Patterson Flynn Martin, both of which have designer collections with Redd, hosted the discussion at the DCOTA Fall Market. Guests were able to browse Redd's geometric-inspired rug collection and fabric and wallcovering offerings, as well attend a book signing with the designer following the Q&A.
Dubbed a "one-day meeting of the minds," the annual event brought educational programming, showroom debuts and the Southeast's design community together on November 9. For those who couldn't make it, Redd shares an exclusive recap of his decorating tips with EAL.
What sets an extraordinary decorator apart from just a good decorator?
The workrooms and the clients. We are as good as our clients. You may have the greatest imagination in the world, but you need someone who lets you go for it. And then you need talented craftsmen to execute the dream. Dream big and the clients come.

What are the first elements you take into consideration when decorating a room?
I always say: Get the floors and walls right and the rest is easy.

What's the biggest decorating challenge you've encountered, and what lesson did you learn from it?
Buy the best and you only cry once. Just wait and get quality rather than something that is a space holder. Space is usually better than the holder.