It's something of a paradox: Home design is hotter than ever—but so is our planet. As the effects of climate change compound, design professionals are questioning how they can best fulfill their clients' needs and wishes without also contributing to such real-world problems as deforestation, unfair labor practices and landfills overflowing with cheap furniture. One company confronting the challenge head-on is wallpaper and fabric manufacturer Thibaut, which recently debuted the Club Velvet collection, a washable line that repurposes 17 plastic bottles in each yard of fabric. To mark the debut—the first in a new category of textiles dedicated to sustainably sourced and consciously crafted materials—the brand recently hosted a wide-ranging (and ultimately optimistic) conversation on how to introduce better, greener behavior into any size business with Thibaut CEO Rick Kilmer, designer and co-founder of the Good Future Design Alliance Katie Storey, designer Laura Hodges and DIY influencer Gwen Hefner of The Makerista, moderated by author and design expert Sophie Donelson.
Sophie Donelson: The last two years have been a big wake-up call for the design industry. Business may be booming, but issues with the supply chain and post consumer waste have us questioning how we can make ethical and environmentally sound choices. Katie, as an interior designer, was this what inspired you to create the Good Future Design Alliance?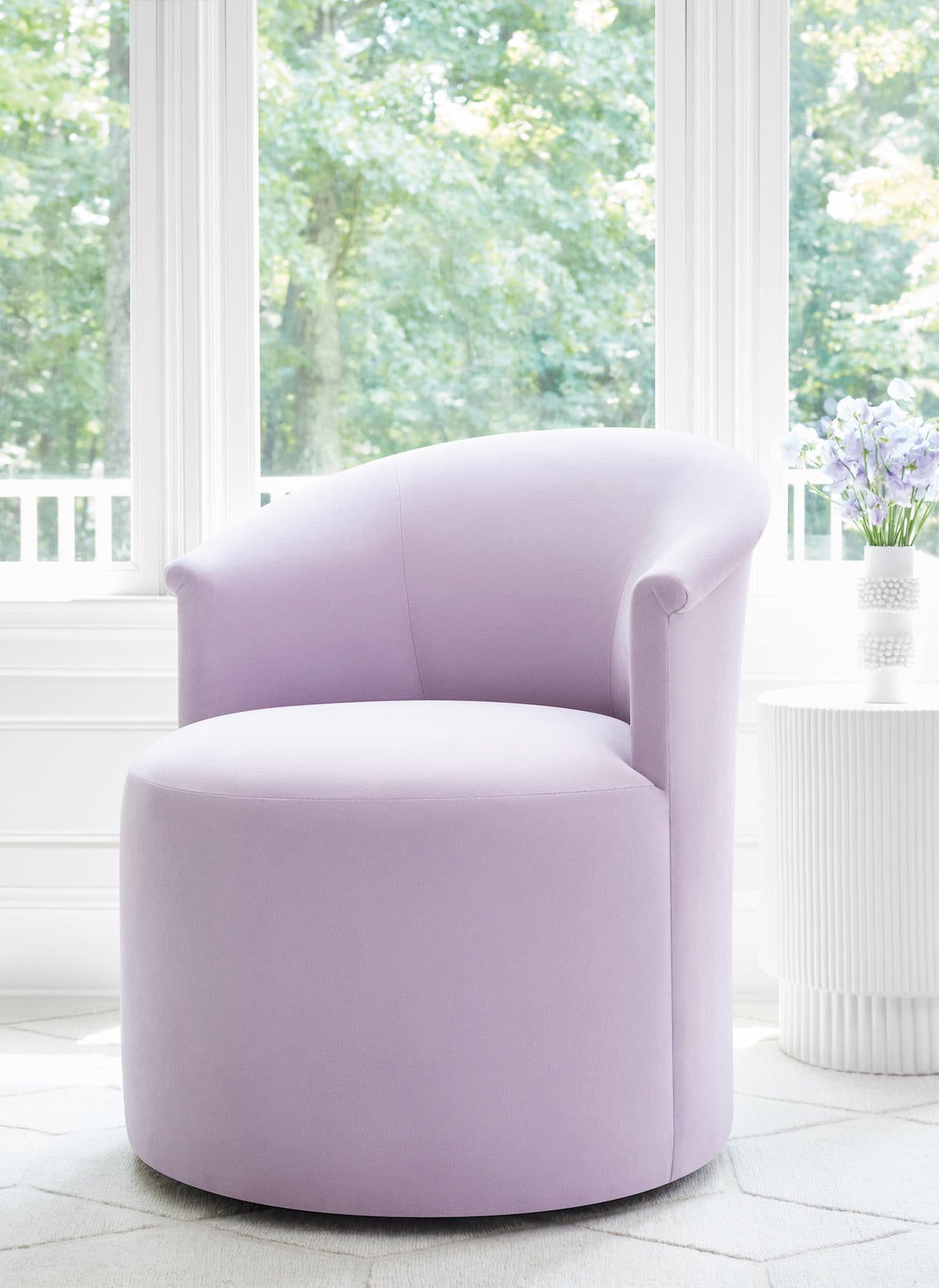 Katie Storey: A few years ago, I ordered a sofa in Oakland, California, that made its way to North Carolina before landing in my client's San Francisco home. The distance from Oakland to San Francisco is seven miles. But instead, [the sofa] went 6,000 extra miles, across the country and back, wrapped in plastic, in boxes, with labels, tape, everything. That's a familiar story, but it was a breaking point for me.

I created the Good Future Design Alliance for design and build professionals who want to commit to reducing their waste by 50 percent over five years. We launched in 2020, and currently have three chapters around the country and hundreds of firms who have signed on. I think we're really onto something.
Donelson: How do you present these issues to clients?
Laura Hodges: Anybody interested in working with us usually goes to our website, where they'll see that it's pretty prominent: "Bold. Tailored. Global. Sustainable." However, I try not to get on my soapbox about it because I don't want it to be an "eat your vegetables" kind of conversation. It's a luxury to be able to design your own home and buy new furniture. We certainly don't want to take the fun out of it by making people feel bad, so we tend to think in small steps, like donating all the existing furniture that's no longer wanted. Nothing is ever going into a landfill if I can possibly help it. As for procurement, that's more on us than the client. We give priority to companies we know are sourcing responsibly. We go to High Point and to the factories, we talk to the manufacturers; we will do that legwork for you.
I equate it with going to a nice restaurant, having a wonderful meal and then being told that everything was sourced sustainably and is organic. So it tastes good, the experience is amazing and oh, by the way, it's also good for you. We try not to separate the two.
Donelson: At the end of the day, you have to create an incredible product first. Nobody says, "I need a sustainable textile, let me start from there." They start with the look, the quality—product that excited their client. Knowing that, how does the commitment to more sustainable angles manifest within an organization?
Rick Kilmer: Company culture comes from everybody—the warehouse, street-level conversations, even from job candidates who ask for our position on the environment in their interviews. People are paying attention. And with the Club Velvet collection, which exemplifies our brand's commitment to reducing the environmental impact of single-use plastics, we have a dynamic story for clients to engage in. Because without engagement, you're just having a conversation with yourself.
Donelson: Gwen, your thrifting passion means you're not linking to Target and Amazon, which is how most content creators generate income. Instead, you're saying, "Think before shopping new." That's intense, because you're offering something of value but need to find a separate revenue stream to compensate for the lack of affiliates.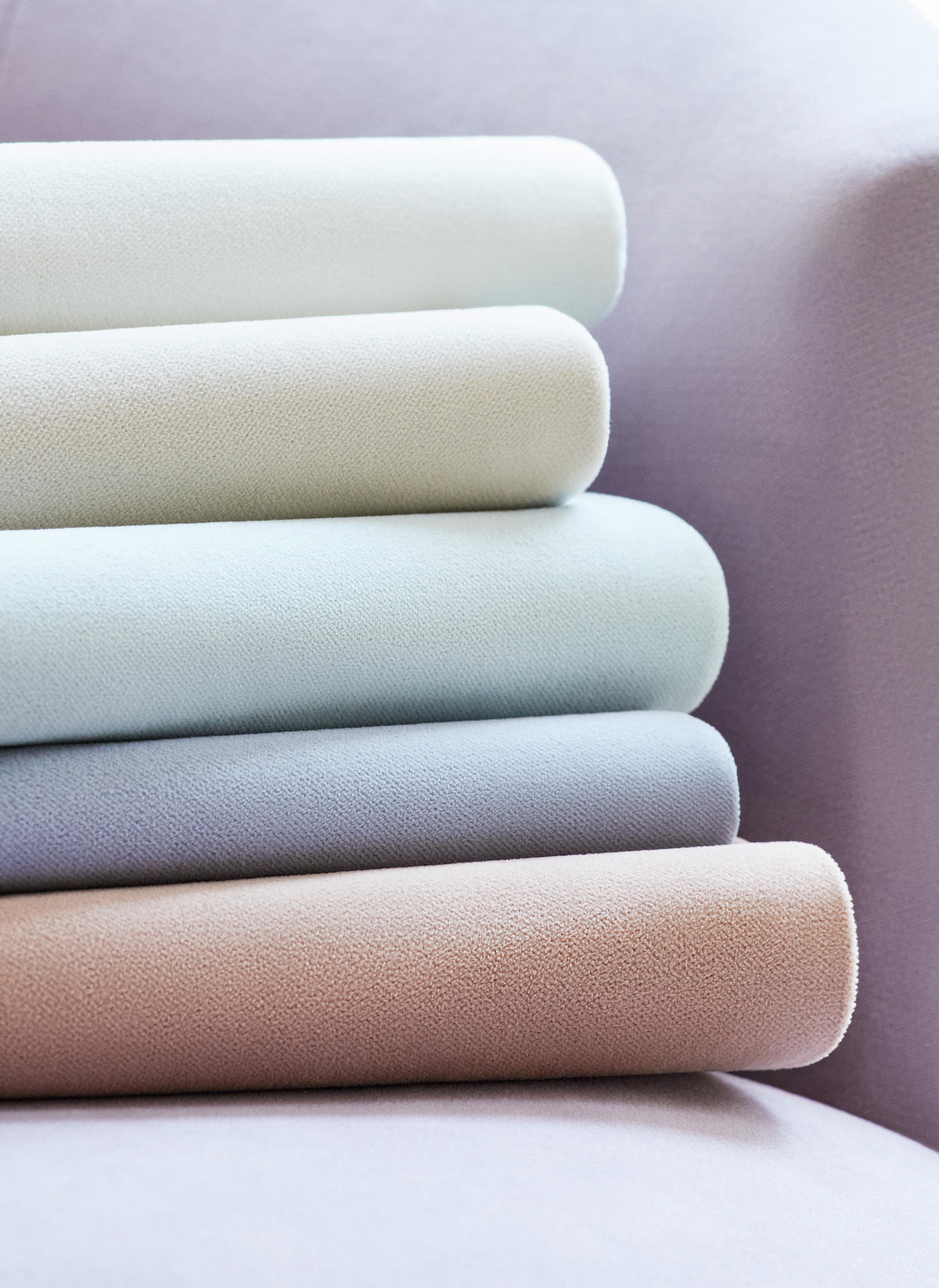 Gwen Hefner: That's part of why I started the Thrift Club membership. I was sharing all my finds on my main channel, and the response was crazy—500 messages every time I would thrift. I've been thrifting since high school—back when everybody thought it was weird and maybe even a little gross. With the thrifting component, I'm trying to inspire people to find their personal style and fill their home with it. A room should evolve; you should bring in different things. But when you cling to a trend in a whole space, you're just setting yourself up to be wasteful.
Donelson: The supply chain rupture will impact business for years to come. Was there a time in the past year or two when you said, "There's got to be a better way"?
Kilmer: We see it from our end as a supplier, you see it from your end as a specifier, but some of these factories and mills around the world have had a tough go of it. It caused the Thibaut studio team to focus on where we can have the most compelling story—not worry so much about being everything to everybody but make products that will have a greater positive impact down the line.
Donelson: A lot of waste comes from moving quickly. Making the cheap, fast, easy decision: "This is just the fill-in sofa before the 'real' sofa."
Kilmer: We've found that when you talk to your mills and you talk to your partners, whoever your upstream providers are, and engage them in the conversation, the lightbulb will click on for them too. One shouldn't presume that everyone maintains the same priorities or are aware of ours.
Storey: A sofa I ordered took 11 months to be delivered, six months longer than it should have. And when it arrived, the back of the fabric was slashed. I'm just trying to repair and resell it. Because it struggled across the globe, in a container ship, there's all kinds of potential for it to get damaged. That reiterated the importance of buying local, reupholstering, reusing.
Donelson: In an interview with Business of Home, Alex Shuford, the CEO of Century and Hickory Chair parent company Rock House Farm, talked about how there's an entire generation of upholsterers and furniture technicians missing; a generation that went to college and sought professional jobs instead, so that work was outsourced overseas. It's a vicious cycle.
Hodges: We received a bench a week or two ago that we'd been waiting a really long time for. And one of the legs is cracked in such a way that we wouldn't feel comfortable taking it to the client's house. We approached the manufacturer and they said, "Ship it back to us, we'll fix it and then ship it back to you." And I thought, OK, first of all, the timing on that sounds ridiculous. But second, shipping it back just for a small crack in the leg seemed like such overkill. The shipper was willing to cover the cost, so in the manufacturer's mind that's what made the most sense. Well, that's great, but we're still shipping it back and forth. We decided to ask them for a damage allowance instead, to put toward the cost of having it fixed here in Maryland. We'll cover the difference because I just don't think it makes any sense otherwise.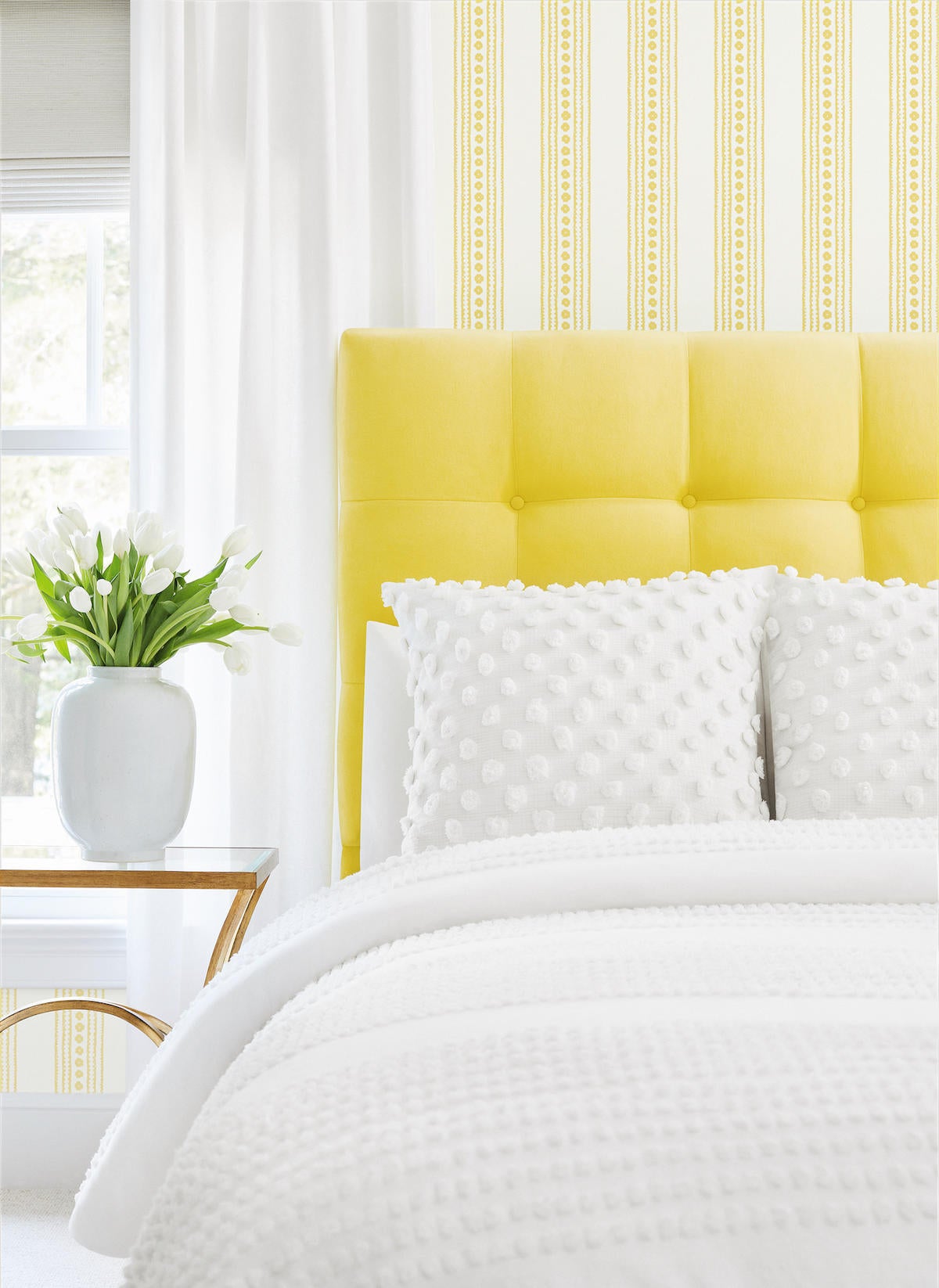 Donelson: Sometimes it's saying: Time out. Does everything in this old home need to be ripped out? Maybe it's everyone wanting their own HGTV demolition moment, but is it so hard to see what's good or possible in what's in front of us?
Storey: HGTV, sure, it's super fun. Instagram is super fun. Everything is super fun and makes you envious of what everyone else is doing. But that is not serving our planet. When I approach clients now, I look at everything in the house, thinking, Maybe we could repaint this. Maybe we could reupholster that. Maybe we salvage the cabinets. When you're a little more thoughtful, you might spend an extra hour on site that the client will have to pay for, but it's going to save them $20,000 in new cabinets.
Donelson: It's also great to encourage the imagination in your clients: "Can you trust me to reupholster this in an amazing fabric, try it in a different room?" That is what a design professional brings to the conversation—fresh eyes and thoughtful ideas.
Storey: Our industry is never going to be zero-percent waste. What we're asking for at the GFDA is 50 percent less. How do you get there? What I say to people is: Start small. When you get a new project, instead of opening 20 tabs on your browser to all your favorite shops, open up to eBay or Chairish or Etsy. Go to your local consignment store. You'll probably go down the rabbit hole on Chairish and want all these things, just like you would at a big retailer.
Donelson: It's like eating leftovers from your fridge, right? Sure it's not takeout, but there is a ton of food in there. Could we get a bit more creative with what's for dinner?
Storey: Just last night I was like, "I should go to the store." Then I remembered, No, I went to the market on Saturday, I could work with what I already have. It does take some dedication, but it's not as scary and burdensome and daunting as it seems. People who sign up to be GFDA members are nervous at first, but we have this whole toolkit and resources for members. They start integrating [those resources] and all of a sudden that's just who they are now.
Donelson: The Club Velvet collection uses a lot of recycled material. It's not a greenwashing situation; it's in the fabric. Then there's Thibaut's partnership with Ocean Blue Project, a nonprofit environmental organization that recovers microplastics and debris from beaches and waterways. They recover a pound of plastics per dollar donation. Why was that so important?
Kilmer: Ocean Blue Project offers a pretty saturated concentration of plastic recovery, and we wanted to have that kind of authenticity around the story of Club Velvet. Our partnership is focused and targeted: A dollar of every yard we sell goes to their next plastic recovery project. It's inspirational. Every quarter, Thibaut holds a town hall and different teams are invited to speak and share their stories of environmental awareness. The group in Charlotte, for example, is doing Adopt-A-Waterway. The tip of the spear is Ocean Blue Project, but the legacy of Club Velvet is the conversation we're having about the next thing. Next, we're reviewing opportunities with a similarly conscious impact and storytelling but across different materials.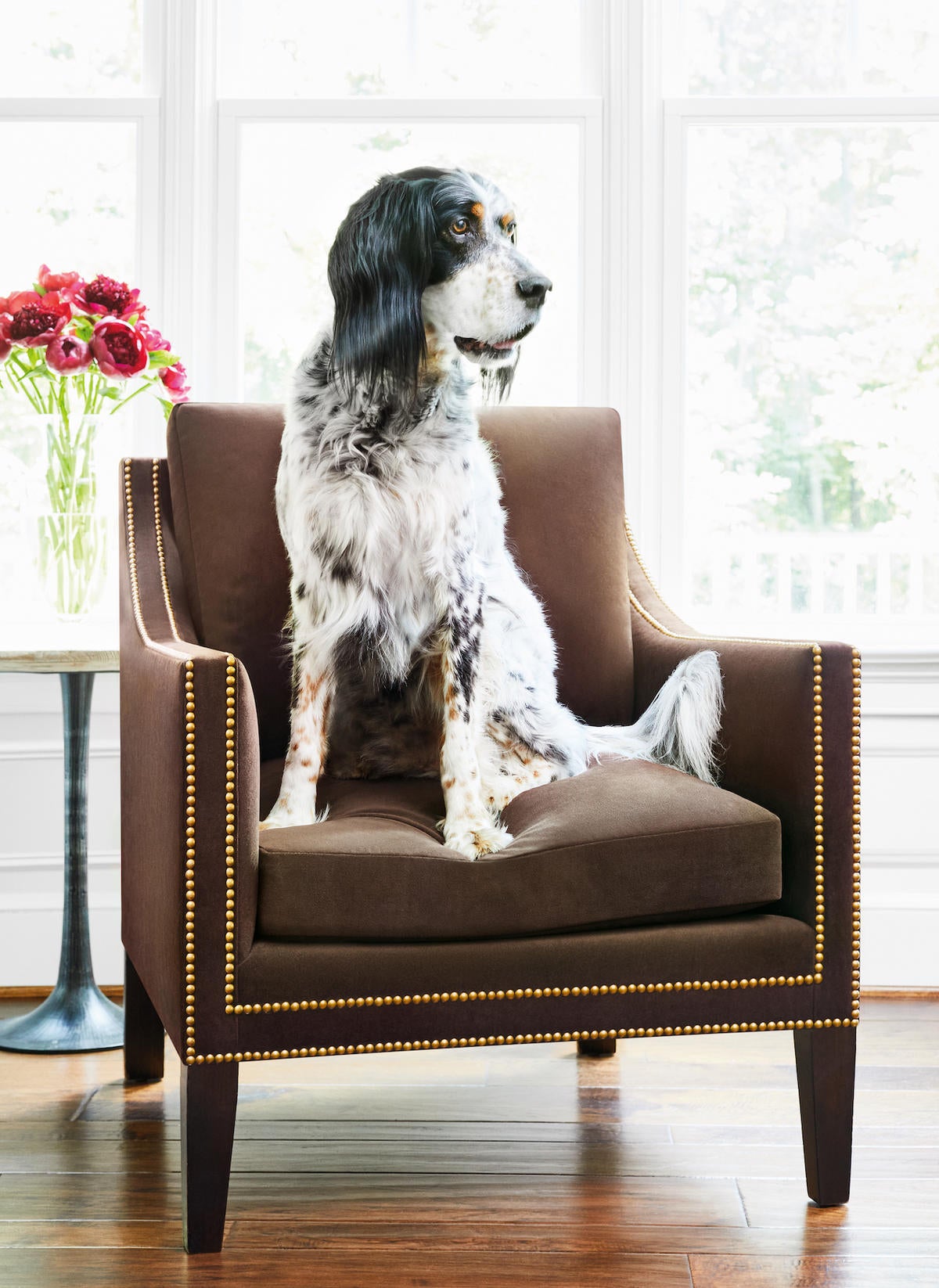 Donelson: It's not one product, it's a category. It's not one action, it's a mindset. With furniture, the repercussions are enormous. This idea of we'll buy it and we can always donate it after, as if that absolves you of your responsibility. Well, no, that sofa still exists in the world.
Hefner: And the problem is, when you donate cheap things, they don't last. There's always the relief of dropping off a donation, but really, is that lumpy sofa going to be valuable to anybody? No.
Thrift stores either attempt to recycle or throw away the majority of donations because it's just junk. I volunteer at one, and we want to serve our customers well, whether that's somebody who loves to thrift or somebody who needs to [shop there]. It's important that the pieces we're putting out have value, and it's getting harder and harder. I can't tell you, in a single volunteer session, how many things I throw into a metal or plastic or glass recycling bin.
Donelson: How do you continue to be such a passionate shopper, Gwen? What is your criteria for bringing something into your home now that you've seen where it goes?
Hefner: It really makes you think. Even the free fun-run bottle. When someone wants to give me something like that I say, "No, thank you." I don't take it home. Nobody needs another mug. At the thrift store, I'm looking for quality. Is it heavy? Is it a natural material? Going back to Katie's point about Chairish, oftentimes you can buy an old sofa that's better quality than a new sofa now. I mean, you can buy quality new pieces, but you're going to pay a lot more money. Instead, you can buy some beautiful fabric and pay someone local to reupholster an old piece, which is such a win-win. You're supporting a small business and your footprint is so much smaller too.
Donelson: Laura, what's your criteria when shopping for a project? How do you weave your ethics and point of view into that budget conversation with the client?
Hodges: We definitely don't have a requirement in terms of how much money people need to spend. I'd like to be able to say that we just want to bring in the appropriate pieces, whether or not they cost a lot. We may be able to find something that's beautiful and needs to be reupholstered, refinished, so the final cost of that item may be significant. When we're having that conversation, we're talking about "What do you already have?" And I always tell people: Let me be the judge of whether something could be beautiful in your home. You may not like a piece of furniture because it reminds you of your grandmother's basement or whatever, but maybe with a beautiful new fabric it could work really well.
Donelson: Just saying you don't have a minimum budget for furnishings is a massive change in and of itself. But it makes sense, because you're changing the mindset. Some designers are evolving from making money off a percentage of the furniture spend. Are you still able to have the kind of revenue you want with that practice?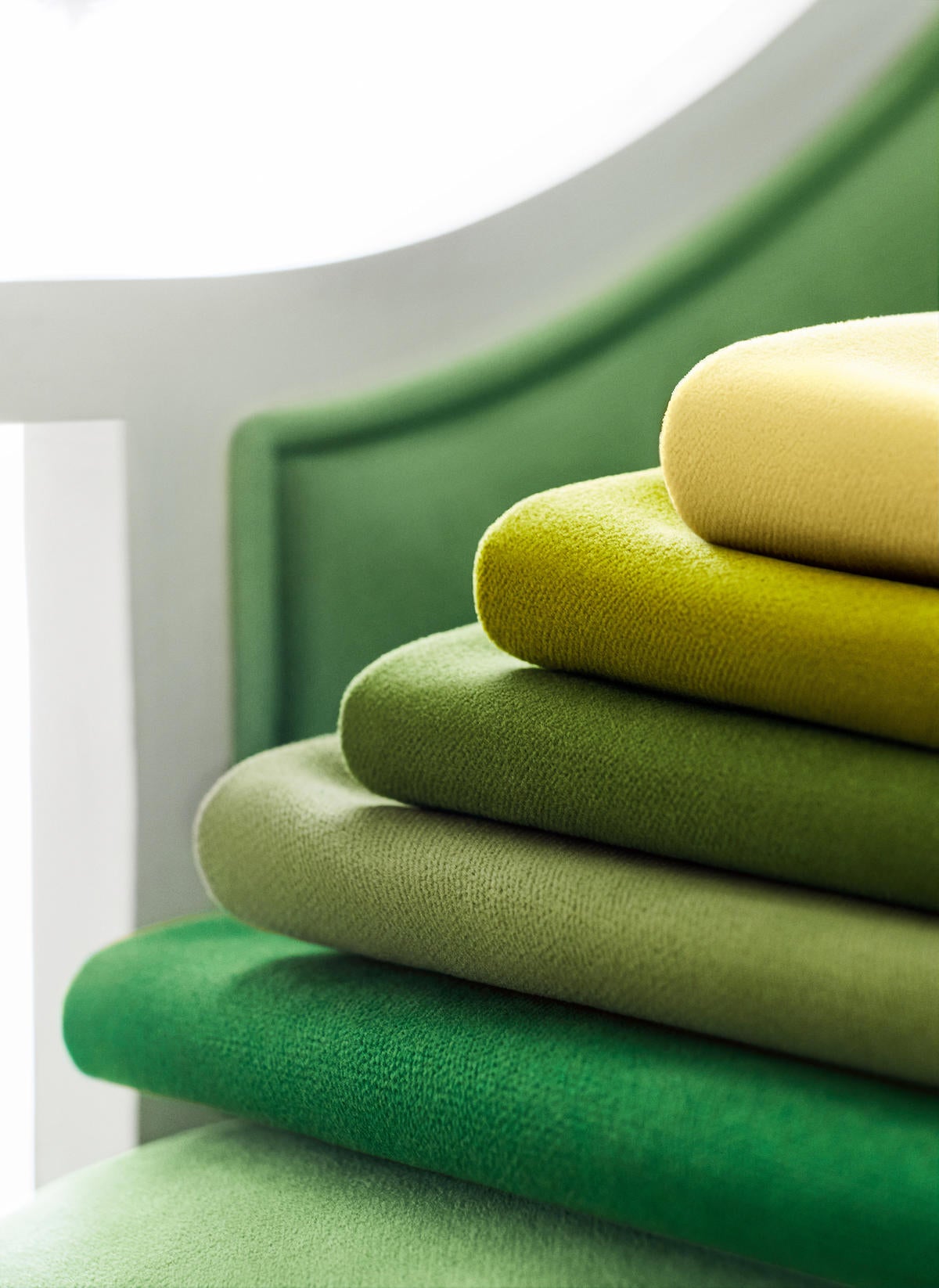 Hodges: We do charge for everything we're doing, so on the back end our design fee may have to be higher—but that's what you should be paying for. I don't subscribe to the idea that we should be making sure we have this huge profit margin on everything, because you can't do both: You can't say you need to have this certain percent profit margin and then also be open-minded about where you're shopping and sourcing for things.
We're designing a dining table right now made from naturally felled trees here in Maryland. It's going to be gorgeous. I'm not getting great pricing on it, so it's not like I can put all my eggs into this one basket of "let's always be sustainable and also make a ton of money doing it." I have to account for the fact that I'm getting a little bit of a margin on it. So I need to make my client understand that it's a custom-designed table that wouldn't have existed before, and that's what they're paying for. It's a balancing act for sure.
Donelson: I always bring up bamboo flooring. It's marketed as a sustainable material, but it will last maybe two years. Great, it grows quickly—but it doesn't last. It's the same with sisal carpeting, whereas wool is a safe choice. Then there's the issue of ethically made rugs. A lot of us now look for the Rugmark label to confirm that we're making good decisions. Are there other distinctions to putting items on your shortlist?
Storey: Rugmark is good. B Corporation certification is great. Almost any company who has gone through the process of getting B Corp-certified has done their work and met the criteria of environmental, social, wage, labor standards. They look at your entire business model—not just sustainability or low waste or low toxins, but are you treating employees right? Are you paying fair wages? Do you offer health care?
Declare labels are also good; they call themselves a "nutritional label for products." Forest Stewardship Council-certified wood is great. Like Thibaut, more manufacturers are offering sustainable collections. Cradle to Cradle Certified is another great qualifier. These groups have already done the work of creating standards, so you know that companies who have gone through the process of meeting those standards are committed. In terms of materials, the more natural and the less synthetic, the better.
Donelson: One of the best things we can do is keep talking. And having the conversation with vendors. "Where is this from? What's the story behind it?" Sharing our interest in sustainability, applying that pressure, asking vendors and our peers to keep innovating.


Kilmer: There doesn't need to be anything daunting about this; there are no wrong answers when you're just getting started. We don't all have to be carbon neutral by next Thursday. But if you begin having the conversations, asking vendors, asking partners, asking consumers, maybe we can all start eating Katie's leftovers. And the world will be better for it.
This story is a paid promotion and was created in partnership with Thibaut. To watch the full recording, click here.
Homepage photo: The Club Velvet collection is made of 17 recycled plastic bottles per yard of fabric. | Courtesy of Thibaut